Skydo: The Best Alternative to Payoneer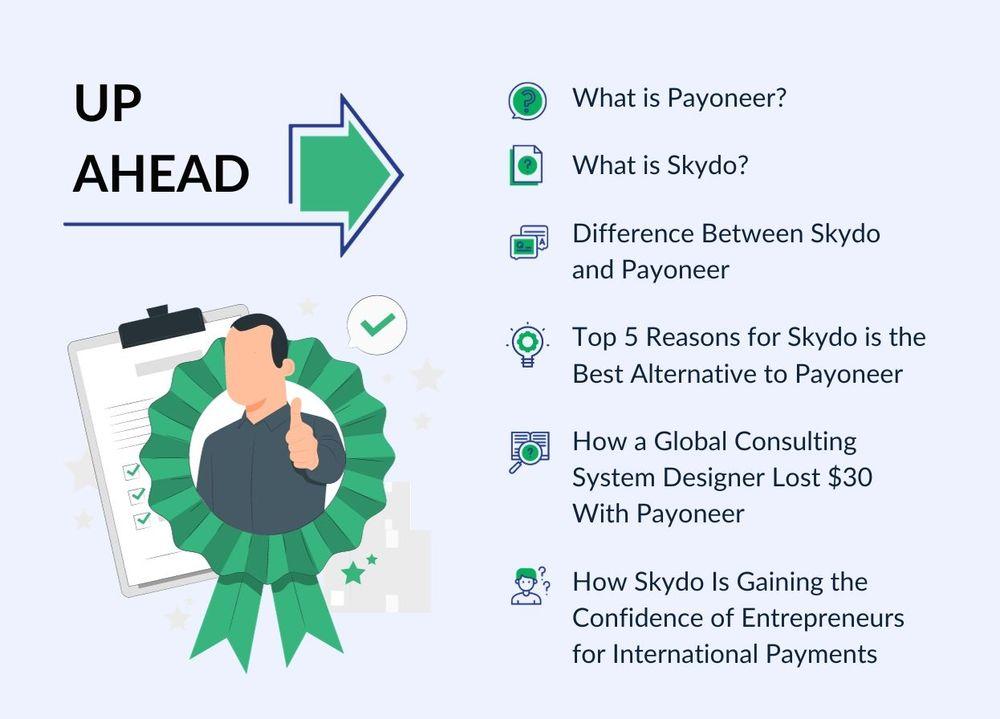 Last Updated
November 11, 2023
After a difficult year in 2020 due to the pandemic, international trade is up and running again. Transactions between countries have increased, with a notable 11% rise in cross-border payments within emerging markets. 
This surge has sparked a heightened demand for exponential payment platforms, ones capable of facilitating quicker international transactions, reducing costs, ensuring safety and transparency, and ultimately enhancing the overall experience of global transactions. 
With Skydo, you can experience hassle-free international payments, transparent pricing, and exceptional cost savings. This makes platforms like Payoneer and other payment service providers expensive, potentially draining your hard-earned money.
Let's compare Skydo and Payoneer to understand why Skydo is the best alternative to Payoneer and could transform your export business.
What is Payoneer?
Payoneer is a global financial services company that provides online money transfer and digital payment services. Founded in 2005, it facilitates cross-border transactions, making it easier for businesses and professionals to send and receive funds internationally. 
Payoneer offers a prepaid Mastercard that allows users to withdraw funds at ATMs and make online and in-store purchases.
What is Skydo?
Skydo, one of the five finalists for "Best Payments Startup" at GFF2023, is dedicated to streamlining cross-border B2B payments for businesses. They are committed to reducing foreign exchange charges by over 50%, making global transactions more cost-effective. 
Through strategic partnerships with leading banks worldwide, Skydo provides businesses with their virtual foreign accounts, eliminating tax and compliance complexities. 
They ensure real-time currency conversion at the live FX rate, free from markups, and enforce transparent flat fees. Skydo is poised to be a leader in fostering international business growth through efficient and transparent cross-border payments.
Difference Between Skydo and Payoneer
| | Skydo | Payoneer |
| --- | --- | --- |
| Transaction fees | $19 (for transactions less than USD 2,000)$20 (for transactions more than USD 2,000) | Up to 3.5% |
| Onboarding process | 5 minutes | Takes 3 business days |
| Payment turnaround | 24 hours | 2 days |
| Maintenance / Non-usage of account fees | Zero | $29.95 / per year |
| FX markup | Zero | 2% of the transaction |
| E-invoice features | Create invoices with ease, for free | Integrated free invoice builder |
| Transparent pricing | Provides a transparent and comprehensive breakdown of all the charges associated with your transactions | Fails to offer a transparent and detailed explanation of the fees |
Top 5 Reasons for Skydo is the Best Alternative to Payoneer
#1: Dashboard view of all accounts receivable activities
As your business expands, handling accounts receivable or outstanding invoices becomes increasingly challenging. Balancing multiple platforms and processes heightens the risk of errors and inconsistencies, potentially leading to overlooked invoices or inaccurate data. These discrepancies can have significant financial repercussions.
Moreover, navigating the monetary terrain of services exports involves various stakeholders, currencies, regulations, and timelines. Managing financial data within this complexity can quickly become an overwhelming endeavour.
Skydo's dashboard is a single source of truth for all account receivables, explicitly designed for modern IT export businesses. You can access all your outstanding invoices, analytics, and data seamlessly within one intuitive platform.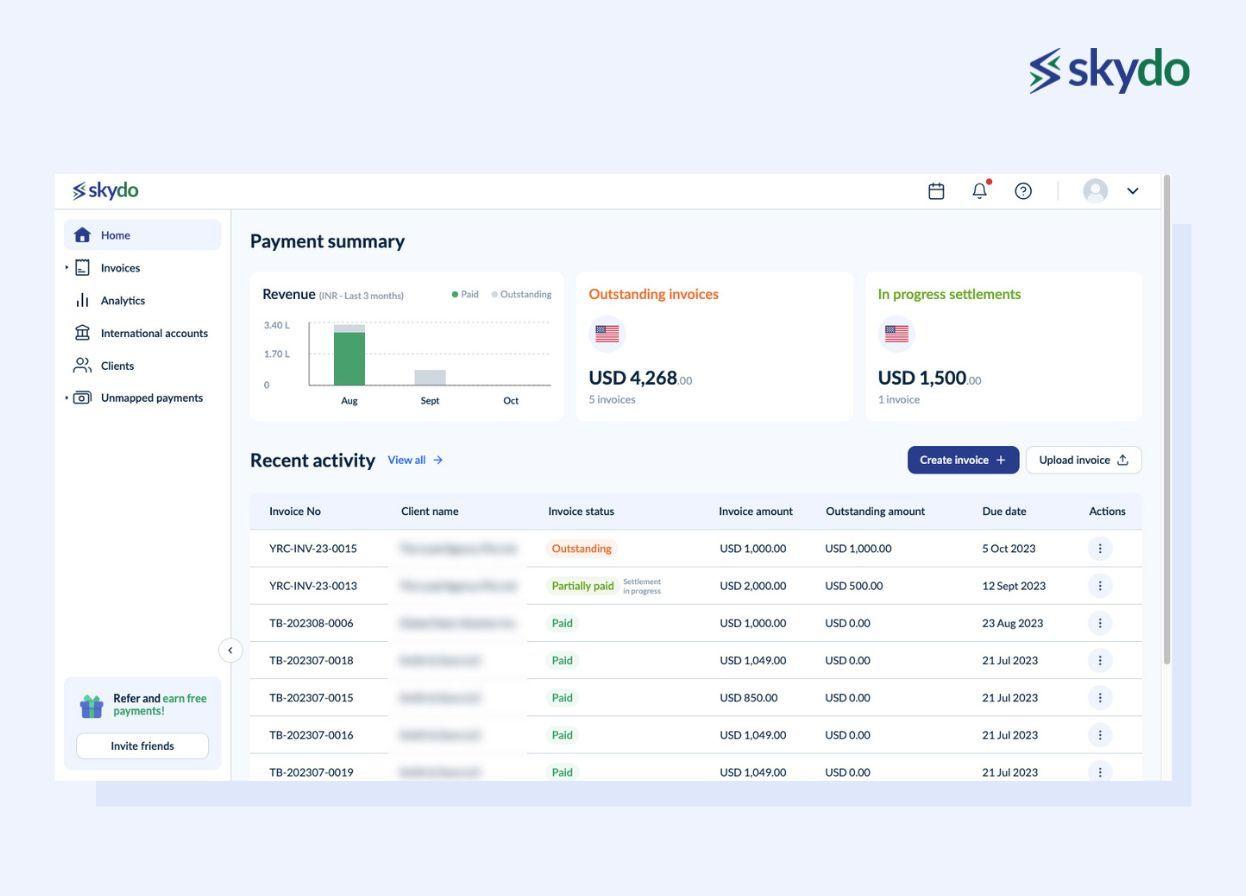 #2: Customer analysis
In the constantly evolving IT export industry, data-driven decisions are paramount, and Skydo's payment platform stands out. With customer-level revenue analysis, Skydo offers a comprehensive view of customer contributions and evolving patterns, a feature absent in payment service providers like Payoneer.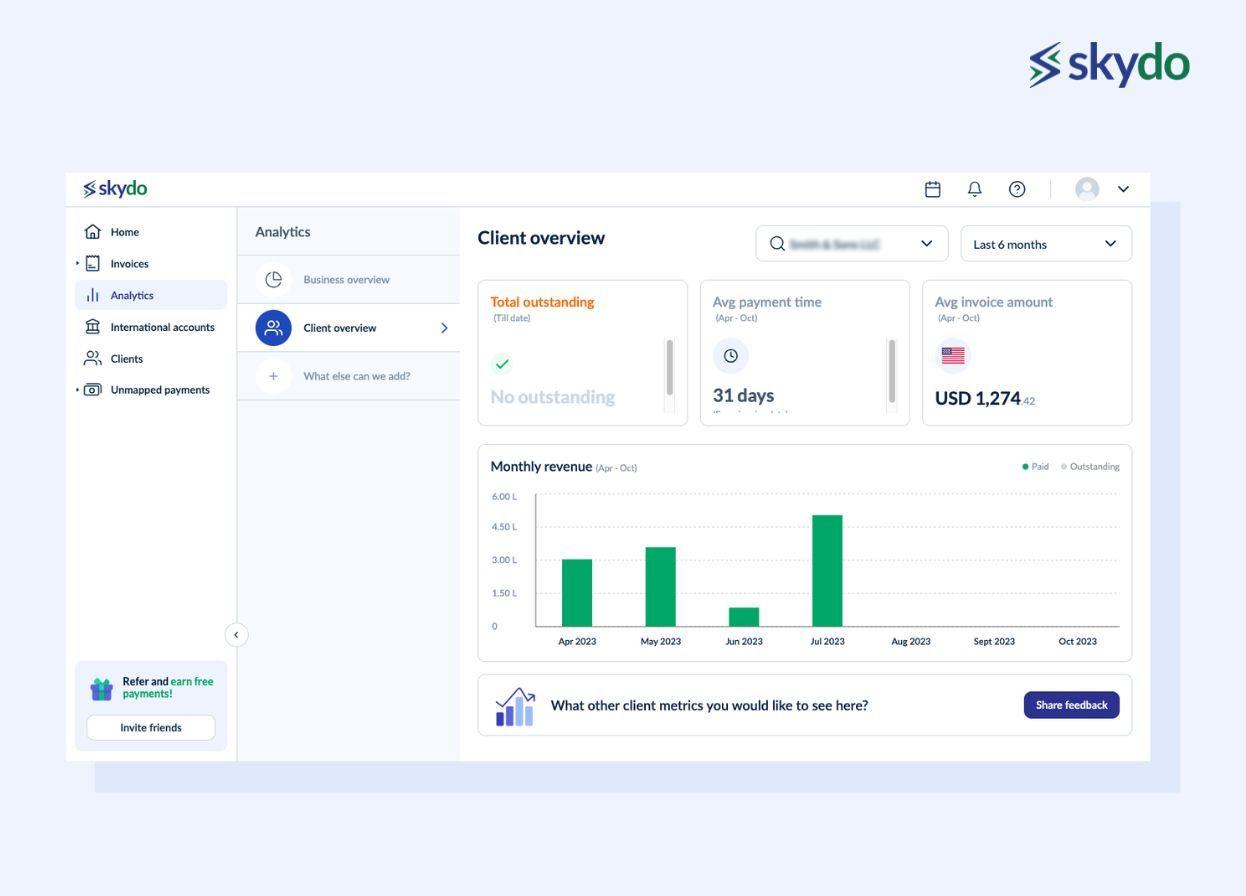 With this feature, you can obtain a comprehensive view of each customer's revenue contribution, identify payment patterns, and keep track of their evolving significance to your IT export business.
#3: Ledger for payment validation
Skydo's Ledger functionality presents a strong payment validation system, providing you with a detailed chronological record of issued invoices and their present payment statuses. This feature guarantees transparency and supports well-informed decision-making by presenting a concise summary of financial interactions.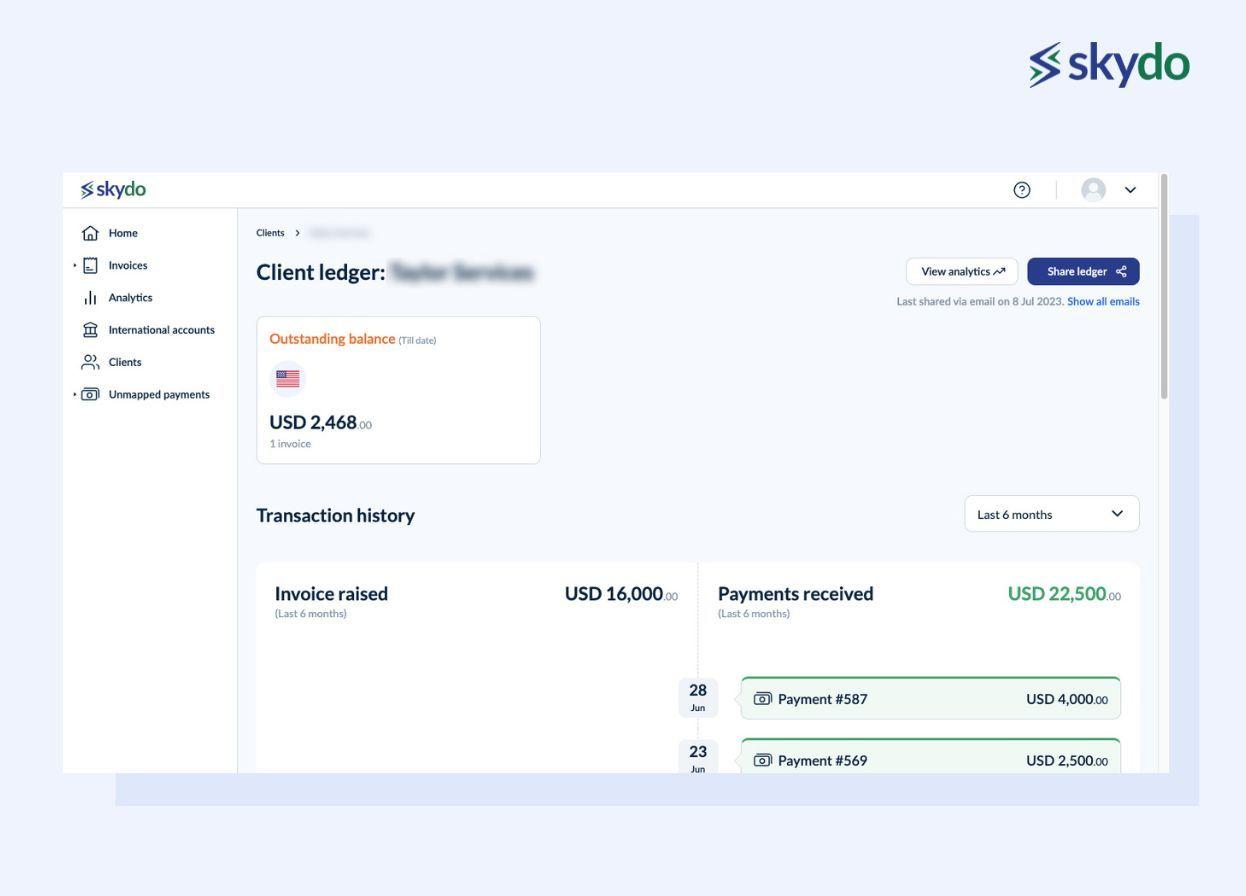 Skydo empowers your businesses by enabling you to effortlessly share this ledger directly with clients, promoting effective communication, and enhancing the payment validation procedure for your accounts receivables.
#4: Cost Savings 
If your business engages in a global transaction of INR 1 crore through Payoneer, you may incur fees ranging from 2-3.5%, which can total up to a significant INR 2-3.5 lakhs. 
However, with Skydo, you have the opportunity to reduce these high fees and save a large sum of money annually. As your transaction volume grows, the savings could accumulate and become even more substantial over time.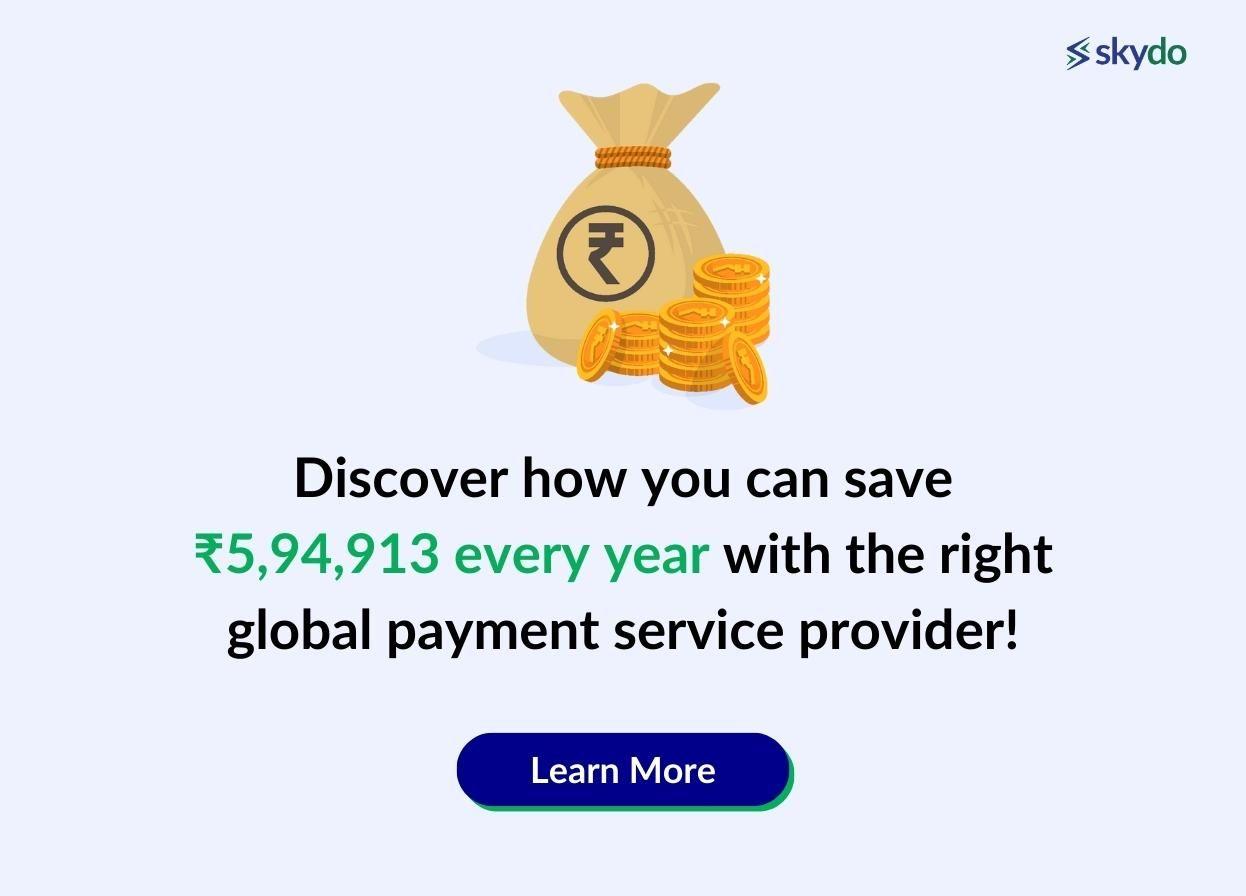 Discover how you can save ₹5,94,913 every year with the right global payment service provider!
#5: Regulatory compliance
Skydo effortlessly simplifies regulatory compliance by automatically generating GST-compliant FIRA with every global payment, a service provided at no additional cost. These reports are meticulously reviewed and approved by Chartered Accountants, ensuring adherence to GST regulations and facilitating seamless processing for potential refunds.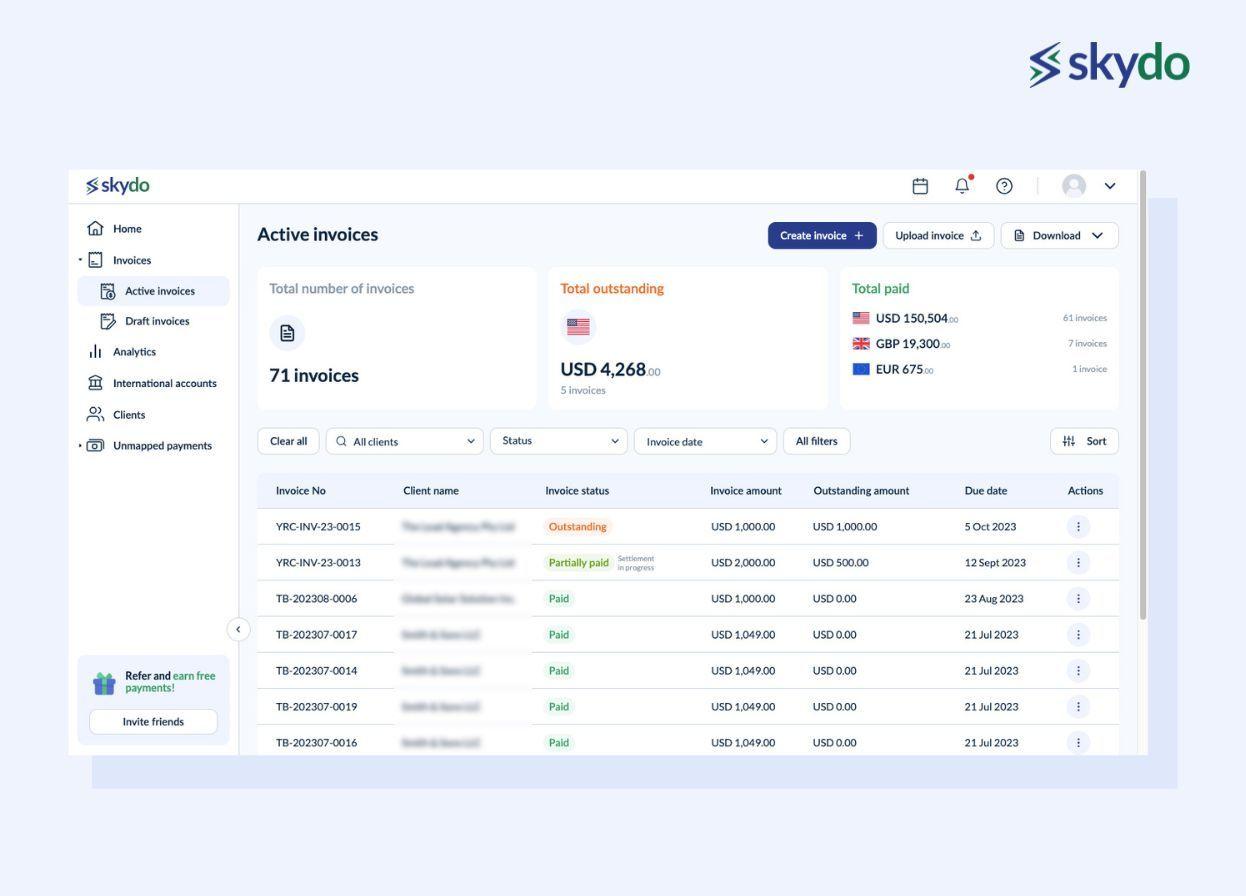 With Skydo, businesses experience a hassle-free journey toward compliance, eliminating the complexities associated with regulatory reporting and positioning them for efficiency and success.
How a Global Consulting System Designer Lost $30 With Payoneer 
A global consulting system designer, Amit, recently discovered he had lost $30 with Payoneer, sparking a tale of financial frustration. Payoneer silently deducted $29.95 in annual fees without prior notice. Their customer support claimed Amit had been informed through an 'in-app' notification, an assertion he vehemently disputed. 
Amit argues that while Payoneer has the right to charge fees, their lack of transparency and communication is unethical. He believes this issue underscores a breach of trust, prompting him to raise awareness about alternative international payment options.
Conclusion
Skydo emerges as the superior choice over Payoneer in the realm of cross-border payments. With lower transaction fees, a streamlined onboarding process, and faster payment turnaround, Skydo prioritises efficiency and cost-effectiveness.
Don't let costly alternatives like Payoneer deplete your bottom line; make the smart choice today. 
Get in touch with Skydo today for a seamless and profitable international payment experience!
Frequently Asked Questions
Q1. Does Skydo provide receipts for fees deducted for international payments?
Ans: Yes, Skydo provides GST receipts for the fees deducted. Users can download all the payment receipts from the Skydo dashboard. These receipts ensure transparent financial records for your business.
Q2. Does Skydo charge any annual fees like other global payment service providers?
Ans: Skydo doesn't charge any annual fees like Payoneer. This way, you can avoid extra costs for your transactions across borders.
Q3. How does Skydo ensure the best foreign exchange rates?
Ans: Skydo tracks real-time exchange rates to provide competitive currency conversion rates and maximise earnings.
Disclaimer: Please note that the information provided is accurate as of October 2023.