Skydo: The Best Alternative to Paypal for International Payments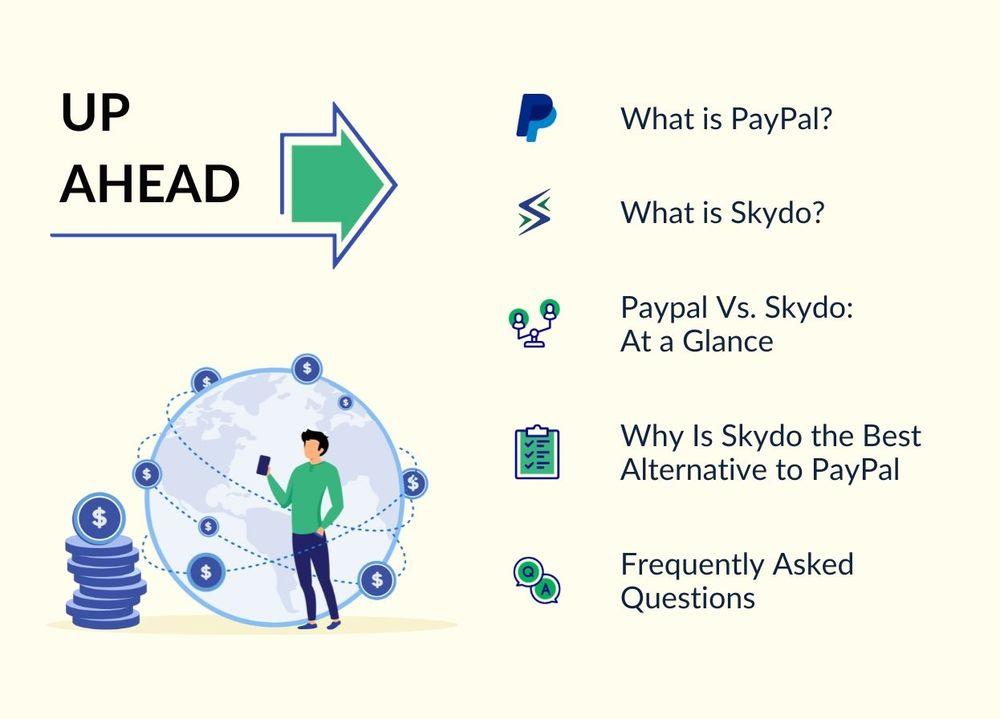 Last Updated
November 11, 2023
With the global expansion of businesses, the rise of the gig economy, and the growing trend of cross-border transactions, there is a rise in demand for seamless, secure, and efficient financial services that go beyond geographical boundaries. 
In response to this global trend, international payment platforms like Paypal, Wise, and Skydo, among others have emerged as vital tools, bridging the gap between individuals and businesses, which traditional payment systems such as banks lack. 
However, success for these businesses depends on the efficiency of international payments, which makes it important to have a reliable financial platform that is transparent and trustworthy. Your payment system should go beyond mere functionality and provide unwavering support to your business.
This blog post analyses Skydo and Paypal, two prominent global payment platforms designed to facilitate international payments.
What is PayPal?
PayPal is a globally recognised online payment platform that facilitates secure financial transactions, allowing users to make purchases, transfer funds, and receive payments digitally. 
It serves as a virtual wallet, connecting individuals and businesses across borders and offering various financial services such as payment processing, invoicing, and money transfers.
What is Skydo?
Skydo is a cutting-edge cross-border payment platform designed to streamline international transactions. Offering transparent and cost-effective solutions, Skydo goes beyond traditional payment systems, providing services like real-time payment tracking, one-click FIRC downloads, and advanced invoicing features. 
It aims to empower businesses with efficient, user-friendly tools for seamless financial management and global trade.
Paypal Vs. Skydo: At a Glance
1. Which Brand Has Lower Fees?
Paypal charges a fee of 4% of the transaction amount plus a fixed fee (based on currency received) per transaction. Additionally, they charge 3.0% above the base exchange rate and other merchant fees in case of other transfers out of PayPal.
Skydo charges a flat fee of $19 for transactions up to $2,000 or $29 for transactions above $2,000 up to $10,000. That's it – no hidden charges, no percentage games.
Here's an example to illustrate the cost difference: 
You're sending an invoice to your US client for $5,000 for your export IT service business:
With PayPal:
4% of $5,000 + fixed fee($0.05) = $200.05
Total PayPal fee: $200.05 + 3% on base exchange rate + other merchant fees
With Skydo:
Since $5,000 is more than $2,000, you pay a flat fee of $29 + GST.
So, for a $5,000 transaction, PayPal charges you $200.05 along with several hidden fees, while Skydo only charges $29 and GST with transparent pricing. 
This indicates that Skydo's charges are significantly lower, roughly more than 5 times cheaper than PayPal.
2. Which Brand Offers Better Exchange Rates?
PayPal applies an exchange rate margin ranging from 3% to 4% on the majority of currency conversions, including markup as determined by PayPal. However, the precise percentage augmentation is not transparently displayed during the invoice initiation process.
In contrast, Skydo provides real-time exchange rates with no additional markup, offering an entirely transparent pricing model. 
For example, if you receive an amount of USD 500 against a client's invoice, the INR amount would depend on the moment it reaches the Skydo account and its subsequent exchange rate that day and time. 
Let's consider the exchange rate is INR 84 by the dollar. The INR amount you receive would be–
500*84 = INR 42,000.
Please note: This amount excludes Skydo charges and GST.
No FX margins. No hidden fees. Simply the amount mentioned above in your bank account.
Heads up: Explore Skydo's FX calculator to determine the potential annual savings you could enjoy in Forex transactions.
3. Which Brand serves/accepts more currencies?
PayPal only supports transfers between 25 currencies at the moment.
Skydo supports 30+ currencies to date.
4. Which is Faster Transaction Time?
PayPal takes 5 full business days to finalise the transaction, whereas Skydo efficiently completes the process in just 24-48 hours.
5. What Brand Offers Faster Onboarding?
PayPal onboarding unfolds over three to five days for thorough verification. In contrast, Skydo offers fast onboarding, requiring just five minutes and minimal paperwork. It provides a seamless and quick onboarding experience for users seeking efficiency and convenience in their international transactions.
Check out this blog to learn more about Skydo's onboarding process!
Moreover, In disagreements or disputes between sellers and customers leading to chargebacks, PayPal holds ultimate authority in determining the course of action for a transaction. They can suspend your account without providing any explanation, as specified in the arbitration policy.
Why Is Skydo the Best Alternative to PayPal
| | PayPal | Skydo |
| --- | --- | --- |
| One-click FIRC download | ❌ | ✅ |
| Lowest transaction fees | ❌ | ✅ |
| Best FX rate | ❌ | ✅ |
| More currencies | ❌ | ✅ |
| Faster Transaction Time | ❌ | ✅ |
| Faster Onboarding | ❌ | ✅ |
| Invoice features | ✅ | ✅ |
| Real-time payment tracking | ❌ | ✅ |
| Revenue analysis | ❌ | ✅ |
| Payment reminders | ❌ | ✅ |
| Ledger for payment validation | ❌ | ✅ |
| High transaction fee | ✅ | ❌ |
| Transparent pricing | ❌ | ✅ |
| Time-consuming onboarding process | ✅ | ❌ |
| Live FX rate | ❌ | ✅ |
| Zero FX margin | ❌ | ✅ |
#1. Instant one-click FIRC download
PayPal provides monthly FIRCs, but Skydo goes one step further. 
With Skydo's user-friendly dashboards, you can download all your FIRCs with just one click. This streamlined process simplifies access to crucial documents, efficiently tracking and managing your export remittance documentation.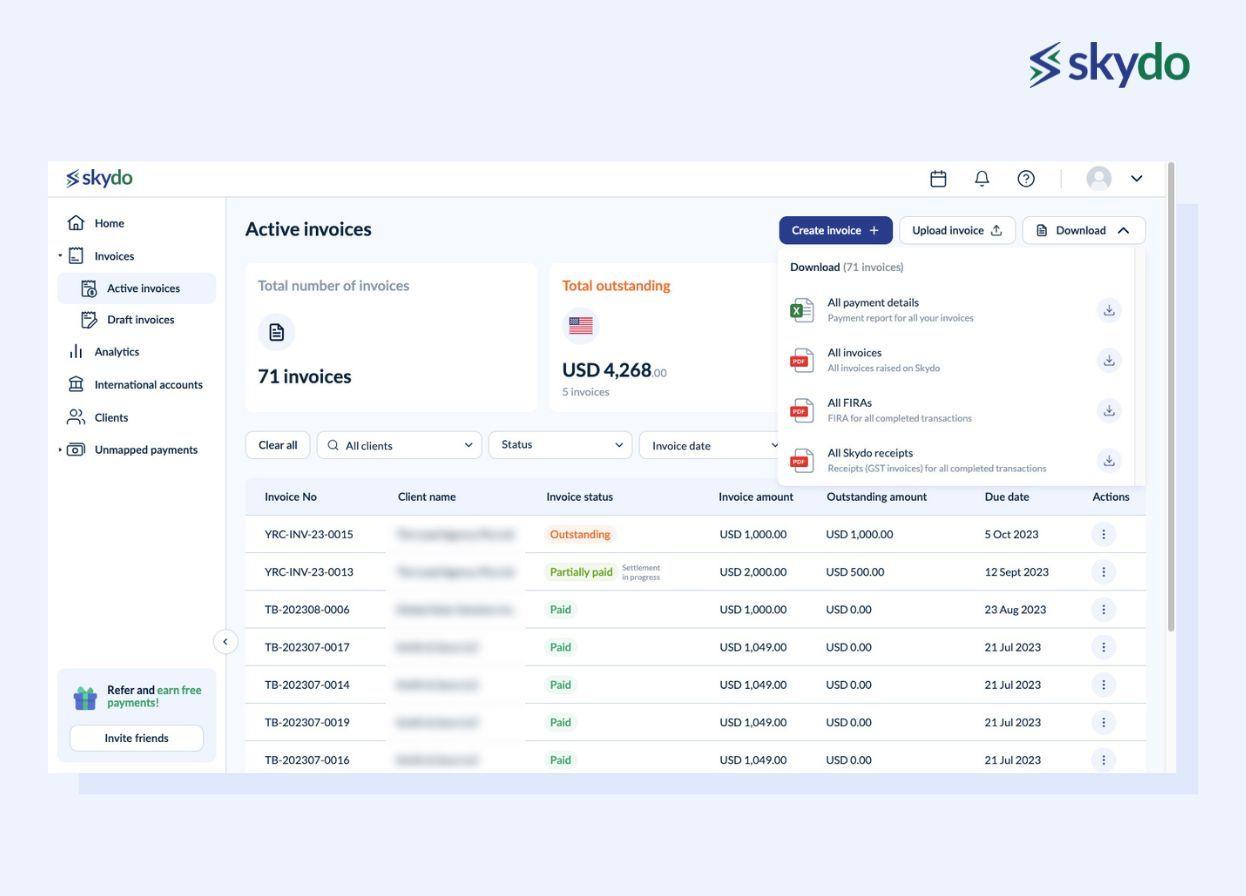 #2. Invoice features
Skydo's advanced automation effortlessly manages recurring invoices, invoice numbering, and purpose codes, liberating you from the burdensome shackles of manual tasks. Beyond the confines of in-house invoices, Skydo extends its operational efficiency to external mail platforms, ensuring seamless payment tracking.
When dispatching an invoice to your client, enter invoices@skydo.com in the CC field. This ensures that comprehensive tracking information is readily accessible on the Skydo platform.
#3. Real-time payment tracking
Ensuring precise financial insight and mastery is essential for making informed strategic fiscal choices. Other payment platforms, such as PayPal, may sometimes hold your funds, potentially causing delays in your cash flow.
With the Skydo payment platform, you gain the power to monitor payment statuses in real time, granting you the foresight to anticipate incoming funds accurately.
Skydo offers a crystal-clear perspective of your transactions, beginning the moment they enter the Skydo platform and culminating in their arrival in your bank account. This transparency empowers you to confidently manage your financial journey.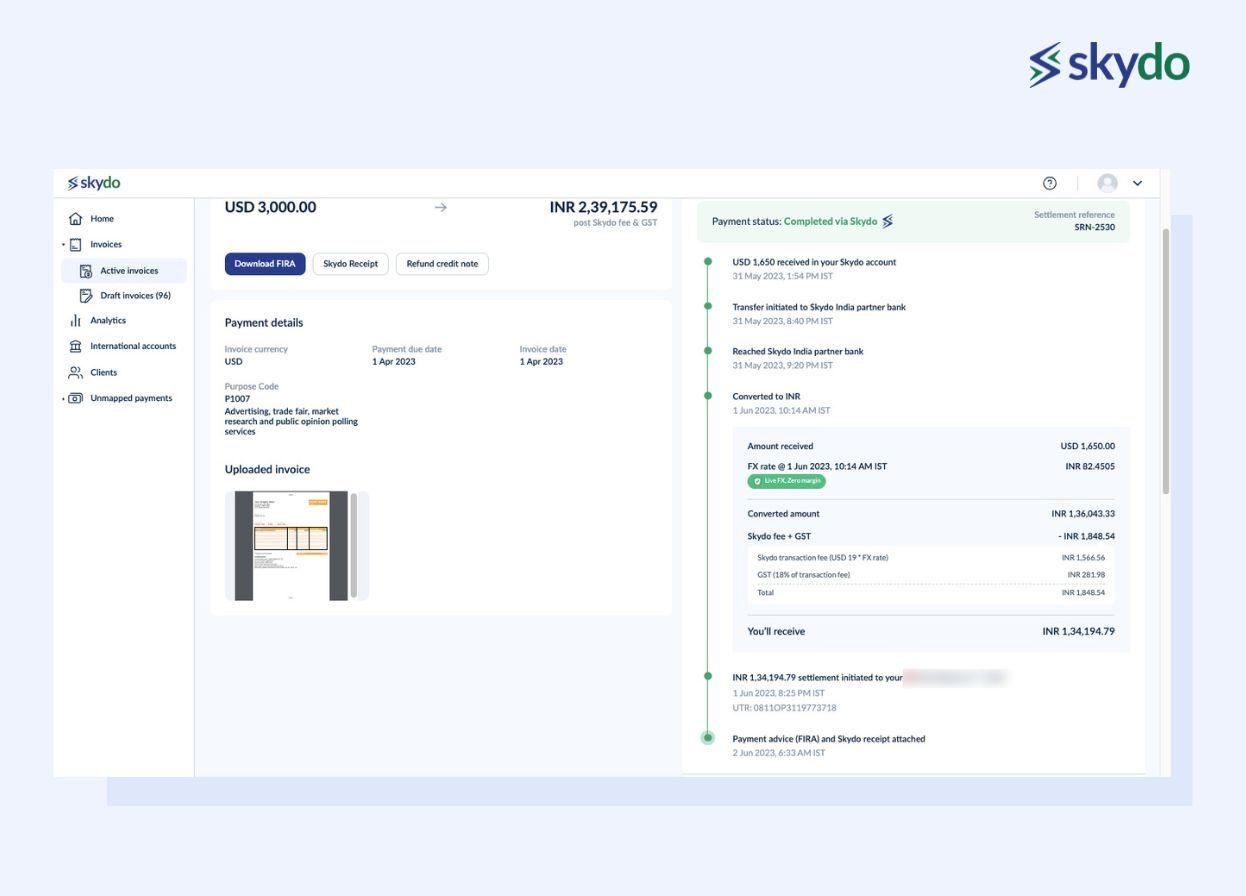 #4. Revenue analysis
In your pursuit of financial success, Skydo offers an exceptional revenue analysis feature. You'll find it particularly valuable as it enables you to track monthly revenue on a client-level basis. 
By leveraging the invoices you create, Skydo provides you with detailed, up-to-the-minute insights into your financial interactions with each client. This goes beyond mere number tracking, empowering you to make well-informed decisions, optimise revenue streams, and foster solid financial relationships.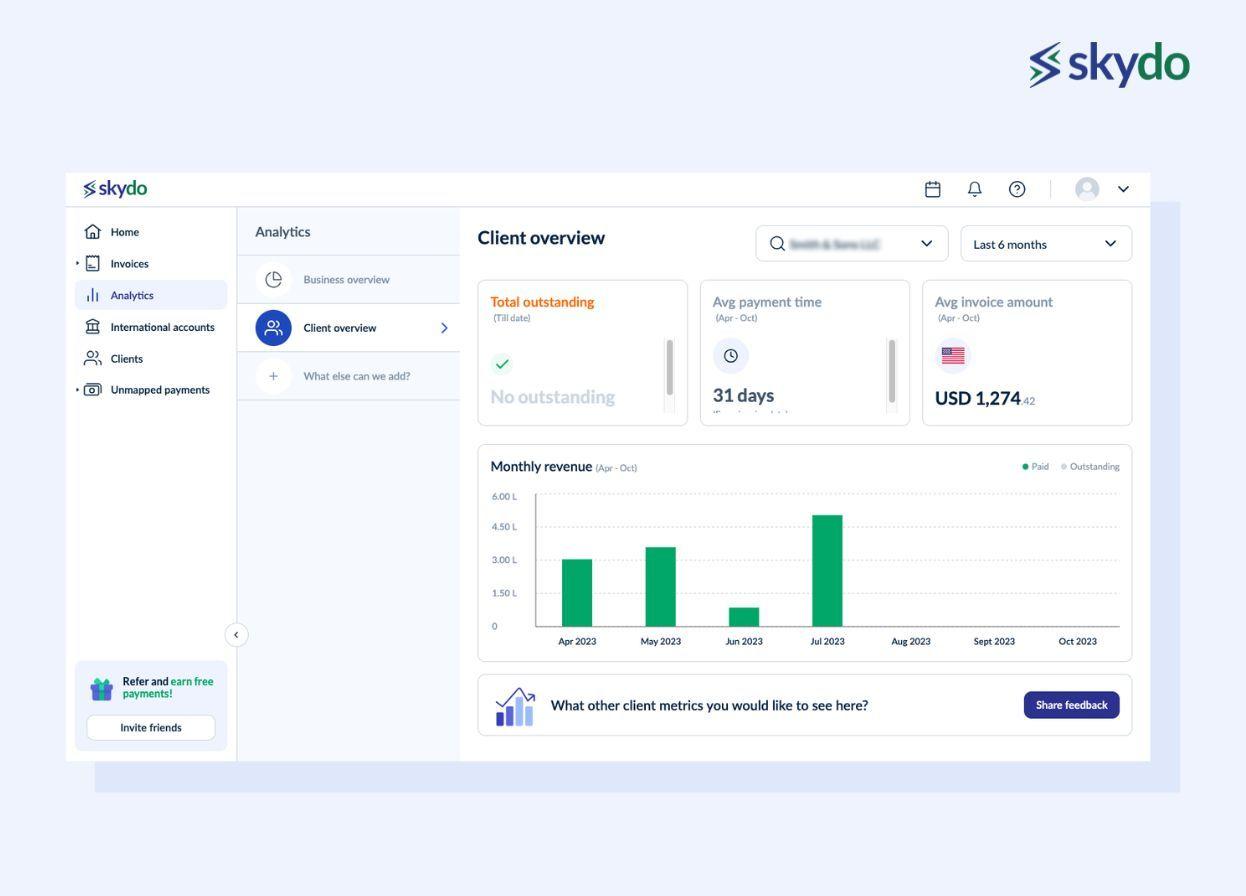 #5. Ledger for payment validation
Skydo's Ledger feature offers a robust payment validation system, providing users with a detailed timeline of all issued invoices and their current payment statuses. This comprehensive ledger view ensures transparency and facilitates informed decision-making by offering a streamlined overview of financial interactions. 
Empowering businesses, Skydo allows users to easily share this ledger directly with clients, fostering efficient communication and strengthening the payment validation process.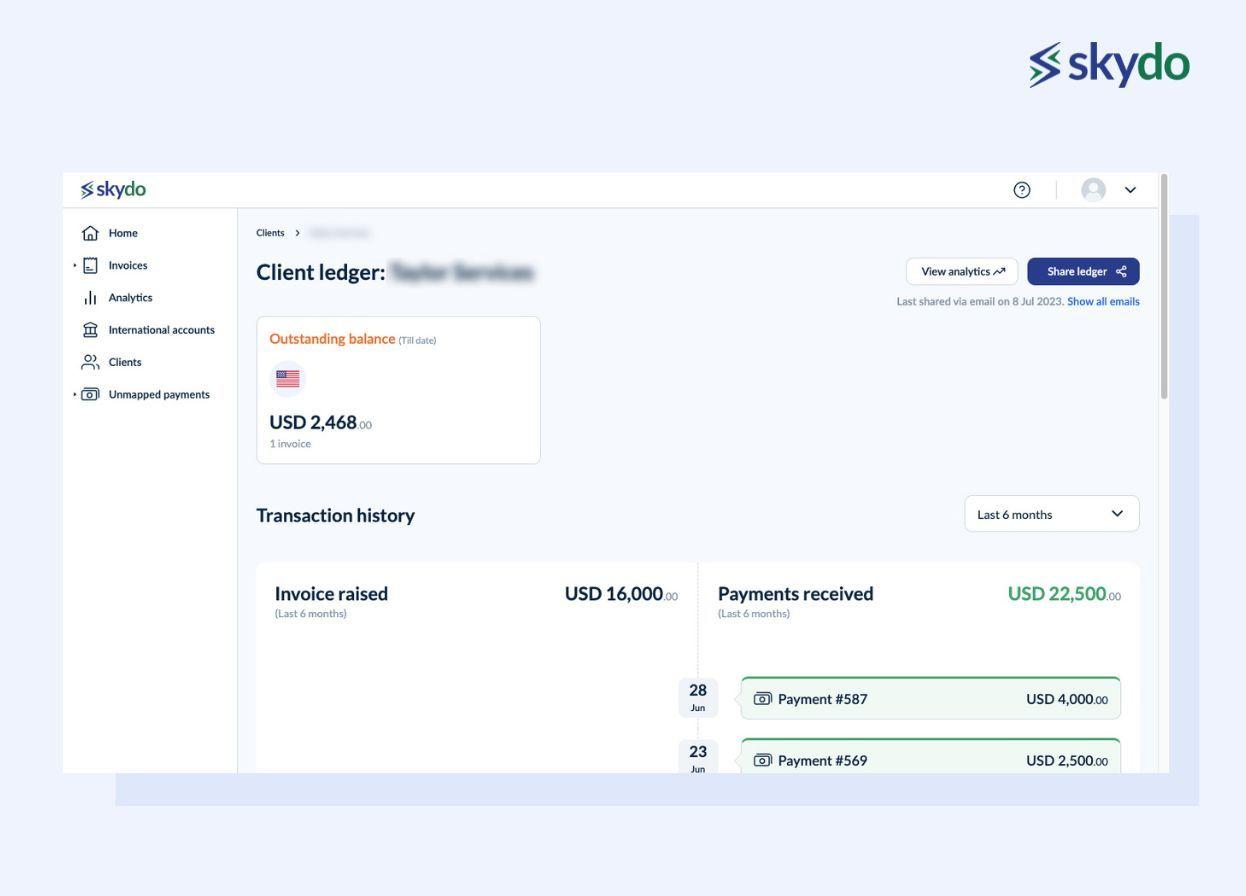 Final Words
Skydo emerges as the ideal alternative for businesses seeking transparency, efficiency, and cost-effectiveness in their financial transactions. Skydo's features, such as instant FIRC downloads, real-time payment tracking, revenue analysis, and a comprehensive ledger, make it a standout choice compared to PayPal.
Ready to Elevate Your Financial Experience? Make the Switch to Skydo Today!
Frequently Asked Questions
Q1. What is the difference between exchange rates and currency conversion fees in international payments?
Ans: Exchange rates determine the value of one currency relative to another and can affect the amount you receive in the target currency. Currency conversion fees are charges applied when your payment platform converts your funds from one currency to another during the transaction.
Q2. What is the primary difference between Skydo and PayPal?
Ans: The primary difference between Skydo and PayPal lies in their fee structures and transparency. Skydo offers a flat fee model with no hidden charges, while PayPal charges a percentage of the transaction amount along with additional fees, making Skydo a more cost-effective option.
Q3. What is the processing time for transactions on Skydo compared to PayPal?
Ans: Skydo completes transactions in 24-48 hours, providing a faster processing time compared to PayPal, which takes 5 full business days to finalise transactions.
Q4. What are the typical fees associated with international payments?
Ans: Fees for international payments can vary depending on the platform or service used. Common fees include transaction fees, currency exchange fees, and fixed charges. It's essential to understand the fee structure of your chosen platform to make cost-effective international payments.
Disclaimer: Please note that the information provided is accurate as of October 2023.