What do exporters expect from the 2023 budget?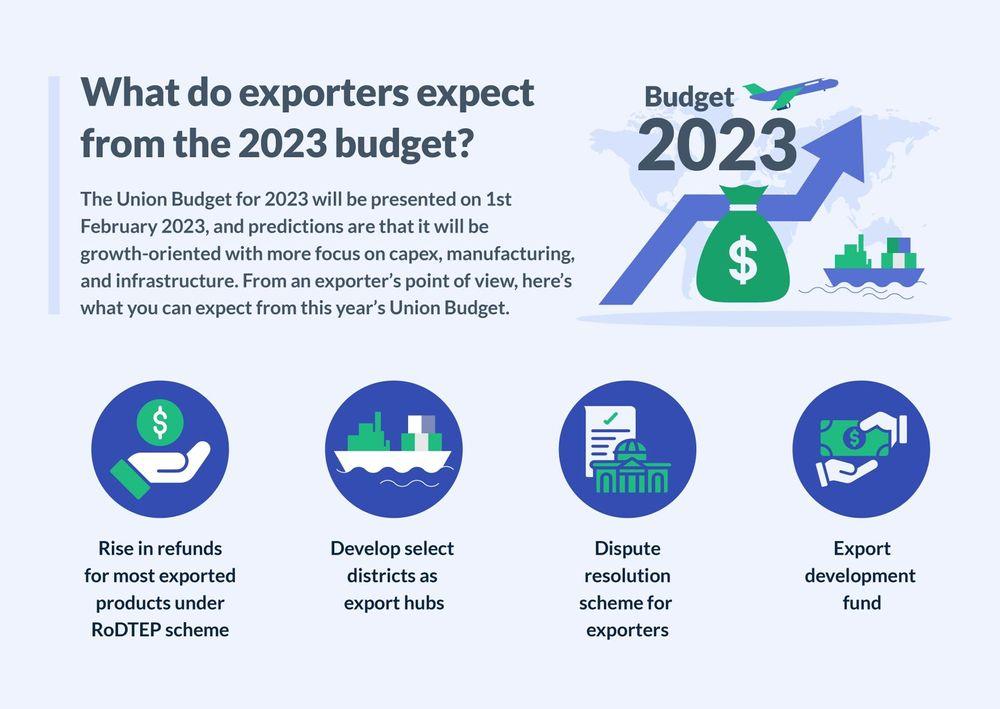 The Union Budget for 2023 will be presented on 1st February 2023, and predictions are that it will be growth-oriented with more focus on capex, manufacturing, and infrastructure. From an exporter's point of view, here's what you can expect from this year's Union Budget.
‍1. Rise in refunds for most exported products under RoDTEP scheme
Under the current scheme, eligible exporters get a refund ranging between 0.3% - 4% of the freight-on-board value of the exported products.
After acknowledging anomalies in 432 products under the Remission of Duties and Taxes on Exported Products, the government will likely raise the allocation for the flagship tax remission scheme for exporters by 10%. Earlier it had budgeted ₹13,699 crore for the RoDTEP scheme in FY23, and the new estimates expect to be a similar amount.
Also, the composition fee - slapped on traders who dishonour their re-export commitment under the advance authorisation scheme within the time period and seek renewal of permit -  is being cut down. Currently, the composition fee is 0.5% of the freight-on-board value of the unfulfilled export obligation is now being revised to a flat rate of ₹10,000 to ₹30,000, depending on the value of the unfulfilled commitment.
‍2. Develop select districts as export hubs
The government will launch a new scheme in several districts where the Centre will offer ₹3000 - ₹5000 crore to both states and private players to create the infrastructure. It's also considering extending support in marketing the exported products overseas.
This will boost rural entrepreneurship and possibly increase the portfolio of novel, indigenous and organic products to be exported. The pilot will include 50 districts and later expand to 733 districts.
This proposal will be revitalizing given how our merchandise export have faltered due to lower demands in markets like US and Europe. Goods exports slumped 12.2% in December after having a marginal rise in November and a steep fall of 16.7% in October, deemed the worst drop since May 2020. Hence, any support to boost the export of goods and services, which account for over a fifth of the country's GDP, will be rejuvenating.
The ministry has already started deep-diving and analysing export opportunities beyond traditional ones for various products that can be exported.
‍3. Dispute resolution scheme for exporters
The budget will introduce this scheme for exporters, offering a one-time opportunity to settle past issues of export obligation default. The scheme may provide a window of three-six months for exporters to come clean. It could lower the interest to one-third on delayed customs duty payment and possibly even waive penalties. 
The scheme, if implemented, will benefit exporters related to two schemes - the Export Promotion Capital Goods Scheme (EPCG) and Advance Authorisation (AA) scheme since 2010.
Exporters looking to avail benefits under the EPCG scheme must achieve an export value equivalent to six times the Customs duties saved on capital goods. This has to be done in six years from the date of the issue of authorisation. Advanced Authorisation is issued for importing duty-free inputs, against which prescribed export obligations have to be fulfilled within 18 months of the date of issue of the authorisation.
‍4. Export development fund
In a meeting held with the Finance Minister, exporters urged the government to create an Export Development Fund to promote aggressive marketing since the merchandise exports fell for the first time ins two years. FIEO (Federation of Indian Export Organizations) has sought ₹200 crore in support under the Market Development Assistance (MDA) Scheme. For aggressive marketing, the creation of EDF with a corpus of a minimum of 0.5% of the previous year's exports is required, which will also provide additional employment in the export sector and restoration of interest equalization benefit of 5% to MSMEs. 
Since the cost of credit crossing pre-Covid levels has adversely impacted exporters, the FIEO has also asked for tax and fiscal incentives to private sectors to boost setting up global shipping lines and exploit the ready markets available.
Parting thoughts
Much is awaited and expected out of the upcoming budget for exporters. Having touched a record of $422 billion, the country's exports started falling primarily due to geopolitical tensions between Russia and Ukraine and the interest rate being tightened by central banks that will affect growth in advanced economies. The IMF has a forecast of 0.5% in Europe and 1% in the US, and WTO has predicted an overall 1% growth in global trade volume for 2023. This can impact the prospects of India's export growth as well.