The Benefits of Multi-Currency Accounts for International Payments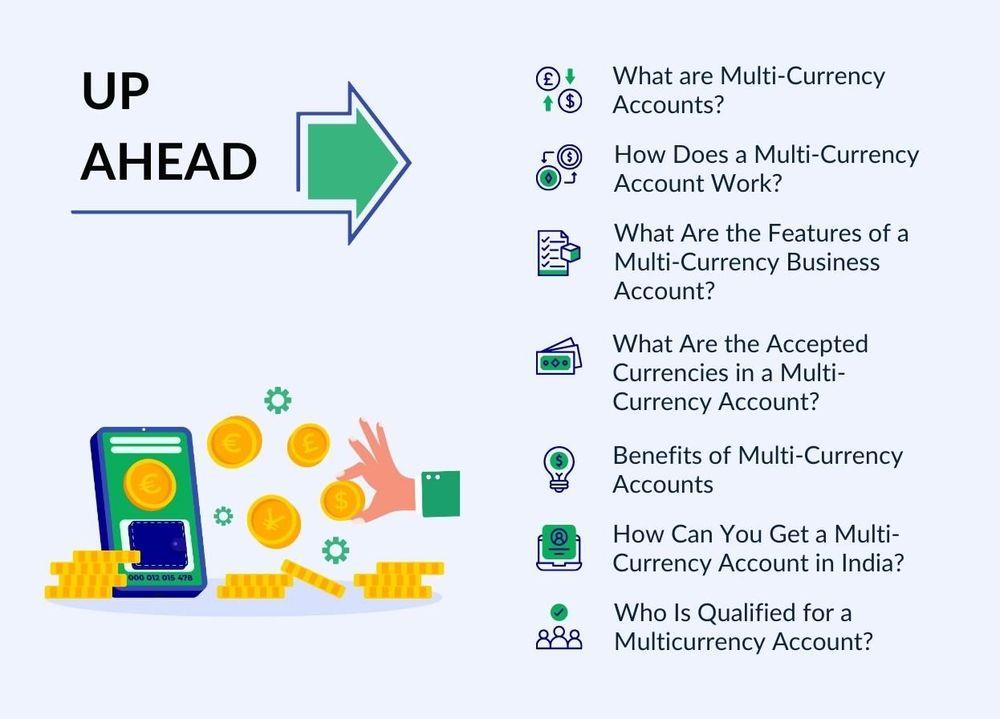 Last Updated
November 29, 2023
The world of commerce has jumped over every global boundary, where international payments have become the norm. 
The world of commerce has immense opportunities: a global presence with customers willing to pay for your products or services. But what about payments? Foreign currency payments involve never-ending steps of currency conversions and handling numerous overseas bank accounts. Even if you are brave enough to invest so much time and effort, the biggest hurdle is yet to come: Fluctuating Exchange Rates.The resulting system makes it highly challenging to keep track of all the international payments.However, the solution is to open a multi-currency account.A multi-currency account is a specialised account that can take some of the hassle, time consumption, and expense of dealing with multi-currency international payments. 
What are Multi-Currency Accounts?
A multi-currency account allows an individual or a business to receive, pay, and hold multiple currencies within a single account. You can deposit or withdraw cash in multiple currencies seamlessly.Multi-currency accounts offer lower charges on foreign currency transactions, which can be vital in creating a cost-effective payment solution, especially if you make multiple international payments daily. 
At around $83 billion, India is the largest global market for inward remittance flow, followed by China and Mexico. Since 2016, India has witnessed a steady rise of CAGR 8% in its cross-border remittance. However, if your business is amidst the cross-border transaction flow, it requires a tailor-made financial solution.
In India, some large banks, digital fintech startups, and financial institutions are embracing the demand for such accounts and are offering multi-currency accounts to individuals and businesses. 
How Does a Multi-Currency Account Work?
A multi-currency account works on the principle of real-time currency conversion based on the prevailing exchange rate at the time of the transaction.
For example, if you have received payment from an international client from the US in USD, you can hold the payment in USD in your multi-currency account. If you have to pay a client in USD, you can use the current funds for direct payment without converting your local currency to USD.
Moreover, you also have the facility to convert the funds you have received in USD in your local currency as per the current exchange rate and convert it again to another currency to make global payments. The process makes it easier for an individual or a business to streamline international payments and ensure currency diversification as they can hold various currencies in a single account. 
Some multi-currency accounts come with additional features which can help in increasing the return potential. For example, some multi-currency accounts may offer interest on the balances held in different currencies, while some may offer access to foreign exchange markets. 
What Are the Features of a Multi-Currency Business Account?
Here are some key features of a multi-currency business account: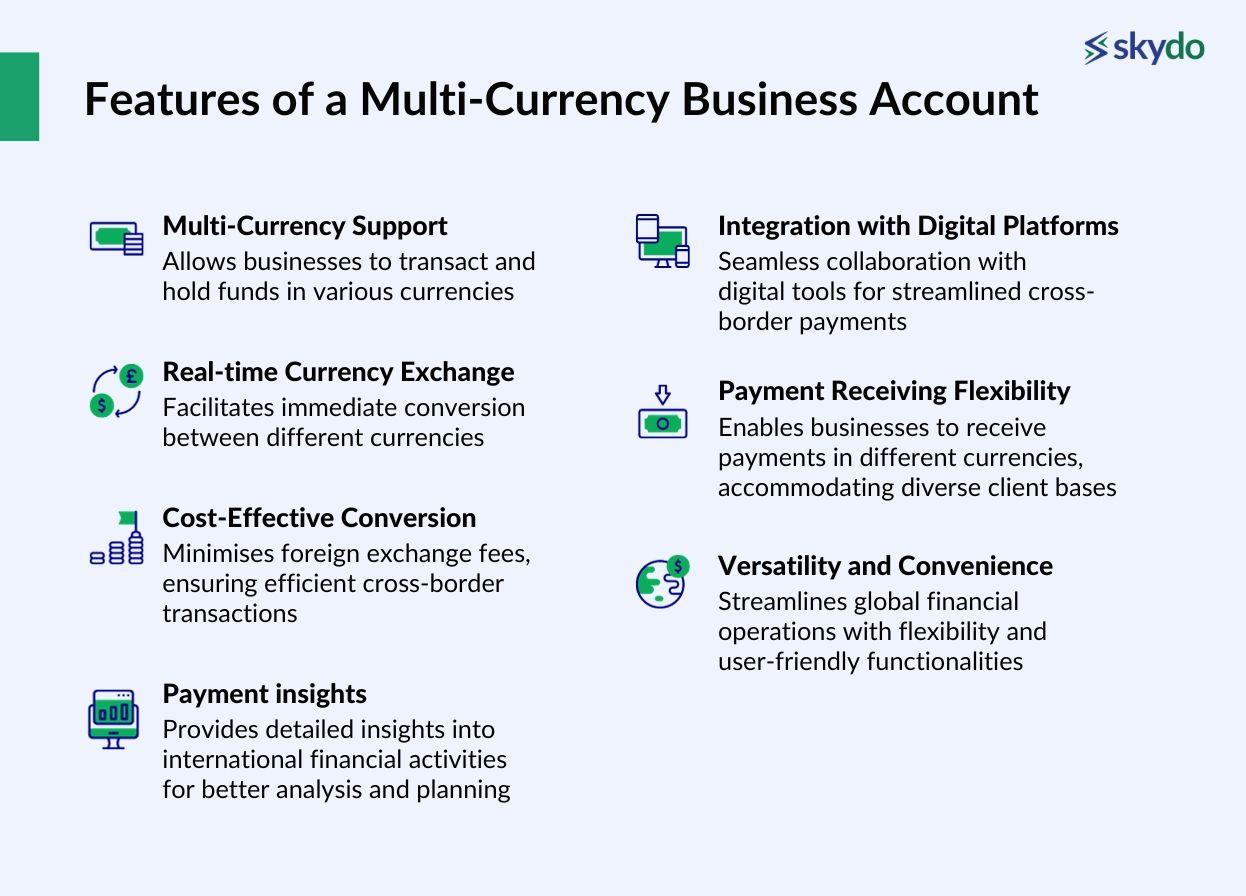 Multi-Currency Support: Allows businesses to transact and hold funds in various currencies
Real-time Currency Exchange: Facilitates immediate conversion between different currencies
Payment insights: Provides detailed insights into international financial activities for better analysis and planning
Integration with Digital Platforms: Seamless collaboration with digital tools for streamlined cross-border payments
Payment Receiving Flexibility: Enables businesses to receive payments in different currencies, accommodating diverse client bases
Versatility and Convenience: Streamlines global financial operations with flexibility and user-friendly functionalities
What Are the Accepted Currencies in a Multi-Currency Account?
The accepted currencies in a multi-currency account range between 30-200, depending on the financial institution. However, a multi-currency account facilitates, at minimum, transacting in the following currencies.
U.S. dollar (USD)
Euro (EUR)
Canadian dollar (CAD)
Australian dollar (AUD)
Japanese yen (JPY)
Singapore dollar (SGD)
Pound sterling (GBP)
Hong Kong dollar (HKD)
Benefits of Multi-Currency Accounts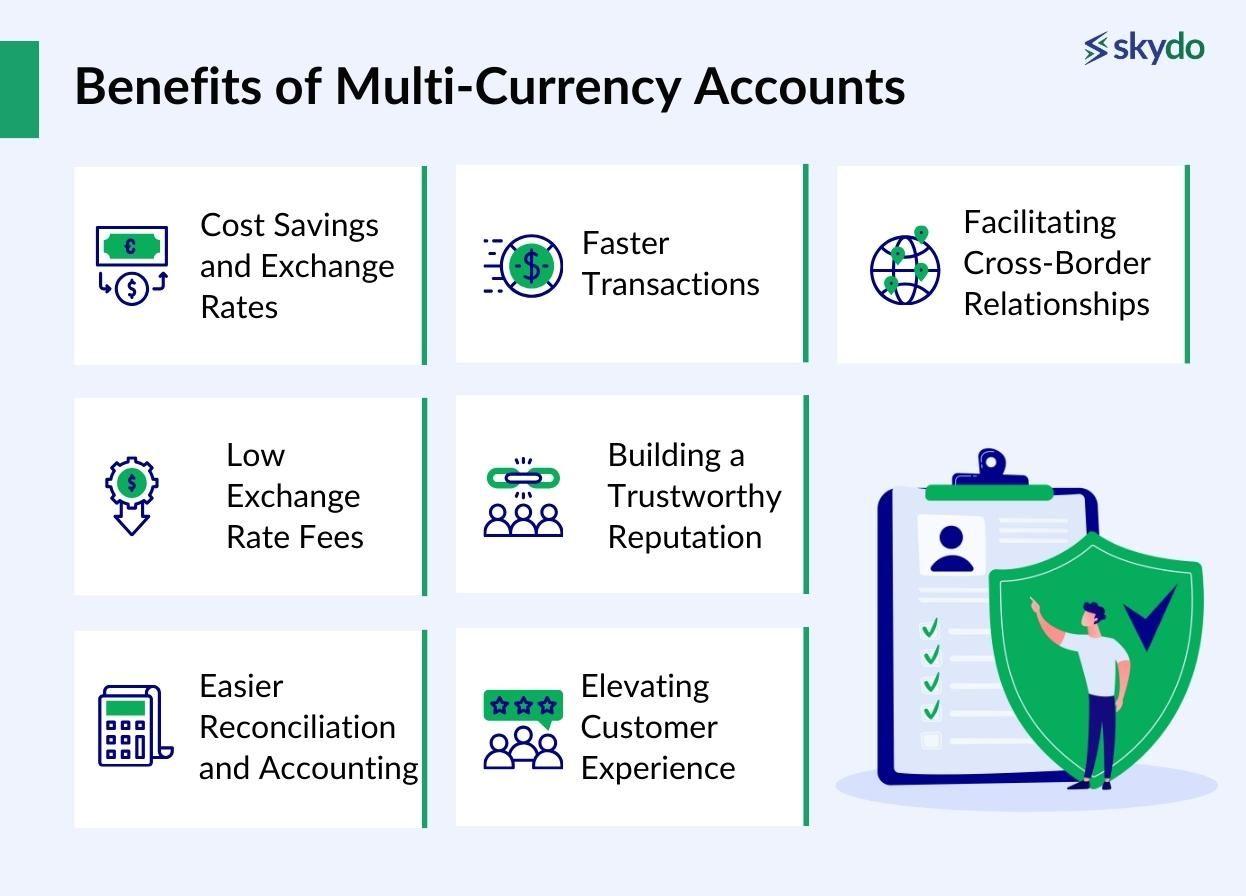 1. Cost Savings and Exchange Rates
A multi-currency account offers the flexibility of holding the received payments in foreign currency or converting the funds to any preferred currency. This feature allows you to capitalise on favourable exchange rates without reducing the payout by paying the fee charged by traditional bank accounts. 
For example, you can hold funds in your multi-currency account in US dollars and convert them to another preferred currency when the exchange rate is higher, resulting in a higher payout. As there are no costs involved regarding currency conversions, you can save a hefty amount, as traditional bank accounts charge Rs 750 to Rs 1,000 per transaction. 
2. Low Exchange Rate Fees
Multi-currency accounts often come with lower exchange rate fees compared to traditional banking methods or separate currency accounts. This is particularly beneficial for businesses or individuals who frequently engage in international transactions, as it helps reduce the overall cost of converting currencies.
3. Easier Reconciliation and Accounting
Managing finances across multiple currencies can be challenging, especially when dealing with various accounts for different currencies. Multi-currency accounts simplify reconciliation and accounting processes by consolidating all transactions into a single one. This streamlines financial management, making tracking expenses, revenues, and overall financial performance easier.
4. Faster Transactions
Multi-currency accounts can contribute to faster transaction processing. You can send and receive payments in different currencies without the need for time-consuming conversions. 
This efficiency is particularly advantageous in the context of global business operations, where timely transactions can be crucial for maintaining smooth cash flow and meeting financial obligations.
5. Building a Trustworthy Reputation
Maintaining a multi-currency account can enhance a company's reputation as it depicts its presence on a global scale. If a company accepts payments in multiple currencies, it contributes to the perception that it is well-established, capable, and has a significant international presence.Furthermore, a company with a multi-currency account makes it easier for international companies or customers to do business with the company, which may increase the customer base in the long run. 
6. Elevating Customer Experience
A business is best managed with a customer-centric approach, which focuses on providing a seamless experience to customers, including preferred payment terms. A company with a multi-currency account may have a competitive edge in the global market. 
With a multi-currency account, international customers can pay in their preferred currency, offering them greater convenience. The customer-centric approach derived through payments in preferred currencies positively impacts customer loyalty and retention. 
7. Facilitating Cross-Border Relationships
The success of a company is derived from strong relationships with international partners and suppliers. A company with a multi-currency account is better positioned to complete timely payments to its partners and suppliers as the transactions are quick and hassle-free. 
This efficiency can majorly attract and retain global partners who want to conduct business without unnecessary delays and foster strong cross-border relationships.
How Can You Get a Multi-Currency Account in India?
You have the option to establish a multi-currency account through specific banks, fintech firms, or private banking services. The most suitable multi-currency account for your needs will vary based on the currencies you utilise and the required services.
While some banks primarily provide multi-currency accounts for businesses, others extend their services to individuals as well. Notable banks that offer multicurrency accounts include Citi, HSBC, East West Bank, Wells Fargo (for business accounts only), and PNC (for business accounts only).
Alternatively, fintech companies such as Skydo also offer multi-currency account solutions with a small flat fee involved per transaction.
When deciding where to open your account, carefully assess factors like fees, services, and customer support from each institution. Additionally, ensure that the chosen account supports the currencies relevant to your usage.
Who Is Qualified for a Multicurrency Account?
You must be 18 and above to open a multicurrency account, and certain accounts are restricted to residents of specific countries. Meeting minimum balance requirements may also be necessary. Some multi-currency accounts cater to businesses or high-net-worth individuals, imposing relatively high minimum balance criteria.
Potential beneficiaries of multicurrency accounts include the following.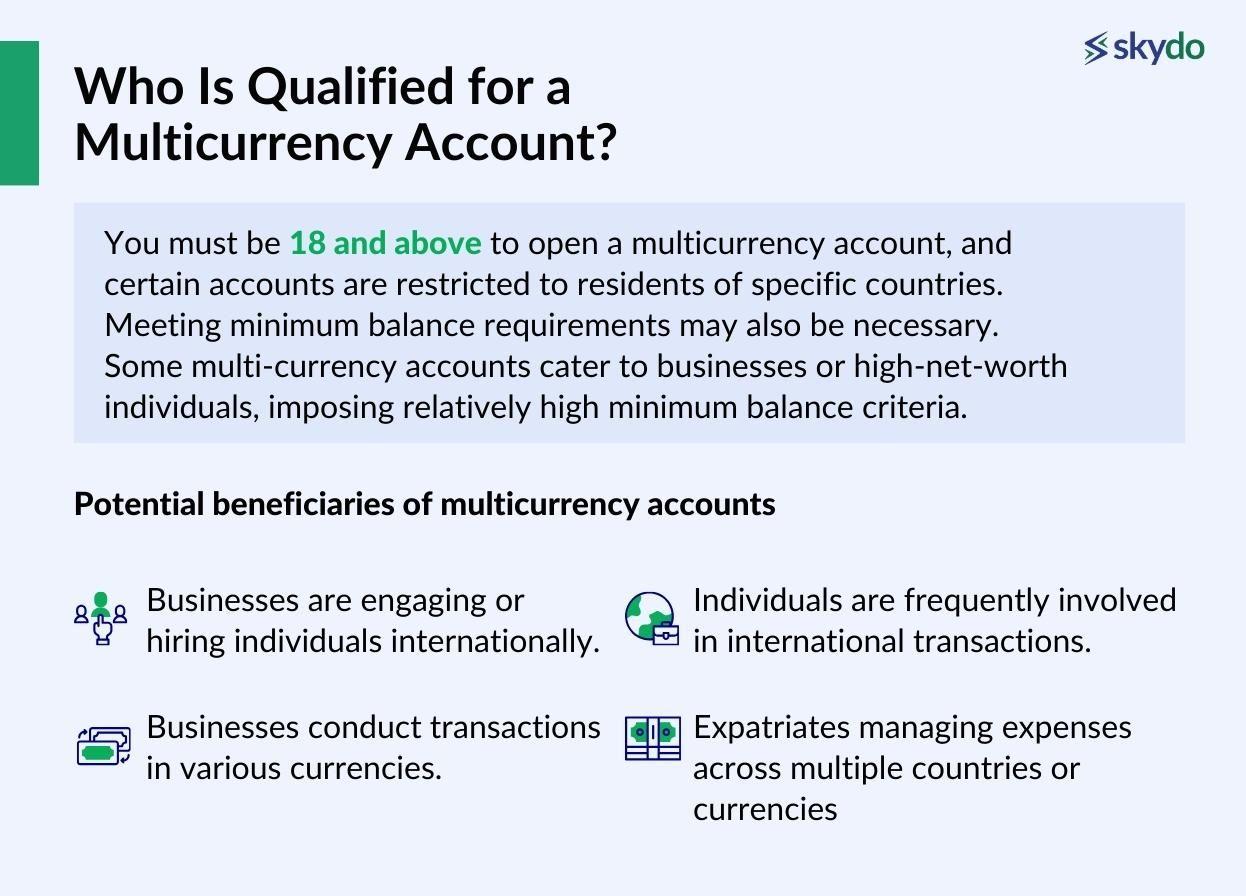 Businesses are engaging or hiring individuals internationally.
Businesses conduct transactions in various currencies.
Individuals are frequently involved in international transactions.
Expatriates managing expenses across multiple countries or currencies
Conclusion 
Multi-currency accounts offer practical benefits that go beyond mere financial convenience. You can receive or make international payments and hold multiple currencies for currency diversification within the same account. 
This account type ensures that you capitalise on favourable currency exchange rates without shelling out conversion fees, thus increasing the payout margin substantially.
Furthermore, a multi-currency account can be instrumental in building and nurturing stronger relationships with international partners and suppliers by demonstrating flexibility, transparency, reliability, and cost-effectiveness in your business dealings. This, in turn, can lead to improved trust and collaboration, ultimately benefiting your business.
Skydo is a unique platform that simplifies receiving international payments, provides live foreign exchange rates, and charges a flat fee per transaction. It creates virtual accounts to accept payments from the US, UK, Canada, and European continents. 
There is also a multi-currency account to let you receive payments in various currencies in addition to the ones mentioned earlier, which you receive in your bank account in your local currency. It mitigates the compliance burden as the amount does not stay in the virtual accounts when it is remitted. Furthermore, there is no additional compliance involved to maintain multi-currency accounts with Skydo.
By signing up on Skydo, you can make the most of your cross-border transactions with a one-stop payment solution.
Frequently Asked Questions
Q1. What is a multi-currency account?
Ans: A multi-currency account allows individuals or businesses to hold and manage funds in multiple currencies within a single account. This enables seamless transactions and provides flexibility in handling international payments and cross-border transactions.
Q2. What does a multi-currency account do?
Ans: A multi-currency account facilitates transactions in various currencies, offering flexibility and cost efficiency. It allows users to send and receive money internationally, make cross-border transactions, and manage funds in different currencies within a single account, simplifying financial operations.
Q3. How to open a multi-currency account with Skydo?
Ans: Opening a multi-currency account with Skydo is a swift and hassle-free process, ensuring you can kickstart your international transactions within just 5 minutes. Begin by verifying your email through a quick OTP confirmation and proceed to complete KYC instructions. 
Enter your Business PAN Number, and the platform auto-fills essential details. Add business specifics, affirm, and input your PAN with an uploaded image. Easily include beneficial owners, validate PANs, and finalise by verifying your bank account through a penny drop. Skydo's seamless onboarding expedites your journey to efficient global transactions.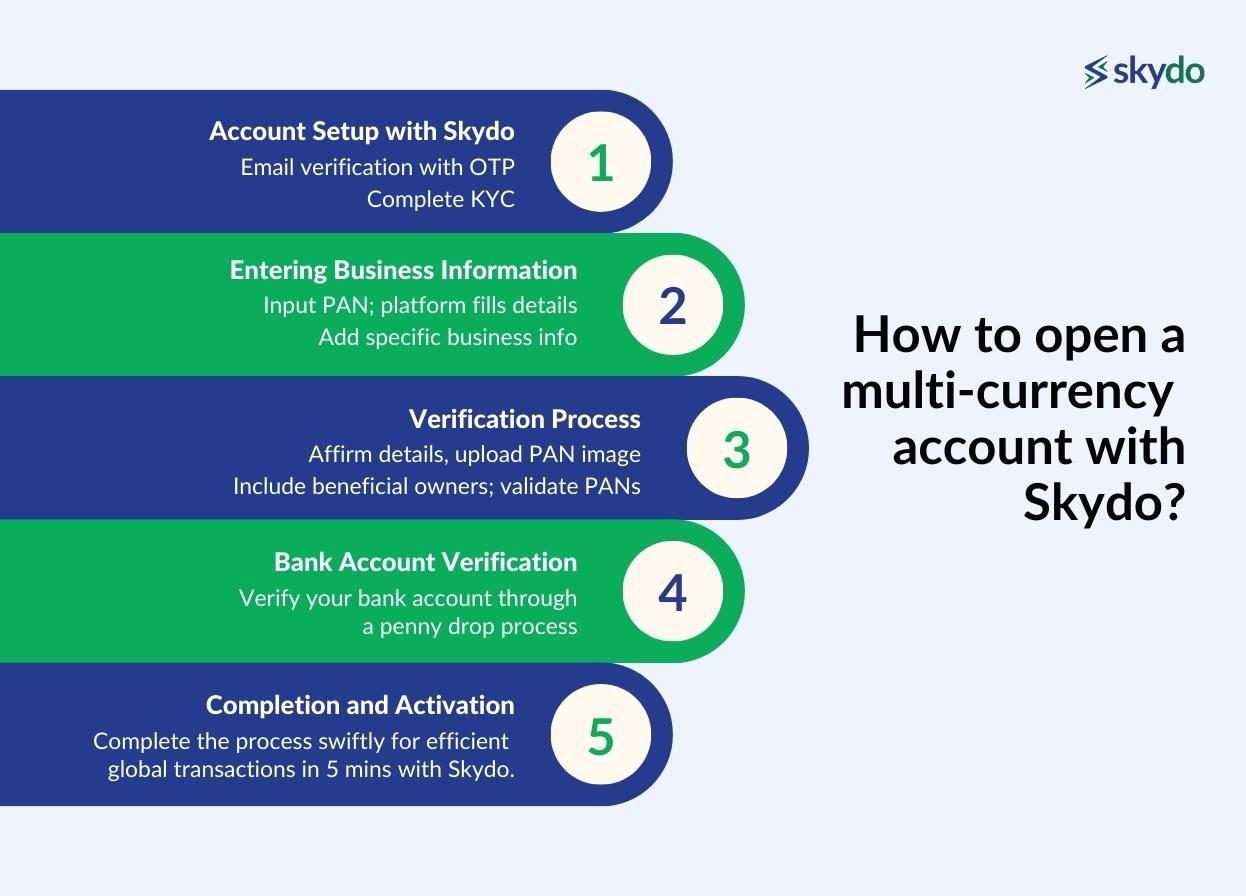 Q4. What is the minimum balance for a DBS multi-currency account?
Ans: The minimum balance requirement for a DBS multi-currency account varies and is subject to the bank's policies. It is advisable to check with DBS directly or visit their official website for the most accurate and up-to-date information regarding minimum balance requirements.
Q5. How to transfer money from a multi-currency card to a bank account?
Ans: To transfer money from a multi-currency card to a bank account, log in to the card provider's online platform, select the desired currency, and initiate a transfer to the designated bank account. Ensure you follow the specific steps outlined by the card issuer for a smooth and secure transaction.