Your Essential Checklist for Managing International Payments in One Place in 2024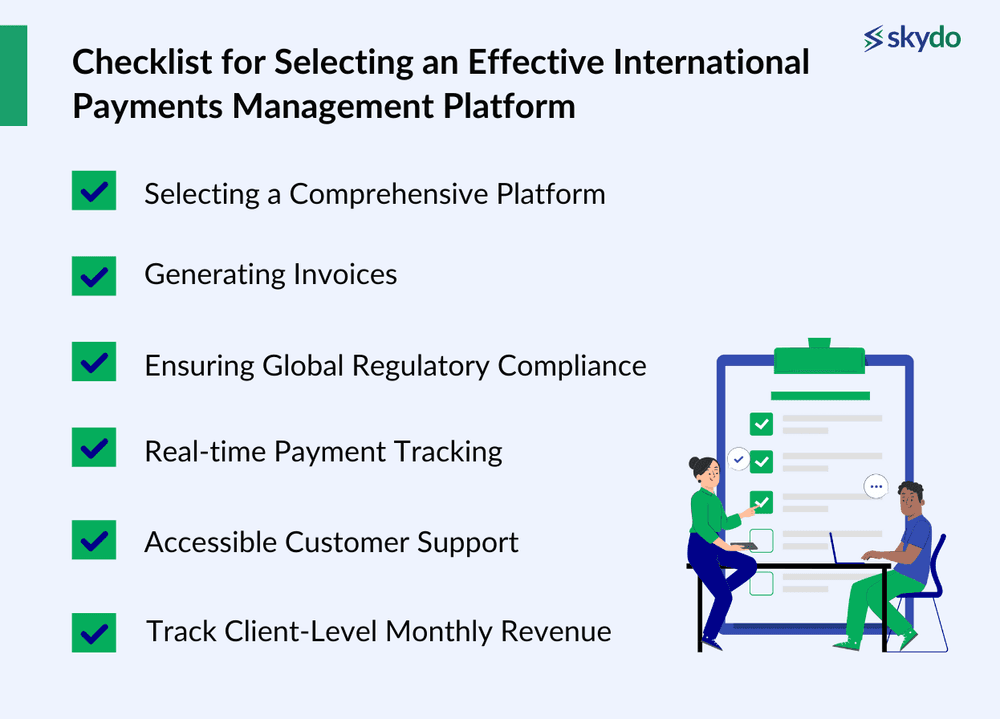 Last Updated
September 15, 2023
As global trade continues to flourish, businesses increasingly engage in cross-border transactions. The advent of international payments has been long-standing in the financial world, facilitating commerce and trade. Furthermore, the advancements in fintech today empower many businesses and individuals to make instant payments. Businesses can experience stress-free invoicing, tax handling, and recurring billing in a few clicks.
However, without a centralised payment management system, the entire process can become inefficient, expensive, risky, and very well run into compliance issues. Managing cash flow and making strategic decisions are crucial to running a successful business effectively. 
Such a need calls for a platform that helps you manage international payments efficiently, which can be trusted and transparent.
Centralised Payment Management: An Emerging Need 
A centralised payment management system streamlines and consolidates all financial transactions, offering real-time visibility and control. It enhances efficiency, reduces errors, and mitigates the risk of fraud. 
Furthermore, it seamlessly enables businesses to adapt to evolving payment methods and regulatory requirements. In a world where financial agility is paramount, centralised payment management is not just a convenience but one place that offers numerous benefits, including increased efficiencies, cost-effectiveness, risk reduction, and improved financial management.
How can a Centralised Payment Management Platform help your business?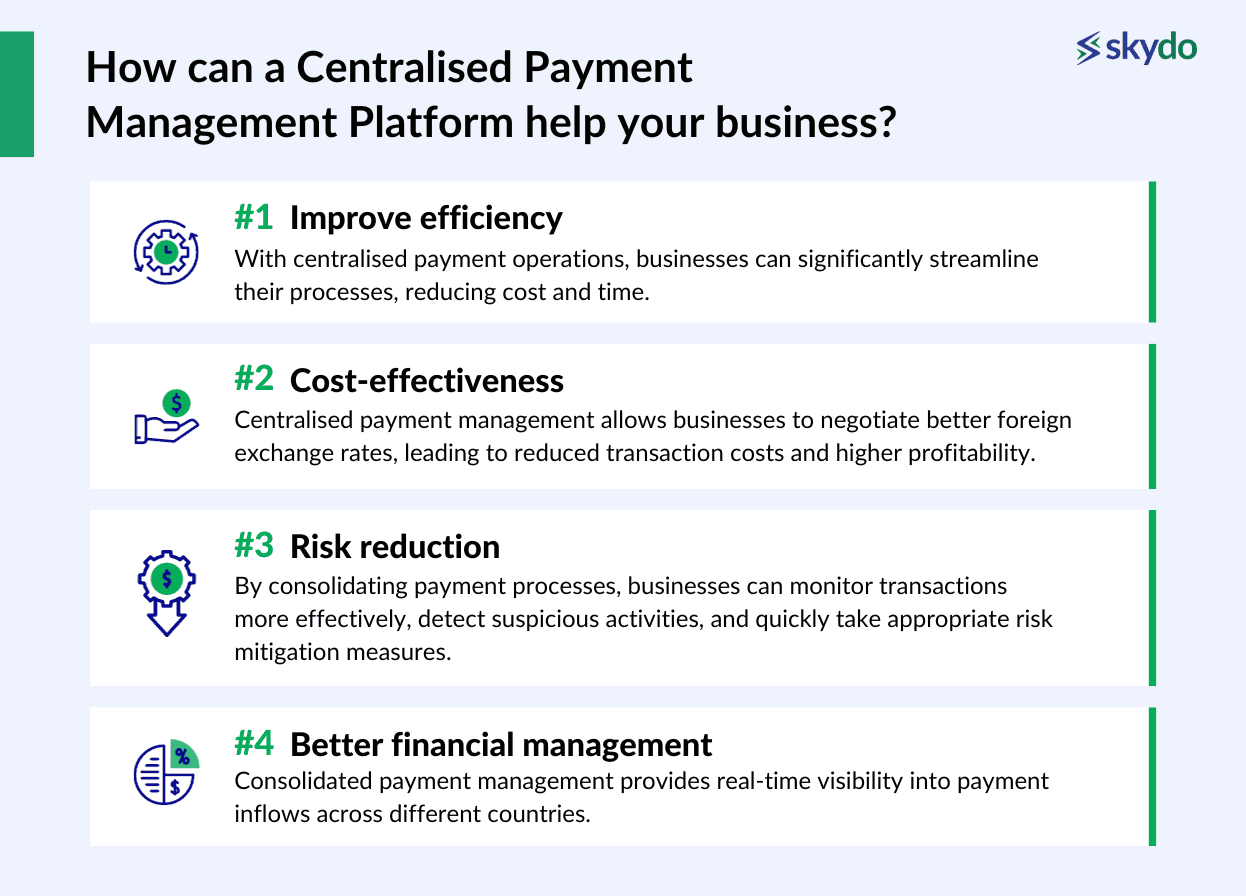 #1: Improve efficiency
Consolidating international payments is a strategic move that provides numerous advantages, particularly efficiency. By centralising payment operations, businesses can significantly streamline their processes, reducing cost and time. 
Instead of dealing with multiple banks, currencies, and payment systems, businesses can consolidate their payments into a single platform or service provider. This simplification leads to more efficient payment processing, improving overall operational efficiency. 
Centralising payment processes also enables businesses to standardise their processes, improve their control over cash flow, and ultimately enhance their overall efficiency with confidence.
#2: Cost-effectiveness
Centralised payment management allows businesses to negotiate better foreign exchange rates, leading to reduced transaction costs and higher profitability. This is particularly advantageous for companies that frequently conduct large or regular international payments. 
By consolidating payment activities, businesses can eliminate the need to manage multiple banking relationships and systems, resulting in lower administrative costs. This approach can contribute to improved financial performance and increased competitiveness, making it a smart choice for businesses looking to optimise their payment processes.
#3: Risk reduction
When businesses manage international payments with multiple platforms and providers, it can be complicated and increase the risk of mistakes or fraud. To avoid these issues, a centralised payment system helps establish strong security measures and fraud detection systems. 
By consolidating payment processes, businesses can monitor transactions more effectively, detect suspicious activities, and quickly take appropriate risk mitigation measures. This reduces the likelihood of fraudulent transactions, protecting businesses from financial losses and reputational damage.
#4: Better financial management
Businesses engaged in cross-border B2B payments need to manage their cash flows effectively. Consolidated payment management provides real-time visibility into payment inflows across different countries. 
This helps businesses forecast their cash flow requirements accurately, make informed decisions about where to allocate working capital and minimise the risk of cash shortages or excess idle funds.
Checklist for Selecting an Effective International Payments Management Platform
Selecting a Comprehensive Platform
When selecting a platform for your international financial operations, it's crucial to ensure that it offers a comprehensive suite of services that goes beyond mere payment processing. Look for features like multi-currency support, payment tracking, and automated reporting to streamline your global financial management.
One noteworthy solution that excels in these areas is Skydo. Skydo not only offers multi-currency support but takes it a step further by setting up virtual foreign accounts for you. This means you can effortlessly conduct international transactions without the hassle and compliance issues typically associated with setting up accounts abroad and obtaining FIRA, saving you both time and costs.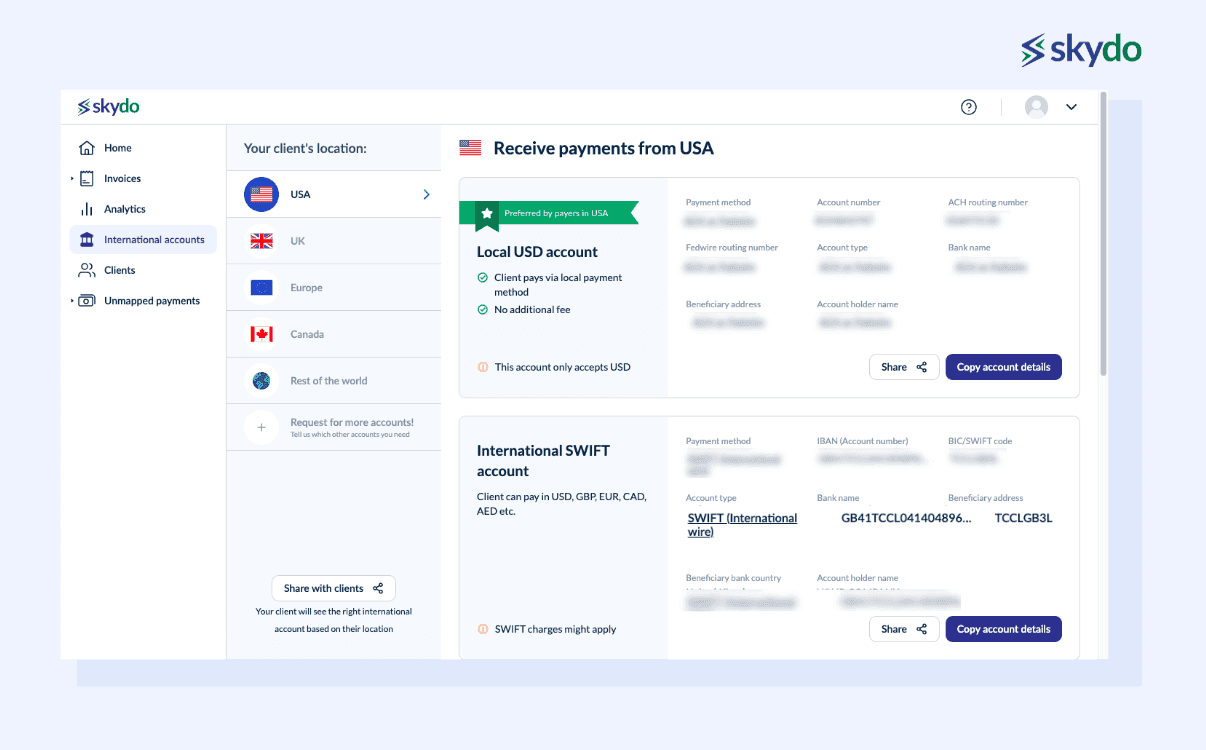 Additionally, Skydo simplifies your financial management with automated reporting. Receive updates on payments due, pending amounts, and more, allowing you to stay on top of your international financial affairs with ease.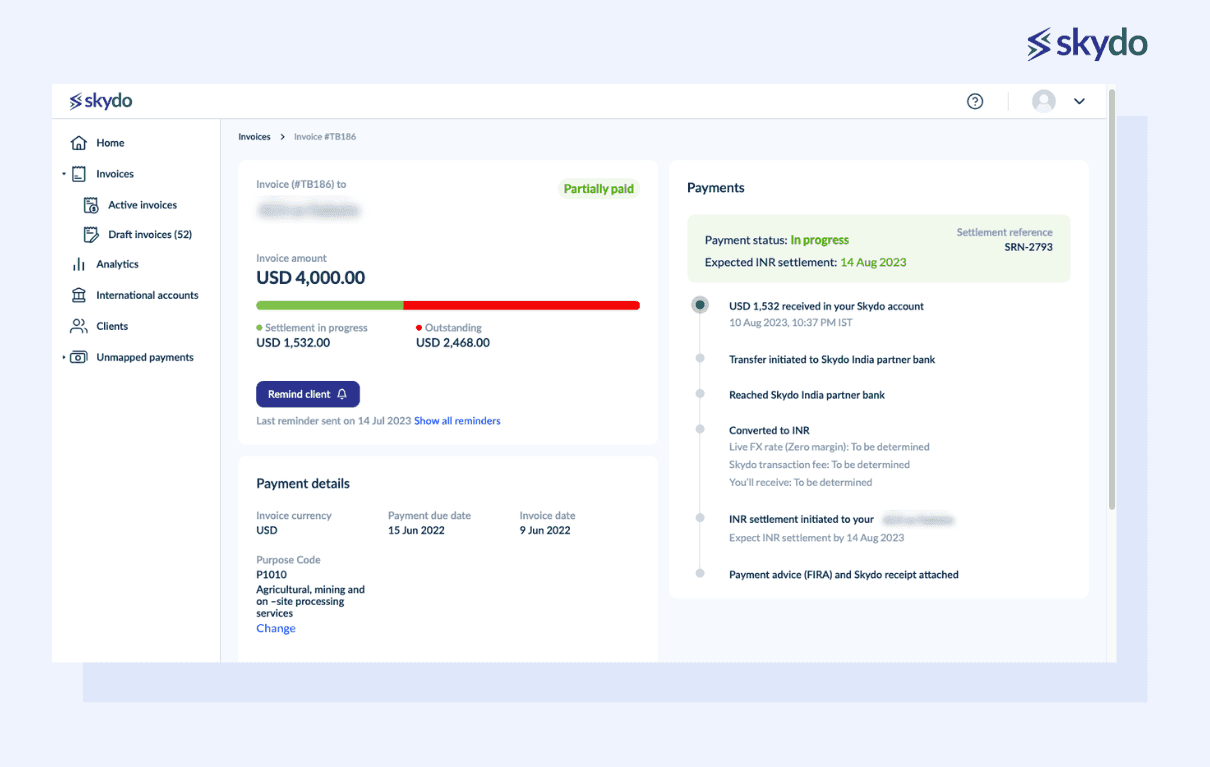 Generating Invoices
Evaluate the platform's invoicing capabilities. It should enable you to create professional, multi-currency invoices that comply with international invoicing standards. Automation features expedite the billing process.
Heads up: Skydo allows you to create invoices in multiple currencies for free, all within the platform. Discover how Skydo can transform your invoicing experience.
Ensuring Global Regulatory Compliance
Confirm that the platform is up-to-date with global regulatory requirements. It should automatically adapt to changes in international financial regulations, reducing compliance risks.
Real-time Payment Tracking
For any business, cash flow is king. It is important to have accurate financial visibility and control to make strategic financial decisions. A good international payments platform will allow you to track the status in real-time so that you know when you will be receiving the money at any given point. This is a facility banks are now failing to provide you, which makes it difficult for a business to operate well.
Skydo provides a transparent view of your transactions from the moment they hit the Skydo platform to the final destination in your bank account. You'll have access to live foreign exchange rates and a clear breakdown of Skydo's fees, ensuring full transparency throughout the process.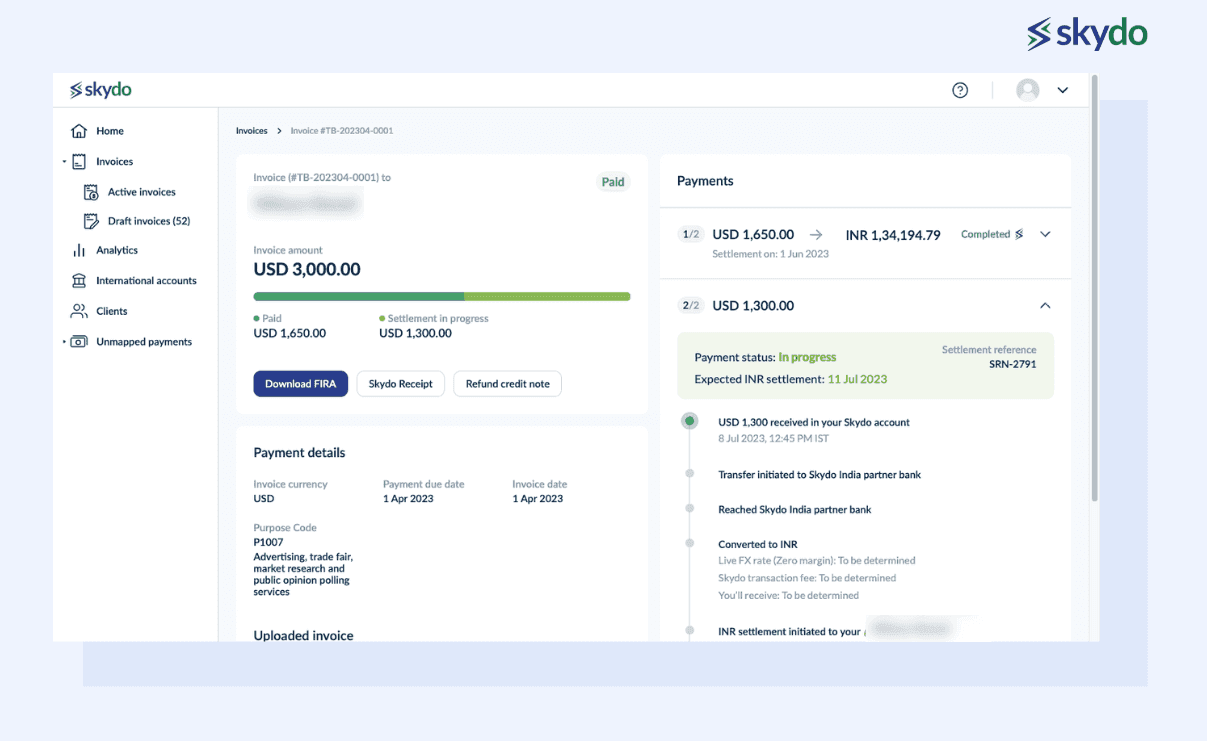 Accessible Customer Support
Assess the accessibility and responsiveness of the platform's customer support. Multichannel support (phone, email, chat) with 24/7 availability ensures you can receive assistance whenever you need it, regardless of your location or time zone.
Track Client-Level Monthly Revenue
Look for the ability to track client-level monthly revenue within the platform. This feature can help you monitor your financial health for a specific client, identify growth opportunities, and tailor your services accordingly.
In this regard, Skydo goes the extra mile by providing a comprehensive overview of your client-level monthly revenue. The platform generates this overview based on the invoices you create, offering you a detailed and up-to-date account of your financial interactions with each client.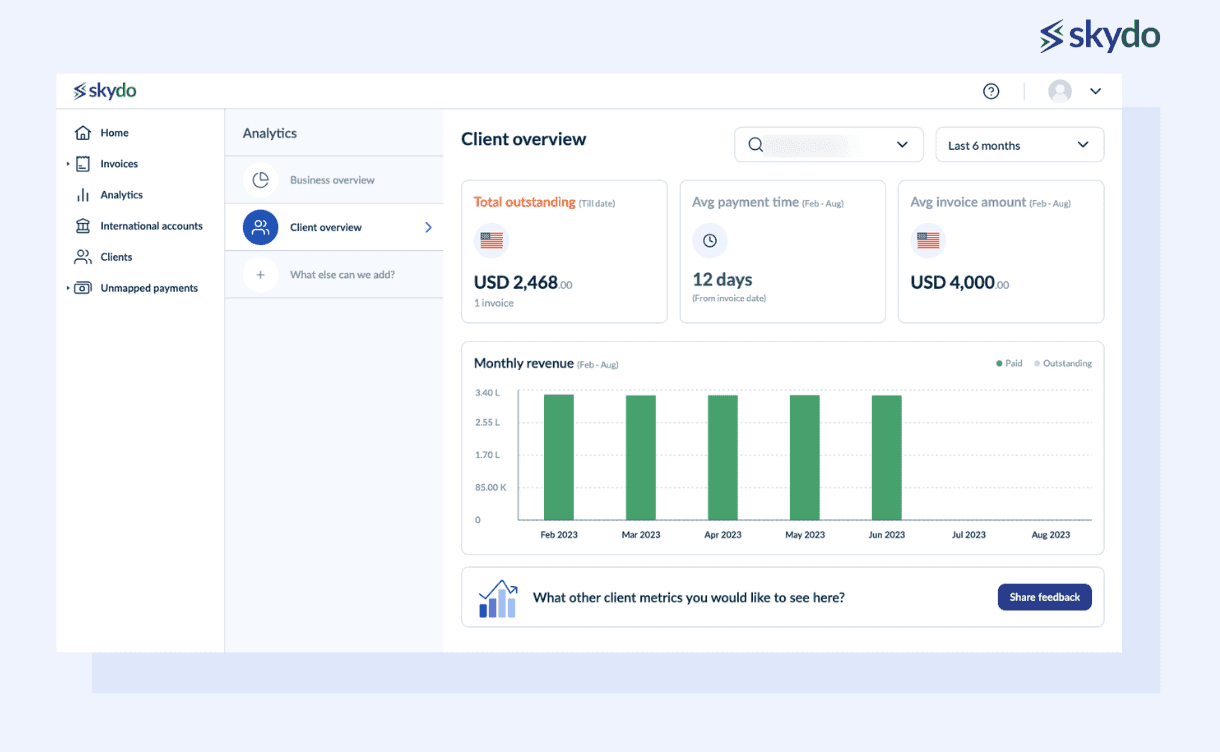 This feature empowers you to make informed decisions, optimise your revenue streams, and ensure that your financial relationships with clients remain on a solid footing. With Skydo, you're not just tracking numbers; you're gaining actionable insights to fuel your financial success.
Simplifying Global Payments as You Scale with Skydo (Experience & Trustworthiness)
Skydo is a trusted and efficient solution that simplifies the complex world of global payments for Indian exporters. With a comprehensive platform that checks all the boxes on your checklist, Skydo empowers businesses to scale internationally with ease.
Here is a real transformation story: Code Matrix, a blockchain and AI/ML company in India, struggled with international payments until they discovered Skydo. With flat transaction fees of $29 per $10,000 and $19 for up to $2,000, zero FOREX fees, and a virtual bank account in each country of business, Skydo made the payment process seamless. With Skydo, Code Matrix experienced accelerated growth and complete customer satisfaction.
Streamline Your Global Payment Management
Skydo's commitment to efficiency is exemplified through its automated invoicing and payment system. It takes care of generating invoices, ensuring global regulatory compliance, and providing real-time payment tracking. 
This gives businesses more time to focus on growth strategies, secure in the knowledge that their international payments are handled seamlessly. 
Sign up for a demo now to witness how you can simplify your international payments with Skydo!
FAQs 
Q1: What is the estimated amount of time required for onboarding with Skydo?
Ans: Skydo's onboarding process is quick and easy, taking less than 5 minutes and requiring only minimal documentation. 
Q2: Can I obtain payment receipts from Skydo?
Ans: Yes, payment receipts for Skydo fees will be sent by Skydo for each transaction.
Q3: Can we send payment reminders to our clients using the Skydo platform?
Ans: Yes, Skydo's invoicing feature enables you to easily send payment reminders to clients. It offers a preview for effective reminders, tracks the frequency and dates of sent reminders, and provides the opening of email tracking to monitor client engagement, making it a valuable tool for managing payment delays.