Eight-point checklist for your International Business Strategy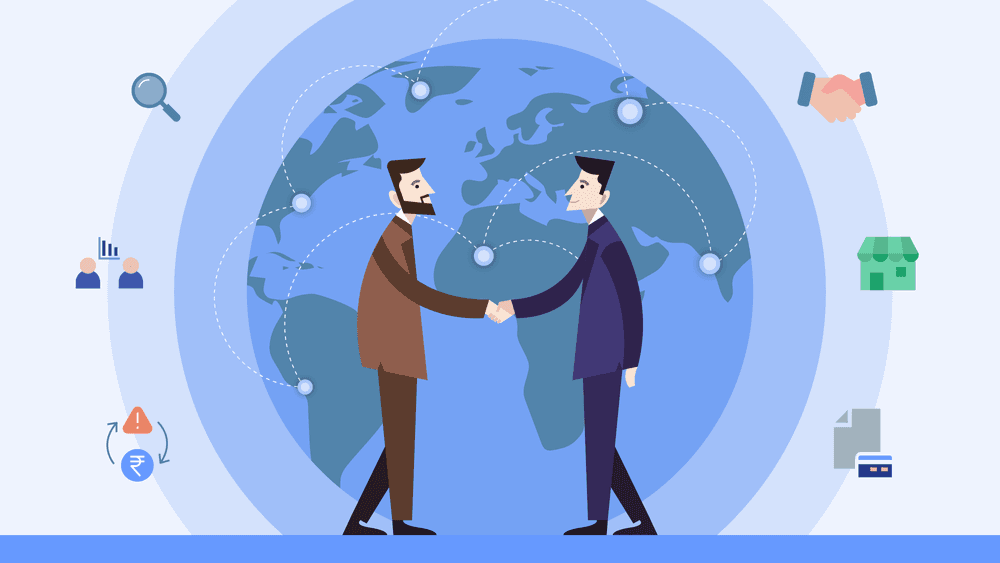 Globalisation has been one of the key emerging trends of the 21st century and technology is a sector that naturally lends itself to global sourcing. Management Consulting firm Kearney's "Global Services Location Index" (https://www.kearney.com/digital/article/-/insights/the-2021-kearney-global-services-location-index) which tracks digital trends and ranks countries on attractiveness for IT sourcing, has consistently ranked India at the top, since the report's inception in 2004.
The current wave of global technology sourcing is different from the IT applications development and maintenance contracts that have dominated the landscape since the 1990s. Today, SaaS companies and Software product companies are building in India for the world, and Indian software services companies are developing technology applications for Product companies and startups across the world.
Today a potential customer for an Indian IT company isn't only Skydo tech of Bangalore, but also PowerX tech in New Jersey & Finnovate in Paris. Thus it is natural for an Indian company to think global while developing its Business strategy. 
For a small & medium scale business, targeting global markets could be a complex & challenging process. It could disrupt the company's existing business activities & burden its current team & resources. Thus it becomes very important to have an in-depth strategy for international business to help the company prioritize. We will cover some important areas that need to be researched & planned for your international business. Along with each checklist topic, there is a question to prompt every business leader to detail their business strategy.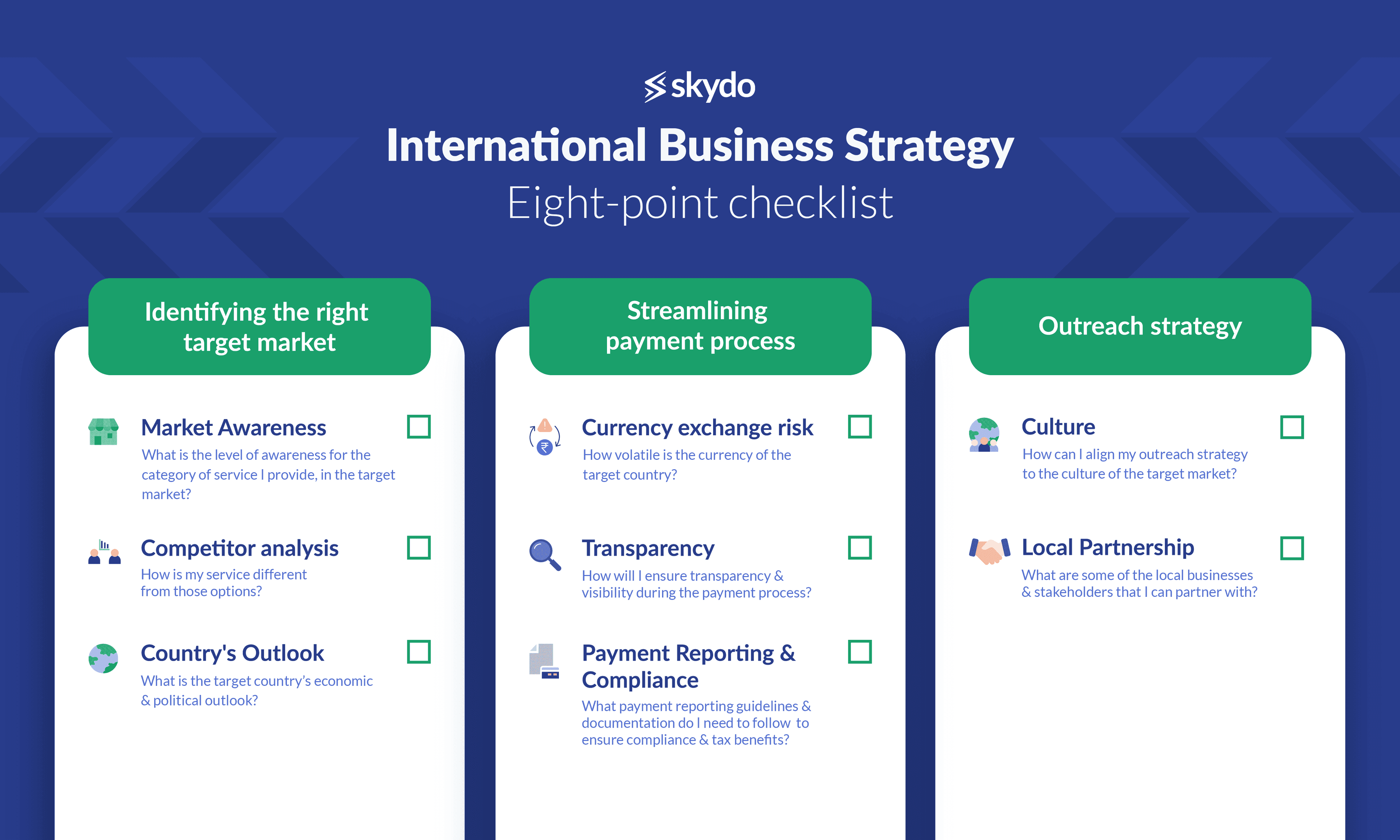 Eight Point Checklist
Identifying the right target market
Just because you as a company are getting customer inquiries from various countries doesn't mean the company needs to start catering to every geography. Working with clients from different geographies will require additional resources, strategy & effort from your end. Thus it's essential to identify the right specific market to focus your efforts on. For this businesses need to quantify & define the business opportunity in each potential market segment, gather data on it & define it tangibly.
#1 Market Awareness
You need to begin by figuring out if the target market is familiar with your category of product/service. If you are providing a new service that they don't usually leverage, then you will have to invest a lot of resources & time in educating the audience & creating a market for your service. This can be a useful endeavor & give you an undisputed competitive advantage, only if you have the necessary resources & enough time before you expect profitable returns. 
Question to Answer: What is the level of awareness for the category of service I provide, in the target market?
#2 Competitor analysis
Another important factor to consider is to identify if the value that your service provides will actually fill a gap in the market. An effective way to do this is to do a SWOT analysis of the current competitive landscape in your target market. This will help you answer questions like what are the different alternative services available to this market? Are they cheaper than the pricing you plan to offer? What unique value you will be able to add compared to the competition? Is there an untapped market opportunity that is not covered by your competitors?
Question to Answer:‍What are the different alternatives to my service in the target market? How is my service different from those options?
#3 Country's Outlook
Apart from understanding your market-specific aspects, you also need to analyse that country's overall economic & political outlook. This can be done by analyzing their GDP, inflation rate, political stability, international relations with your country & level of business-friendly environment provided by the country. These will ensure you balance between short-term & long-term opportunities that a country provides. For example, a country that provides generous incentives to help businesses become technology ready could be a lucrative opportunity for an IT services company. 
Question to Answer: What is the target country's economic & political outlook?
Streamlining Payment process
A lot of times a company does well on the core areas of creating a valuable service & identifying the right market to cater to but still finds it difficult to grow rapidly due to a disorganised payments process. Imagine doing all the hard work of providing value to your client & then finding out that your payment is stuck or you lose out on some profits during payments. As soon as you start a business in new geography, you will begin receiving & sending money abroad. This will bring a set of new aspects regarding international payments that you need to start planning for.
#4 Currency exchange risk
An international business will usually be dealing with multiple currencies - the target market's currency, the business's local currency & probably even a third currency (like USD). Thus it becomes important for the business to have a system in place for currency exchange conversions & fluctuations. Studying the volatility of that country's currency will help in analyzing & planning for that risk better. You will also need to figure out the mode of payment through which you will get the best exchange rates for your currency conversion.
Question to Answer: How volatile is the currency of the target country? Which mode of payment will give me the best foreign exchange rates?
#5 Transparency
International payments are usually a complex & long process, unlike local payments which may take several days. Thus having transparency & visibility on every step of the process before the money reaches your current account becomes vital. This will also help establish trust between the sending & receiving parties. Thus having a basic understanding of the target market's banking system, different modes of payment available for international transactions & transparency levels of each mode become very important.
Question to Answer: How will I ensure transparency & visibility during the payment process?
#6 Payment Reporting & Compliance
As a country has different tax laws and compliance for international & local transactions - it becomes essential to figure out how you will report international transactions & have the right paperwork in place for its compliance. For example in India, payments received for exports are exempted from GST & hence need to be reported separately in their accounts. To get the GST exemption benefit & ensure compliance a business also needs to get a FIRA document for each payment received from abroad. 
‍Question to Answer: What payment reporting guidelines & documentation do I need to follow to ensure compliance & tax benefits?
Outreach Strategy
A lot of great businesses fail to scale globally because they think the world does business the same way they do business. Every country has a very different set of people & business ecosystems, hence having a one size fits all outreach strategy will not work. It thus becomes very important to focus on certain aspects of the target market while developing your outreach strategy.
#7 Culture
Running a business in the local market has the advantage of negligible language, timezone & cultural barriers. That is not the case while doing business in the International market, hence strategizing as per the country's culture becomes very essential. This can be achieved by either having employees in your company from that country or by working with local consultants that can provide you with necessary cultural information & act as an interpreter. It's important to align your sales pitch & offering to that country's cultural beliefs otherwise you may risk losing an important deal due to a cultural faux pas.
Question to Answer: How can I align my outreach strategy to the culture of the target market?
#8 Local Partnerships
The prospect of trying to find customers in a foreign country & convincing them to trust an unknown company can seem like a daunting task for any business. An effective way to tackle this & gain a competitive advantage is to build strong relationships with local businesses & stakeholders. Partnering with complementary businesses can help build trust for your unknown brand in their local market. Building relationships with various local stakeholders in your industry can help you navigate the unknown business ecosystem of your target market. Thus it becomes important to spend your outreach energies not only on reaching out to customers but also to such local partners.
Question to Answer: What are some of the local businesses & stakeholders that I can partner with?