Eight-Point Guide to Take Your Service Business Global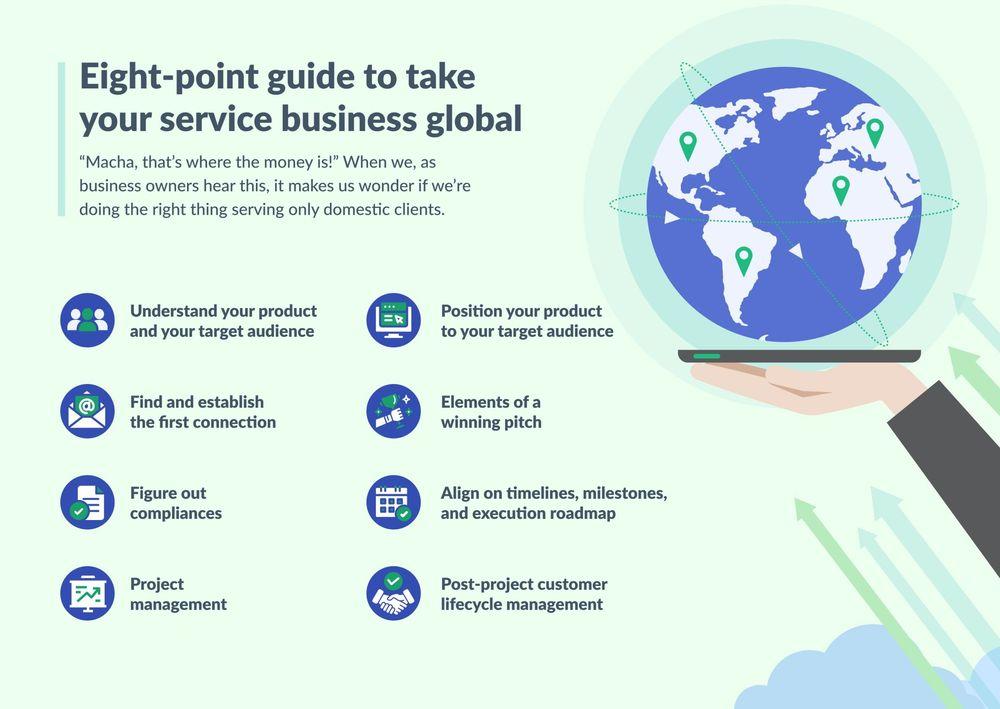 "Macha, that's where the money is!" When we, as business owners hear this, it makes us wonder if we're doing the right thing serving only domestic clients. Whether looking at the LinkedIn posts of our ex-boss who took a role in Singapore or Instagram stories of batchmates who started up in Silicon Valley, working with global clients has its own allure.
And the reason to pursue this can be many: financial reward, exposure to newer learnings or simply the sheer thrill of venturing into newer markets. Irrespective of your motivation, expanding your service business globally is a huge step.
Many Indian businesses are going global - both small and big. It includes multi-billion dollar corporations like Infosys and TCS to newer SaaS startups like Vymo (which is serving 65+ global corporations with 3,00,000+ users). Moreover, Indian businesses are adequately equipped to serve a global clientele. 
We have a large English-speaking young workforce, proficient in IT and relatively cheaper than our Western counterparts. In fact, Indian service exports hit $273.6 billion in 2022 and are set to even cross $750 billion in 2023. Additionally, over 63 million MSMEs in India already contribute to about 40% of India's overall exports. This means that you have an immense opportunity to grow and serve international clients. 
It's a decision that can potentially bring immense opportunities, but also daunting challenges. The world is full of stories of businesses that failed to expand globally. However, there are also stories of businesses that successfully expanded globally and transformed into global giants.
We have put together an easy-to-follow, eight-point checklist to guide you through your first set of global expansion and help you overcome challenges related to going global. These eight points have been curated based on years of experience working with service businesses like yours, helping them expand globally.
So, let's dive into the checklist and explore how you can take your service business global.
1. Understand your product and your target audience
What factors have led to your service business's success in the domestic market? Break them down and test if these need to be adapted to the global audience.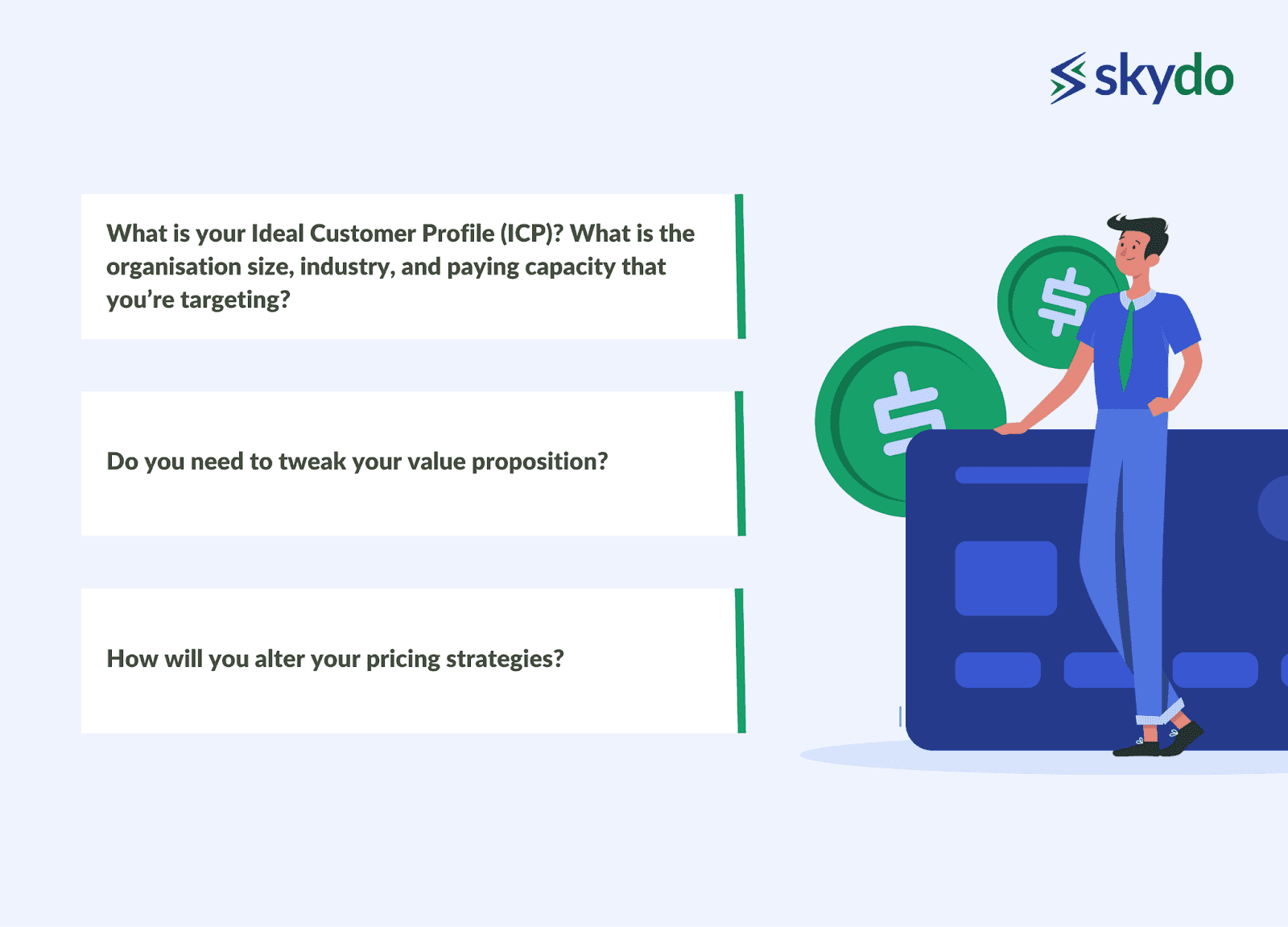 What is your Ideal Customer Profile (ICP)? What is the organisation size, industry, and paying capacity that you're targeting?
Do you need to tweak your value proposition?
How will you alter your pricing strategies?
You need to identify what sets your service business apart from your competitors, and what your unique selling proposition is. If you're a software development company selling imaging software to the healthcare industry, you can tailor your marketing efforts to target potential customers in the global healthcare industry.
2. Position your product to your target audience
After understanding your buyer persona/target market, the next step is to make changes to your existing perception (if needed).
Understand your customers' needs, preferences, and pain points. How is your service solving that?
Customize your website and LinkedIn pages to reflect that understanding. Instead of selling through features, focus on the benefits your customers get.
Use outside-in research and talk to other exporters to gain insights.
For example, if your target audience is in the Middle East, you must adjust your marketing messaging and language to appeal to that audience. Exercise cultural sensitivity while highlighting how your solutions can address specific challenges faced by them.
3. Find and establish the first connection
This can be done either through a digital route or the physical route. Cold reach outs through email campaigns, social platforms or inbound activities like SEO are effective. Similarly, you can:
Become part of industry-specific international associations. 
Participate in trade shows (Eg. If you're targeting the healthcare industry in the US, you might attend a trade show focused on healthcare technology like HIMSS Global Health Conference.
Establish collaborations with local businesses to make them your referral/distribution partners.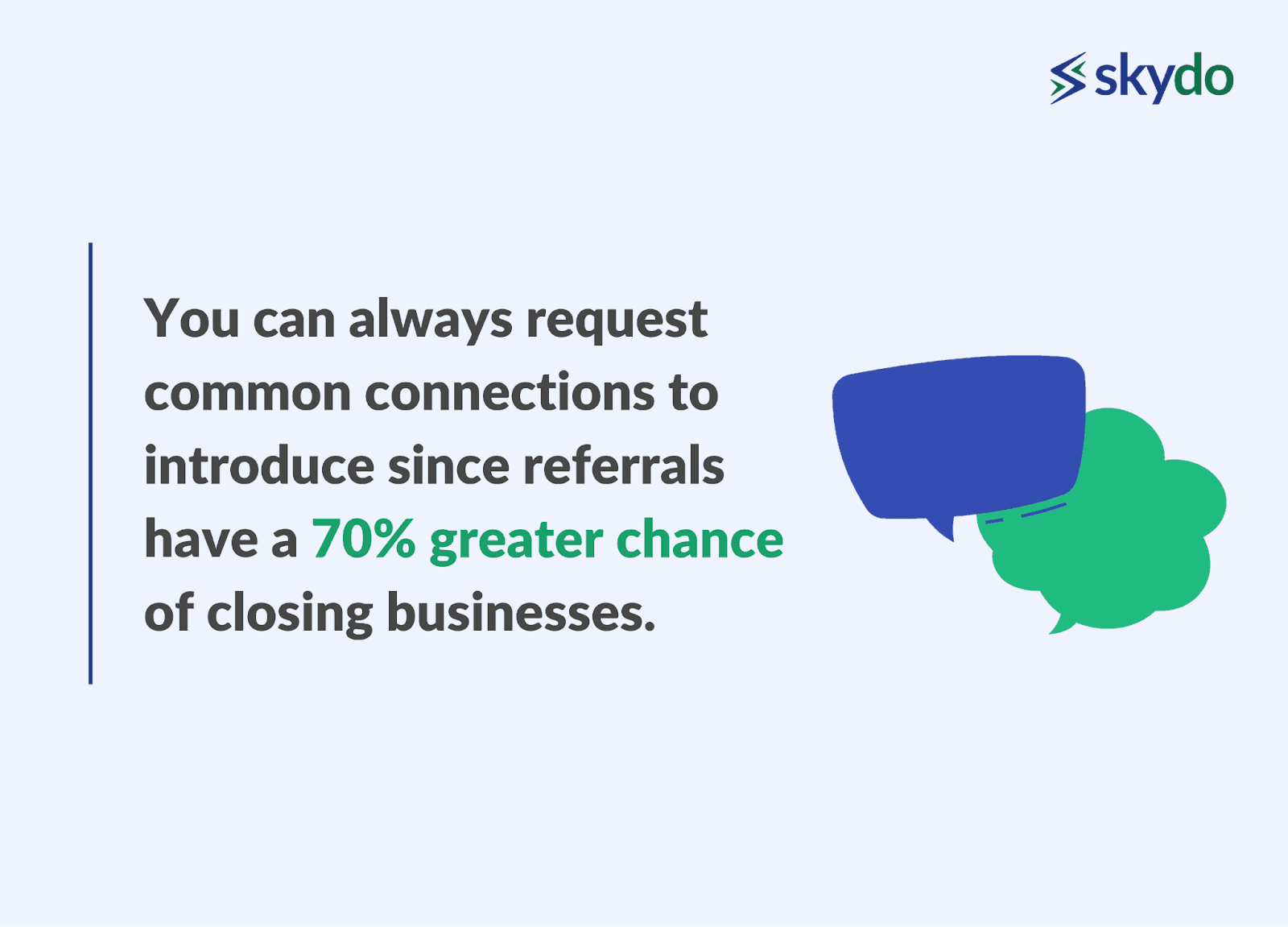 You can always request common connections to introduce since referrals have a 70% greater chance of closing businesses.
4. Elements of a winning pitch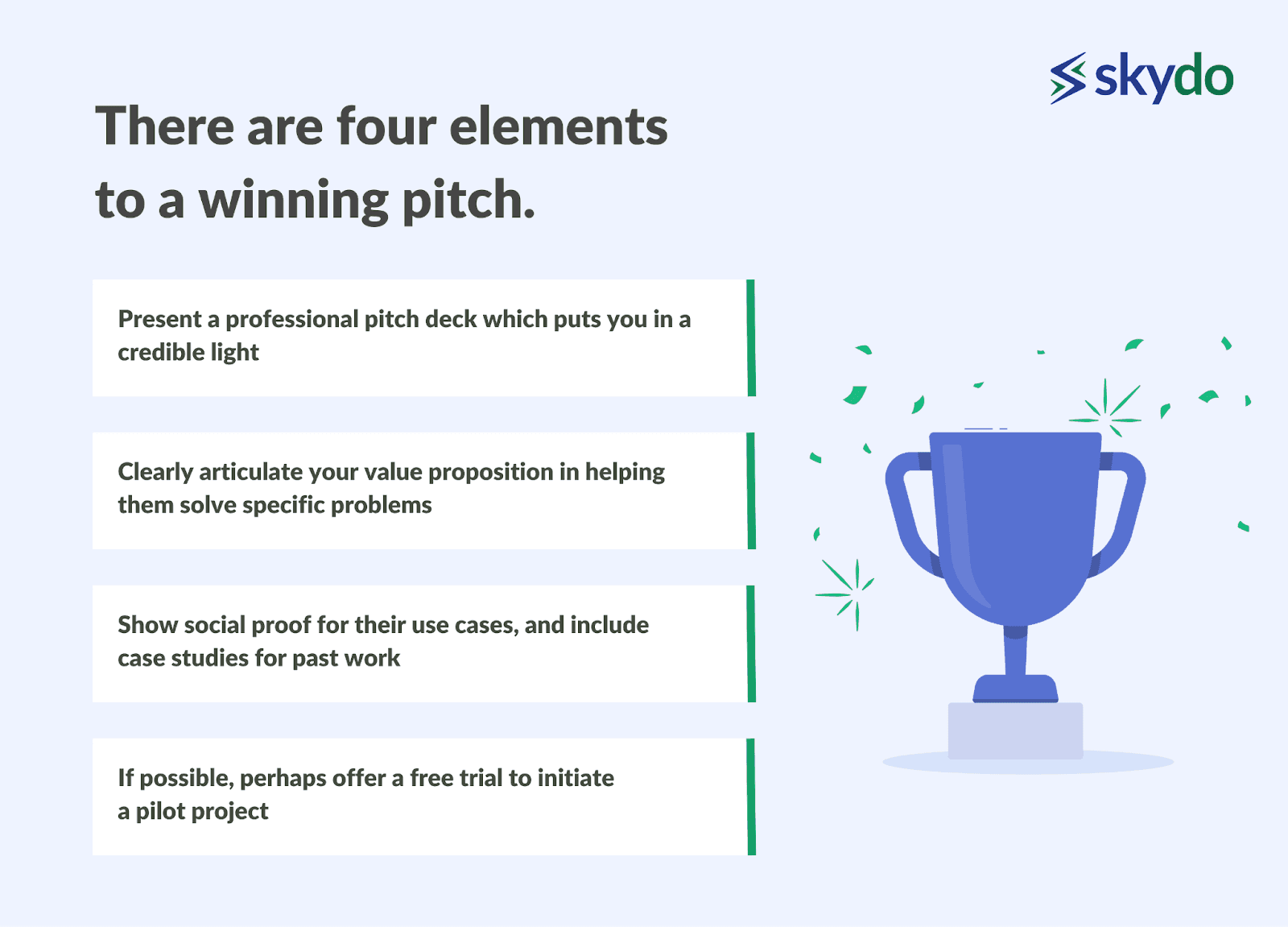 There are four elements to a winning pitch.
Present a professional pitch deck which puts you in a credible light
Clearly articulate your value proposition in helping them solve specific problems
Show social proof for their use cases, and include case studies for past work
If possible, perhaps offer a free trial to initiate a pilot project
Eg. When pitching accounting software to potential ACCAs in the UK, you might highlight how your software solutions can help them comply with UK-specific tax laws or provide examples of how you've successfully helped other UK-based accountants. Proven track records help in converting customers faster.
5. Figure out compliances
You may get the business, but the entanglement of red tape deters many businessmen from going global. Before engaging in international transactions, it's crucial to understand the rules on both sides of the border. This involves understanding:
Entity structures
Invoicing
Payment preferences and terms
Legal contracts
Jurisdictions in case of disputes
Taxation policy
If you're working with Singapore-based venture capitalists and consultants, you need enough information about prevailing invoicing guidelines and taxation in Singapore. You may need to hire a local legal or accounting firm to consult and ensure compliance with the laws.
6. Align on timelines, milestones, and execution roadmap
Once you've established a relationship with your client, it's important to align on timelines, milestones, and execution roadmap to ensure that you're meeting their expectations.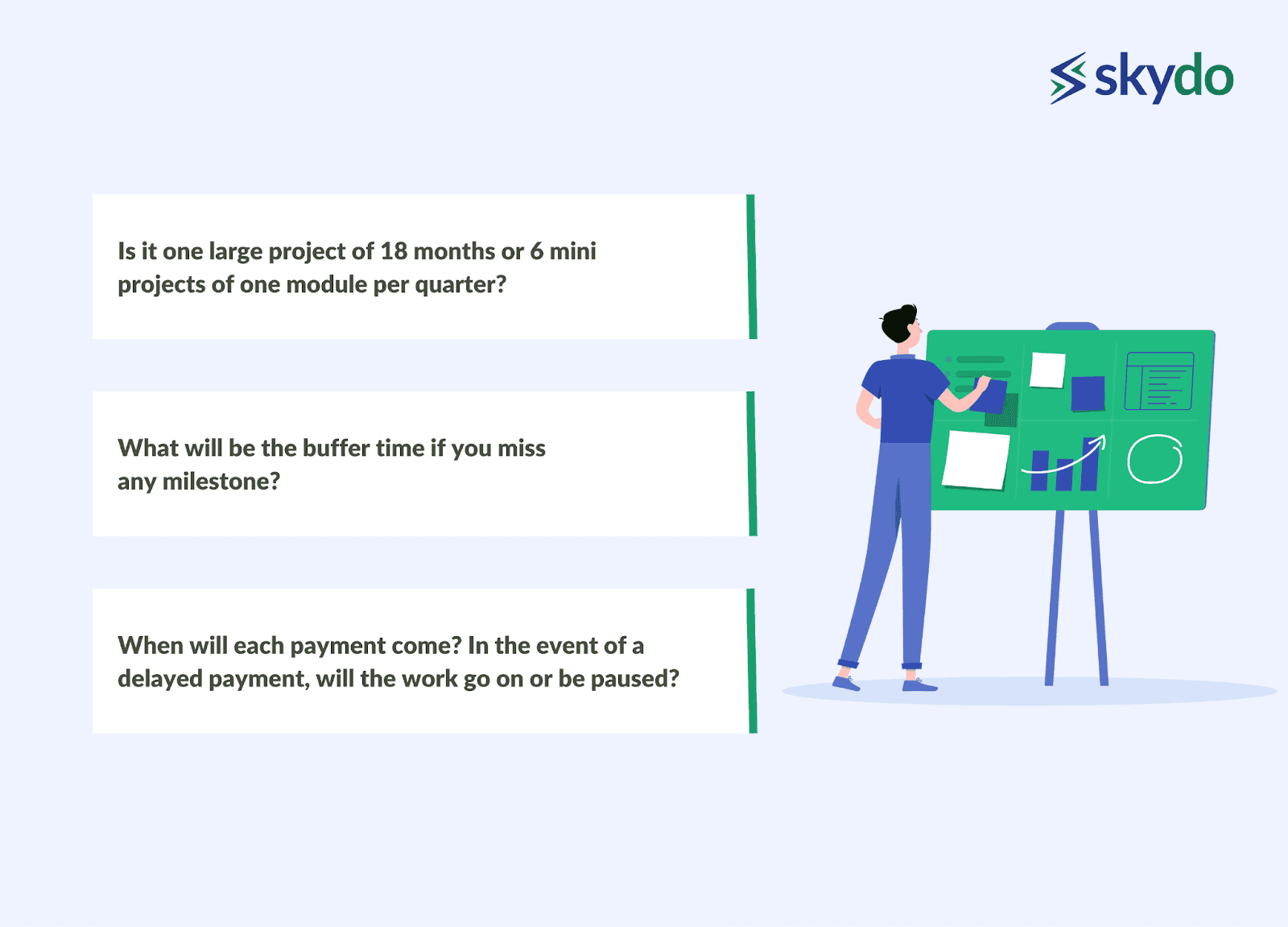 Is it one large project of 18 months or 6 mini projects of one module per quarter?
What will be the buffer time if you miss any milestone?
When will each payment come? In the event of a delayed payment, will the work go on or be paused?
Map the potential areas of friction and prepare for them. This will help you manage the project effectively and deliver it on time and within budget.
7. Project management
Communication is the secret ingredient of project execution. A wise decision is to dedicate a single point of contact for the client to speak to. Keeping them updated on progress at all times is crucial, especially if things are not going to plan. Do not assume or expect. They might be more willing to accommodate changes than you think. The dedicated project manager shall communicate, manage the project, and ensure that it's delivered on time and within budget. 
On your side, they may also be leading the daily scrum call or updating you on project milestones.
8. Post-project customer lifecycle management:
Your work doesn't end once the project is completed. It's important to maintain a good relationship with the customer. This involves raising invoices on time, clearly aligning payment options, and ensuring regular follow-up professionally to get paid. Feedback calls to identify areas of satisfaction and improvement ensure you get repeat business, referrals, and positive word of mouth. Choose the right banking partner or payment service provider to save on hefty transactions and forex conversion fees.
Summing it up:
Expanding your service business globally can be a challenging and rewarding experience. By following this eight-point checklist, you can ensure that you're taking the right steps to succeed in the global market.
TD;LR: understand your product and target audience, position your product correctly, find and establish the first connection, make a winning pitch, figure out compliances, align with the client on timelines and milestones, project management, and post-project customer lifecycle management are all critical components of successful global expansion.
Remember, expanding your service business globally is a big decision, and it's important to do it right. By following this checklist, you can navigate the challenges and take your business to the next level. So, take the leap, and get started on your journey to global success!