What Is a Zero Balance Current Account?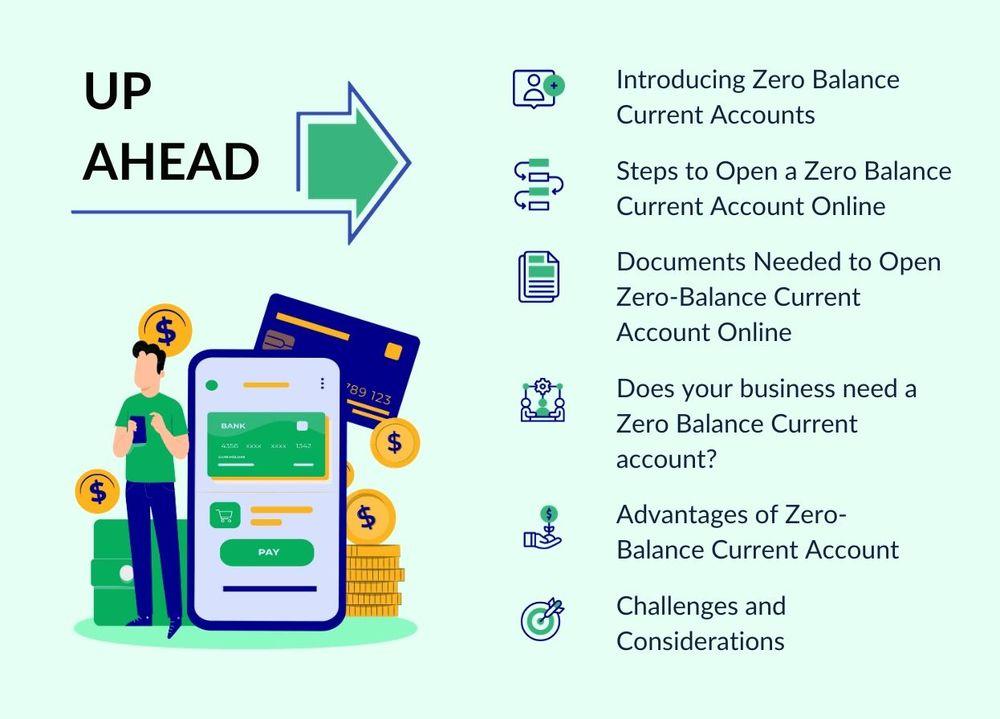 Last Updated
September 28, 2023
India has witnessed an impressive surge in its startup ecosystem in recent years. Factors such as a large and diverse consumer base, a burgeoning middle class, access to talent, and increasing investor interest have contributed to this growth. Indian startups are making strides in various sectors, including technology, e-commerce, healthcare, and fintech.
As this ecosystem continues to evolve, Indian startups are poised to play a pivotal role in shaping the future of India and the global business landscape.
Current accounts play a pivotal role in the financial operations of businesses, including startups, for several reasons:
Business Transactions: Current accounts enable companies to receive payments, pay suppliers, and conduct day-to-day financial transactions efficiently.
A Business Account: A dedicated business account enhances the company's professional image, demonstrating financial stability and transparency to clients and partners.
Record Keeping: Current accounts facilitate easy record-keeping, allowing businesses to track expenses, income, and cash flow, which is vital for financial management and tax compliance.
Access to Banking Services: Businesses rely on banking services like electronic fund transfers, check payments, and online banking, all of which are integral to modern business operations.
Loans and Credit: A good banking relationship through a current account can make it easier for businesses to access loans, credit facilities, and other financial products that can aid growth and expansion.
Now, imagine you're the founder of a promising startup in its early stages. Your venture is fueled by ambition, innovation, and a grand vision. However, in these initial phases, your resources are limited, and you're carefully managing every rupee that goes in and out of your company. By design, current accounts don't pay any interest, and hence shouldn't ideally charge any fee or have a mandatory Minimum Account Balance (MAB). However, some current accounts impose a high MAB.
In such a scenario, a Zero Balance Current Account (ZBA) becomes an invaluable asset and an indispensable financial tool.
Introducing Zero Balance Current Accounts
In the nascent stages of a startup, every penny counts. A ZBA allows you to operate your business with minimal financial constraints. You don't need to maintain a substantial minimum balance, which means you can invest your limited funds in growing your business rather than locking them in a bank account.
It not only removes the financial burden but also provides flexibility and enables financial inclusion.
A Chartered Accountant of a fintech startup with such an account explained, "Most startups keep their money in an overnight fund which earns them ~6% interest and conveniently transfer the funds from it to a zero balance account just when they need to disburse them."
Steps to Open a Zero Balance Current Account Online
Opening a zero-balance current account online is a straightforward process. The steps are as follows.
Choose a bank wisely after considering factors like features, online banking services, and any associated fees.
Visit the Bank's Official Website and navigate to the account opening section. 
Select the Type of Current Account that meets your business requirements.
Fill Out the Online Application Form.
Upload Required Documents.
Review and Confirm the Application.
The bank will initiate a Know Your Customer (KYC) verification process to verify your identity and business details which you need to complete.
After successful verification, the bank will provide you with your account details, including the account number and customer identification number (CIF) via SMS or email.
Remember, the specifics would differ depending on the financial institution.
Documents Needed to Open Zero-Balance Current Account Online
The specific documents required to open a zero-balance current account online may vary depending on the bank or the financial institution. However, here is a list of common documents that are typically requested when opening a zero-balance current account online:
Identity Proof: Aadhaar card, Passport, Voter ID card, Driver's licence, PAN card (Permanent Account Number) (any 1)
Address Proof: Utility bills, Rental agreement, Bank statement or passbook with your address, verified by the bank, Aadhaar card (any 1)
Business Registration Documents: Certificate of Incorporation, Memorandum and Articles of Association, Partnership Deed, GST registration certificate, etc.
Photographs: A few passport-size photographs may be necessary
KYC Form: The bank provides this form

Does your business need a Zero Balance Current account?
It is not compulsory to have a zero-balance current account because the monthly average balance requirement is not very high in non-zero-balance accounts. For instance, a regular current account in the HDFC Bank requires you to keep an average quarterly balance of ₹10,000 on non-metro locations and its non-maintenance can cost ₹1,500. 
But any money saved is equivalent to money earned. This part is vital for the following reasons.
Easy access to cash for daily operations as other business accounts come with their own set of restrictions
To enable various financial services like chequebook issuance, debit cards, online banking, and basic transaction capabilities
To accommodate businesses with fluctuating financial positions and avoid the stress of keeping a minimum balance
Advantages of Zero-Balance Current Account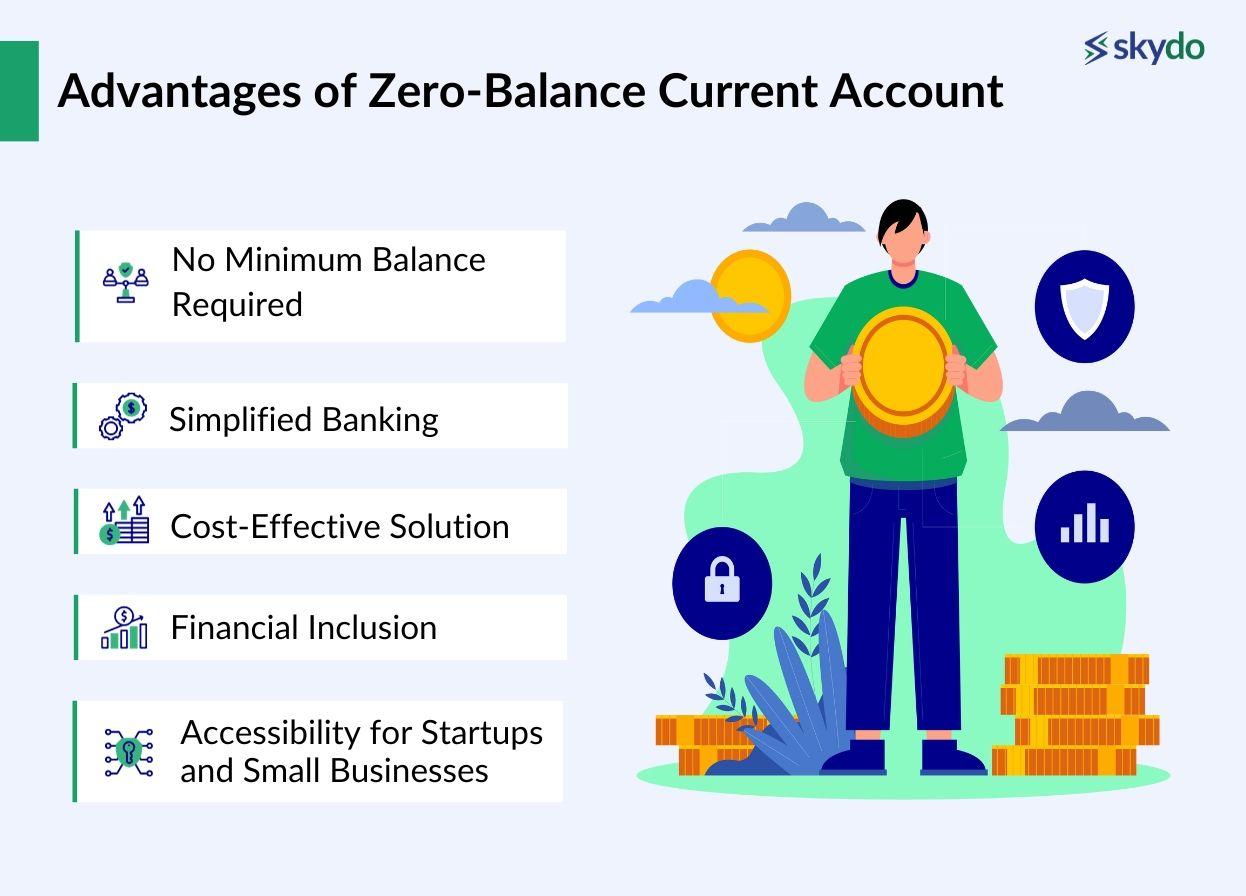 1. No Minimum Balance Required
The most significant advantage of a zero-balance current account is the absence of a minimum balance requirement. This feature removes a substantial financial barrier and improves the company's financial management.
2. Accessibility for Startups and Small Businesses
Startups and small businesses often struggle to maintain a substantial minimum balance, especially in their early stages. This account levels the playing field by allowing these businesses to open and operate essential business accounts without the pressure of meeting a minimum balance, ensuring that financial limitations do not hinder their growth.
3. Cost-Effective Solution
Zero-balance current accounts are cost-effective for businesses. They typically come with reduced or zero monthly maintenance fees compared to traditional current accounts. These cost savings can add up over time, helping businesses keep their operational expenses in check.
4. Simplified Banking
These accounts offer basic banking services, including chequebooks, debit cards, and online banking. While they may not have the comprehensive features of traditional accounts, they provide essential tools for managing daily financial transactions without unnecessary complexity.
5. Financial Inclusion
Zero-balance current accounts promote financial inclusion by allowing a broader range of businesses to access banking services. This inclusivity is essential for fostering entrepreneurship and economic growth, particularly in regions where access to financial services is limited.
Challenges and Considerations
While zero-balance current accounts offer several advantages, they also come with certain challenges and considerations that businesses should know.
1. Transaction Limits
Some zero-balance current accounts may impose transaction limits, especially for free transactions. Businesses exceeding these limits may incur additional charges. It's important to understand the transaction limits and fees associated with exceeding them to avoid unexpected costs.
2. Limited Features 
Zero-balance current accounts are typically designed to provide basic banking services. They may not offer the same comprehensive features as traditional current accounts. Businesses with complex financial needs or those requiring specialised services may find these accounts limiting.
3. Additional Service Fees
While the monthly maintenance fees for zero-balance current accounts are often lower than traditional accounts, there may still be fees for certain additional services. These can include fees for chequebook issuance, stop payment requests, or other services beyond basic banking.
4. Credit Facilities
Zero-balance current accounts may have limitations for credit facilities, such as overdrafts or business loans. Businesses requiring substantial credit facilities may find that traditional accounts offer more options in this regard.
5. Customer Support
Zero-balance current accounts may not offer the same level of personalised customer support as traditional accounts. Businesses that value premium customer service or require assistance with complex financial transactions should consider this limitation.
6. Long-Term Suitability
As businesses grow and their financial needs evolve, they may outgrow the capabilities of a zero-balance current account. Therefore, it's crucial to evaluate whether the account remains suitable in the long term or if a transition to a more feature-rich account is necessary.
7. Regulatory Compliance
Businesses must ensure that the zero-balance current account complies with all relevant financial regulations and tax requirements. This includes providing accurate documentation and reporting as needed.
Conclusion
Zero-balance current accounts offer a compelling array of advantages that can significantly boost businesses' financial accessibility, cost efficiency, effective cash flow management, financial inclusivity, and streamlined operations.
You must choose a correct business account that helps you smoothen your daily operations with utmost efficiencies, and the least cost and zero balance current account can be a great starting point.
Frequently Asked Questions (FAQs)
Q.1: Can zero-balance current accounts support high transaction volumes for growing businesses?
Ans: Yes, one of the strong suits of a zero-balance current account is its ability to support high transaction volumes for growing businesses.
Q.2: Are there any limitations or fees associated with zero-balance current accounts that businesses should be aware of?
Ans: Some zero-balance current accounts can impose limits on the number of free transactions or the total transaction amount within a specific period. Exceeding these limits can result in additional charges. While monthly maintenance fees for zero-balance current accounts are often lower than traditional accounts, there may still be fees for certain additional services.
Q.3: How can businesses ensure they choose the right bank for their zero-balance current account needs?
Ans: One of the best ways to ensure the right bank for their zero-balance current account needs is to seek recommendations from their business networks and do your research, feature comparison, assess fees, and review customer support.