A Quick Guide to Using the Skydo Platform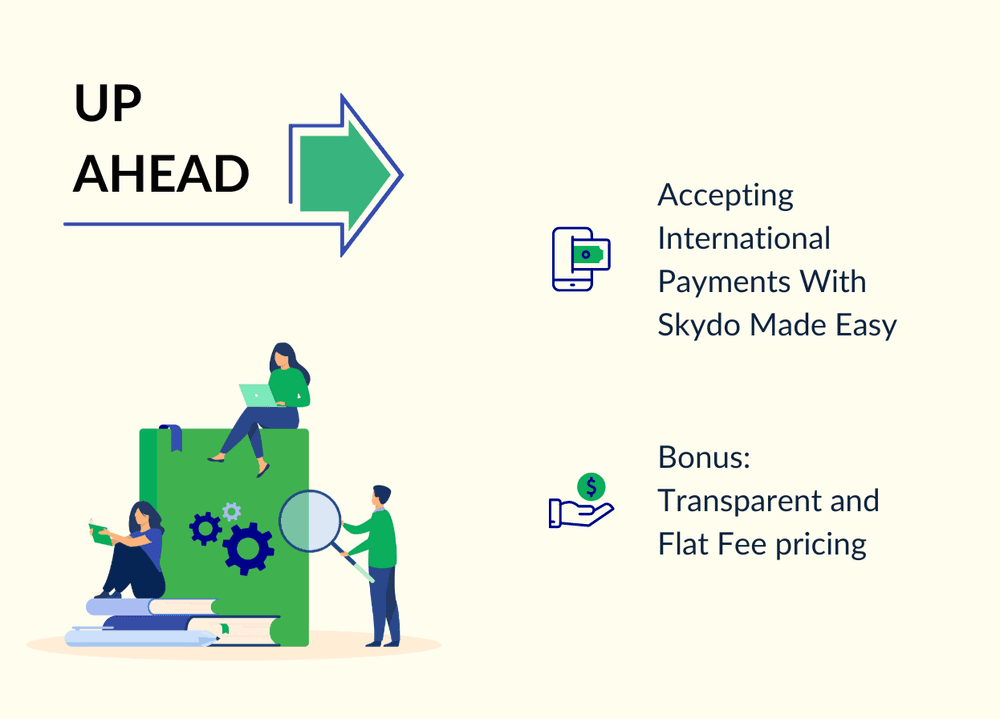 Last Updated
September 7, 2023
Embarking on the journey of business expansion is like navigating uncharted waters and seeking new horizons. 
Your mission? To captivate your customers with novel services, elevate their experiences, and streamline your operations. To make wise choices, you must access extensive data and advanced analytics. Additionally, if you're running an export business, comprehending your payment data is essential.
The new Skydo dashboard centralises all your accounts receivable data within a convenient interface. This innovative dashboard presents your data through an intuitively designed, user-friendly layout, offering seamless access to crucial payment insights. 
As you set sail towards growth, let Skydo be your compass, guiding you through the intricacies of expansion. Here's how.
Accepting International Payments With Skydo Made Easy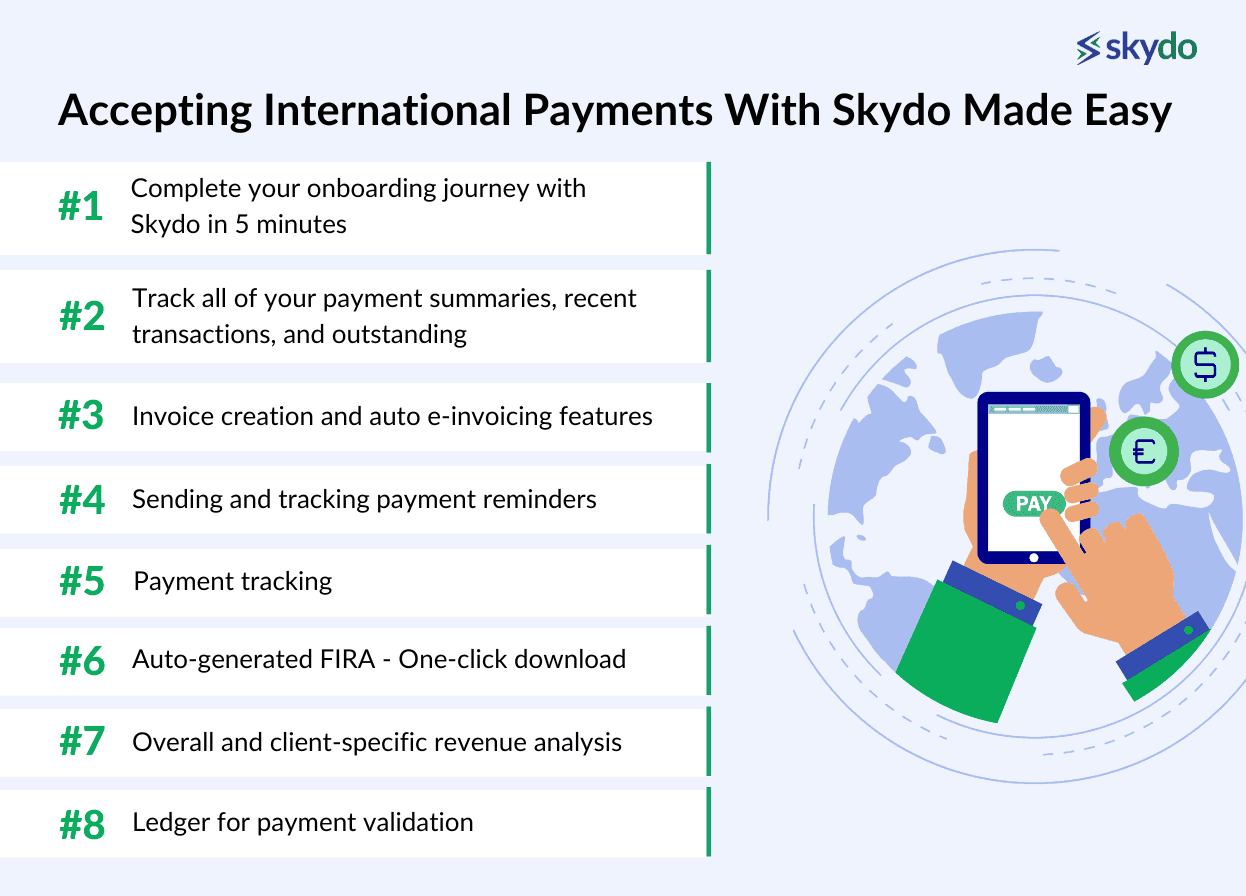 #1: Complete your onboarding journey with Skydo in 5 minutes
The onboarding process with traditional payment vendors generally takes 4-7 days to complete the onboarding process. However, when you want to expand your business, time is of the essence. That's why our onboarding journey is designed to be a breeze, allowing you to get started in just 5 minutes.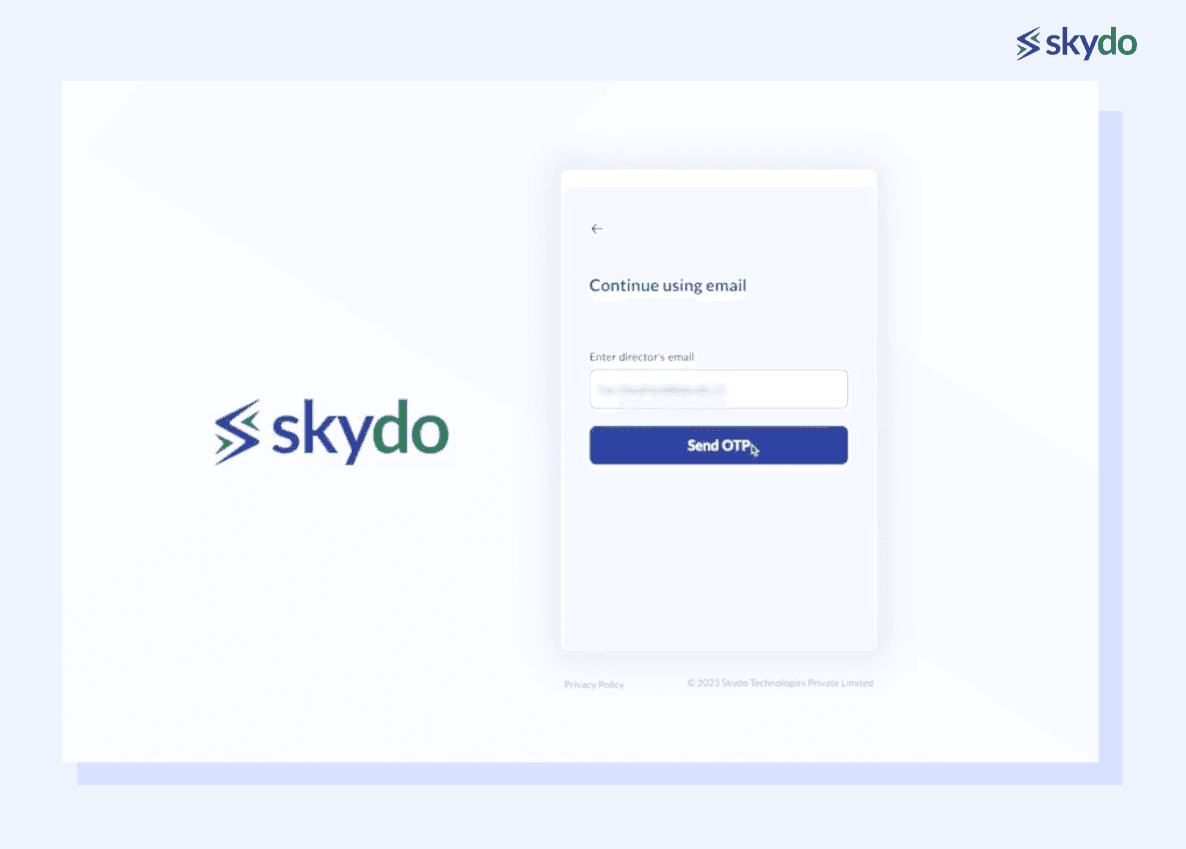 Here is the step-by-step onboarding process.
Begin by verifying your email through an OTP and progress to KYC instructions. 
After OTP confirmation, enter your Business Pan Number; the platform automatically populates the company name, CIN, and GSTIN. Add business details, website, and affirm. 
Input your personal PAN, upload the original image, verify your Aadhaar linked to your mobile, and confirm your mobile number. 
Easily add beneficial owners, manually if needed, with alternate PAN for validation. 
Wrap up by verifying your bank account via penny drop. 
Your journey to effortless international transactions starts here!
#2: Track all of your payment summaries, recent transactions, and outstanding
Once you have logged into your account, the dashboard will provide an overview of the recent transactions and invoices. This intuitive interface provides a consolidated summary of the revenue you've generated. No need to sift through spreadsheets or crunch numbers – the information you need is right at your fingertips.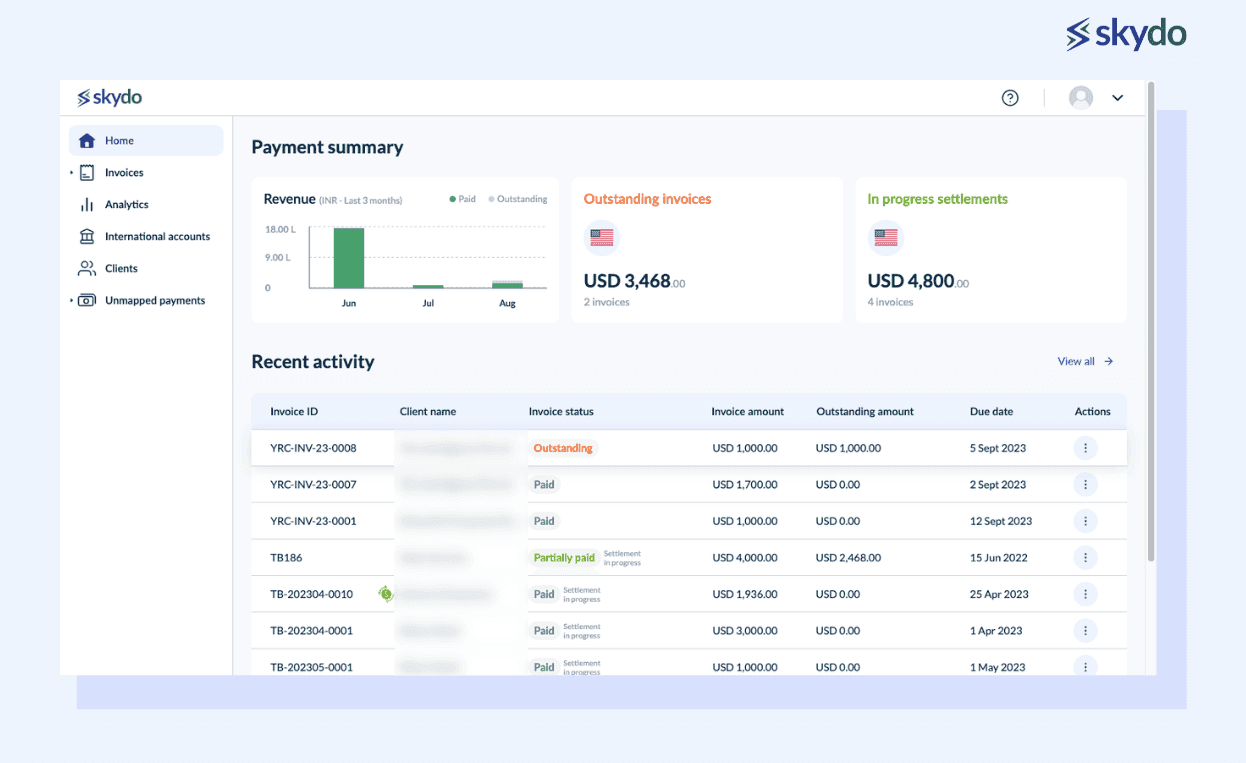 Furthermore, this dashboard keeps you in the loop regarding any outstanding invoices that require attention. You can proactively manage your finances and maintain a healthy cash flow with a clear display of pending payments. Furthermore, you can monitor ongoing settlement processes and view real-time updates on payment activities as they occur.
#3: Invoice creation and auto e-invoicing features
The invoice creation process, coupled with its advanced e-invoicing features, streamlines and simplifies the billing experience for users. Initiating a new invoice triggers a step-by-step journey that ensures accuracy and efficiency.
Upon selecting "Create a new invoice," the interface seamlessly populates your company's details, eliminating manual input. The "Bill To" option intelligently pulls client names from a predefined list or accommodates new client entries, saving time and ensuring client information accuracy.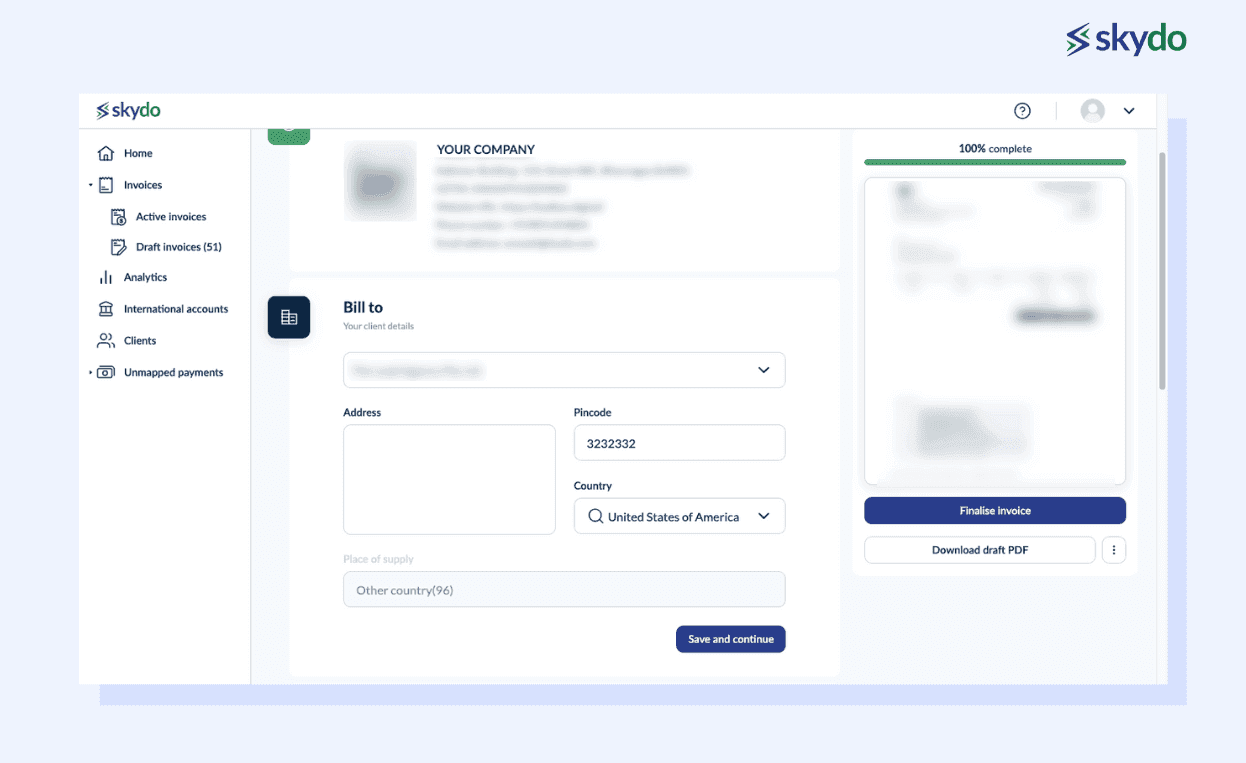 Clicking "Save and Continue" leads you to a comprehensive itemisation section. You can specify the services you've rendered, supported by fields like service name, SAC code, quantity, rate, and amount. We provide you with a user-friendly provision for discounts and the addition of Skydo fees, offering you flexibility in accounting. Importantly, the invoice is automatically tagged with the appropriate purpose code for taxation.
This feature makes it easy to select the right currency for invoicing without any complications. The e-invoicing process is strengthened with a pre-set selection of local bank accounts for your transactions. Although customisation is an option, it is recommended to choose the preferred account to avoid any extra charges.
Including additional details like notes can improve the clarity of your invoice and make the process more convenient. If you are conducting transactions in a currency other than INR, you can easily add a Letter of Undertaking (LUT) as well. 
In addition to digital invoices, the Skydo payment platform also offers an e-invoicing feature to receive international payments. Once you have finalised the invoice, you can generate an e-invoice which will create the QR code for it. You can either send your invoice to your client or download a draft PDF for review. If needed, you also have the option to remove the invoice.
#4: Sending and tracking payment reminders
Skydo's invoicing feature empowers users to dispatch reminder emails to clients experiencing payment delays effortlessly. The platform goes a step further by allowing a preview of these reminders, ensuring their effectiveness. 
Notably, tracking features provide insight into the frequency and dates of sent reminders, facilitating efficient follow-up actions. Additionally, the capability to monitor client engagement through email open tracking offers valuable information on the reminders' impact.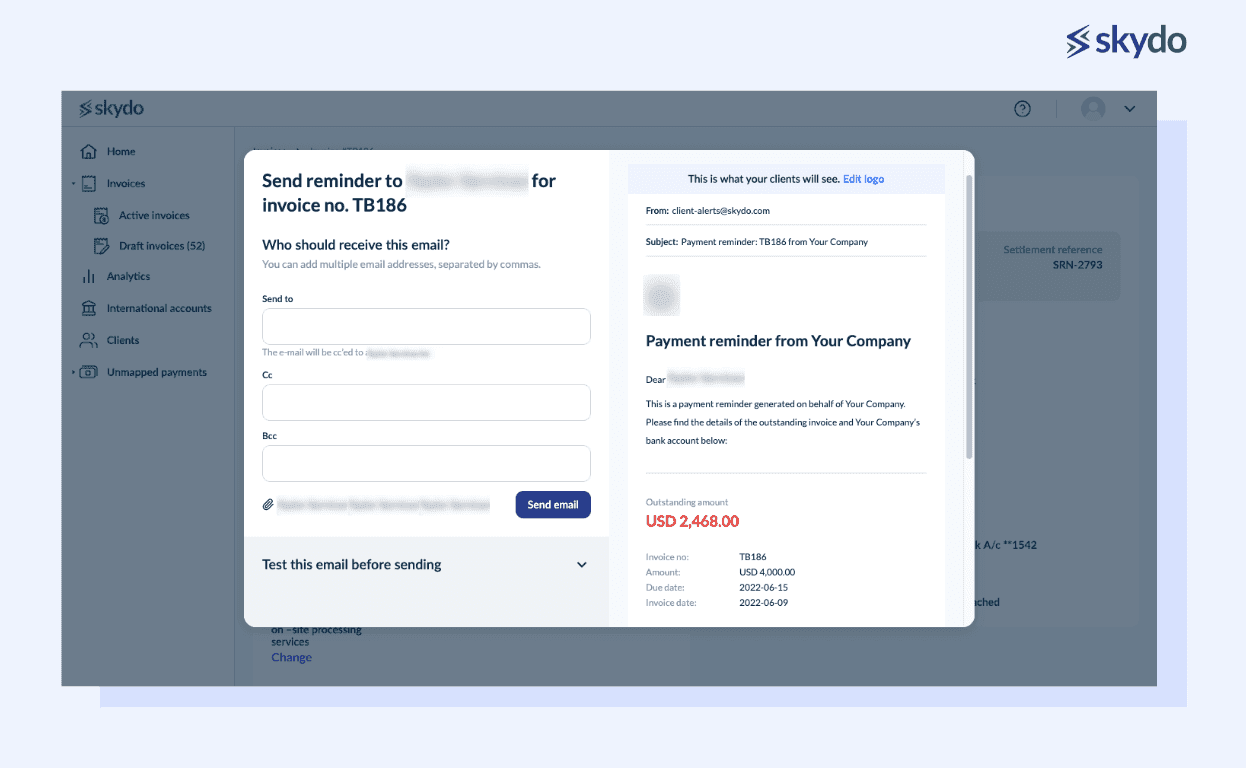 #5: Payment tracking
What if Zomato didn't have delivery tracking? Imagine ordering food from Zomato without the ability to track your delivery in real time. 
The uncertainty and frustration would be undeniable. Similarly, managing multiple invoices without proper payment tracking can be equally exasperating for businesses serving clients across borders.
Skydo payment platform is a game-changer in invoicing and payment management. By providing a comprehensive timeline of invoices, from sending to viewing, payment processing, and completion, Skydo ensures that you can effortlessly monitor your financial transactions.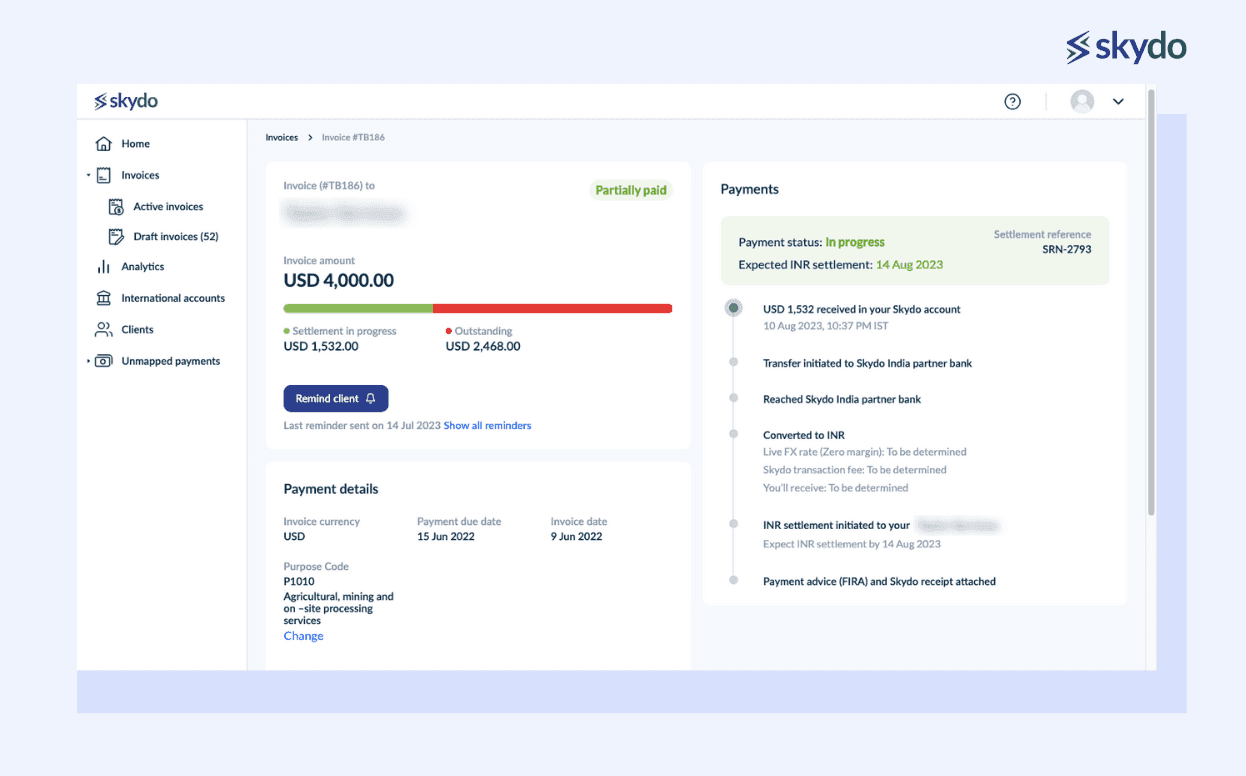 #6: Auto-generated FIRA - One-click download
Handling foreign inward remittance documentation is exemplified by its remarkable feature - the automatic generation of Foreign Inward Remittance Advice (FIRA) paired with a hassle-free one-click download process. This obliviates the need for manual creation and management of documents, presenting a swift and precise solution for all your FIRAs in a single unified location.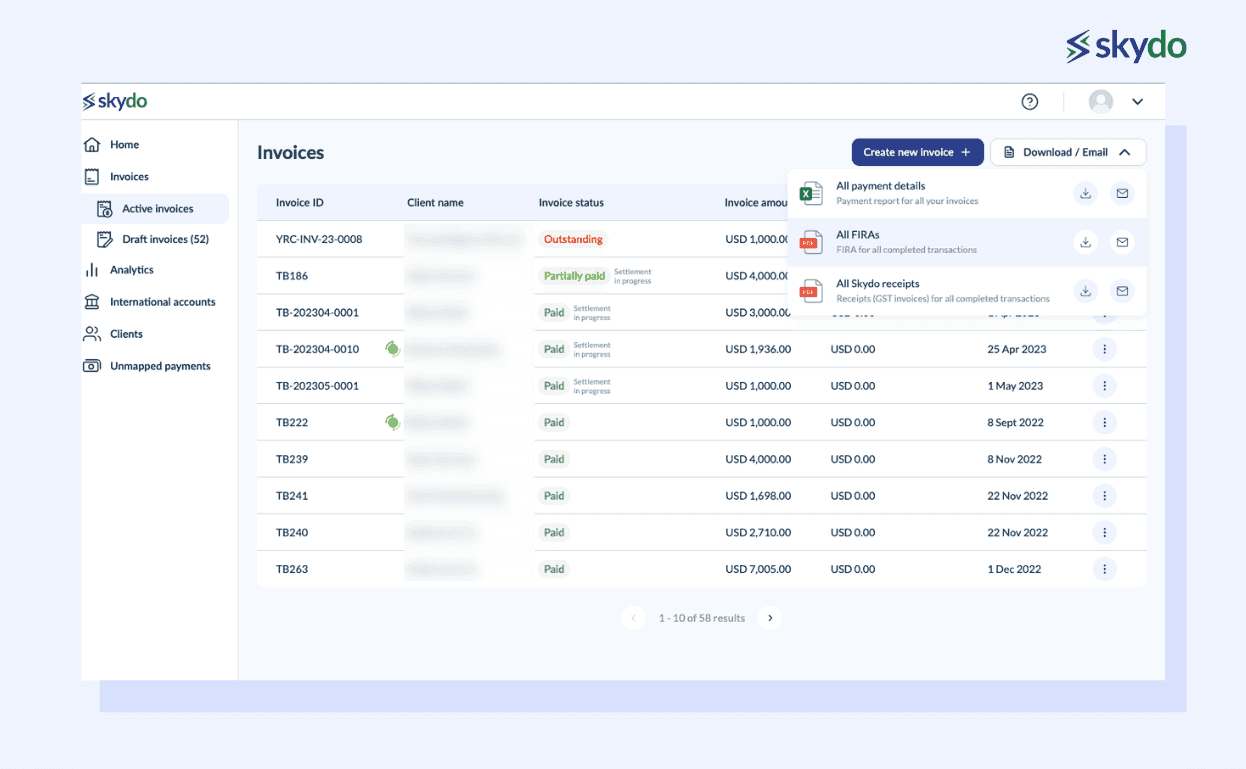 With Skydo's auto-generated FIRA, you can seamlessly integrate with Indian tax regulations and meet the strict requirements set by the Reserve Bank of India (RBI) and other relevant authorities. This can enhance your credibility and reduce the burden of regulatory compliance.
#7: Overall and client-specific revenue analysis
With access to monthly revenue figures, you can gauge your company's financial health. Dive deeper into individual client-level revenue to pinpoint key contributors, empowering your marketing and customer success teams to nurture those relationships strategically.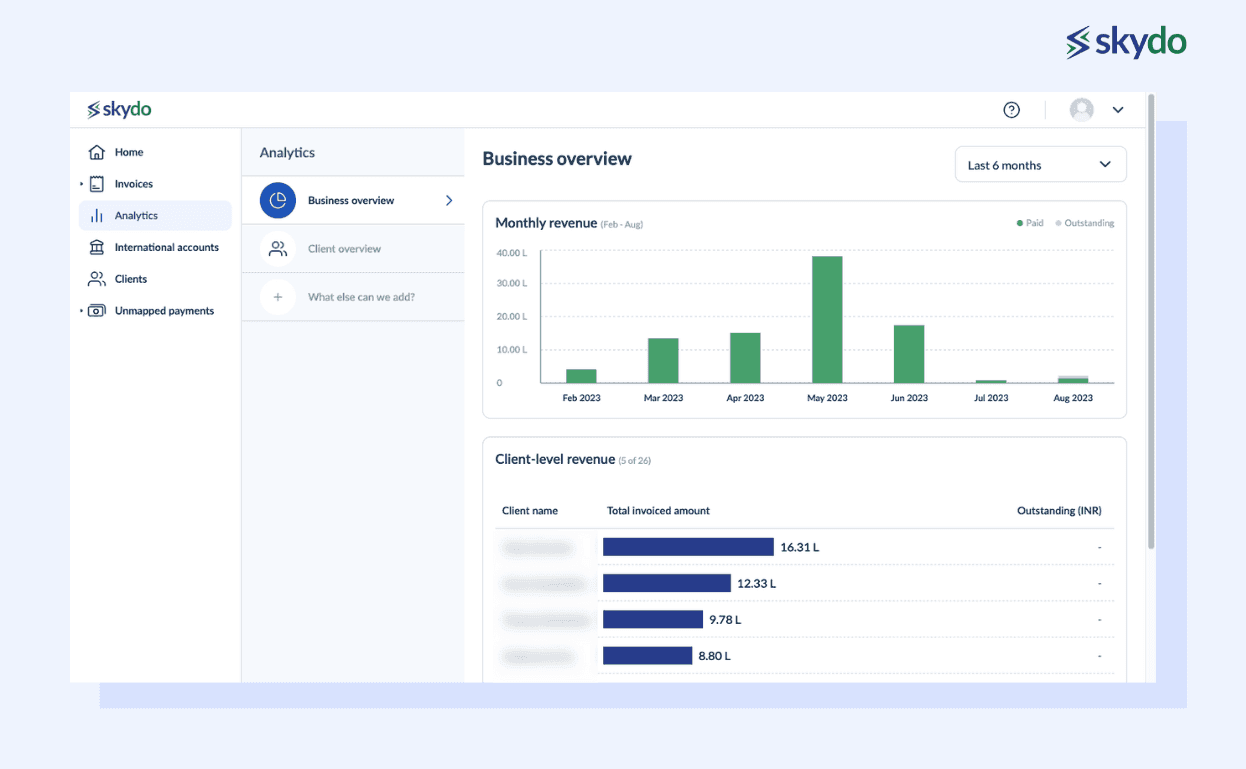 Additionally, leverage data on your best-selling services to provide a competitive edge to your sales team. Informed decisions and targeted strategies are now at your fingertips, ensuring smarter resource allocation and maximising growth potential. Elevate your business prowess with data-driven approaches, driving success across all fronts.
#8: Ledger for payment validation
The ledger for payment validation is an invaluable tool that effectively resolves discrepancies between you and your clients for pending amounts. When clients dispute the payments, this ledger becomes a potent instrument.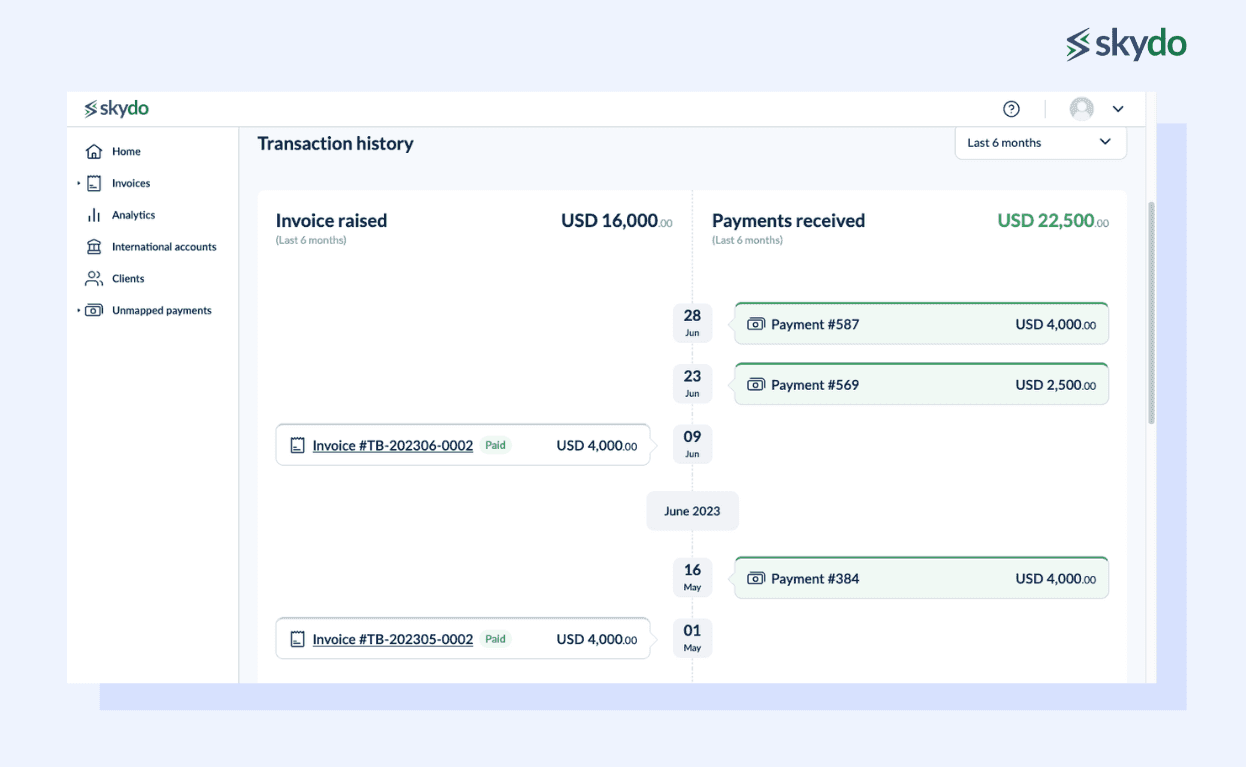 You can address client concerns promptly by providing a comprehensive transaction timeline with dates and corresponding amounts. This approach fosters transparency and strengthens client relations. You can easily share the ledger with your client in just one click to confidently resolve any payment disputes.
Bonus: Transparent and Flat Fee pricing
Skydo's global payment platform revolutionizes international transactions with its Transparent and Flat Fee pricing model. Traditional banks and payment gateways often burden businesses with intricate fee structures, but Skydo prioritizes simplicity. Offering live FX rates devoid of margins, it ensures optimal rates.
Final Words
In a world where financial clarity is paramount, Skydo emerges as the ultimate solution. With its promise of unparalleled transparency, managing your financial transactions becomes a stress-free journey.
No more grappling with uncertainties or enduring delays; Skydo empowers you with efficiency and control over your account receivables. By seamlessly uniting advanced business analysis and data insights, potential hurdles are nipped in the bud, ensuring your transactions flow effortlessly.
Book a demo to harmonise traditional finances with revolutionary technology, allowing your business to transcend borders effortlessly!