Home
Blog
Indian Tech Export Businesses Can Now Seamlessly Accept International Payments In India With Skydo
Indian Tech Export Businesses Can Now Seamlessly Accept International Payments In India With Skydo
Last Updated
September 20, 2023
Economically, the Indian export sector has been scaling remarkable heights. According to the Economic Preparedness Index Report 2022, despite the monetary slowdown in the past 2-3 years, the total exports in India amounted to a whopping US$ 675 billion in 2021-22. In fact, the total service exports amounted to US$ 250 billion, the highest ever. Service exports rose by 23% from 2020-21.
This export boom is the key driver in making India emerge as the global leader in the technology and services sector.
However, on the business front, Indian exporters have been facing several trade challenges, especially a lack of trade credits, payment defaults by international clients, and a lack of credit insurance. The result is lengthy payment cycles and excess inventory, creating a negative impact on businesses.
Global organisations have been focused on improving cross-border payment systems for people. In 2021, G20 prepared a roadmap to optimise cross-border payments. Some of its key features are:
Introducing a common framework for cross-border payments
Defining common features for cross-border payment services
Promoting safe payment corridors
Increasing access to payment systems by banks, non-banking institutions and payment infrastructures
Despite the attempts to enhance cross-border payments, the framework requires a lot of refinement to make it more accessible for exporters. 
How can merchants optimise their cash flow or grow their business, then? Here's how Skydo simplifies and streamlines the process of receiving international payments by eliminating unnecessary delay factors.
Limitations of existing payment channels in India
The existing cross-border payment landscape in India is extremely cumbersome and time-consuming for businesses. 
The majority of international remittances take place through the following channels:
SWIFT/correspondent banking post
Rupee Drawing Arrangement (RDA)
Money Transfer Service Scheme (MTSS)
The challenges with these traditional payment methods are high transaction fees, currency conversion fees and complex regulatory requirements. Another significant factor that makes these channels unattractive is the excessive timelines to process international payments. 
Multiple fintech platforms in India have emerged to provide quick inward remittances and automated invoicing services. However, merchants still encounter the following issues with such payment platforms:
High currency conversion fees and unfavourable exchange rates
Complex and time-consuming FIRA generation
Inadequate customer support
Slow processing of cross-border payments
Here are the challenges faced by the most popular payment gateways: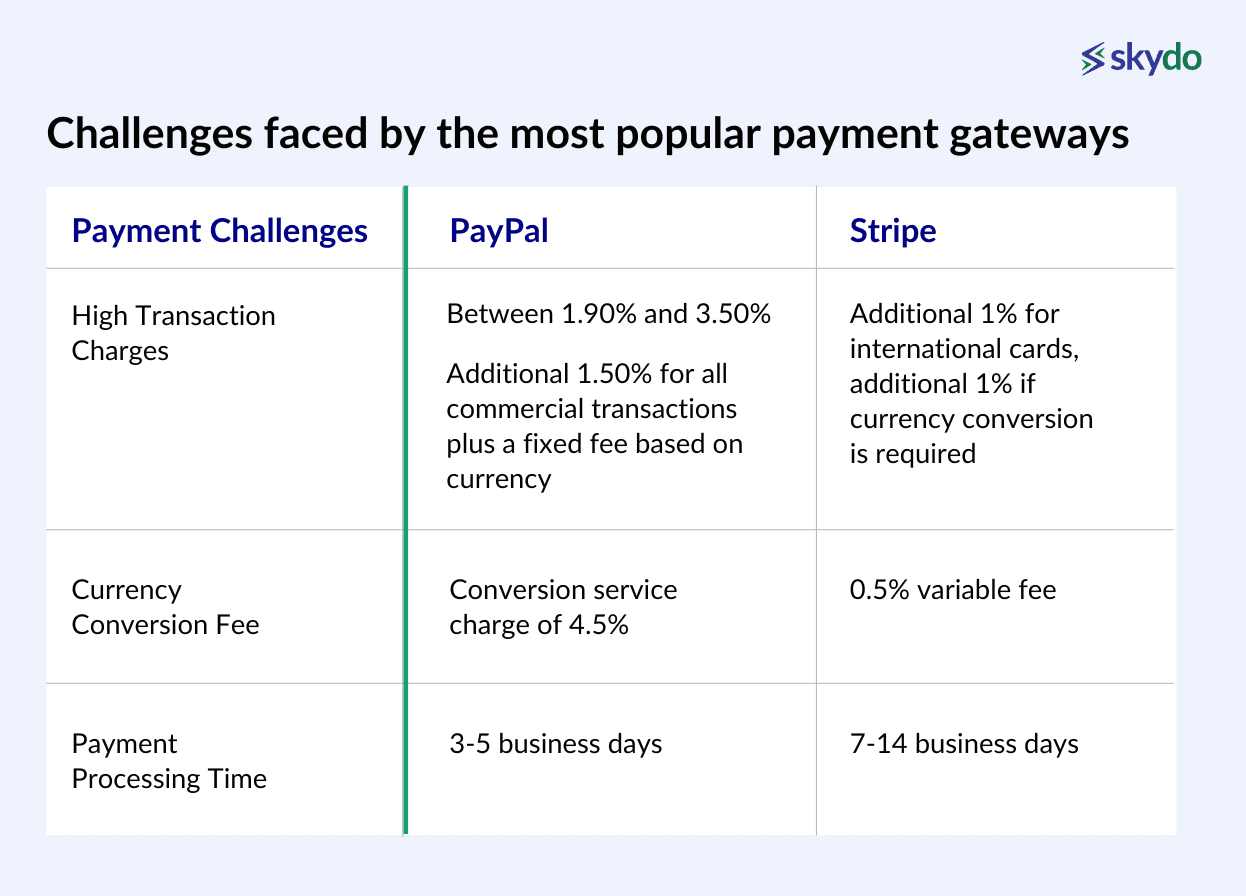 Why is Skydo important and what does it solve?
Innovative payment platforms such as Skydo are providing low-cost payment solutions to businesses. Equipped with features like generating automatic FIRA receipts, automated invoicing, flat transaction free, and quick customer support, the Skydo payment platform enhances the payment process for merchants and facilitates business growth.
Skydo's team understands the pain points related to cross-border payments tech exporters and aims to resolve them.
Let's understand in detail how Skydo resolves issues with cross-border payments, making it a one-stop solution.
1. Flat transaction fee
One of the most significant benefits of the Skydo payment platform is the flat transaction fee for receiving international payments. 
Transaction fee up to $2,000 is $19
Transaction fee per $10,000 is $29
You can view the exact transaction fee when you generate an invoice. Thus, Skydo ensures transparency and helps you save unnecessary hidden charges levied by other payment gateways.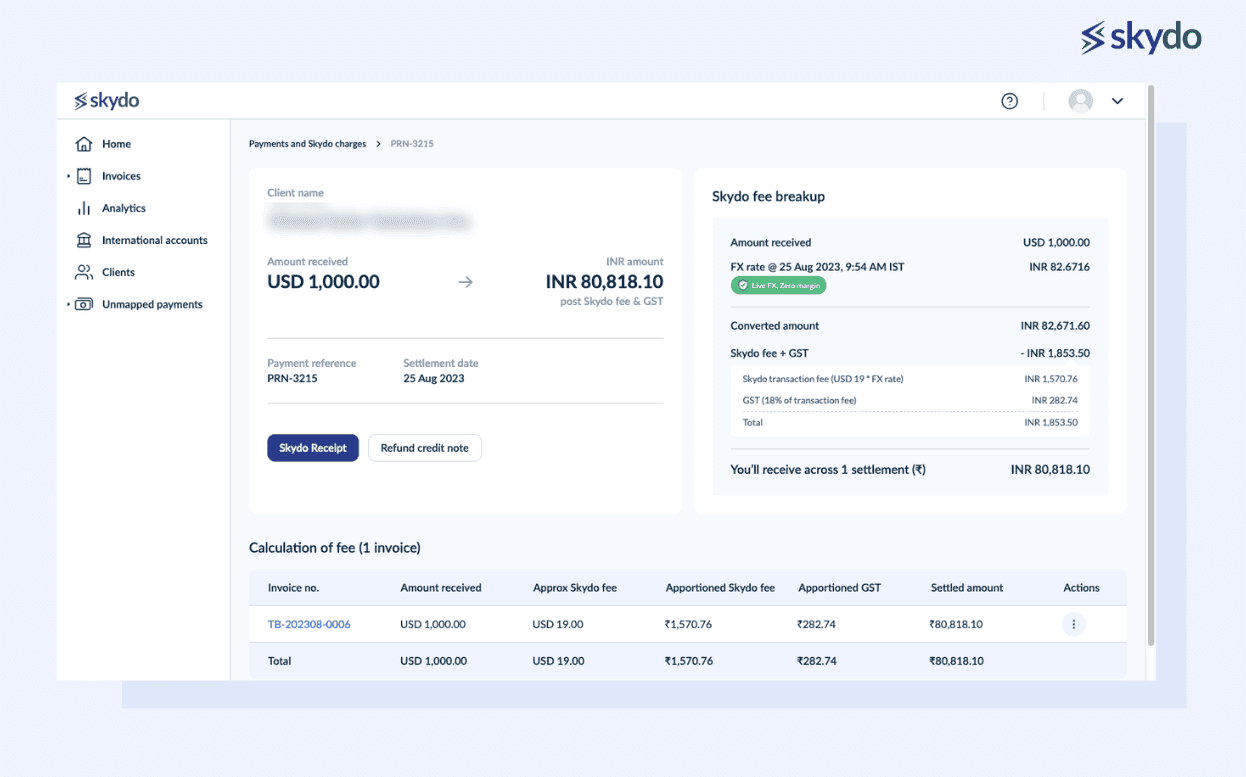 2. Seamless payment processing within a few hours
The majority of cross-border payments are delayed because of some issues from the bank's end or manual errors by the remitter. To mitigate this risk, Skydo enables virtual multicurrency accounts.
Your clients can directly transfer the payment to that bank account, which takes only a few hours to process. This way, you no longer need to fret over delayed payments.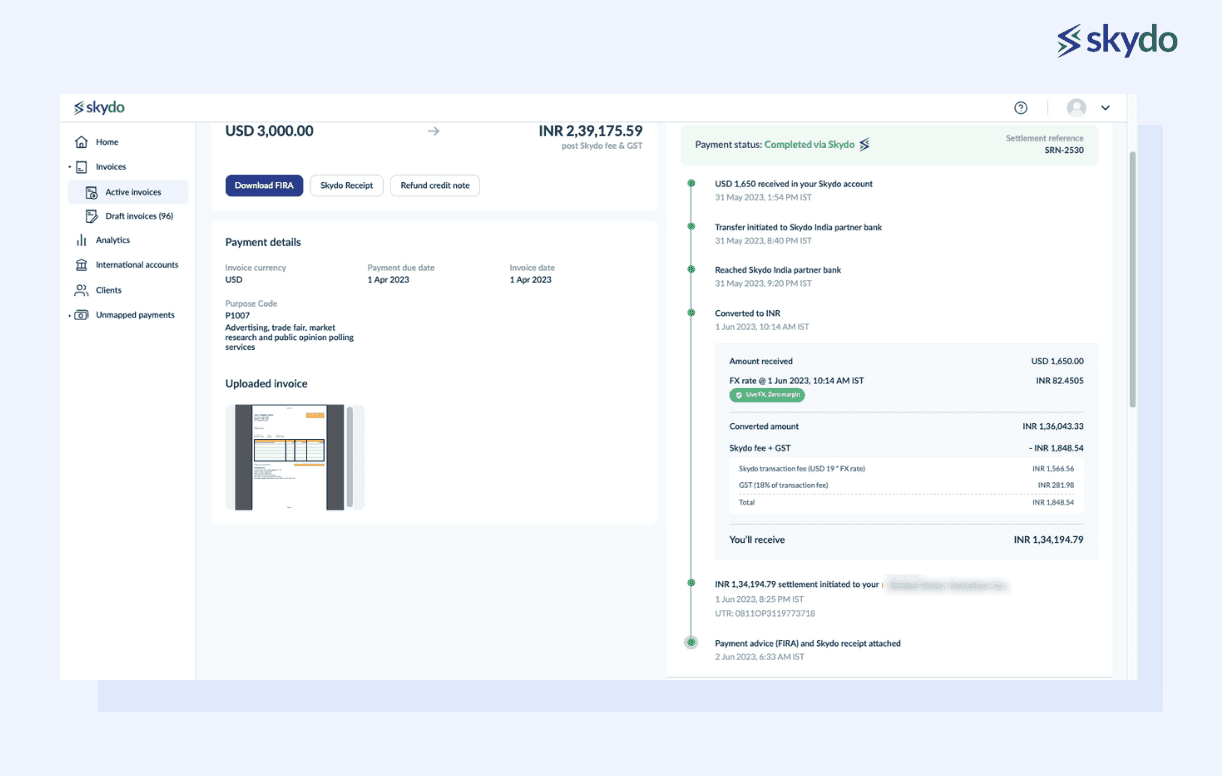 3. Live FX rates with zero margin
Skydo converts the payment received in international currency into INR as per the live foreign exchange rates without levying any additional fee. This means that you get the exact amount in your bank account as per the prevailing currency rate without any deductions.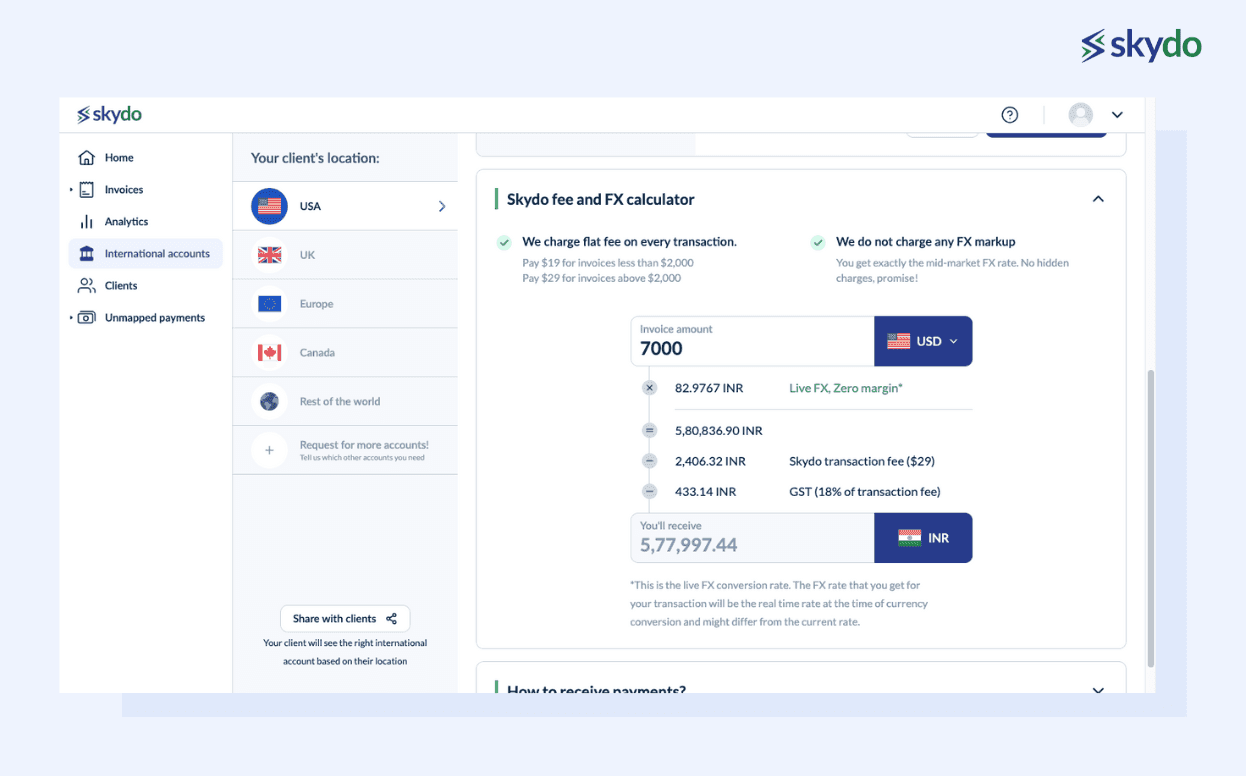 Invoice generation and payment reminders with the auto-generated invoice number
Invoicing is one of the best features of the Skydo payment platform. It helps you save on time and manual efforts by creating automatic invoices.
4. Invoice generation and payment reminders with the auto-generated invoice number
Invoicing is one of the best features of the Skydo payment platform. It helps you save on time and manual efforts by creating automatic invoices.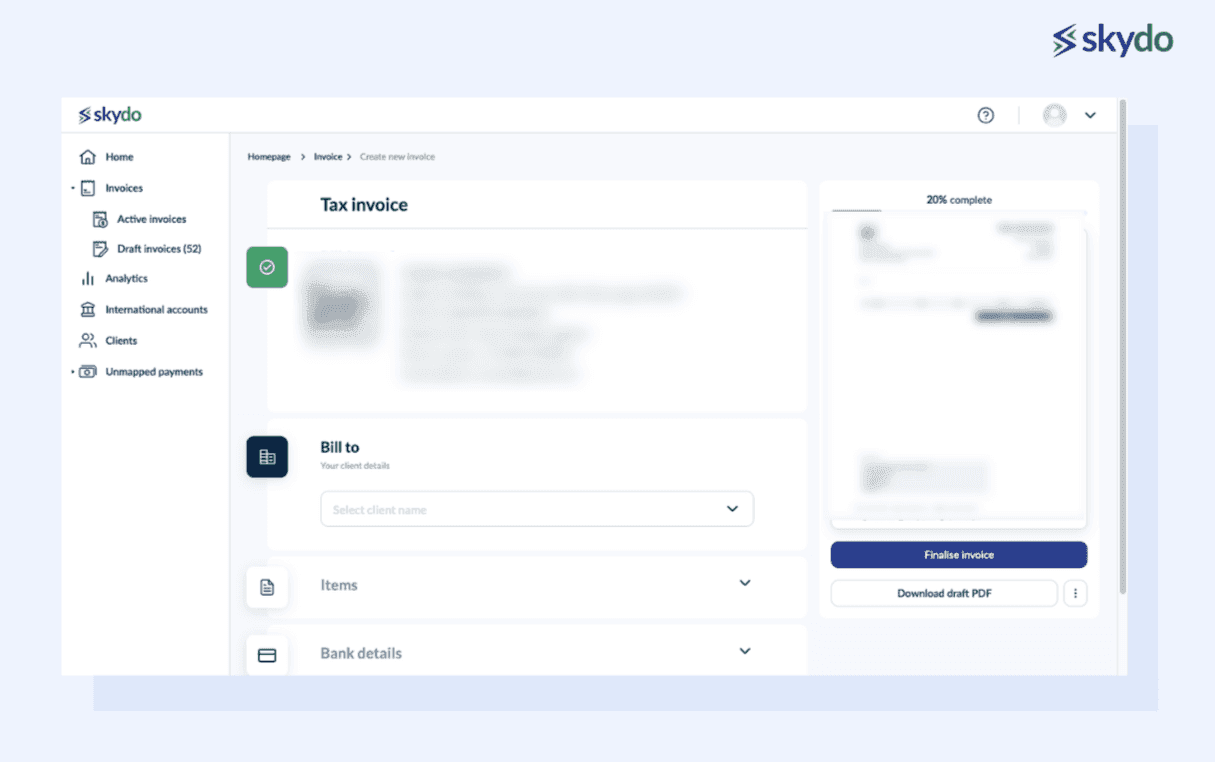 Skydo provides customisable professional invoice templates to suit your business requirements. The payment platform automatically adds the invoice number every time you generate an invoice.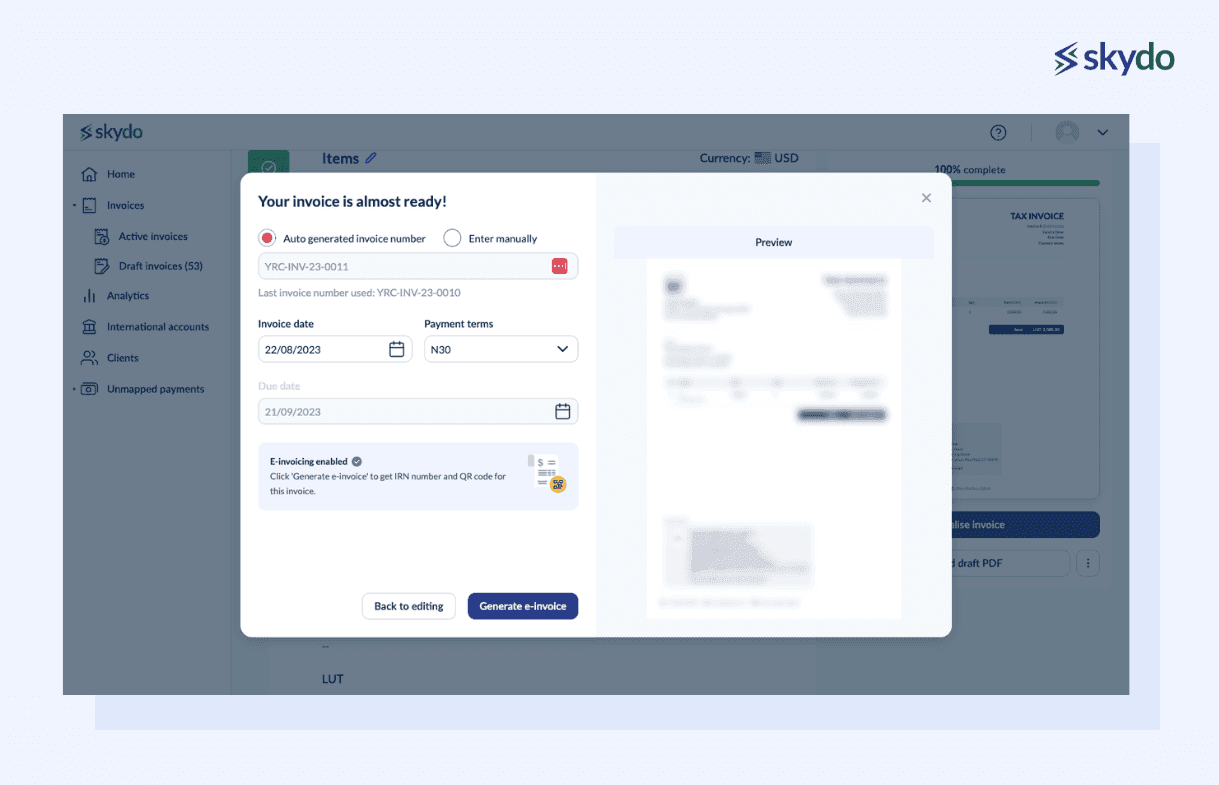 Moreover, you can track the real-time status of all your invoices on a single dashboard and send payment reminders to clients through Skydo.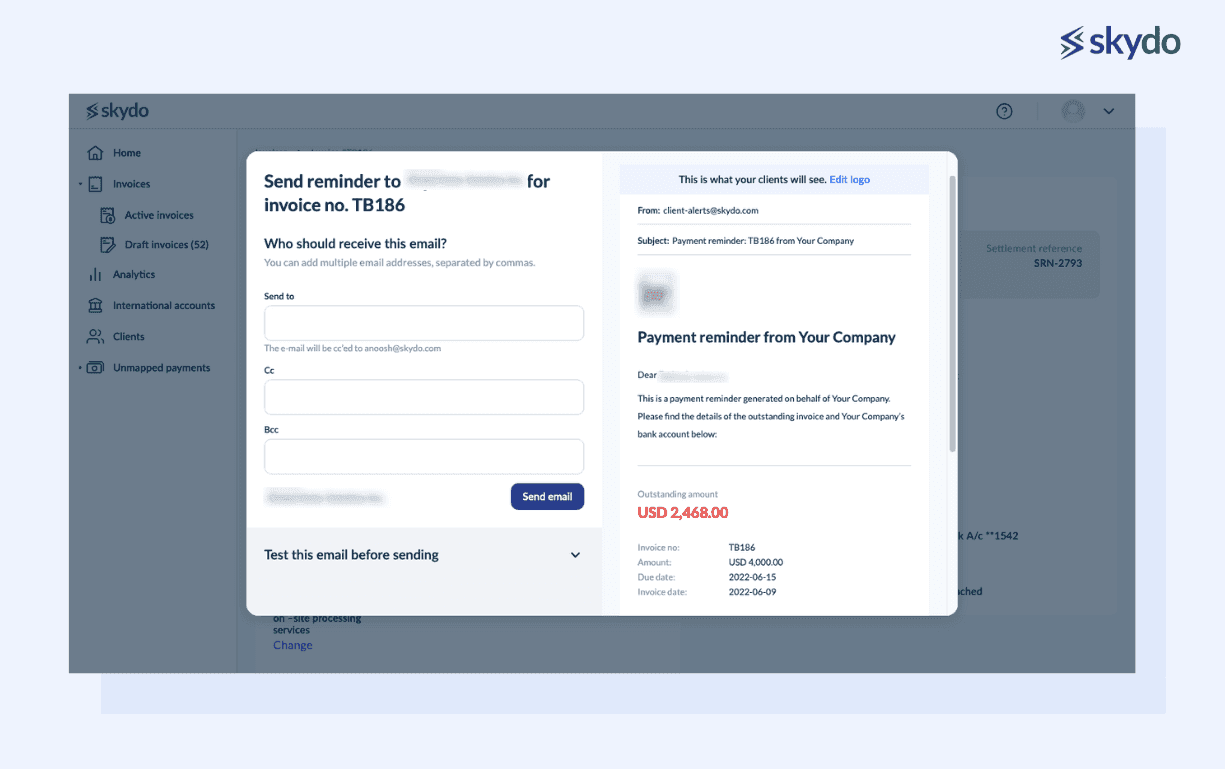 Learn more: Transforming Your Invoicing Experience With Skydo
5. Compliance with Indian regulations - Automated FIRA
Foreign Inward Remittance Advice (FIRA) certificate provides complete details of all foreign services provided by Indian exporters. It is essential for businesses to maintain all FIRA receipts to reconcile their financial statements and for tax compliance purposes.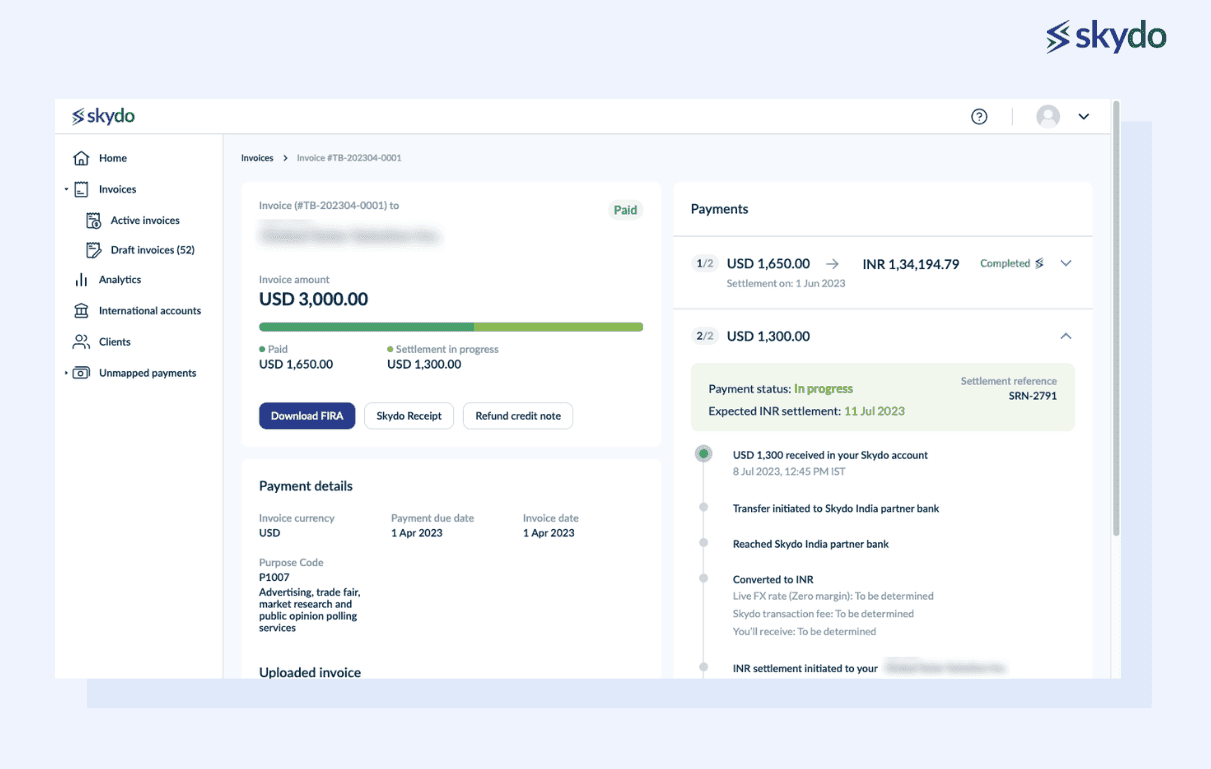 Skydo automatically generates FIRA certificates for all transactions, making it easier for you to comply with tax laws.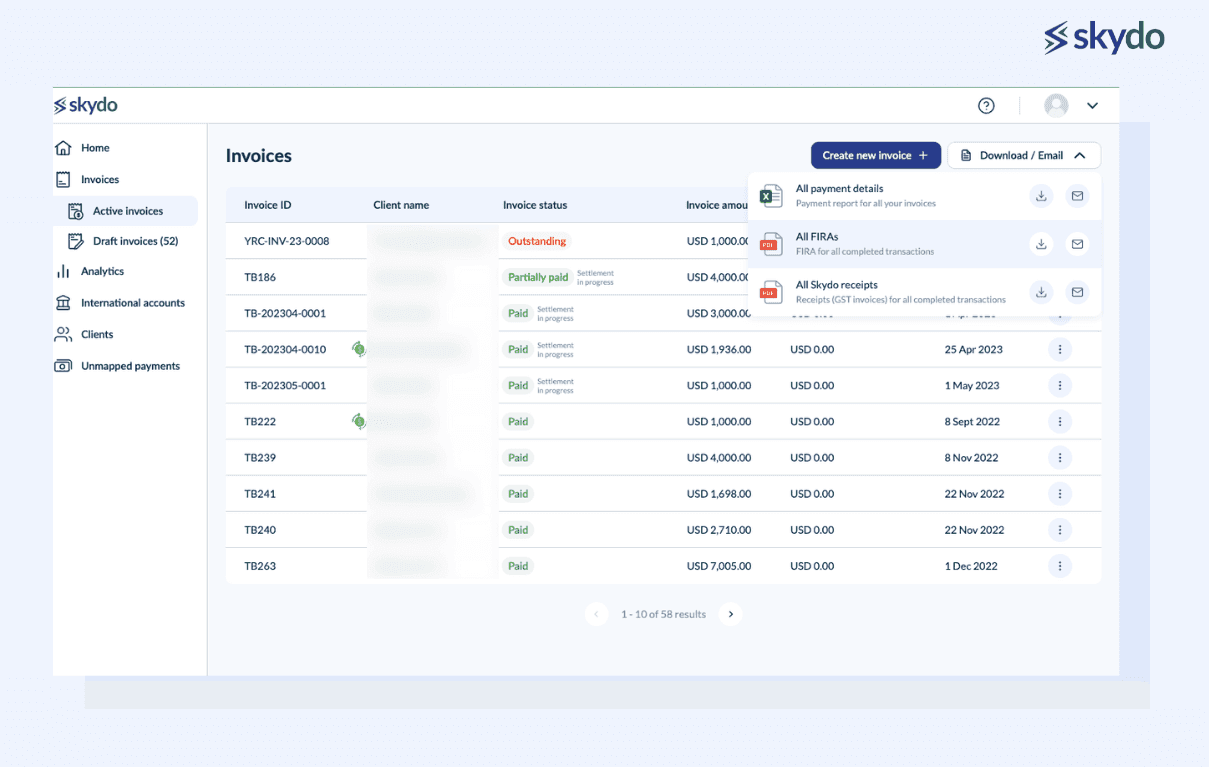 6. User-friendly interface
The intuitive dashboard has been designed to help users easily navigate through Skydo's payment platform. It provides you access to all the details related to your transaction within a few seconds.
Overcoming Regulatory Challenges
Regulatory challenges create a lot of friction while engaging in international trade. Skydo helps businesses tackle such regulatory challenges by making it easier to adhere to RBI guidelines and tax compliances.
1. Skydo's collaboration with Indian and foreign bank accounts
SWIFT payments from an international bank account to your local bank account in India take up to 1-5 days to process. This timeline is dependent on the customer providing accurate details to the bank such as name and address of the beneficiary, account number of the beneficiary, currency in which payment has to be made, and the address of the beneficiary's bank.
If any of these details are incorrect, the bank will reject the transaction. The buyer will again have to provide correct details and process the payment, leading to an additional 4-5 days. 
To avoid this lengthy process and help receive timely payments, Skydo enables businesses to open a local bank account in 20 countries, including the US and the UK. This helps you receive payments within a few hours.
It has collaborated with Indian and foreign banks which allows businesses to open a bank account within 5 minutes. Creating an international bank account has never been easier!
Learn More: Enjoy Seamless Payment Experience by Creating International Bank Accounts in Just 5 Minutes
2. Ensuring compliance with Reserve Bank of India (RBI) guidelines
Staying updated with the strict regulatory policies and RBI guidelines can be a hassle for businesses. However, Skydo ensures businesses are compliant with RBI guidelines by automatically adding the purpose code in invoices and generating FIRA certificates. They serve as proof of foreign inward remittances and allow businesses to claim GST refunds on exports.
3. How Skydo streamlines Know Your Customer (KYC) processes
One thing business owners despise the most about payment and banking platforms is the tedious KYC process. With Skydo, the process is simple. 
As soon as the users enter the business PAN, the platform automatically extracts relevant details such as the company's name, GSTIN, and CIN from the Ministry of Corporate Affairs database. 
Even when the directors upload their PAN, the platform automatically collects information from the uploaded file. Thus, Skydo offers smooth and quick KYC processes.
4. Auto-generated purpose code based on RBI guidelines
As per the RBI guidelines, all invoices related to the export of goods or services must have a purpose code to identify the type of service provided. Without the purpose code, the banks reject the payment received from an overseas account. 
There is a long list of different purpose codes that you can find online. Entering the purpose code manually for every transaction is time-consuming and leaves scope for error. 
Skydo's payment platform prefills the purpose code in your account post-registration. This code is then automatically available in a drop-down based on the services rendered in that invoice. This ensures that you send accurate invoices and receive payments on time.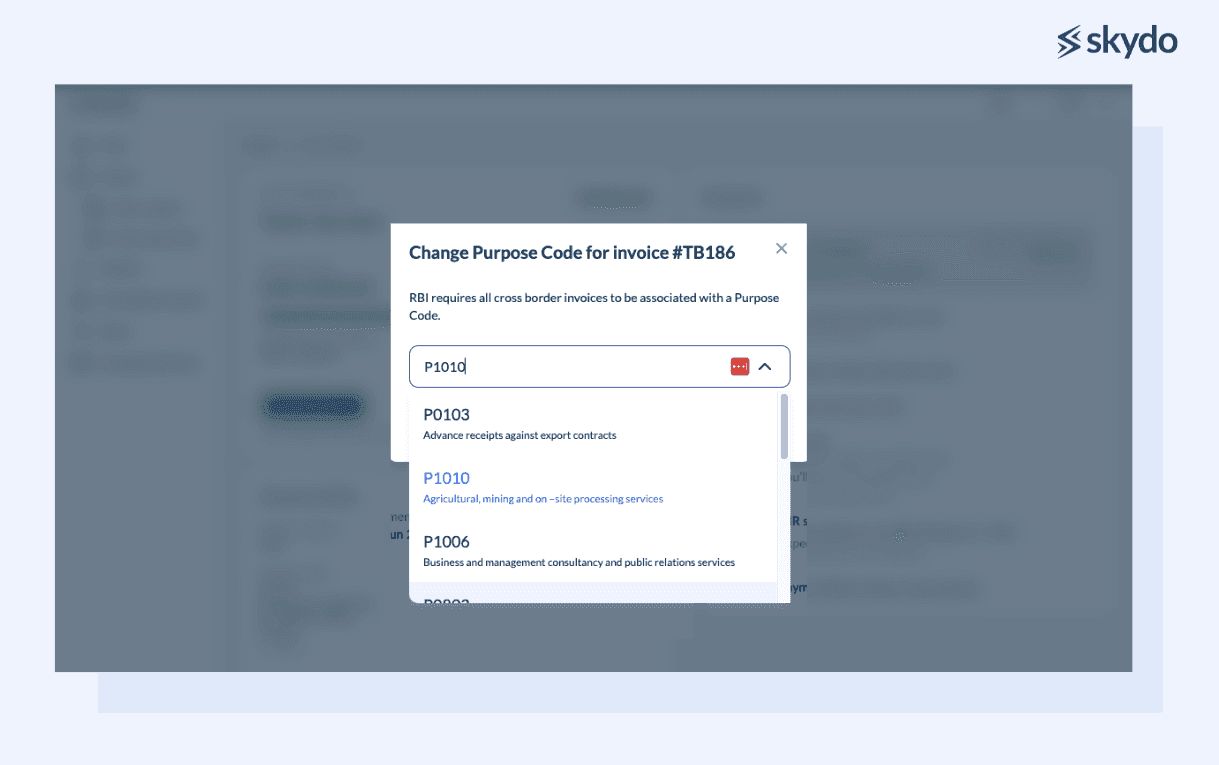 Conclusion
While businesses are keen on expanding their services globally, challenges related to cross-border payments act as restraints. Add to this multiple regulatory processes and banking norms. Consequently, payment gets delayed, making it difficult for merchants to scale their business. 
Skydo streamlines the payment process by providing automated invoicing services and charging flat transaction fees. It also has a vast network of Indian and foreign bank accounts, enabling businesses to open a local bank account in the US. This facilitates quick receipt of international payments to your local bank account in India. 
Request a demo today to expand your business internationally with Skydo!