Enjoy Seamless Payment Experience by Creating International Bank Accounts in Just 5 Minutes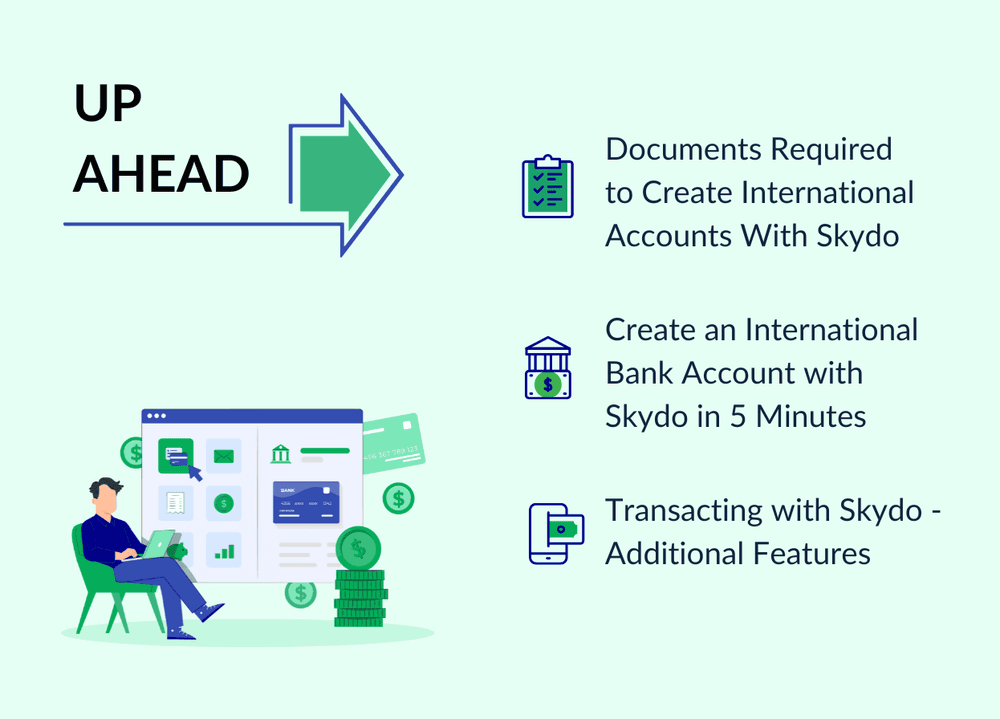 Last Updated
August 23, 2023
Launching and running an IT export business is fabulous–until you must deal with international payments.
Currency Conversion and Exchange Rates: Banks often impose unfavourable currency conversion rates and fees which hampers profitability, specifically if you're operating on thin margins.
Processing Delays: Conventional international transactions can take several days due to intermediary banks' involvement and complex clearing processes. Such delays not only impede business operations but also hinder client relationships.
Hidden Charges: Traditional banking systems often have hidden fees that accumulate over time, eroding the overall transaction value.
Traditional banking systems are reliable but often fail at the speed and ease required for international transactions. The expected growth rate for B2B cross-border payments will reach $2,515 billion by 2030 at 10.8%. 
Therefore, platforms like Skydo aim to accelerate business growth by overcoming conventional barriers to trade.
IT export businesses can grow and scale internationally with Skydo's effortless onboarding, hassle-free international payments, a seamless platform experience, multi-currency accounts, real-time payments, and transparent pricing models.
Here's how it works and how you can accept international payments hassle-free in just 5 minutes.
Documents Required to Create International Accounts With Skydo
Here's a list of the documents you must procure before signing up on the Skydo platform.
Director's mail id: The official email ID of the director
Business PAN number: To identify and verify the business
Primary business activities: What does your business do? Curate the list to add during signup.
Director's personal PAN card picture: To cross-check the name and other details in UIDAI records
Director's Aadhaar number: A valid identity proof to be verified by OTP received on their mobile number
Mobile number: For further communication and a necessary step in any onboarding process
Details of beneficial owners: A beneficial owner can be the company accountant or any official who will take over when the director or business owner is absent
Business bank account details: The primary mode of receiving and making payments
Create an International Bank Account with Skydo in 5 Minutes
The signup procedure requires no physical document submission. The simplicity of verifying identity and compliance procedures is unlike any payment gateway that may take days to verify and then onboard. 
Here's a step-by-step guide for a seamless onboarding journey as a primary business owner/director on Skydo's platform
The first step requires you to add and verify your email ID. Enter the correct email ID to receive OTP for verification. Input OTP from your inbox and click 'Verify OTP.'
After OTP verification, you will see a page with instructions for KYC and required documents. Click 'Agree and Continue.'
The next window asks you to enter your Business Pan Number.  The business details, such as the Company name, CIN (Company Identification Number), and GSTIN number, automatically appear in the designated text boxes. (the platform pulls the data from the government database). Add your primary business activity and your business's official website URL, and click 'Confirm and Continue.'  
Upon business details confirmation, add your personal PAN number and a picture of the original copy. The platform then verifies the image. Any images of a photocopy or black and white pictures are rejected. The system verifies your name on the PAN Card image to the information obtained from the Ministry of Corporate Affairs against the Business PAN number allotted to the company.
Next, enter your Aadhaar number and click 'Verify.' Your Aadhar number should be linked to a mobile number.

Enter the OTP received on your registered mobile number.

After Aadhaar verification, you must provide a mobile number for further communication. Another OTP is sent to your mobile number for verification. Click 'Verify'.

The next step involves entering the beneficial owners. The platform prepopulates the page since you are also a beneficial owner. Besides you, if there's any other beneficial owner, you can add them manually. You also need to provide the PAN number of an alternate beneficial owner to verify the same.

The final step involves verifying your bank account via penny drop.

Once you're on board, you can explore a host of features that make Skydo your go-to solution for seamless international transactions.
Transacting with Skydo - Additional Features
This revolutionary payment platform transforms how you handle global payments, from transparent pricing to built-in invoicing and swift onboarding.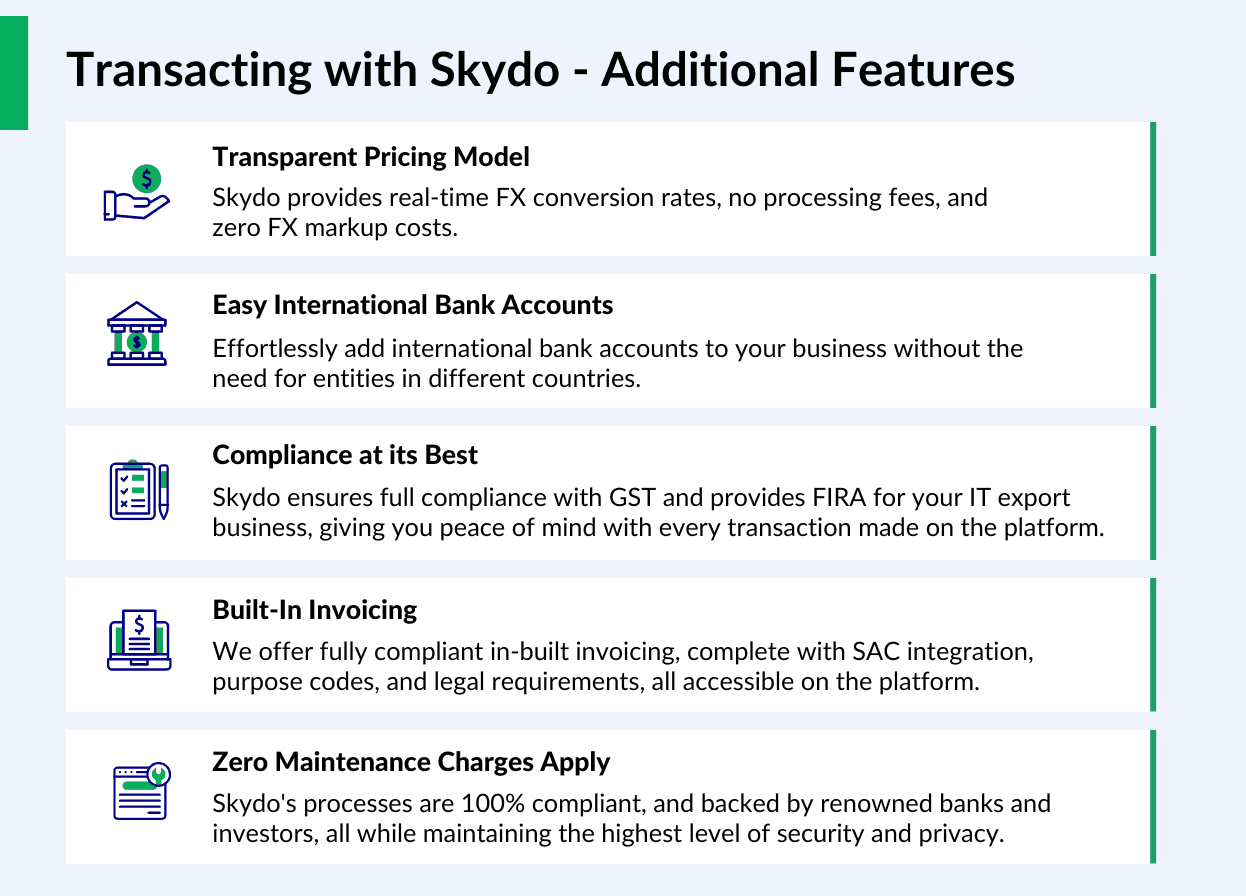 Transparent Pricing Model
Skydo provides real-time FX conversion rates, no processing fees, and zero FX markup costs. This way, if you're due to receive $1000, you will receive the amount equivalent to the exchange rate at the time it hits the Skydo account. This way, you do not lose out on precious profits. You can also take advantage of a flat rate structure and save up to 10 lakhs per year on your invoice values.
Easy International Bank Accounts
Effortlessly add international bank accounts to your business without the need for entities in different countries. 
The advantage to your customers is twofold.
They will no longer deal with complicated international payments and swift instructions. They can just go to their Internet banking account and make a local payment to the international account. 
This local payment is usually free of cost to them, unlike a swift transfer which costs ~$30 or more per transfer.
Compliance at its Best
Skydo ensures full compliance with GST and provides FIRA for your IT export business, giving you peace of mind with every transaction made on the platform.
Built-In Invoicing
We offer fully compliant in-built invoicing, complete with SAC integration, purpose codes, and legal requirements, all accessible on the platform. You can even generate and download the e-invoice and use the other intuitive features on our dashboard. 
And the best part?
Zero Maintenance Charges Apply
Skydo's processes are 100% compliant, and backed by renowned banks and investors, all while maintaining the highest level of security and privacy.
Get Started Now
As business owners, your core activities matter the most. For payments, enjoy a hassle-free and seamless cross-border payments experience with Skydo's transparent and easy-to-use platform. 
Reach out to us to book a demo and watch how you can set up your account with Skydo in less than 5 minutes and get your business scaling and soaring in no time!