Home
Blog
Bridging Financial Borders: The Evolution of Business-to-Business Payments and the Revolution Brought by Platforms Like Skydo
Bridging Financial Borders: The Evolution of Business-to-Business Payments and the Revolution Brought by Platforms Like Skydo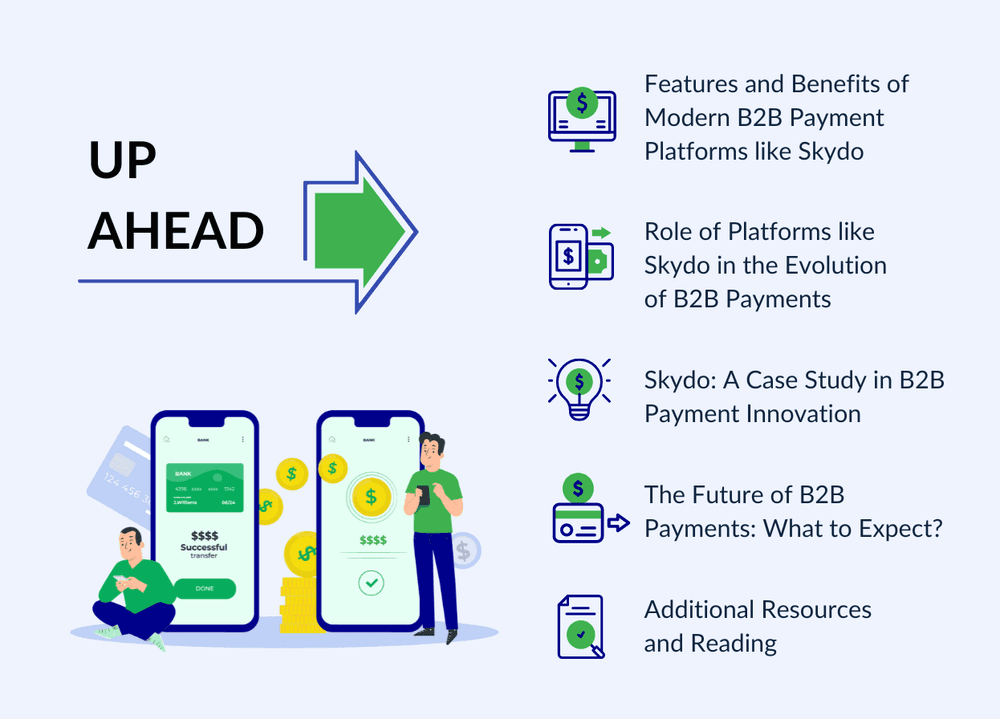 Last Updated
August 5, 2023
After months of diligent research and exploration, Mohit has successfully identified a massive market opportunity for his tech export business. He has invested significant time and effort in mapping out a high-level business plan and strategy to capitalize on this opportunity. However, his excitement is dampened when he discovers the inefficiencies with cross-border payments.
As a tech business owner, Mohit understands the importance of streamlining financial operations to maximize efficiency. He recognizes the need for a robust financial bridge that can minimize the burdensome cross-border charges and conversion fees, allowing him to focus on his core expertise and business growth.
Fortunately, innovative B2B payment platforms like Skydo have emerged to revolutionize businesses from invoicing to settlement. Presently, a fourth revolution is emerging from the foundations of the third revolution—a digital era progressing at an unprecedented pace. At the helm of this era are digital payments which have brought about a transformative shift in business-to-business (B2B) transactions. It has unleashed many benefits, enabling businesses to conduct transactions with unprecedented speed, efficiency, and security. According to Straits Research, the B2B payments market size was valued at USD 1,029 billion in 2021, projected to reach USD 2,242 billion by 2030.
Traditional paper-based systems have given way to electronic methods, such as electronic funds transfers (EFT), Automated Clearing House (ACH) payments, and digital wallets. These digital payment solutions offer businesses real-time transaction processing, enhanced data security, and streamlined reconciliation processes.
Features and Benefits of Modern B2B Payment Platforms like Skydo
Modern B2B payment platforms, such as Skydo, offer a wide range of features that streamline and enhance the payment process for businesses. These platforms are designed with user-friendly interfaces and robust functionalities that cater to the specific needs of B2B transactions, like-
Forex Margin: Forex margin costs are the least favourite for overseas businesses. Platforms like Skydo charge zero forex margin on export payments. It also waives off SWIFT fees and you pay only USD 29 for any transaction.
Local US Account: You can get a local US account instantly for local US client transfers with Skydo.
Simplified GST compliance: GST can be complicated. But platforms like Skydo make sure you have it sorted with the FIRA instantly in your inbox to file your GST returns on time and efficiently.
Automated Invoicing: Why spend time & energy on invoicing when B2B payment platforms automate the process? Eliminate the need for manual invoicing, reducing errors, saving time, and ensuring prompt payments.
Payment Gateway Integration: B2B payment platforms integrate with secure gateways, enabling businesses to accept various payment methods, such as credit cards, bank transfers, and digital wallets. This flexibility provides convenience to both companies and their customers or partners, improving the overall payment experience
Vendor Management: B2B payment platforms often include allowing businesses to store and manage vendor details, payment terms, and transaction histories in a centralized system. This streamlines the process of managing and tracking payments to multiple vendors, fostering stronger supplier relationships
Multi-Currency Support: With the global nature of B2B transactions, modern payment platforms like Skydo facilitate seamless multi-currency payments. They provide real-time currency conversion, enabling businesses to transact in different currencies without the hassle of manual calculations or additional currency conversion fees.
Enhanced Security: B2B payment platforms prioritize data security and compliance with industry standards. They implement robust encryption, secure data storage, and authentication protocols to protect sensitive financial information and prevent unauthorized access. This instills trust and confidence in businesses and their partners when conducting transactions
Advanced Analytics and Reporting: Modern B2B payment platforms like Skydo offer robust analytics and reporting features that provide businesses with insights into their payment activities. They generate detailed reports and dashboards on payment statuses, cash flow analysis, and transaction histories, enabling businesses to make informed financial decisions and streamline their operations.
Role of Platforms like Skydo in the Evolution of B2B Payments 
With innovative solutions and user-friendly interfaces, platforms like Skydo have revolutionized the way businesses transact, eliminating the complexities and inefficiencies of traditional B2B payment processes.
They act as comprehensive ecosystems, providing businesses with a one-stop solution for all their payment needs. From invoice management and payment processing to vendor management and reconciliation, these platforms streamline the entire B2B payment workflow, saving businesses time, effort, and resources.
Skydo is on a mission to make cross-border B2B payments hassle-free. How does it help a tech exporter like you?
It helps you reduce the forex charges by more than 50%
It lets your partner with leading banks across the globe
It allows businesses to have their foreign virtual accounts for receiving payments, without any taxation or compliance burdens
It converts your money at the live foreign exchange rate with zero markup
Skydo: A Case Study in B2B Payment Innovation 
Code Matrix Software India Pvt. Ltd., a company established 8 years ago, delivers blockchain and AI/ML projects to their clients in the US and Europe. Previously, their mode of accepting payments was Transferwise, Payoneer, and Paypal, among other popular payment platforms. They consistently faced challenges in receiving money and lost a chunk of their revenue in commissions with every transaction. 
The founder, Praveen Shrinivasa, stumbled upon Skydo and has been using the platform for all international business transactions. The benefits that contributed to his company's success include: 
Paying significantly lesser and flat transaction fees of $30 per $10000
Zero FOREX fees
A virtual bank account in each country of business, a feature that we offer to every company looking to accept payments from international clients. 
The entire process from onboarding to keeping track of your payments is seamless. The results were accelerated business growth and complete customer satisfaction for the company.
The Future of B2B Payments: What to Expect?
In a PWC survey, 42% of respondents strongly felt that there would be an acceleration of cross-border, cross-currency, instant and B2B payments. As we gaze into the future of business-to-business (B2B) payments, one thing remains clear: the continued importance of innovative platforms like Skydo in simplifying and revolutionizing global transactions. 
The integration of advanced technologies like AI, DLT, and machine learning into the payments sector will facilitate automation, enabling businesses to leverage these advancements and address the obstacles associated with international trade.
The dynamic nature of technology ensures that new advancements will continue to emerge, addressing challenges and enhancing the efficiency of B2B payments. This constant evolution will drive further innovation, making B2B payments faster, more secure, and more accessible than ever before.
Additional Resources and Reading
According to a BCG report, "While payments led the last era, we expect that B2B (serving small businesses) and B2B2X (B2B to any user) will lead the next." You can explore more on the rise of B2B cross-border payments in the below articles-