Chartered Accountants approve Skydo for Seamless GST Refunds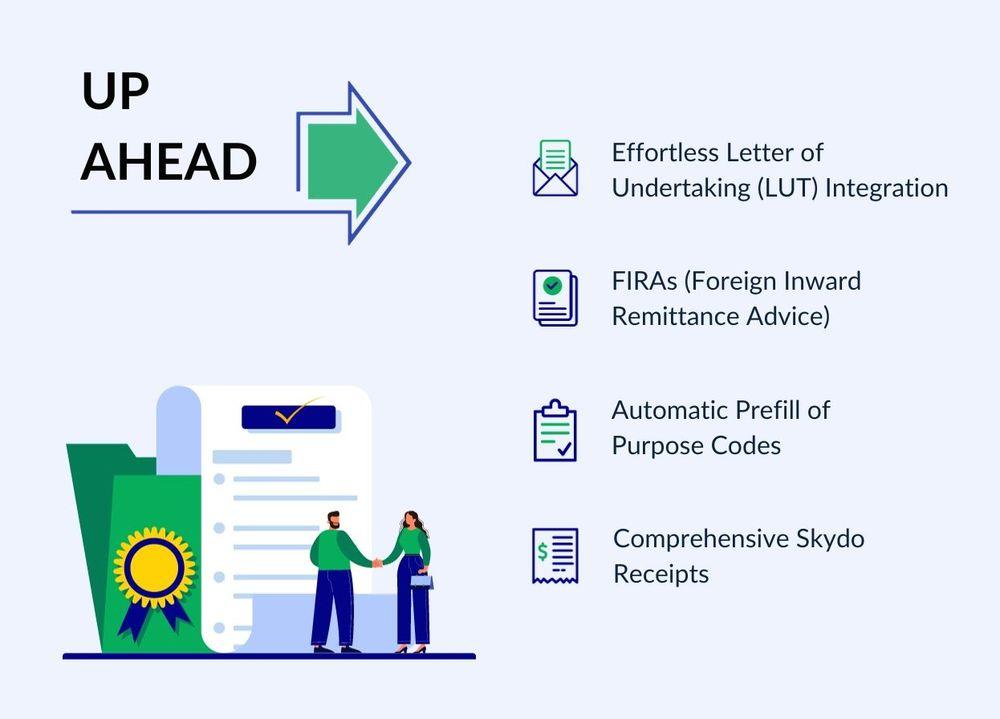 Last Updated
October 10, 2023
Doing your GST refunds as a business owner can feel like trying to solve a Rubik's Cube. The complicated forms, constant compliance checks, and fear of messing up and facing penalties can be overwhelming, not to mention the delays, cash flow issues, and even legal obstacles that can occur if you make one wrong move. Instead of spending time on growing your business, you're buried in paperwork and tax codes. 
What if there's a way to make all these problems go away? 
Skydo is an approved tool by chartered accountants that makes GST refunds easier than ever before. No longer will you need to stress over a long and tedious refund process, as Skydo makes the process accurate, quick, and hassle-free – so you can get back to what matters most: running your business.
Let's learn how Skydo helps with GST Refunds.
Skydo's Role in Simplifying GST Refunds
Skydo is revolutionizing the current financial landscape with its advanced platform. With its cutting-edge technology and user-centric features, Skydo has quickly become the go-to platform for anyone needing help with GST-related compliances.
Key features that make Skydo a standout choice
1. Effortless Letter of Undertaking (LUT) Integration
An LUT is vital for GST compliance. To draft the LUT, you can simply log into the GST portal—an efficient digital platform. Go to the 'SERVICES' Tab > 'User Services' > Select 'Furnish Letter of Undertaking (LUT)'.
Select the financial year applicable for this LUT and fill in the necessary details on the Letter of Undertaking Form/GST RFD-11 that appears on the screen. Once you receive confirmation, you can capture the details of the LUT for further reference.
When creating your invoice on Skydo's platform, you'll find a dedicated section to include the LUT, accommodating up to 200 characters. This means that as you generate invoices for your international clients, you can effortlessly ensure tax compliance.
You can seamlessly integrate the LUT into your invoice during its creation, avoiding delays and the hassle of jumping through multiple hoops for tax compliance.
2. FIRAs (Foreign Inward Remittance Advice)
Traditionally, you'd have to wait for days to receive a Foreign Inward Remittance Advice (FIRA) to confirm payment settlement. However, Skydo steps in to change the game. As soon as your client's payment is settled, you receive the FIRA instantly. This real-time availability doesn't just accelerate your financial processes; it's like having a financial assistant ensuring that you're always in the know.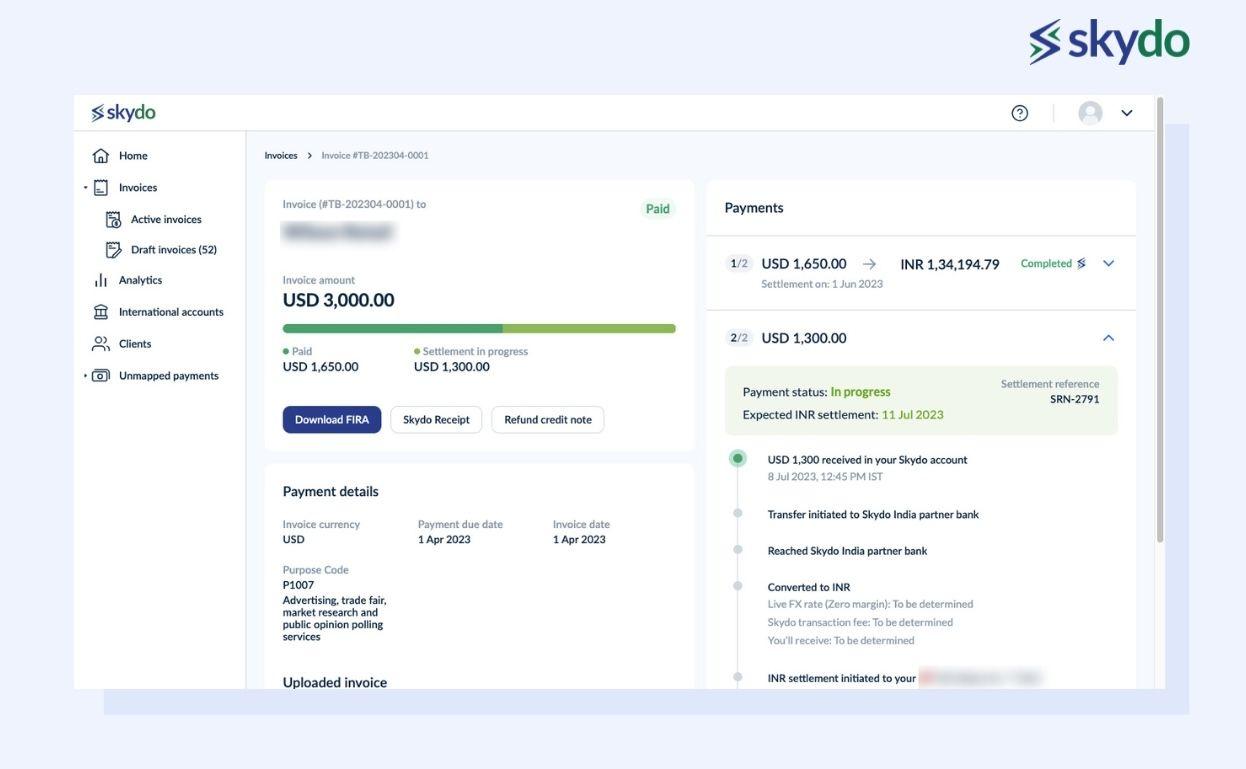 3. Automatic Prefill of Purpose Codes
When you accept international payments to your bank account, the bank requires you to specify the purpose code and provide supporting documents like FIRA against each inward receipt.
With Skydo, you don't need to wrestle with memory, thick rulebooks, or the bank for purpose codes. Instead, the system leverages the codes available on the RBI website and suggests the one suitable to your business during invoice creation. You can also enter the purpose code that you believe is suitable.
It's like having a built-in expert to handle the intricacies of compliance, making your life simpler and your business more efficient.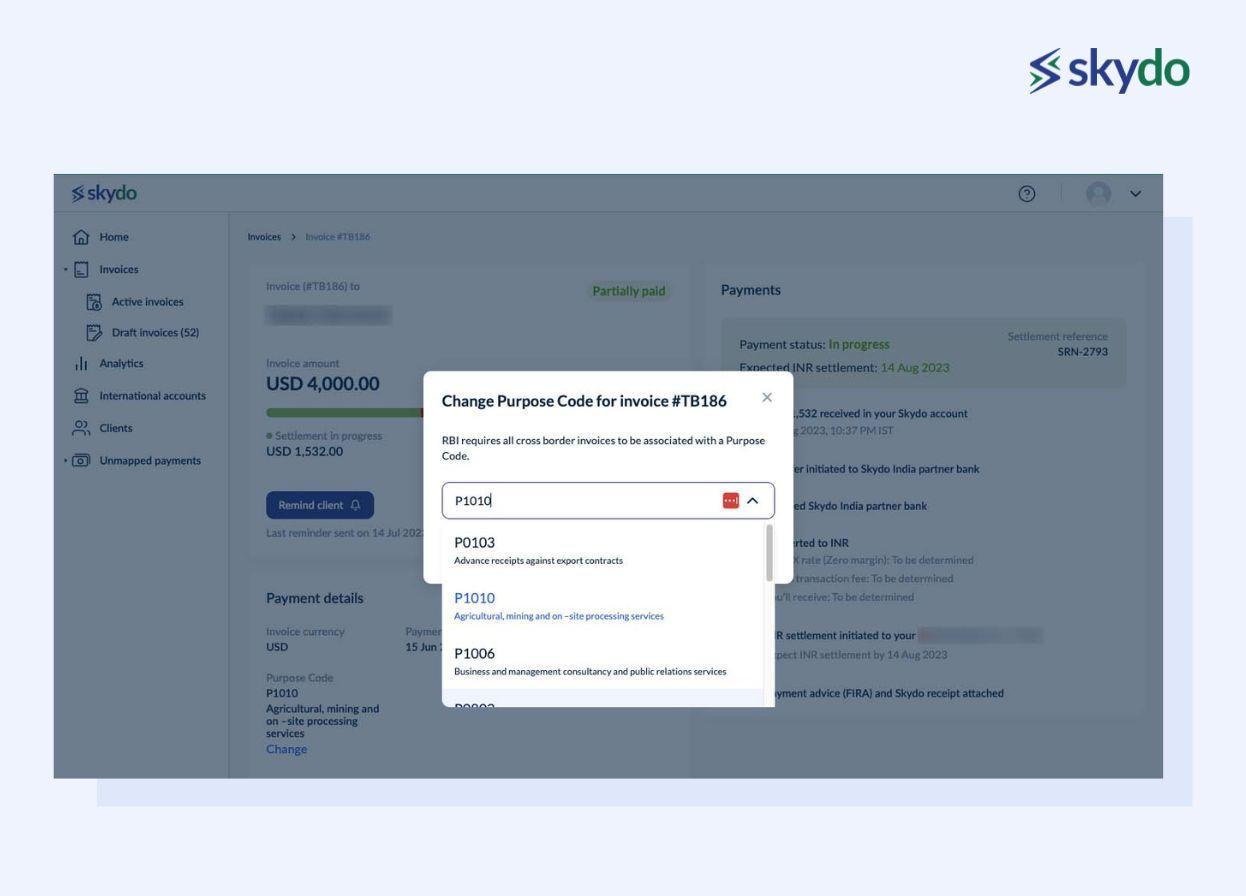 4. Comprehensive Skydo Receipts
As a business owner preparing for an upcoming audit, you need access to comprehensive transaction records. With Skydo receipts, you get a detailed breakdown of your transactions, serving as a reliable tax invoice. It's like having an accountant at your fingertips, simplifying accounting, record-keeping, and financial transparency.
Benefits of Using Skydo for GST Refunds
Skydo's technology streamlines the process while adding layers of accuracy, transparency, and efficiency, not typically found in traditional methods.
Accuracy and financial compliance: Skydo eliminates the risk of errors and potential legal complications with its automated processes when it comes to claiming GST refunds. With documents complying with GST regulations, you no longer have to worry about wasting time and money due to incorrect claims. Skydo ensures each claim is accurate and up to standard, so you can rest assured that your paperwork is in good hands.
Time-saving: With Skydo's centralised dashboard, you can easily download your FIRAs with just one click, saving you countless time and effort. Skydo simplifies the GST refund process, allowing you to focus more on important things like running and growing your business.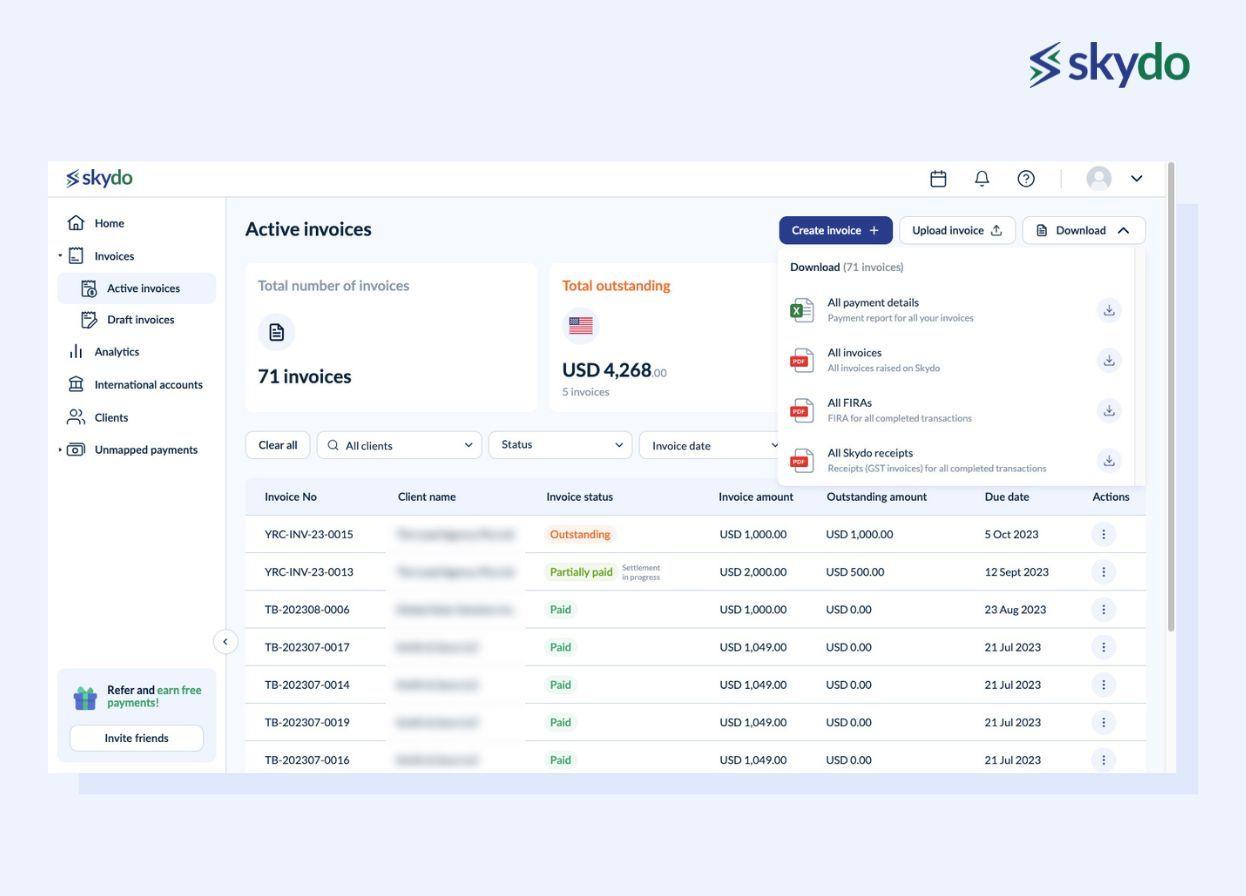 Transparency and efficiency: Skydo's technology makes tracking your refunds a breeze. You can view the status of your refunds as soon as they happen without making endless phone calls or guessing what is happening. It's an efficient and transparent way to quickly get the information you need.
Skydo is more than just a payment and refund system - it provides an all-in-one solution for managing your financial operations such as:
Multi-currency support: Skydo is a great service for international customers, allowing you to accept payments in different currencies. This makes doing business with customers from around the world much simpler.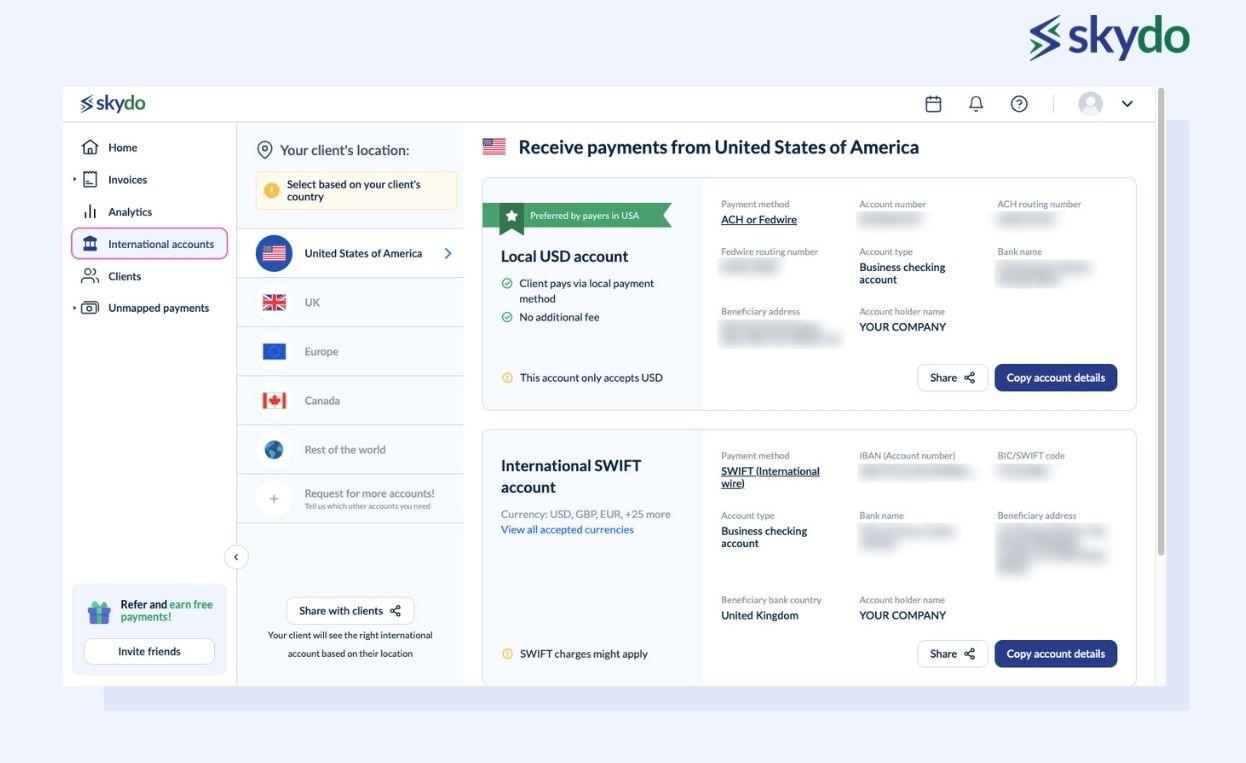 Robust security: Skydo is a secure platform that uses the highest quality encryption protocols to ensure your financial data is always safe and protected.
Customer support: At Skydo, we provide timely and helpful customer support. If you have any questions, just click, and our customer service team will be more than happy to assist 24/7.
Wrapping up
Skydo is the perfect partner for making your financial life easier. 
With Skydo, you don't need to be an expert in tax law because the easy-to-navigate interface is designed for simplicity. In addition, automated processes ensure accuracy and financial compliance, saving time and effort. 
The platform's transparency feature lets you track payments and refunds in real time. With features like budgeting, bill payment, and account monitoring, you can easily streamline your financial processes. Make sure not to miss out on all that Skydo has to offer and book a demo today.