Cut International Transaction Costs and Save INR 10 Lakhs Yearly with Skydo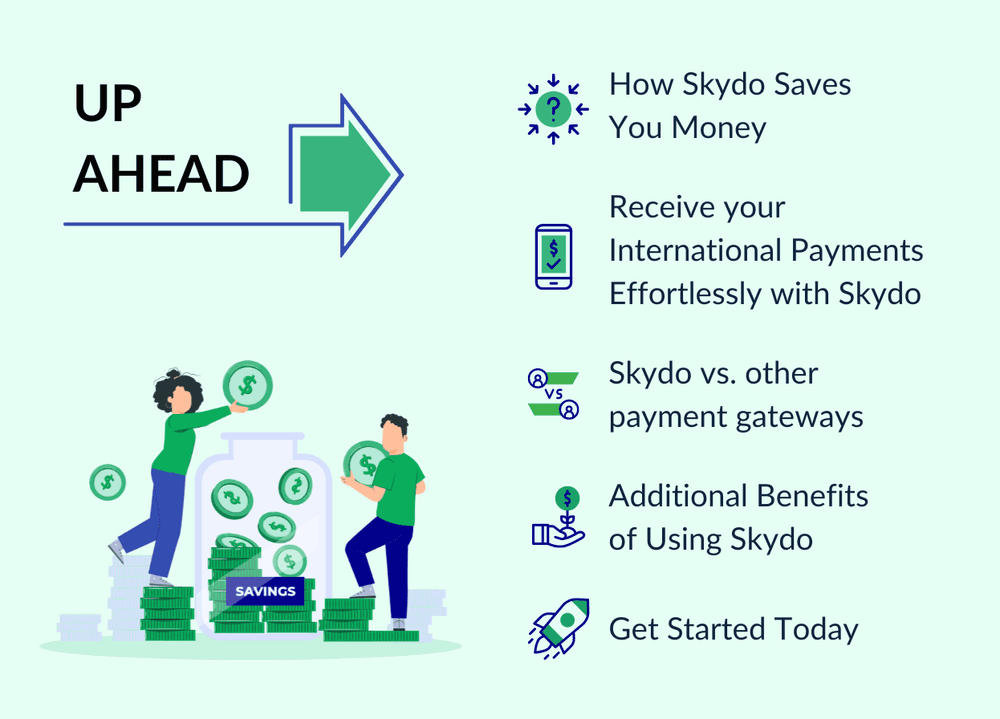 Last Updated
September 5, 2023
As a business owner, you may be familiar with the high costs of transferring money across international borders. Leading payment gateways charge hefty international transaction fees. You need to negotiate for the suitable Fx rate with the bank, and then they add their miscellaneous fees which aren't transparent. 

These fees can add up quickly for your Export IT service business, cutting profits and stunting growth. Think about it: if you were to receive one crore rupees, a significant chunk could be lost in fees alone.
Startups specifically often face a tough challenge regarding international money transfers. High transaction fees, in this case, can be a major obstacle for any business looking to go global. Companies are penalised for going global without an affordable, efficient alternative. 
This article explores how international transaction fees work, their impact on businesses worldwide, and how Skydo helps turn things around.
How Skydo Saves You Money
International transactions can be overwhelming, especially when losing your hard-earned money to fees and hidden charges. However, Skydo offers a more straightforward and cost-effective solution.
1. Reducing fees and improving transaction efficiency
Unlike traditional banks and payment gateways with complex fee structures, Skydo employs a transparent, minimalistic approach.
Here's how it works.
Live FX rates with zero margins: Upon receiving the invoice payment in the Skydo account, the remitted amount will be converted using the current live exchange rate. This rate is also accompanied by a timestamp, allowing for easy verification through a quick web search. 
With live foreign exchange rates, you always get the best rates possible without additional margins or hidden fees.
Flat fee structure: A flat fee ensures no surprises, and everything is completely transparent. For transactions less than USD 2,000, the fees are USD 19, while it's USD 29 for transactions above USD 2,000.
2. Cost comparison and Potential savings
Imagine your business conducting an international transaction of INR 1 crore using a traditional bank or a popular payment gateway. Their fees can range between 2-5%, adding up to a hefty sum of INR 2-5 lakhs. 
With Skydo, these exorbitant fees can be significantly slashed, potentially saving you lakhs of rupees yearly. And as your transactions increase over time, the cumulative savings can be truly monumental. 
Don't just take our word for it, though. Tanay Shah, the Founder & CEO at Pardy Studios, has already experienced the benefits firsthand. He shared his satisfaction, saying, "With Skydo, I am saving INR 10,000 per transaction.
Receive your International Payments Effortlessly with Skydo
Global payments can pose a considerable challenge for businesses, with fluctuating exchange rates, hidden bank fees, and complex regulatory requirements making the process daunting and frustrating. 
From real-time transaction tracking to multi-currency support, Skydo gives you the tools necessary to transact globally easily, mitigating stress and streamlining the process for businesses regardless of location.
Here's a breakdown of some of Skydo's best-in-class features
Instant international bank accounts: Within five minutes, you can set up international bank accounts through Skydo. This is available for transactions involving partners in the USA, UK, Europe, Canada, and over 20 other locations. Skydo ensures you have the banking infrastructure you need, providing unparalleled convenience for your business.
Automated GST-compliant FIRA: With every international payment made to your account, you will get an automatically generated Foreign Inward Remittance Certificate (FIRA) that is GST-compliant. This perfect compliance helps simplify the accounting process while ensuring that your business adheres to local regulations fully.

Seamless payment experience: With Skydo, the days of negotiating complex FX rates or grappling with opaque pricing structures are gone. We deliver a straightforward and intuitive payment experience, freeing businesses to focus on growth rather than financial logistics.

Skydo vs. Other Payment Gateways
Here's why businesses like yours choose Skydo over other payment methods:
Significant cost savings: As a business, you're constantly looking for ways to maximize cost savings and streamline your operations. With Skydo's transparent pricing, live foreign exchange (FX) rates without hidden margins, and a flat fee structure, you can save significant amounts annually compared to traditional banks.
Rapid and hassle-free setup: With Skydo, we expedite the process of setting up an international bank account, allowing you to start transacting in no time. Our user-friendly interface ensures that even if you're new to international trade, you can navigate confidently and get things moving swiftly.
Simplified compliance: Compliance with local regulations can be challenging. But, with Skydo's provision of GST-compliant Foreign Inward Remittance Certificates (FIRAs), your business effortlessly aligns with local regulations. This way, you can focus on what truly matters - growing your business.
End-to-end security: With the support of leading banks and investors, our robust infrastructure and state-of-the-art encryption techniques provide 100% safe and fast transactions. 
Adherence to International regulations: Our unwavering commitment to providing 100% legal and compliant services means you can operate globally without any legal hurdles.

What's more? We offer free account creation, zero maintenance fees, and the facilitation of simple local transfers for international clients to empower businesses like yours to transact on the global stage with confidence, ease, and peace of mind.
Additional Benefits of Using Skydo
Skydo is more than just another platform for international payments. It's a comprehensive solution designed to cater to all your financial needs in a global landscape. While our primary focus is on making payments more affordable, convenient, and compliant, our platform goes above and beyond, offering numerous features that simplify and elevate your financial management experience.
Track transactions: In the fast-paced business world, having real-time insights into your financial transactions is crucial. With Skydo's intuitive dashboard, you can effortlessly track your payments, ensuring you always have a clear picture of your cash flow and can confidently make informed decisions.
Multiple currency support and exchange rate advantages: As your business expands globally, dealing with multiple currencies becomes a reality. Skydo seamlessly supports a wide range of currencies, ensuring you can transact with international partners without limitations. Moreover, our live foreign exchange (FX) rates guarantee that you always get the best possible exchange rates, maximizing your financial gains.
Accounts management and invoicing: Juggling multiple tools for financial management can be a hassle, holding back the efficiency of your business. At Skydo, we understand this challenge, so we offer integrated solutions for accounts receivables management, reconciliation, and invoicing. By streamlining these processes, we ensure accuracy, efficiency, and simplicity, so you can focus on what matters most - growing your business.

Get Started Today
While Skydo excels in delivering cheaper, more convenient, and compliant payment solutions, its true strength lies in offering a comprehensive suite of financial management tools. It's a solution designed with modern business in mind, understanding the challenges of international transactions and addressing them head-on. 
With Skydo, the world truly becomes your marketplace, devoid of the hefty price tag. Book a demo today! 
Experience the power of a holistic solution that caters to all your financial needs. From transparent pricing to real-time insights, and multiple currency support to streamlined financial management, take control of your finances and thrive in the global marketplace with Skydo.