Home
Blog
Breaking Barriers, Bridging Borders: How Skydo Increased Success Rate on International Payments
Breaking Barriers, Bridging Borders: How Skydo Increased Success Rate on International Payments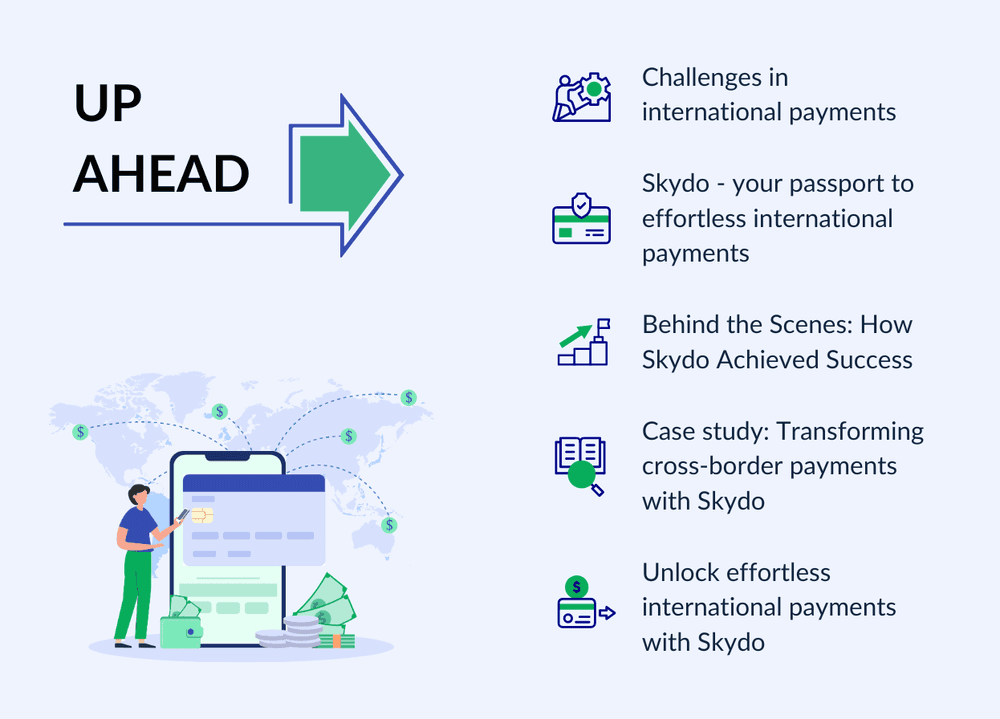 Last Updated
September 6, 2023
In India's bustling world of startups and service exporters, dreams are becoming reality as businesses expand their horizons across international borders. However, this journey has its challenges. The hard-earned revenues of these enterprises often get eroded by various transaction fees associated with cross-border payments. 
Just as travellers entrust their luggage to the skies, businesses entrust their earnings to an international payment system. They find themselves entangled in a web of hidden charges and pathways. 
Here's a deep dive into these hurdles.
Challenges in international payments
Meet Shubham, an entrepreneur in India who runs a thriving tech export business. His business has been getting international recognition, attracting customers worldwide. However, he witnessed a shrinking growth in the global market. The reasons include the following.
Currency conversion and exchange rate fluctuations 
Shubham successfully bagged a great project and completed it. He was basking in the satisfaction of doing the work that was well appreciated and eventually compensated. However, due to unfavourable exchange rates, the amount he received post USD to INR conversion was at rates that significantly impacted his profit margins. 
It affected his bottom line and eroded his confidence in the reliability of traditional banking systems.
Regulatory and compliance issues 
Each jurisdiction has its rules, making operating without legal compliance challenging for a business. Since there was a delay in receiving funds, Shubham faced issues with meeting these compliance requirements. The paperwork and the back-and-forth with the payments vendor left him frustrated and doubting the efficiency of existing payment methods.
Payment processing delays and fees
Shubham's frustration deepened as he encountered payment processing delays that led to missed opportunities. A client's payment took several days to reach his account due to the involvement of intermediary banks and complex clearing processes. The unexpected processing fees associated with cross-border transactions also chipped away at his profits.
Impact on efficiency and customer satisfaction
Shubham's business prides itself on efficiency and customer satisfaction. However, his team spends valuable time grappling with administrative hurdles instead of focusing on innovation. It affected the quality of service he could offer his international clients, risking their satisfaction and loyalty.
Shubham's story is similar to the plight of many other businesses of all sizes in India facing similar challenges. 
Skydo promises a transformative solution to international payment challenges. It revolutionises how businesses handle international payments and overcomes these roadblocks for Shubham and many other companies.  
Here's how it works.
Skydo - Your Passport to Effortless International Payments
Skydo breaks the barriers most enterprises face and bridges the borders for Indian tech exporters to achieve payment success with maximum revenue and efficiency for those looking to expand overseas. Its top features include the following.
1. Live FX rate with zero margins
Skydo offers live or real-time foreign exchange rates and no hidden margins. For example, you have sent an invoice for $500, and the client has dispatched the payment. The amount you receive is equivalent to the globally set conversion rate when it hits the Skydo account. 
The flat fee attached earlier to the invoice will translate into the same Fx rate, which will be visible in the payment tracking system alongside every invoice. There are no hidden charges.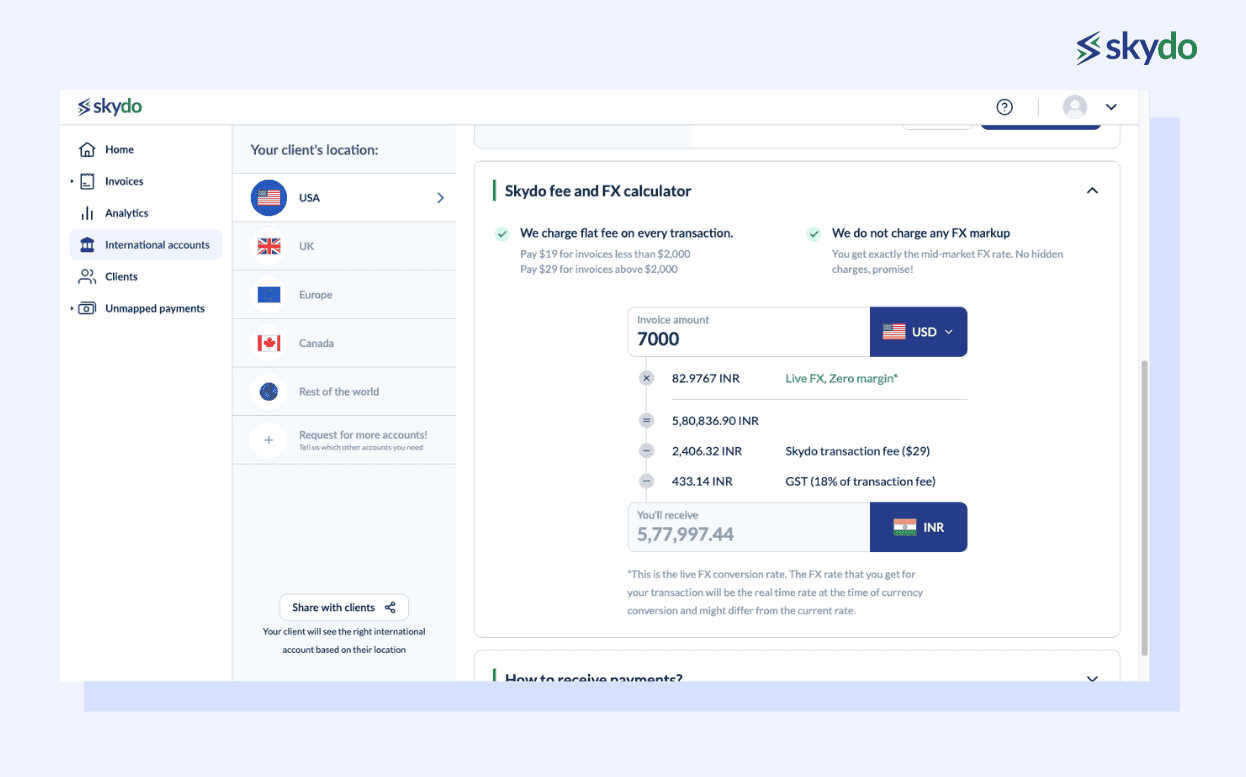 2. Free invoice creation
Traditional methods often involve separate platforms or software to generate invoices, which can be time-consuming and require additional financial resources. However, Skydo redefines this process by offering a built-in invoicing feature that simplifies and streamlines the invoicing experience.
Here's how you can create a free invoice.
Once you log into the Skydo platform using your credentials, you will see the Invoices option on the left sidebar. 
To raise a free invoice, click on the new invoice option. 
It opens to a screen with details like Bill from', 'Bill to' items, and bank details.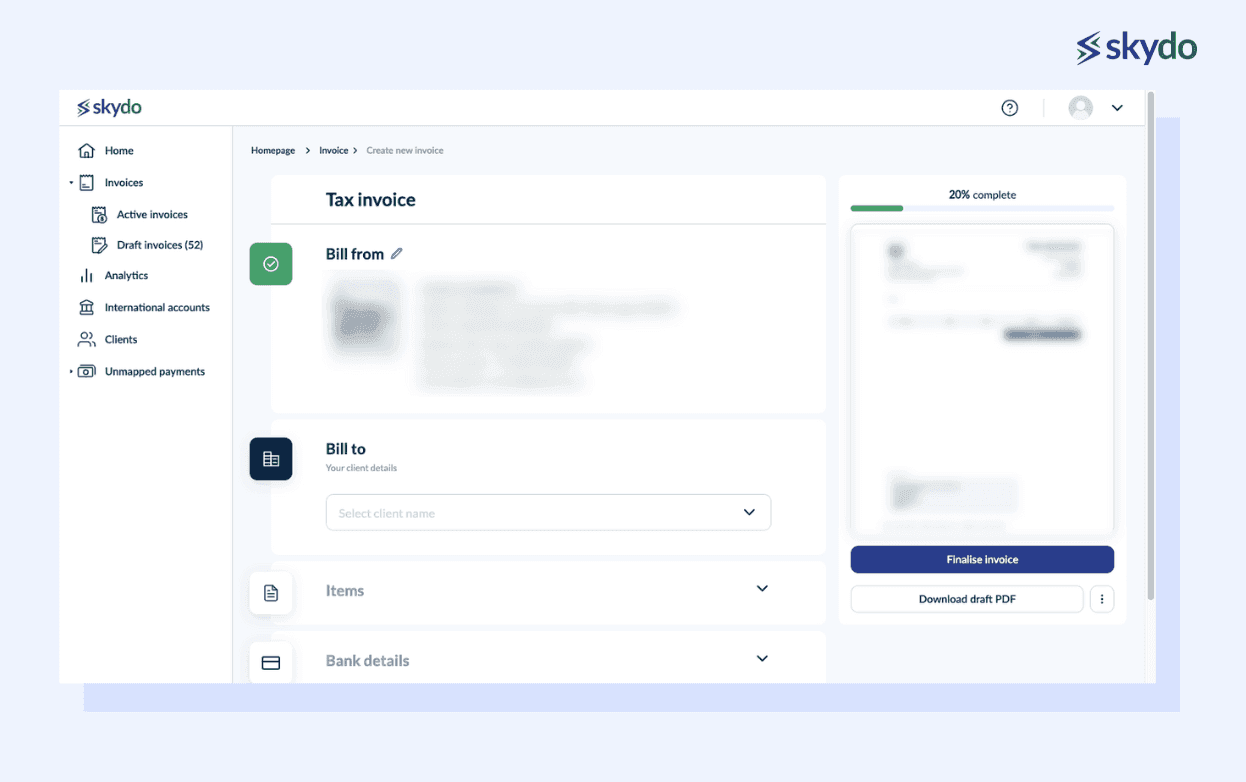 If you're invoicing a new client, add a new client name in the 'Bill to' field, or you can search from the existing clients list. Provide the address, select the country, and click save and continue.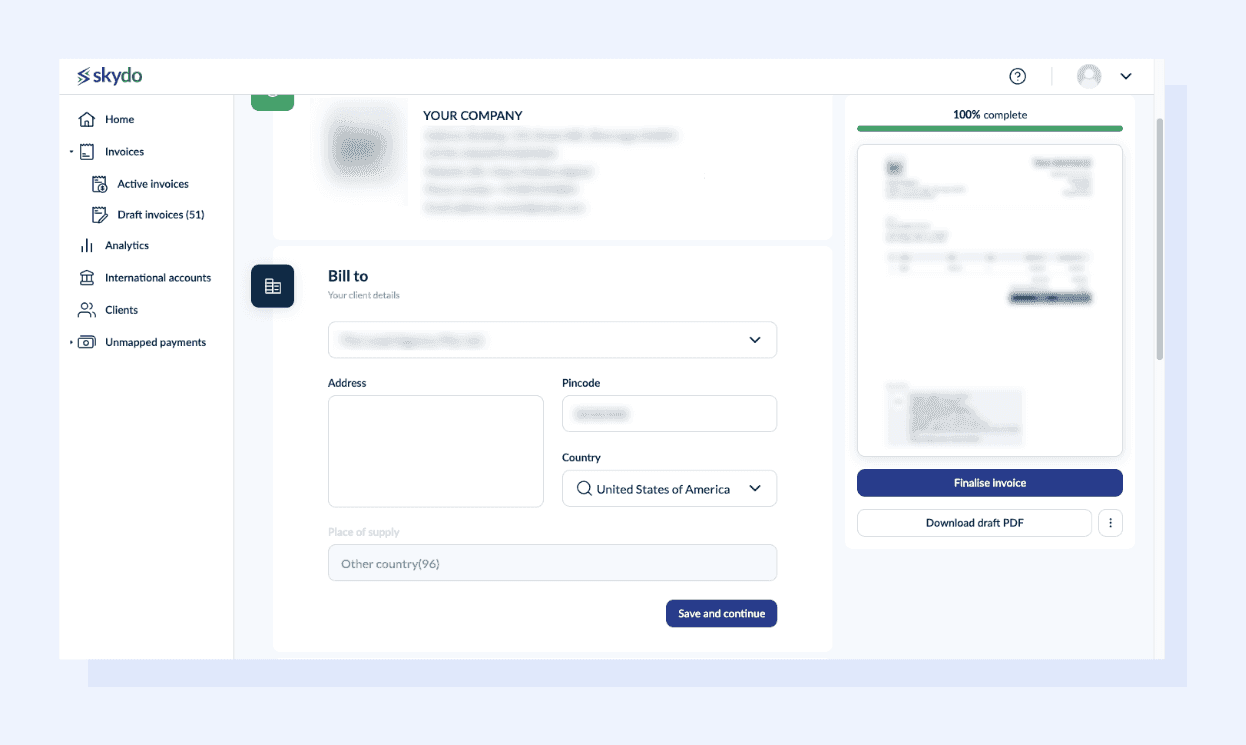 In the next tab, select the payment currency and provide item details like the service provided, SAC, rate, and amount. You can also offer a discount in percentage. Skydo automatically displays the invoice amount after the discount.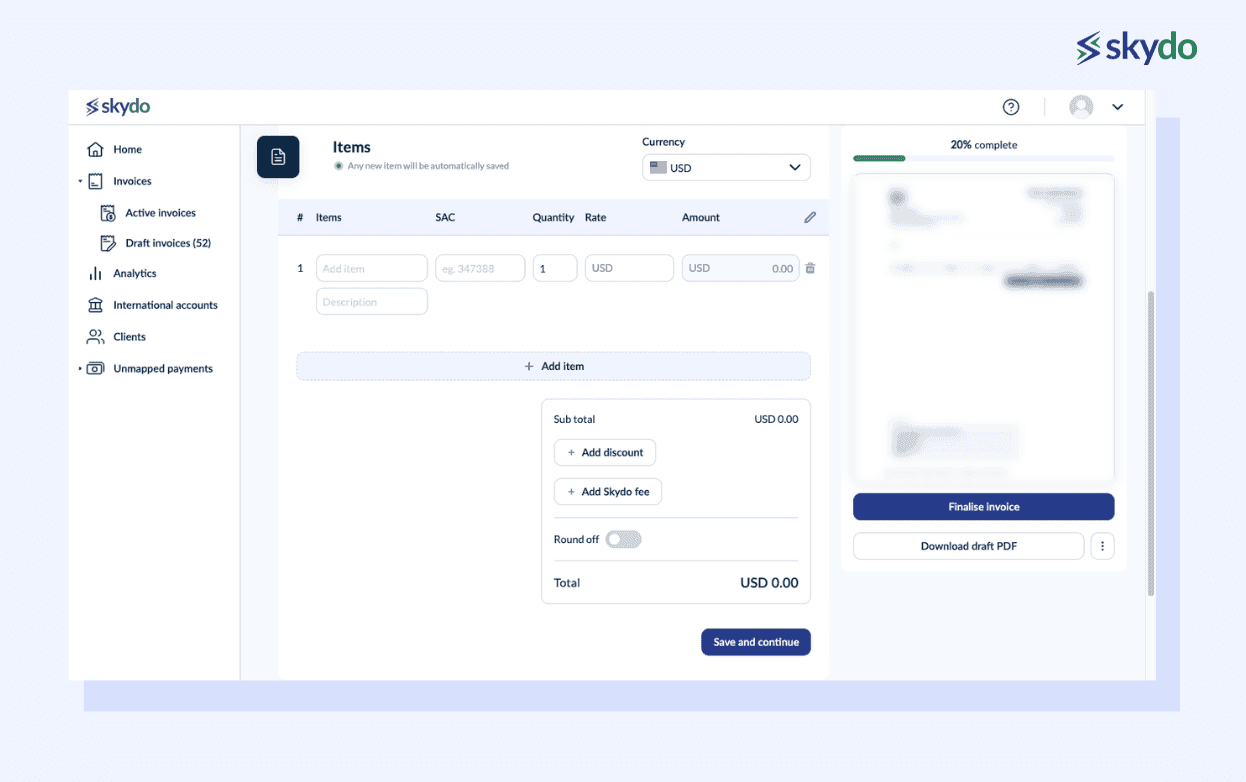 Next, select the currency and subsequent account to receive payments.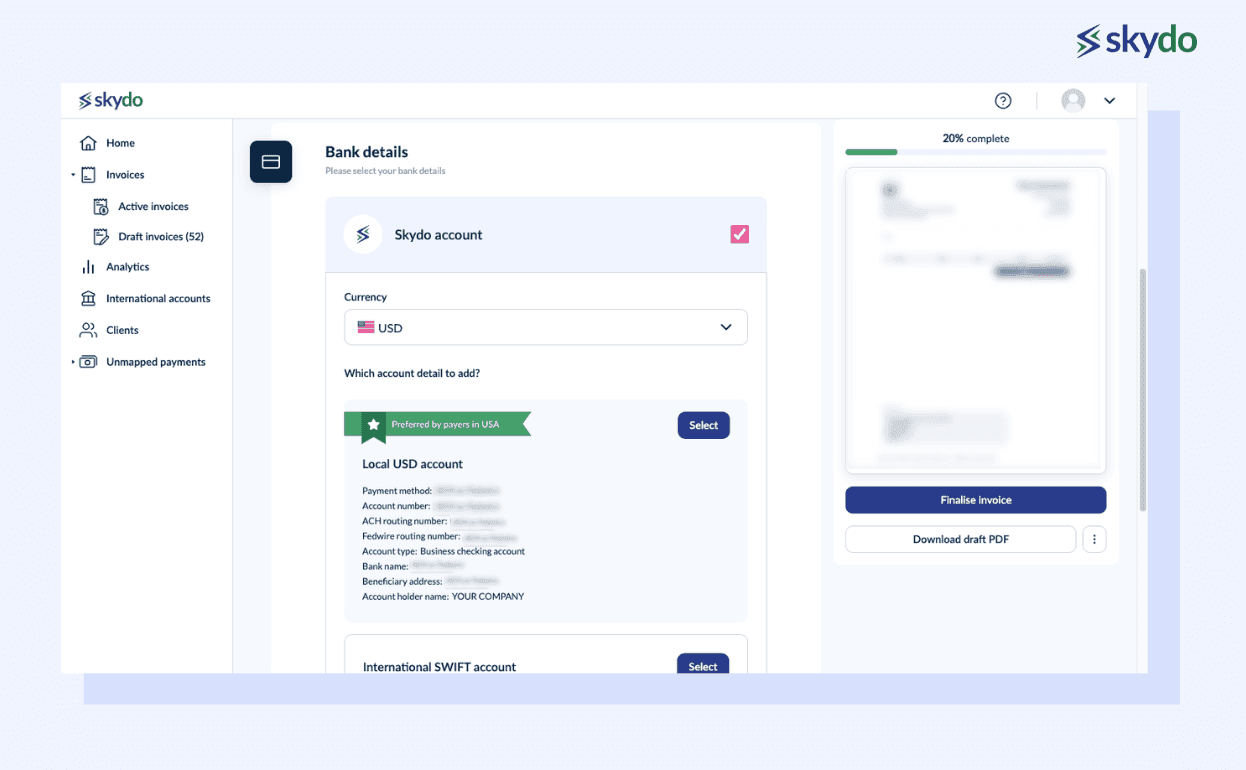 On the right side of the screen, you've three options - to finalise the invoice, download the PDF or delete the invoice. 
Upon finalising the invoice, the below screen appears.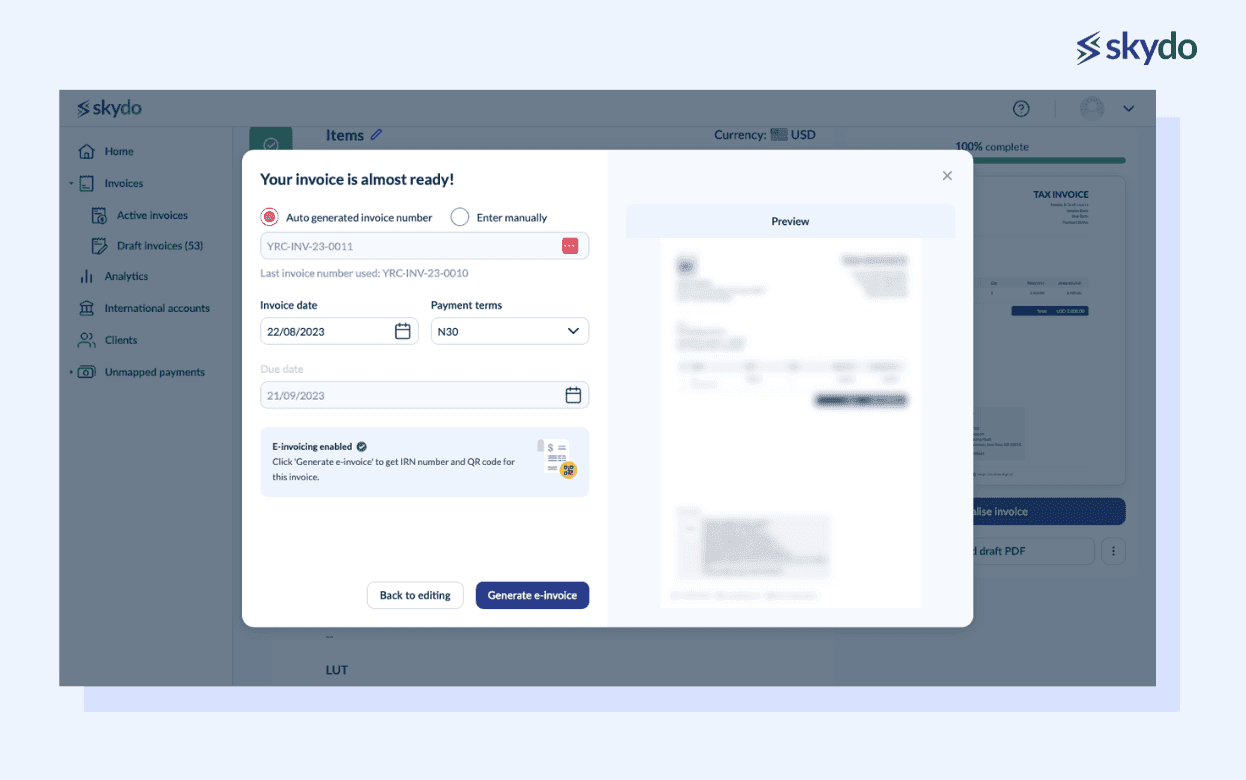 If required, you can manually enter the invoice number or stick to the one generated automatically. Next, select the due date of the payment. 
To generate the e-invoice, click on "Generate E-invoice". The system will automatically add the QR code to the invoice. You can also copy the IRN for the e-invoice for your reference.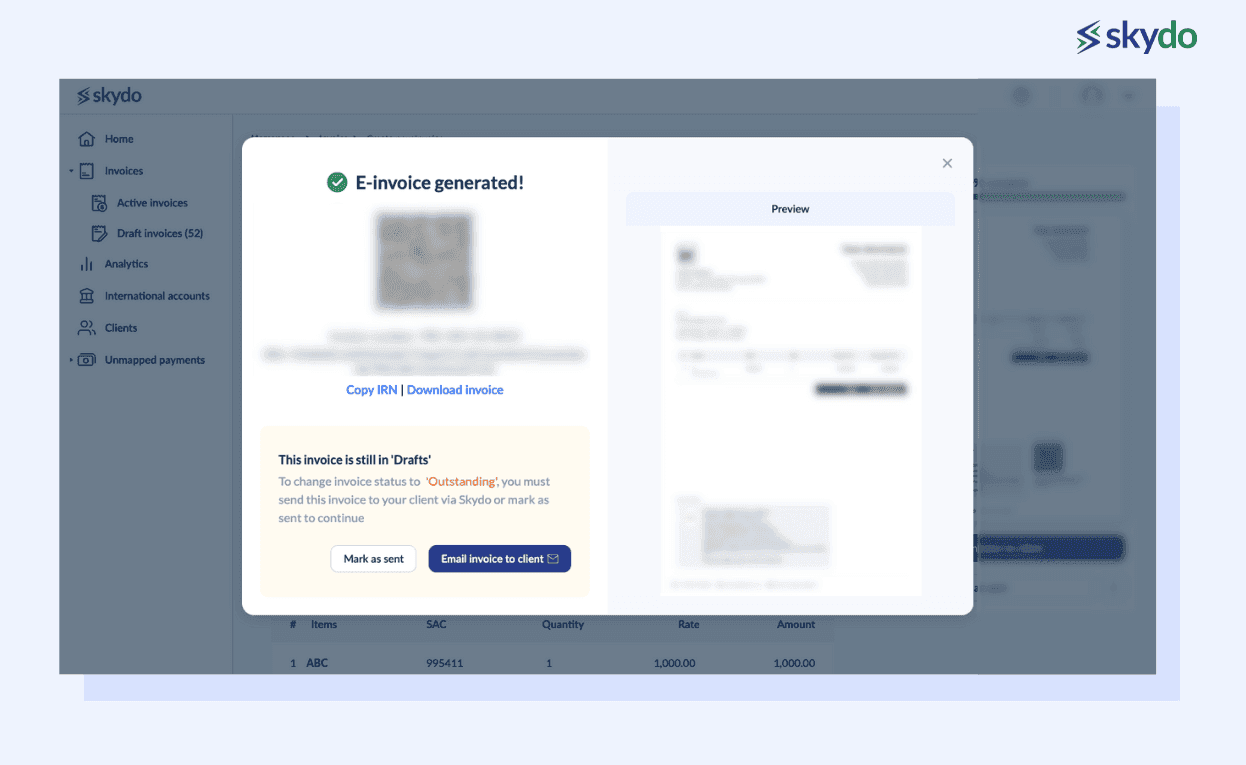 Once all the invoice details are confirmed, click on "Email Invoice to Client".
3. Auto-generate FIRA (Free Invoice Reconciliation and Accounting)
Skydo's automated FIRA generation ensures GST compliance is effortless. Once Skydo settles the payment in your bank account, you can select the invoice record and click "Download FIRA".
You can also download the FIRAs for all invoices simultaneously with the option on the Invoices page as displayed below.
4. Revenue Analysis
A business's powerful weapon is its revenue data. It provides valuable insights into the things that are working well for the firm. Skydo's Analytics feature provides business and client overviews to help you make informed business decisions. 
The Business Overview compiles your revenue data into a visual graph displaying paid and outstanding invoices up to 6 months prior. The graph below also displays revenue generated per client. This way, you can tailor your marketing and sales strategies to pitch additional services.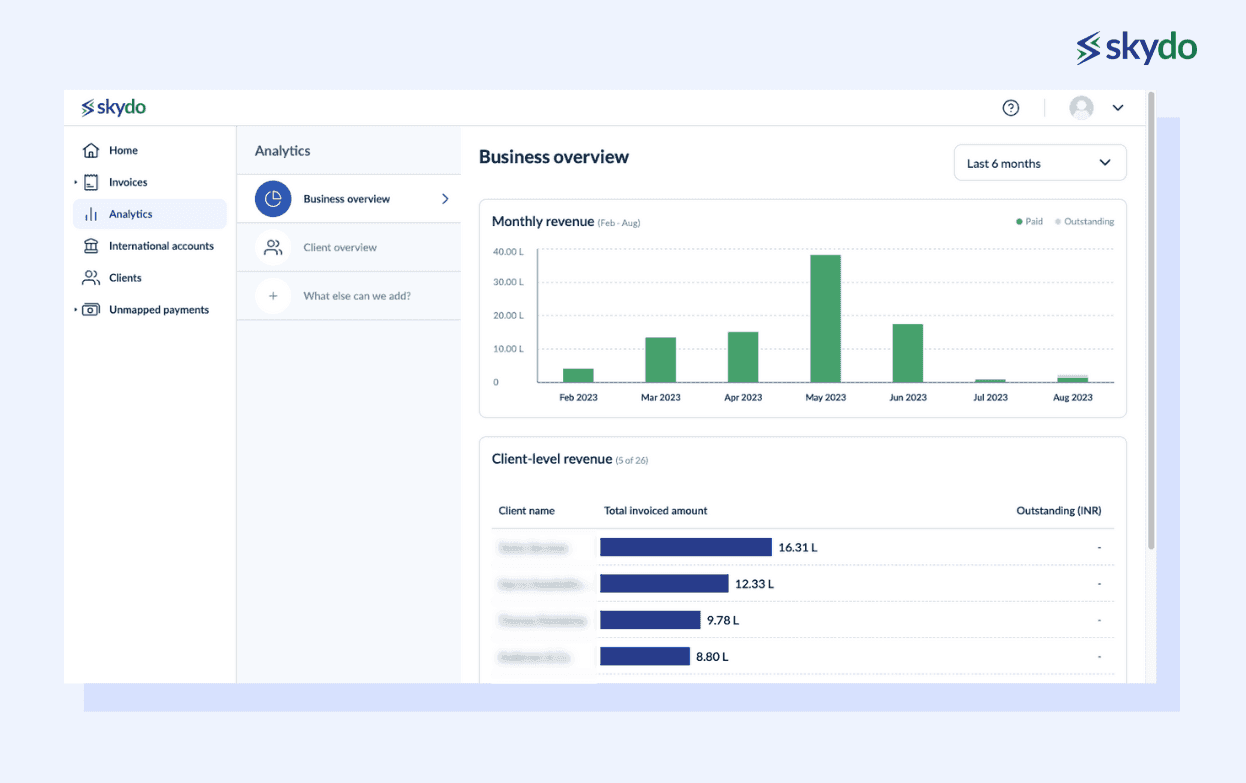 Similarly, the Client Overview section provides a comprehensive overview of the client's outstanding payments and revenue generated historically for up to 6 months. You can also analyse the average payment time and invoice amount to determine your top clients.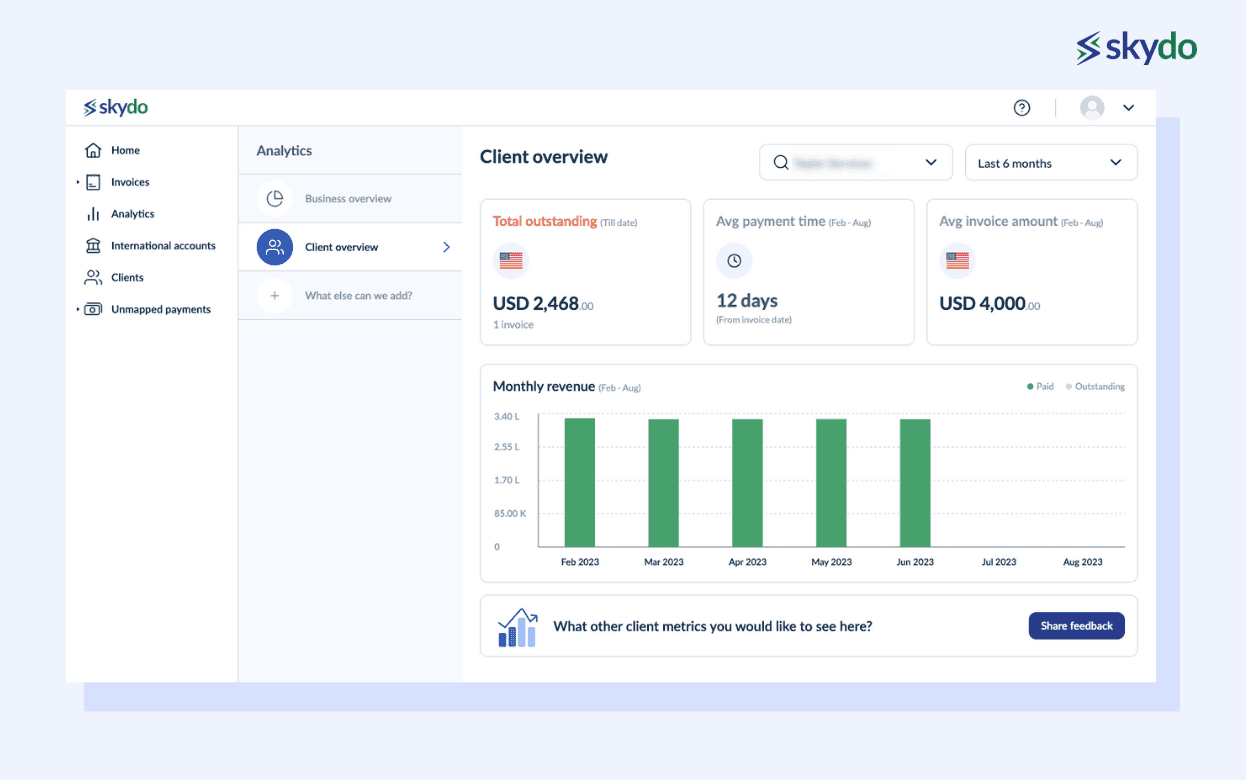 5. Payment reminders and history
Skydo's commitment to comprehensive business solutions goes beyond seamless payments and transparent transactions. An essential feature that underscores this commitment is the ability to send payment reminders and maintain a detailed payment history directly within the platform. 
This functionality empowers you to efficiently manage their financial interactions and enhance client communication.
For example, in Shubham's case, he can effortlessly schedule automated reminders for upcoming payment deadlines. These reminders serve as gentle prompts, ensuring timely and hassle-free payments from clients across different time zones.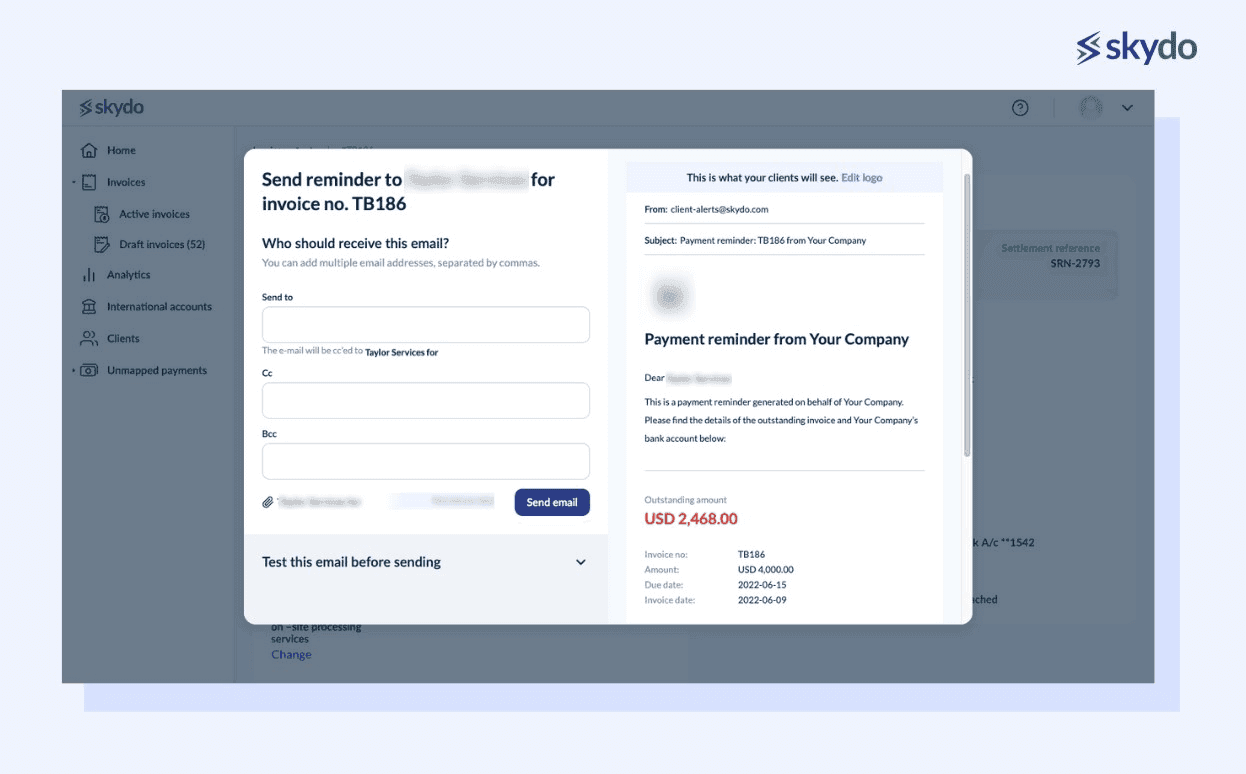 Skydo's payment reminders feature stands as an invaluable tool for businesses seeking to elevate their financial operations.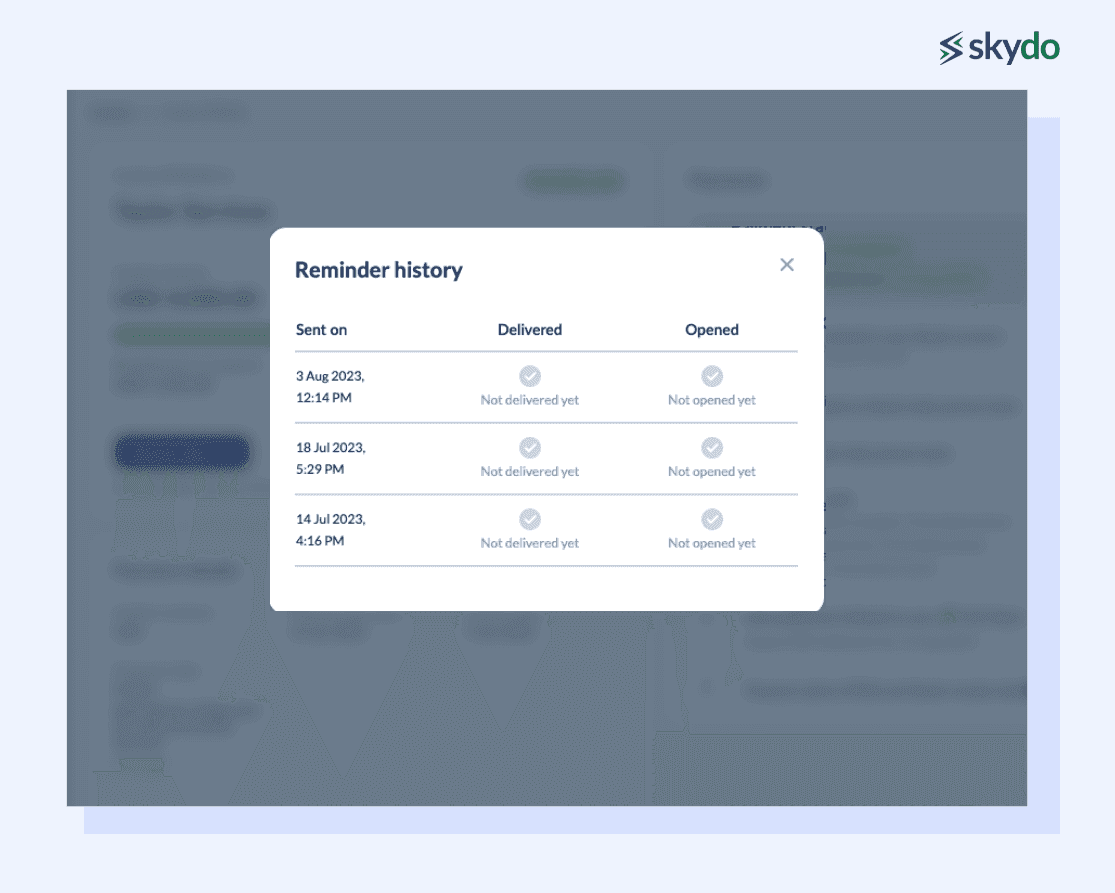 Additionally, in the event of a payment discrepancy, the Client Ledger serves as an objective record of financial interactions. It offers a step-by-step chronological overview of every payment transaction, creating an easily accessible and verifiable timeline. This documentation significantly reduces the scope for misunderstandings and disputes between businesses and clients.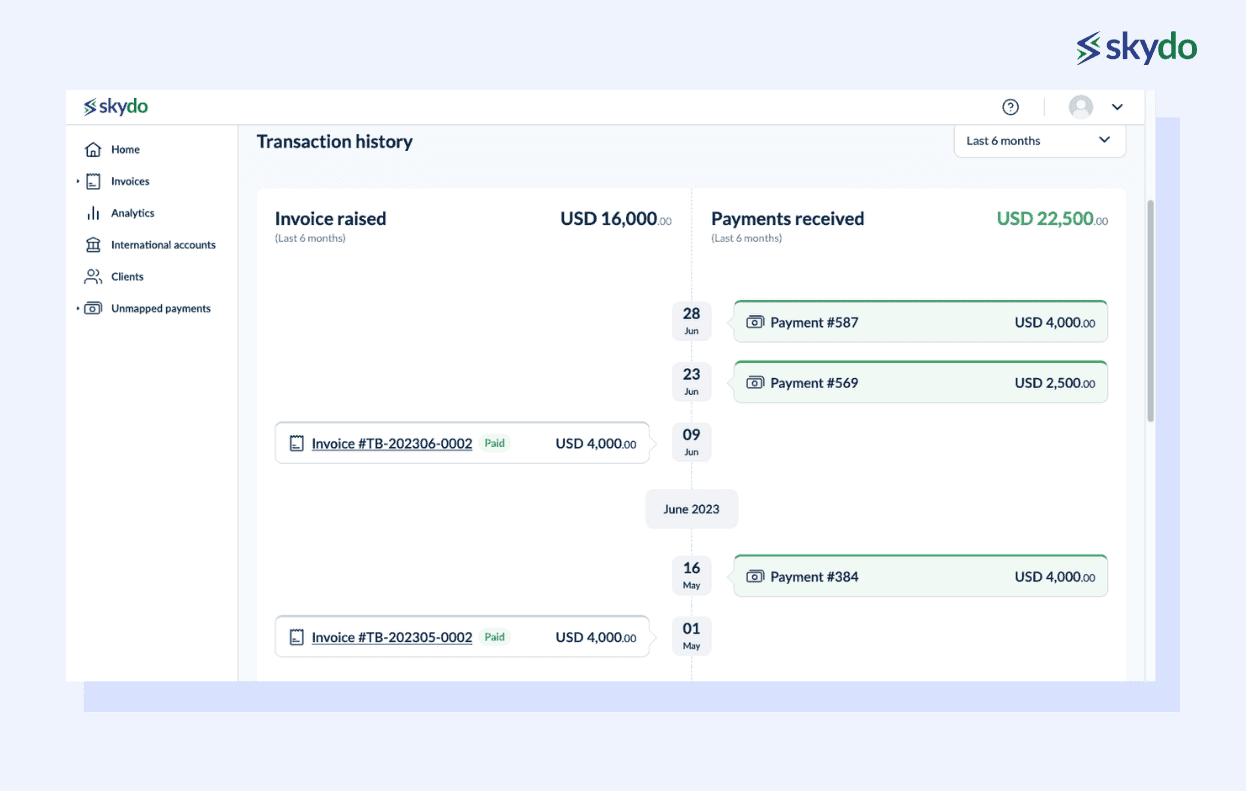 6. Single source of truth dashboard for international payments
The dashboard encapsulates more than just transactions; it encapsulates your financial health. By offering an all-encompassing view of your global transactions, it empowers you to make informed decisions, strengthen client relationships, and drive overall business success.
Skydo redefines the way businesses engage with their financial data, paving the way for transparency, efficiency, and strategic advancement on a global scale. With Skydo's dashboard at your fingertips, harness the power of unified financial intelligence like never before.
Behind the Scenes: How Skydo Achieved Success
Behind the user-friendly interface and innovative features of Skydo lies a carefully crafted strategy and technological foundation. 
A Global Network of Banking Partners and Payment Processors: Central to Skydo's success is its extensive network of banking partners and payment processors worldwide ensuring a seamless flow of funds across borders. By collaborating with established financial institutions, Skydo creates a robust foundation for reliable cross-border payments.
Continuous Monitoring and Optimisation of Payment Routes: Leveraging data analytics, Skydo dynamically selects the most efficient and cost-effective paths for transactions. This proactive approach minimizes the risk of payment delays and maximises the success rate, ensuring a superior experience for businesses.
Sophisticated Tech Stack: This stack seamlessly integrates cutting-edge software, security protocols, and data analytics. It ensures the platform's agility, scalability, and resilience, enabling Skydo to swiftly adapt to market dynamics while maintaining a robust infrastructure.
RBI Approval: Skydo's commitment to regulatory compliance shines through its Reserve Bank of India (RBI) approval. This official recognition underscores Skydo's adherence to the highest standards of security and legal compliance.
Customer Data Privacy: With a fortified security framework, robust encryption, and stringent data protection measures, Skydo ensures that user information remains confidential and secure throughout the payment journey. This dedication to safeguarding sensitive data enhances user confidence and contributes to a seamless experience.
In a world where success is the outcome of meticulous planning and technological innovation, Skydo stands as a testament to what can be achieved with the right blend of vision and execution. By building a global network, optimising payment routes, deploying advanced technology, securing regulatory approval, and prioritising data privacy, Skydo has carved a distinct niche as a trailblazer in international payments.
Unlock Effortless International Payments With Skydo
In a time when global businesses can only do so much, cross-border payments can be a formidable obstacle. Skydo simplifies the process of your international payments by helping individuals and organisations succeed in their businesses. 
Discover the future of international payments with Skydo - an efficient and innovative merger to transform the global marketplace.