Real-Time Tracking of International Payments Made Easy by Skydo
Last Updated
September 15, 2023
As a business owner, the waiting period for a payment to get credited is unsettling. You're looking forward to receiving important global payments, and you need to use that money to pay a supplier or a partner in service.
Unfortunately, your payment doesn't show up on time.
This situation worsens when you are seeking some form of payment status information, but there is none. You find yourself in a triggering situation of he-said-she-said -the receiving bank informs you that they have not received SWIFT (Society for Worldwide Interbank Financial Telecommunication) instructions for your payment to be processed. Yet, when you contact the sending bank, they insist they've already dispatched the SWIFT.Collecting global payments is already tagged as an expensive and time-consuming process. However, if a customer and you have to go through the pain of lost or delayed payment, it can make your heart skip a beat.
Skydo, a revolutionary payments platform, takes centre stage and answers all your questions–
Where is your money?
When will it arrive? 
Can I get proof of payment?
Here's how Skydo can help you with real-time payment tracking.
Key Features of Skydo for Real-Time Payment Tracking
Real-time payment tracking is the roadmap through your financial journey. Having a clear understanding of your transactions instills a sense of relaxation and trust, allowing you to engage in repeated business transactions with confidence in your clients. Naturally, communication doors remain open as there is transparency with clients. It makes everything simpler and easier to understand. Here are key features of Skydo– your go-to partner for payment tracking!
1. Sending and tracking payment reminders
With automated, personalised reminders for payment schedules, late payments are a thing of the past. No more time wasted chasing down information or worrying about delays; you can focus on what matters most.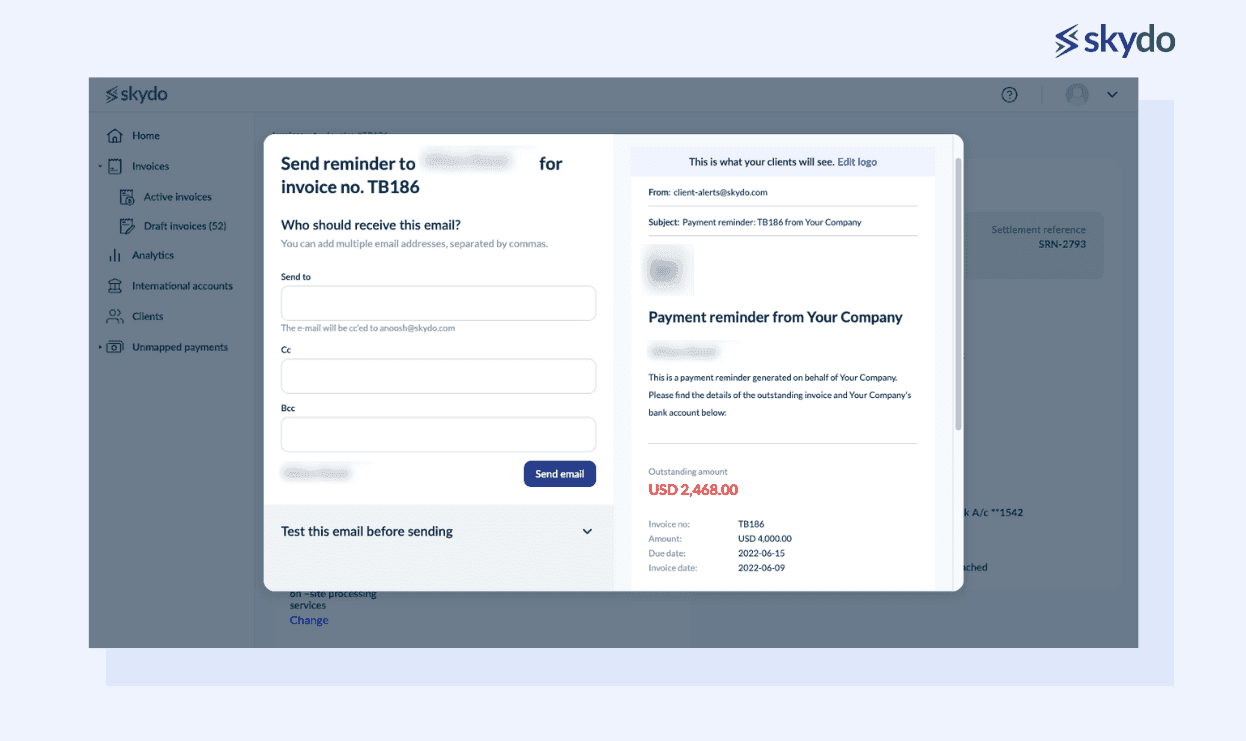 But the real magic lies in Skydo's real-time payment tracking, providing essential delivery information and ensuring that messages reach their intended recipients promptly.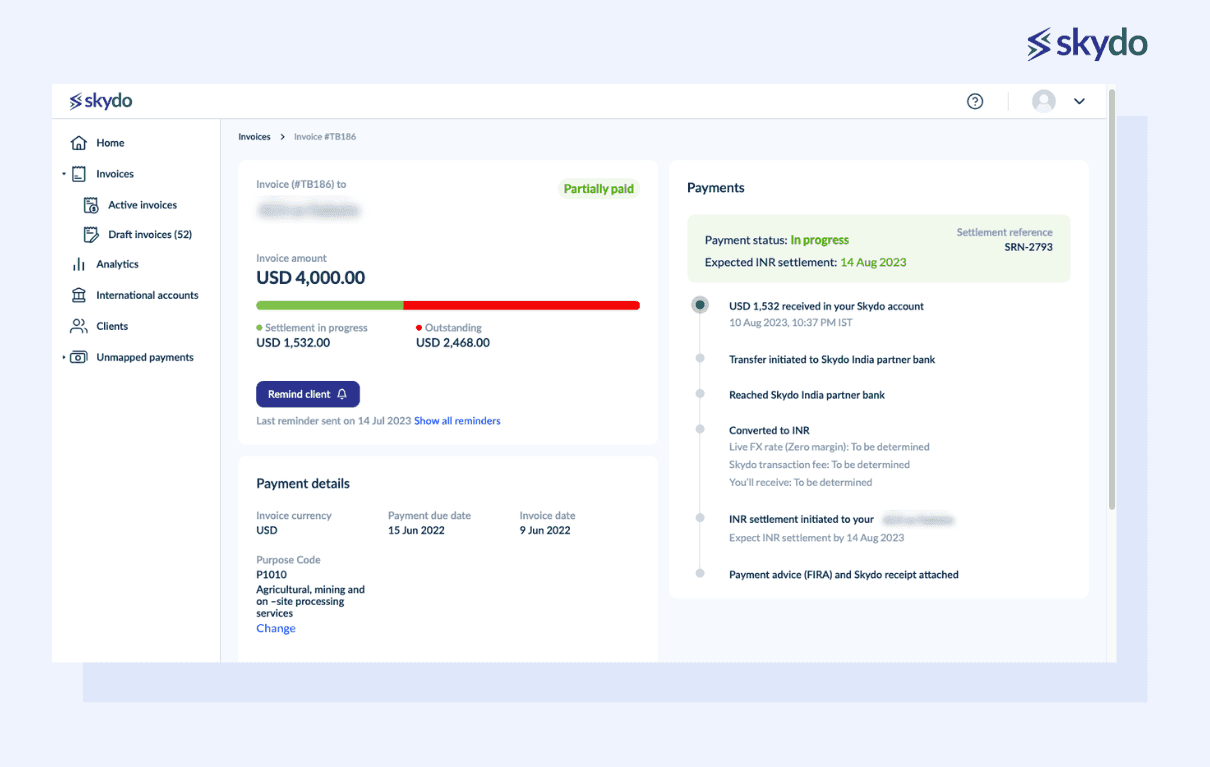 This dual functionality not only records accountability and allows for instant follow-up in case of disputes or miscommunication but also fosters healthier client relationships and streamlines financial interactions seamlessly.
2. Instant update for payment status changes
With real-time notifications, you'll be promptly informed about any alterations to your payment status, from initiation to transit and successful receipt. This exceptional transparency enhances your confidence in financial processes, empowering you with timely information for proactive decision-making and efficient issue resolution.
3. Reminder history for all payments
Skydo offers a convenient solution with its intuitive and user-friendly interface, maintaining a complete history of all payment reminders sent. This archive acts as a valuable reference point, bolstering transparency and accountability in your financial interactions.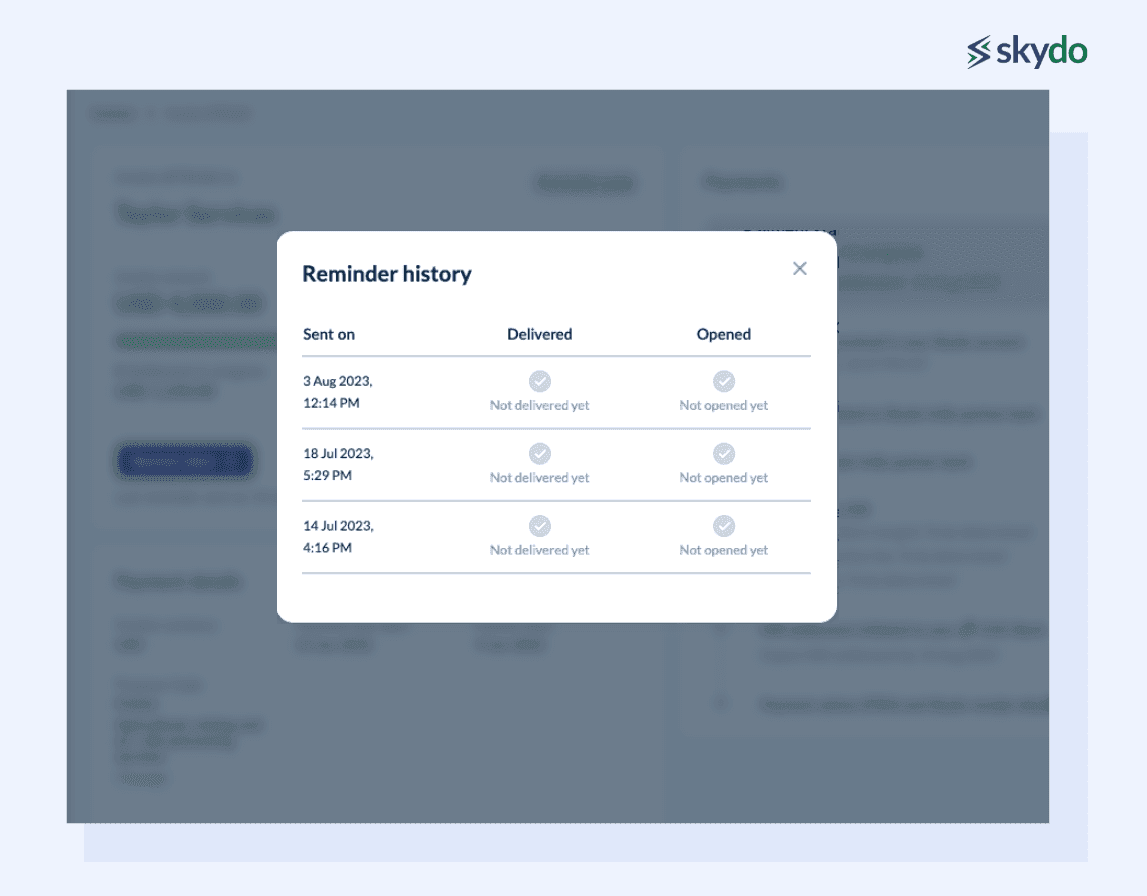 With access to this reminder history, you can effortlessly monitor the progress of your reminders and stay well-informed about your payment-related communications. 
4. Ledger for payment validation
Imagine a scenario where your client disputes a certain payment pending clearing, and you need solid proof or validation of a financial transaction. Here's where Skydo steps in with its handy ledger feature, easily accessible and designed to ensure everyone is on the same page.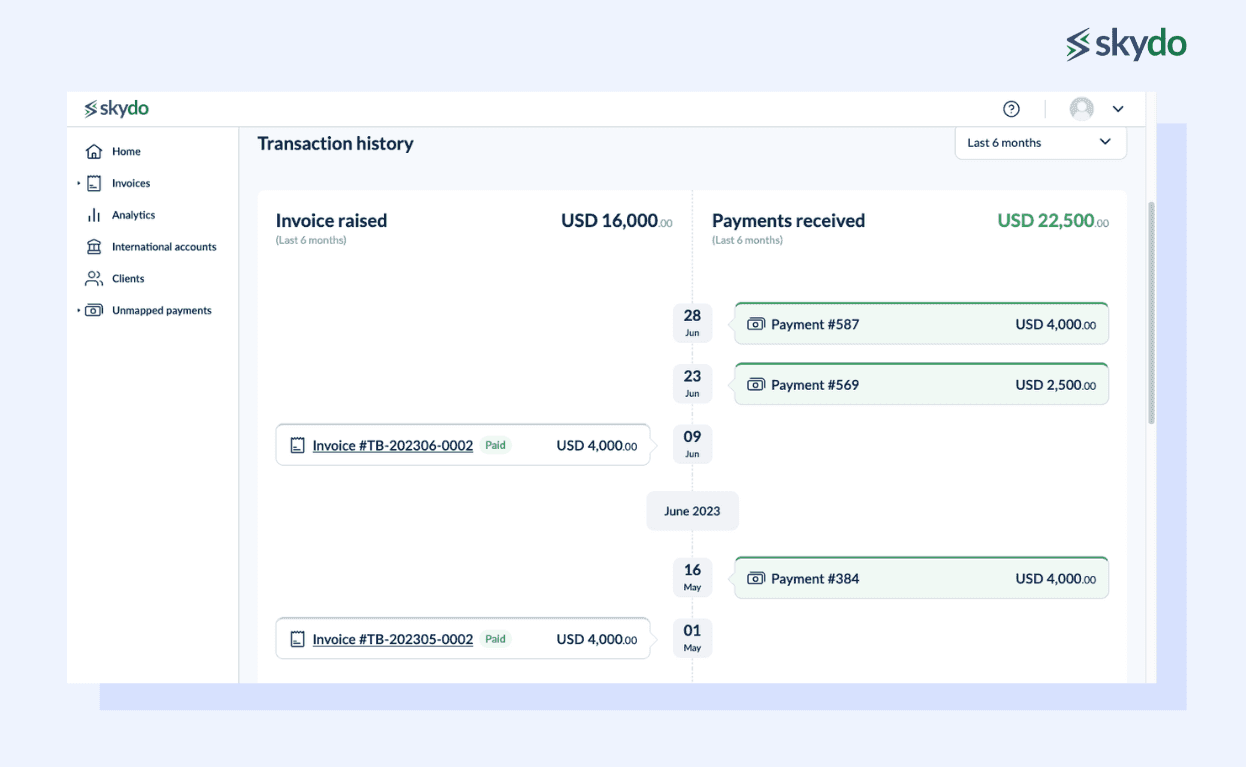 It houses a complete record of your financial transactions, payment details, transaction history, and supporting invoices. It's akin to managing your essential documents in a structured, accessible manner, making your financial history readily available whenever you need it.
5. Payment tracking for invoices sent outside the Skydo environment
There are certain instances when you send invoices through an external mail platform. However, Skydo's payment tracking isn't limited to in-house invoices; it extends its efficiency to mail applications too.
When sending an invoice to the client, in the CC field, enter invoices@skydo.com. The entire tracking information will be available on the Skydo platform. This way, you're in complete control, knowing precisely when an invoice was received, opened, and paid, even for those outside invoices.
With Skydo, you're always in the know, regardless of where your invoices are coming from.
6. Monitoring multiple invoices and clients in one place
Skydo ensures you do not need to dig through paper trails for email threads and other data. You can access your financial data in one secure, accessible location. Skydo's user-friendly interface simplifies the often complex task of tracking payments across various accounts and transactions. This consolidated view enhances efficiency and clarity in financial operations.
The Path to Financial Supremacy
Real-time payment tracking isn't just a part of business operations; it's the heartbeat that keeps your financial health in check. With Skydo's real-time updates, your business can minimise overlooked or forgotten payments. It paves the way for improved financial forecasting, positive cash flow management, and a robust bottom line—all crucial elements of a thriving business.
Additionally, efficiency, clarity, and timeliness are paramount when fostering trust and transparency in your financial processes. Skydo excels in these areas, offering the means to streamline operations, eliminate guesswork, and minimise delays. Whether you are managing your business finances or freelance accounts, Skydo ensures that your financial operations remain crystal clear and reliable, providing you with the trust and transparency you need.
With Skydo, you don't have to settle for uncertain and chaotic financial transactions anymore. Book a demo now!