Receive Timely Payments with Skydo's Automated Reminder Feature
Last Updated
September 8, 2023
"Should I send a payment reminder to the client? It's been 10-15 days past the invoice due date, and the client is yet to process the payment." This dilemma is not uncommon. But here's what you should know. 
According to Chaser's Delayed Payment Report 2022, around 87% of businesses receive payments after the invoice due date. However, 90% of businesses that follow up on their invoices receive payments within a week.
Yet, once you decide to send a payment reminder, more questions follow - "How to send a polite payment reminder to the client?" "When to send a payment reminder to the customer?" If you have been stressing too much over the pending invoices, you need to have a payment reminder system/process in place.
Instead of writing a follow-up email or text directly and being unsure whether the client has received the reminder, there's a better way to sort this out with Skydo's payment platform. 
Let's understand the challenges of late payments further, explore the benefits of sending automated payment reminders with Skydo and how you can use it to optimise your business activities.
The Causes and Challenges of Late Payments
According to the Delayed Payments Report, the major cause of payment delays is the power gap between small sellers and large buyers. This often forces suppliers to agree to more than 45 days of payment cycle. Insufficient funds with the buyers and delays in submitting invoices are the two other significant reasons causing delays. 
Interestingly, often there is no particular reason for the delay in payments other than business culture. Clients are unbothered if the payment gets delayed. However, your company may hesitate to chase the payments to protect the relationship with the client. Sending automated payment reminders is one of the best ways to manage such situations as it seems less hostile.
Now even if you decide to send payment reminders, there is another series of challenges like the inability to chase payments because of lack of time and resources and tracking invoice due dates. This is primarily why automated payment reminders are necessary for businesses to overcome the following challenges caused by delayed payments.
Cash flow disruption, making it difficult for businesses to manage their operations
Difficulty in maintaining inventory
Strained business relationships between buyer and supplier, leading to loss of business
Lack of growth and innovation
High cost of borrowing
Let Skydo Handle Your Collections
A study on nudging for debt collection tells that debtors do not necessarily delay payments because of lack of liquidity or intentionally. Surprisingly, there is a behavioural approach to delay payments. Lack of attention and a tendency to procrastinate is what causes delay. However, people are receptive to simple and polite payment reminders.
Therefore, one of the best ways to make your payment process smooth is to use an automated account receivables platform like Skydo that sends quick and polite payment reminders to the client within a few seconds. 
According to the B2B Payments Innovation Readiness Report, businesses with a manual account receivables process are likely to experience a 30% delay in receiving payments compared to organisations that have an automated process to receive payments.
Hence, the following are the key features and benefits of using Skydo for payment reminders.
1. Sending payment reminders in one click
With Skydo, you do not have to worry about writing, scheduling and tracking payment reminder emails. You can click "Send a Reminder" by opening an unpaid invoice on the dashboard, previewing the reminder email and sending it to the client with minimum manual effort.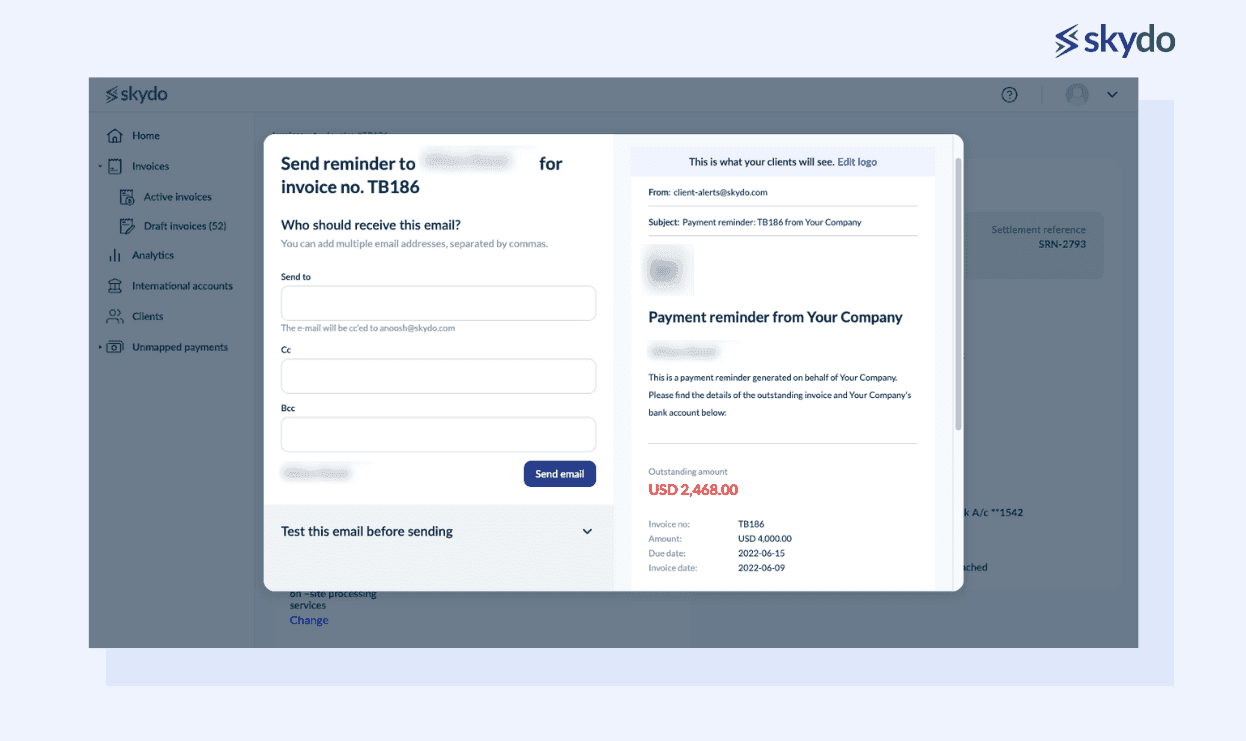 2. Check if your client has seen your reminders
Often, when you send reminder emails to clients, you cannot determine whether they have received or read them. With Skydo, A bonus with sending reminders through Skydo is the ability to track its status. 
You can view when the client has opened the reminder. It allows you to plan your reminder emails accordingly and take appropriate action in case a payment is overdue for a long time.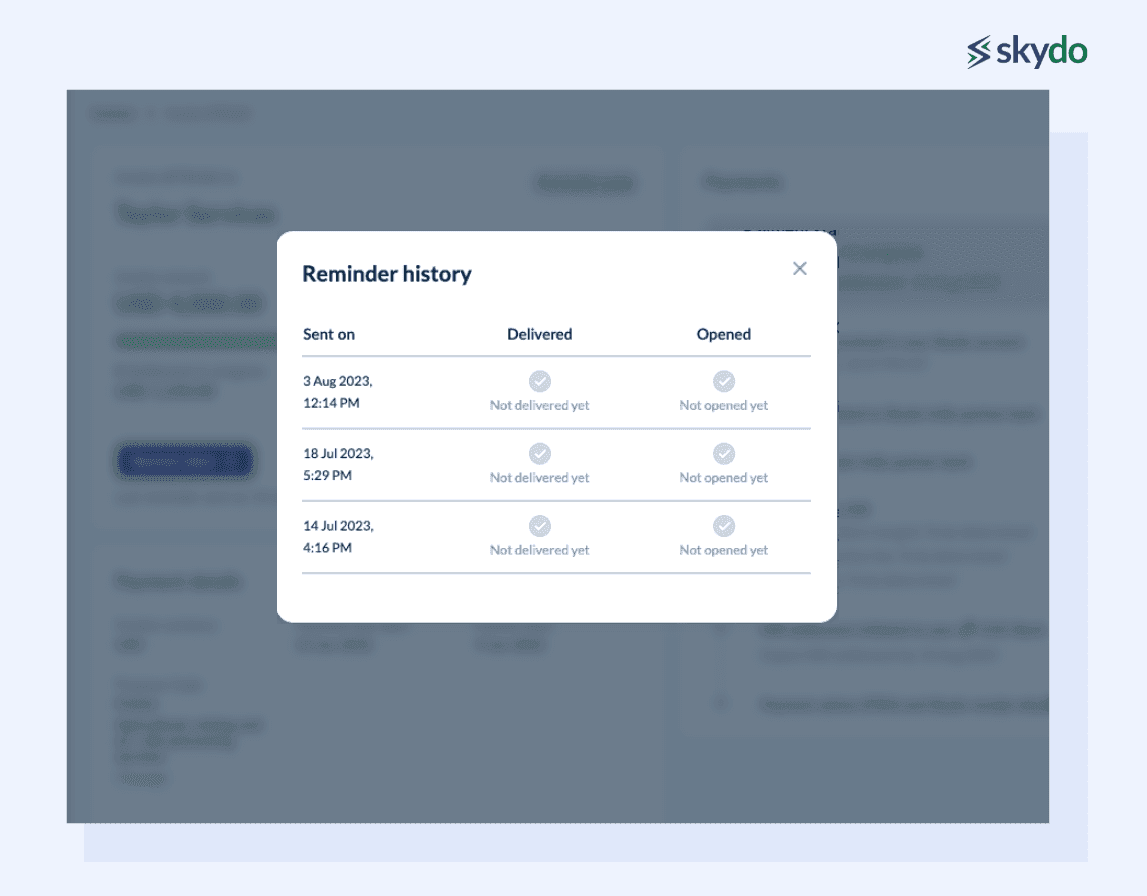 3. Track your reminder history
Skydo provides a comprehensive overview of all the reminder emails sent to a client and when the emails were viewed. This feature is beneficial in case a client fails to pay the invoice or a client disputes the invoice after sending multiple reminder emails.
Beyond ensuring timely payments, this and various other features on the dashboard help accelerate business growth. Here's how.
How Skydo Boosts Business Efficiency
The faster businesses send payment reminders, the faster they pay. It leads to various benefits and company growth in the following ways.
Time saved from manual follow-ups including stats: Manual payment overdue follow-up is 67% more time-consuming than automated processes. Instead, you can schedule a reminder on Skydo to follow up with the client every 10 or 15 days or any other period. Thus, Skydo reduces manual efforts and helps boost business productivity.
Streamlined payment tracking and reconciliation
The entries related to sent invoices and account receivables are automatically and accurately stored in Skydo's dashboard. Thus, it not only provides an overview of the revenue generated for your business but also detailed information related to payments. This helps businesses with the reconciliation of their payments and following statutory compliances 
Improved focus on core business activities
Skydo enables tech exporters to receive payments easily from foreign clients. Thus, it prevents disruption in cash flow and allows businesses to spend their time and resources on core business activities.
Learn more: Enjoy Seamless Payment Experience by Creating International Bank Accounts in Just 5 Minutes
Reporting and analytics
Skydo's dashboard gives a holistic view of the invoices sent, when the payment was received, revenue generated, and payment overdue. You can export the data as an Excel sheet for business reporting and in-depth analytics of the company's financial position.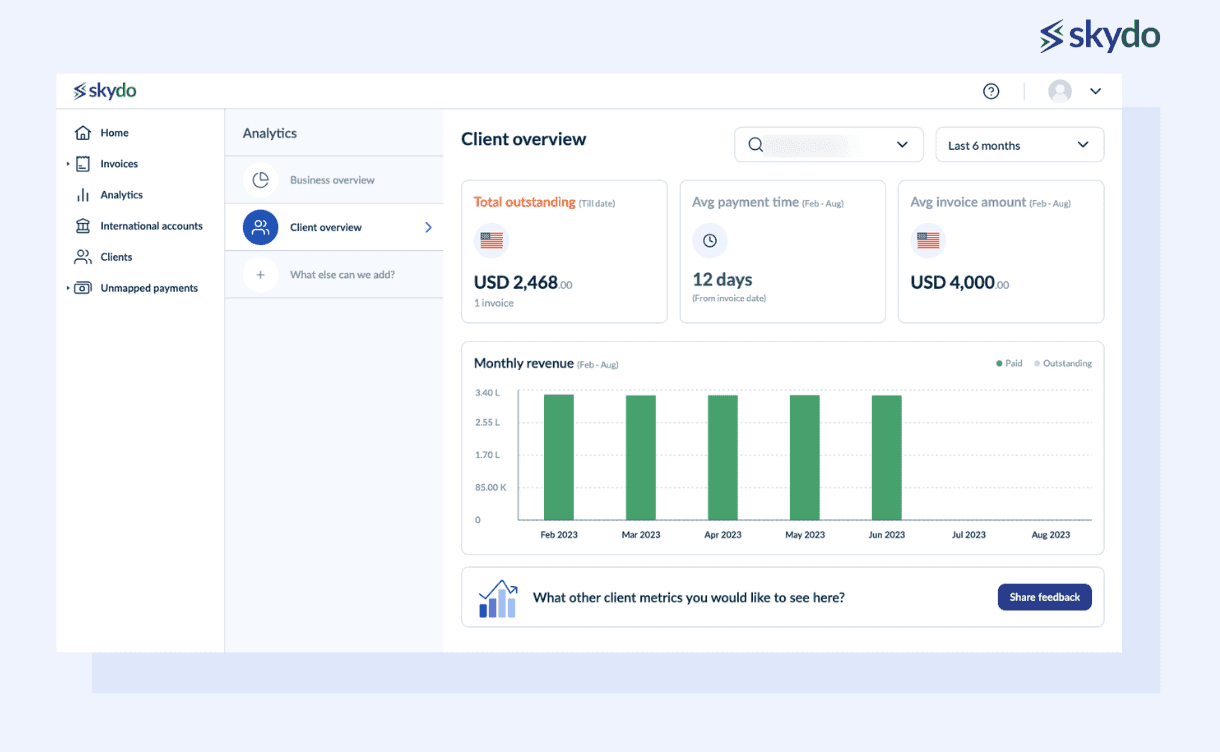 Tracking customer payment trends to create your cash forecast report
The data captured on the Skydo platform provides the necessary insights to understand customer payment patterns and compare them against prevailing market trends. It helps with strategic financial planning to ensure continuous cash flow and prepare budgets for operations and new initiatives.
Enhancing Client Relationships
Sending several payment reminder emails personally to clients can make you come across as rude and strain your relationships with clients. However, clients are less likely to mind polite automated reminder emails several times. Automated reminders demonstrate professionalism.
Steps to ensure timely payments
Here are a few ways you can receive payments timely and optimise your cash flow.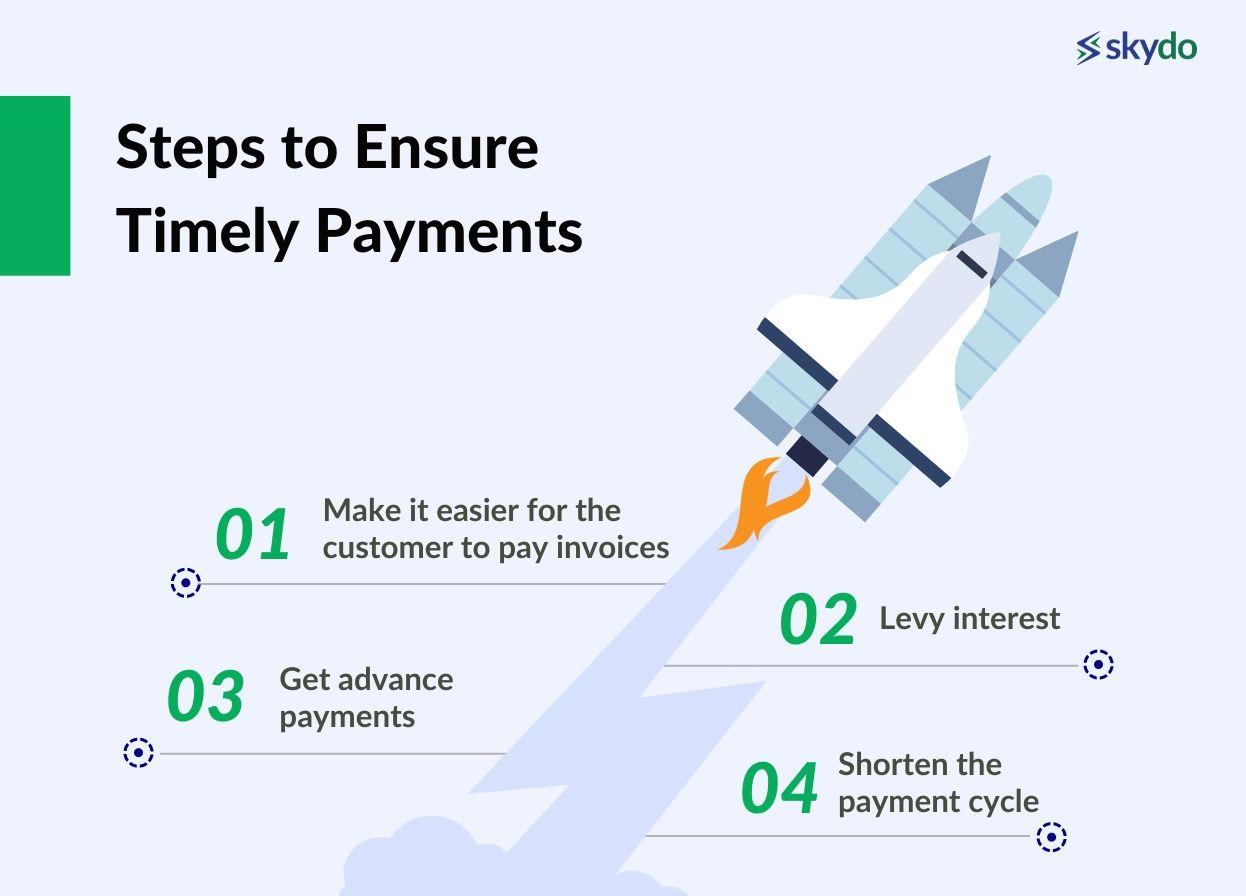 Make it easier for the customer to pay invoices: Receiving international payments takes time because of currency conversion and bank approvals. With Skydo, you can receive payments from clients directly in your local foreign bank accounts and subsequently to your bank account in India.
Get advance payments: Another way to maintain your cash flow and avoid the impact of delayed payments is to ask for advance payment of at least 50% of the invoice.
Levy interest: While deciding the payment terms with a client, you can include a late payment fee or penalty clause under which the client will be liable to pay interest for delayed payments.
Shorten the payment cycle: Another way to prevent the negative impact of delayed payments is to bill the client more frequently. For example, instead of sending a monthly invoice, you can send invoices biweekly
Learn more: Don't Stay in the Dark Anymore: Monitor Your International Payments From Sender Account to Your Account
Final Words
Skydo is a holistic payment solution that provides end-to-end invoicing and payment services for tech exporters. From creating and sending invoices, and receiving foreign payments smoothly, to reconciliation of account receivables, Skydo makes the entire payment process seamless for tech exporters.
Further, it enables businesses to create and send invoices timely, check the status of each invoice, send reminders, track when the reminder was viewed by the client, and view the history of payment reminders sent to a client. All of this is available on a single click on Skydo's platform to save up on manual efforts. 
Request a demo on Skydo today to receive timely payments and boost your business' efficiency.