Home
Blog
Simplify Your Global Payments With Skydo: A One-Stop-Shop From Invoicing to Payments to Reconciliation
Simplify Your Global Payments With Skydo: A One-Stop-Shop From Invoicing to Payments to Reconciliation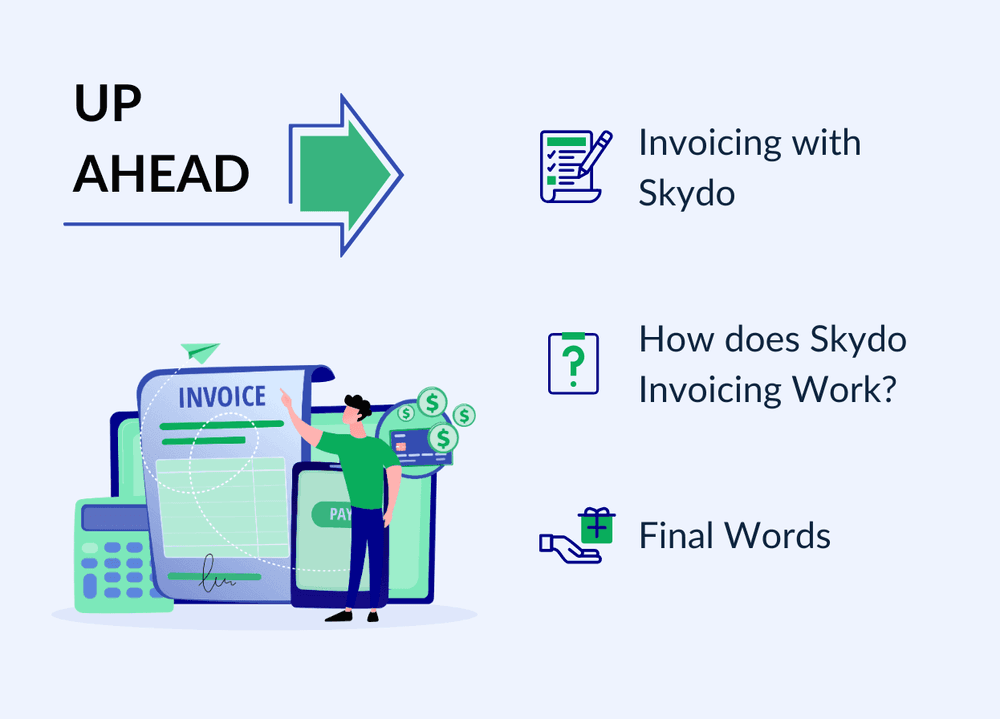 Last Updated
August 23, 2023
High transaction charges 
Lack of interoperability
Multiple compliance checks
Foreign exchange rates
Regulatory challenges such as KYC 
Anti-money laundering and fraud checks
A lack of standard procedures and rules 
Exporters have to face these and many more challenges while receiving global payments.
According to the International Trade Centre (ITC) survey, one of the biggest challenges for exporters in receiving online payments is inadequate links between the international payment service providers and the banks.
Another global executives survey shows that around 66% of people pay US$10–$50 in cross-border fees for B2B transactions and 0.25%–3% in foreign exchange fees. Moreover, 70% of businesses face delays of up to 10 days in receiving international payments.
These statistics are a testament that service providers have a tough time dealing in a global market. 
However, for businesses to maintain their cash flow, there must be a balance between accounts receivable and accounts payable. Challenges related to international payments often create a liquidity crunch for businesses, especially small and medium enterprises. While businesses may be able to survive without generating profits, they need enough liquidity to keep their business afloat. 
The solution to these challenges is a payment gateway that eliminates these hurdles, and Skydo was born to be a service exporter's saving grace.
Skydo facilitates quick and smooth global payments for Indian exporters, enabling them to overcome international payment challenges, improving visibility, reducing transaction costs, and getting rid of manual invoicing and payment challenges.
This blog discusses Skydo's invoicing feature and how it simplifies and streamlines the process of receiving international payments and reconciliation for tech exporters.
Learn more: The "hidden fees" in your Bank rates and how to calculate your actual fx cost
Invoicing with Skydo
Before sending out an invoice to an international client, you need to consider foreign exchange rates, the details to be mentioned in the invoice, and the currency in which the invoice will be issued. Businesses often miss out on these important details, leading to a lot of back and forth with the client to finalise the invoice. The consequence is delayed payments.
Even after finalising the invoice, business owners waste time worrying about the payment status and whether the client has received the final invoice. Despite advances in e-payment systems for cross-border transactions, tech exporters face many hurdles in receiving global payments. 
Skydo's invoicing feature streamlines and automates the invoicing process for tech exporters by providing a host of invoicing features, including e-invoicing for businesses, downloading FIRA certificates, and real-time updates of transaction status.
It enhances professionalism and boosts the credibility of businesses in front of international clients as businesses send a standard invoice with their logo, company details, and services provided. 
The invoicing feature further allows businesses to automatically create, send and track invoices. This saves time spent on creating manual invoices and allows exporters to focus on core business activities. Additionally, detailed and easy-to-understand invoices promote transparency, helping you build positive relationships with international clients and improve their perception of your brand.
Learn more: Navigating Payment Platform Headwinds to Stormproof Your Business
How does Skydo Invoicing Work?
Here is a step-by-step on how to prepare and send e-invoices easily to your customers, send reminders, and track your payments and overall revenue on a single dashboard:
Send a customised invoice to each client  
Skydo's invoices feature includes a simple template where you can customise the billing items and other details for each client. 
You need to add the name of the client and their business details. Then, as soon as you add the country of the respective client, the place of supply gets automatically added. In the next step, you add the currency in which you want to receive the payment.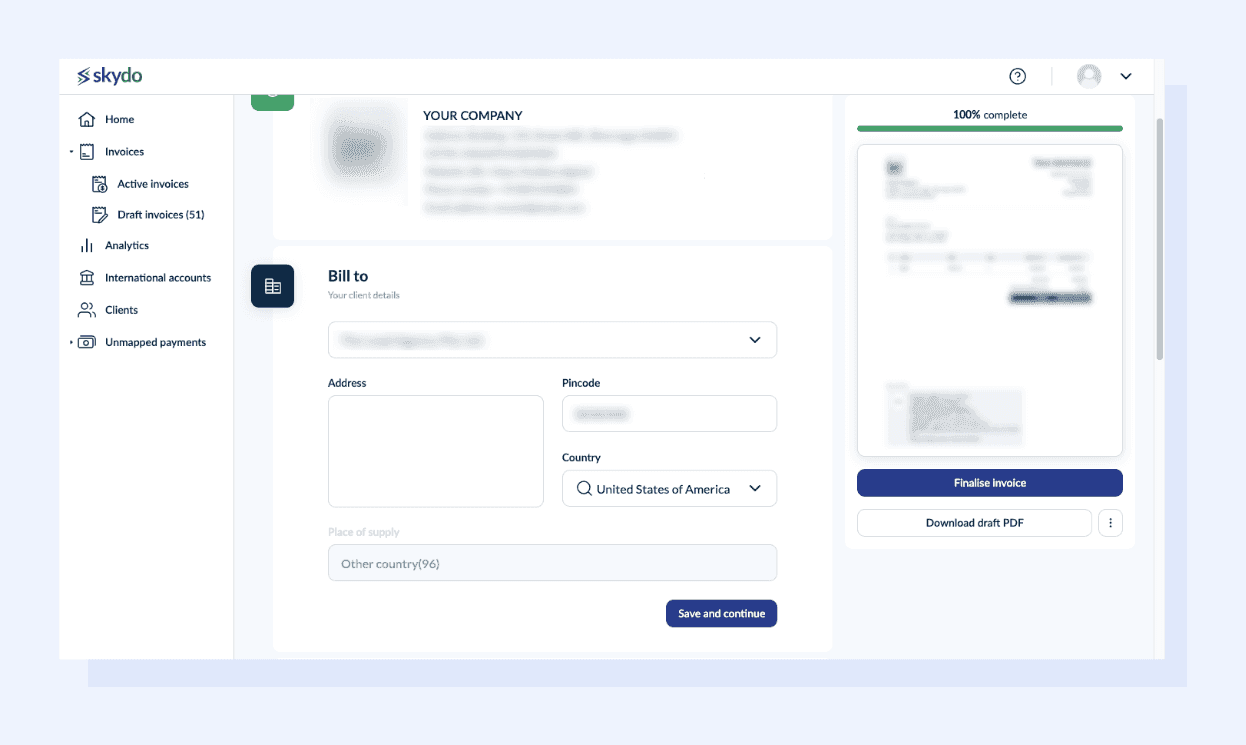 Moving on, you need to add the SAC code as per the services provided. The invoice template also adds a discount column. You have to simply add the discount percentage offered to the client, and it automatically gets converted into value in USD or any other currency specified in the invoice. 
Lastly, if you will be receiving the payment in USD, you need to upload a letter of undertaking as per GST compliance. The invoicing feature also allows users to add additional details or notes if required.
Learn more: Streamlining Business Compliance: Finding the Appropriate HSN Code or SAC
Skydo provides a real-time preview of the tax invoice generated. You can either save the invoice as a draft to work on it later. 
Once you finalise an invoice, its number is automatically generated. However, you can also add the invoice number manually. Along with that, you can set a due date for invoice clearance, such as 10 days, 2 weeks, or immediately. 
Once the final invoice is generated, download it as PDF or send it to the client. Another convenient option is to email the invoice to the client directly through Skydo's platform. 
Prepare automatic drafts to save time
Skydo's e-invoicing feature also enables you to save time by automatically preparing drafts for recurring invoices. You don't have to spend time creating multiple invoices with the same details. Instead, you can create duplicate invoices to save time and effort.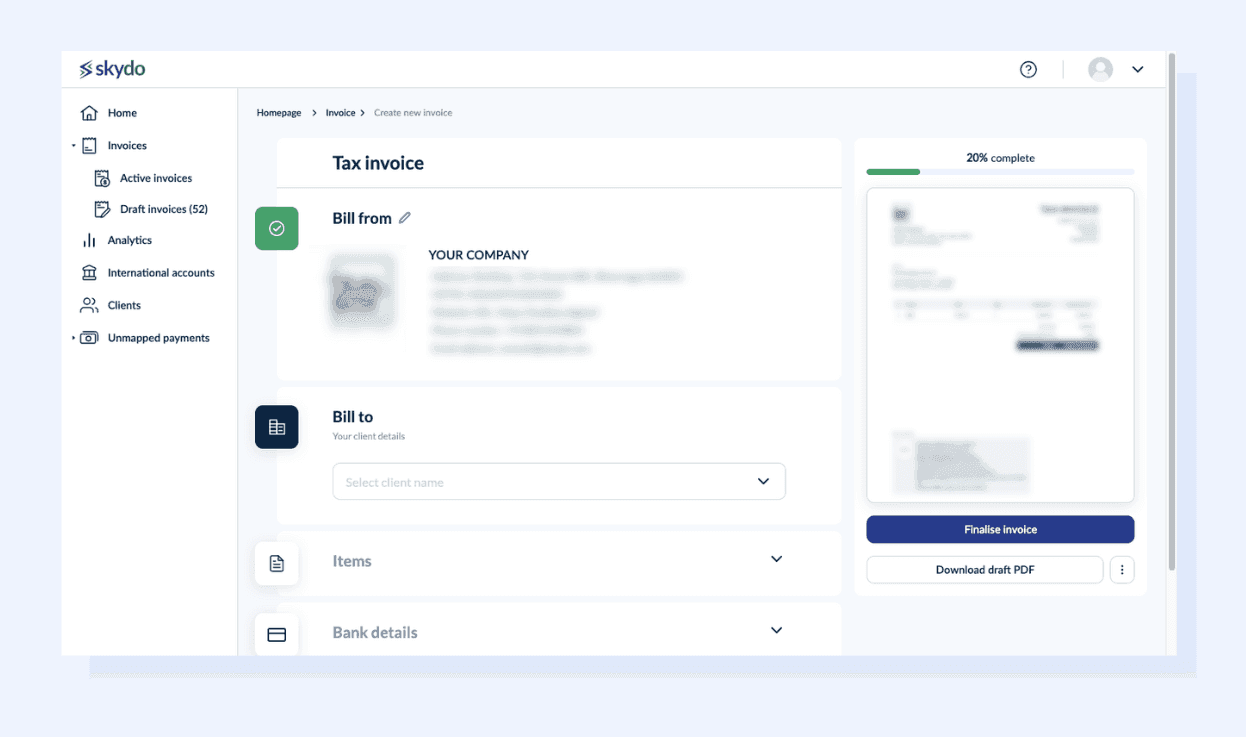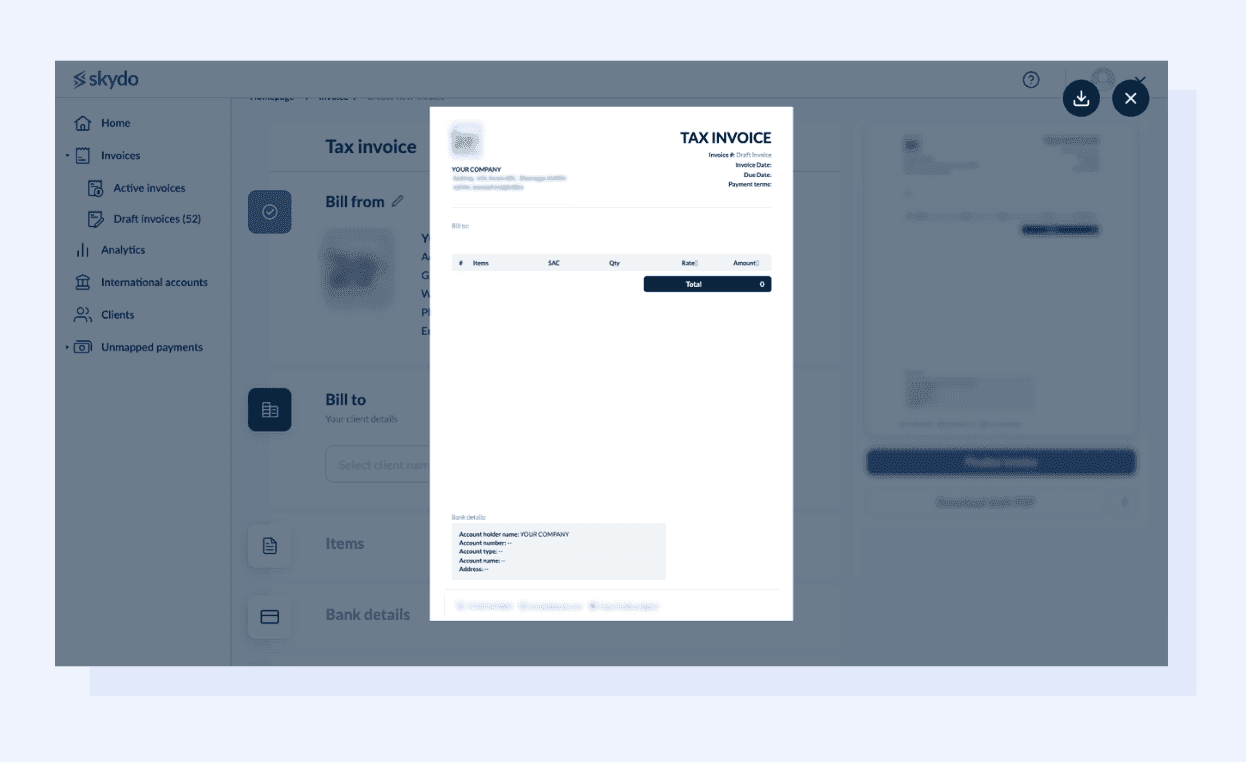 Send invoice payment reminders to clients to avoid unnecessary delays 
One of the most interesting invoicing features of Skydo is sending invoice payment reminders. If there is a delay from the client in processing the payment, you can send a reminder email. You can also preview a test reminder email that the clients will receive.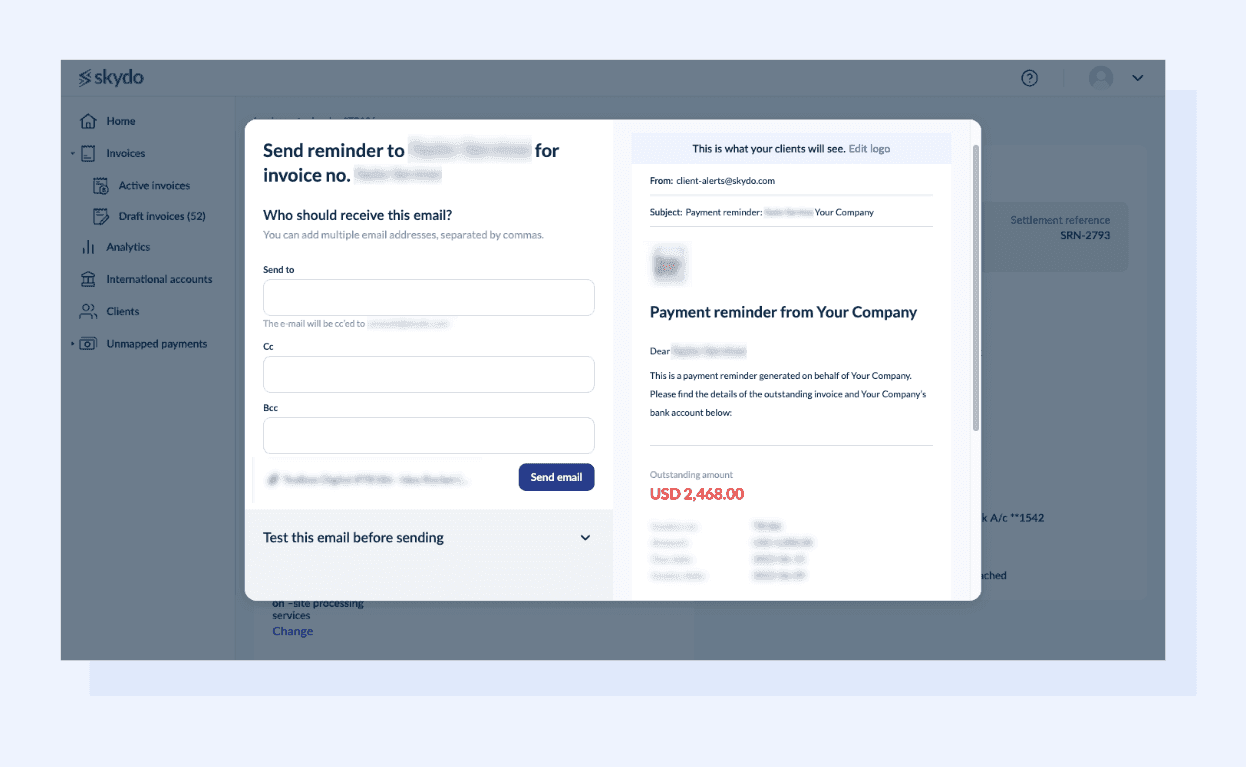 The platform also enables users to check the status of reminder emails such as the number of times reminders have been sent and on which dates. This helps you keep track of the reminders and prepare the next steps accordingly.
Track the status of all invoices sent through Skydo or other platforms
For businesses serving multiple clients in foreign countries, it is challenging to keep a record of and track several invoices parallelly. Skydo makes this task easier. It offers a whole timeline of invoices, including when it was sent, when the client viewed it, when payment was processed, and when the transaction was completed.
Moreover, Skydo's invoicing feature also allows users to add invoice entries in the dashboard for accurate tracking. You can upload an invoice that was sent directly to the client without using Skydo's platform. This helps keep a correct record of all payments.
Get purpose code automatically 
The RBI issues Purpose Codes to identify the purpose of cross-border transactions. Businesses as remittees must mention the purpose code before a cross-border transaction. The codes are available on banks' websites.
However, banks can reject foreign inward remittances if the purpose code is missing or a wrong purpose code is mentioned. If you create invoices on Excel or another payment application, you will have to manually enter the purpose code every time. 
To streamline this process, Skydo pre-fills the purpose code corresponding to the services you provide into your account from the RBI database upon registration. This way, while reconciling invoices, you can select the purpose code relevant to the service provided from the drop-down. 
Thus, Skydo reduces manual effort and mitigates the chances of error and payment delays because of wrong or missing purpose codes.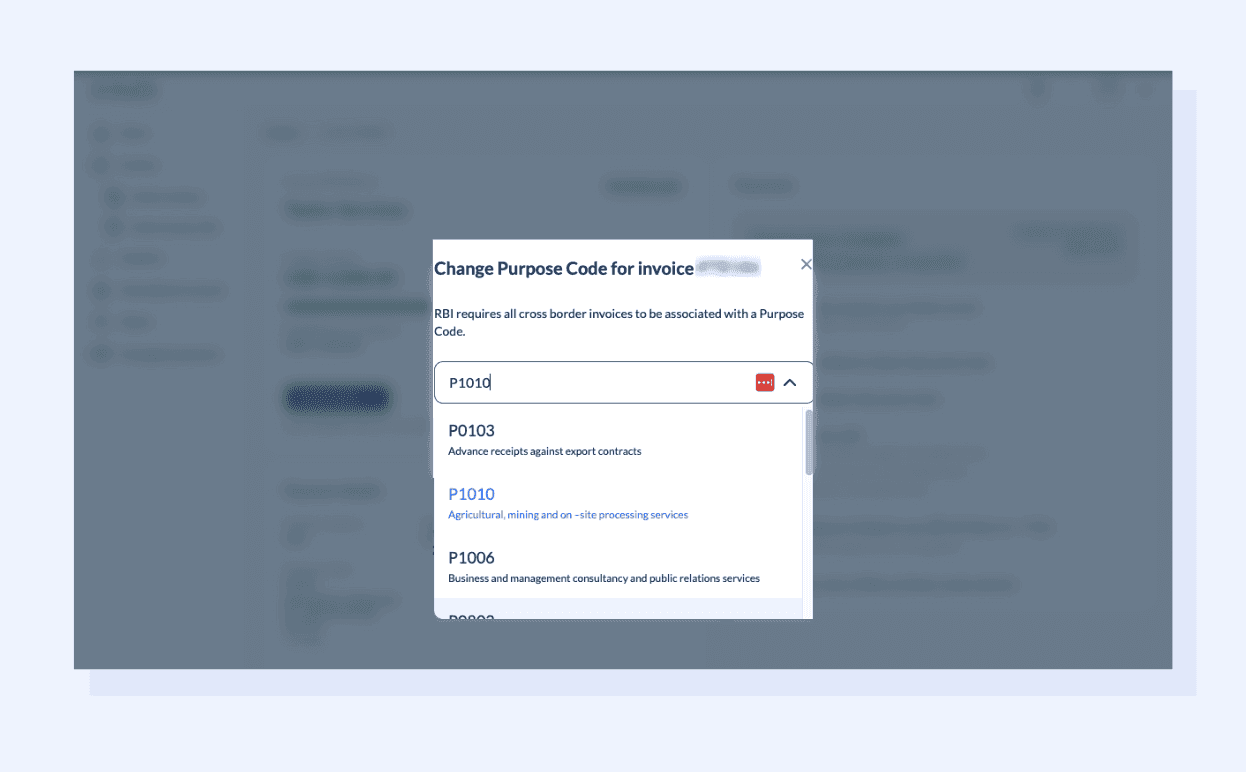 Send e-invoices
In addition to digital invoices, Skydo also offers an e-invoicing feature. Once you have finalised the invoice on Skydo's platform, you can generate an e-invoice by clicking 'Generate E-invoice'. The platform produces the QR code and IRN. You can copy the IRN or download the invoice. 
You can also send this invoice via email to your client or download it and mark it as sent.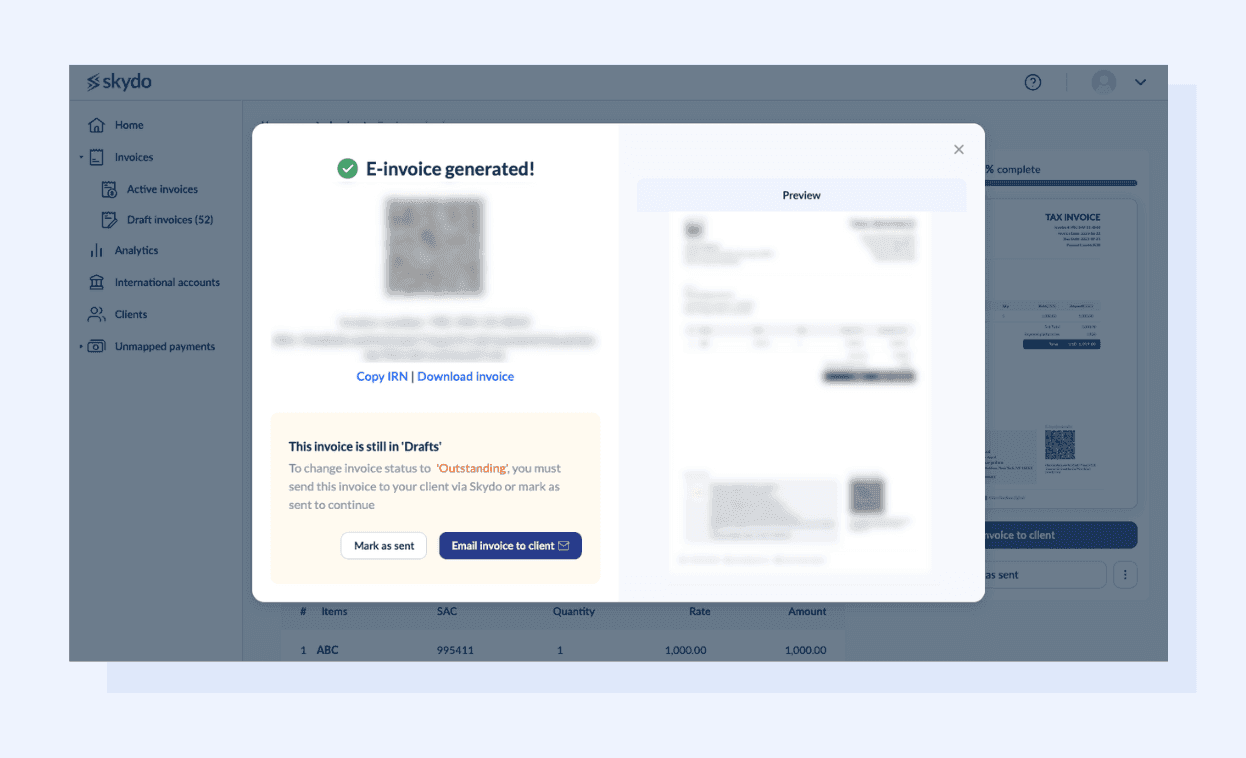 Get access to all your payment details and FIRAs in one place
Foreign Inward Remittance Certificate (FIRA) is one of the mandatory compliances issued by RBI for tech exporters. It includes all the details of the international transaction and serves as a record for tax purposes. It is one of the most cumbersome tasks for tech exporters. 
Skydo makes it easier for businesses to adhere to tax compliances by providing a FIRA certificate for each transaction. It provides an option to view and download all FIRA certificates simultaneously.
Additionally, you can also export all the payment reports as an Excel to conduct in-depth financial analysis for your business.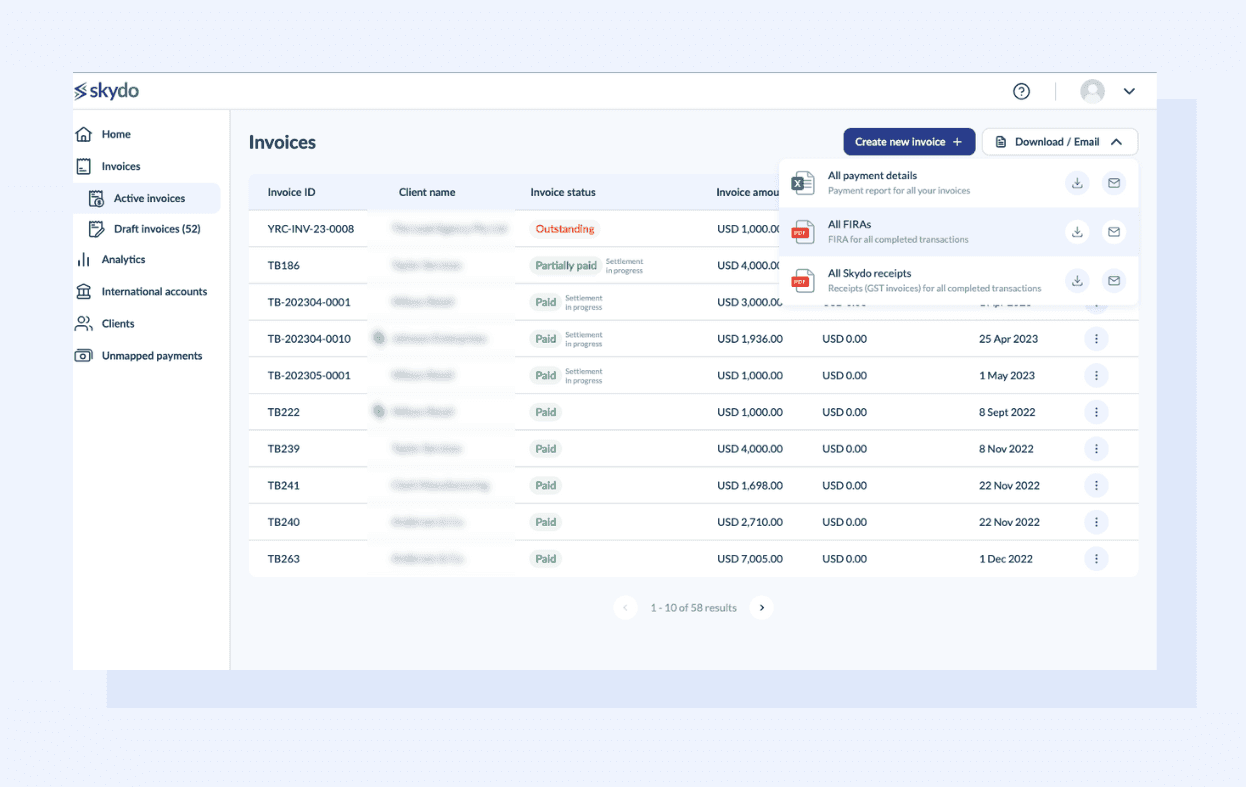 Learn more: 4 Reasons You Need FIRA for Your Export Remittances
Get a 360-degree view of the revenue generated
Skydo's invoice dashboard provides a quick snapshot or summary of all invoices sent to foreign clients, account receivables, invoices cleared and in-progress settlements.
Additionally, you can review all invoice details, including invoice number, issue date, client name, invoice status, invoice amount, and payment due date.
The dashboard provides in-depth analytics of payments based on invoices. You get an overview of the business revenue, the average time taken to receive international payments, the total business generated, the total transaction fee amount, and more. Doing so helps you save time on making crucial business decision-making processes.
Final Words
Wire transfers are one of the most expensive methods of receiving international payments. However, more than one-third of businesses rely on it. With Skydo, IT exporters can receive payments directly into their international bank accounts for quick clearance instead of wire transfers. You need to prepare an invoice as explained above and add your account details to the invoice. Once the invoice is ready, you can attach the invoice to the customer's email with invoices@skydo.com in CC. 
Skydo informs you as soon as the payment is made in the international bank account. It also provides a separate tab where you can check the payment charges and currency exchange charges. 
Thus, Skydo's invoicing feature saves exporters the hassle of creating and tracking invoices by building a one-stop solution to receive global payments with ease. Sign up on Skydo to fast-track the process of receiving global payments and boost your revenue.