Checklist to Get the Right Bank for Your Firm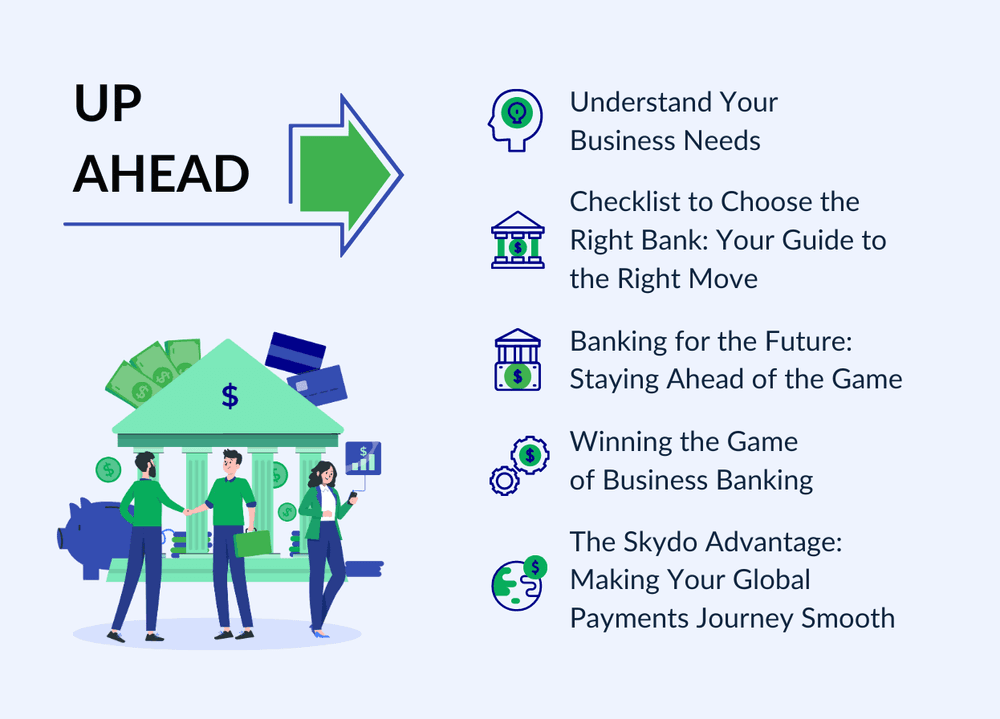 Last Updated
August 5, 2023
In the Mahabharata, the 'game of dice' played a pivotal role in determining the fate of kingdoms. The Kauravas challenged the Pandavas to stake their kingdom, wealth, and honour. Unaware of the malicious intentions, Yudhishthira, the eldest Pandava, accepted the challenge, trusting his cousins. However, as the game progressed, the Pandavas faced a series of unfair tricks, ultimately losing everything, including their freedom.
The game of dice in Mahabharata is a powerful metaphor, illustrating how a crucial decision can lead to unexpected consequences. Similarly, choosing the right bank is a significant decision and can determine a company's success trajectory. 
The stakes involved are just as high. The wrong choice may lead to hidden fees, poor customer service, or unsuitable financial products that hinder growth. On the other hand, the right bank can unlock a plethora of benefits leading to streamlined transactions and personalised advice that fosters growth and prosperity.
Here's a list of checkpoints before choosing the right bank for your IT service export company. The first step before considering any banking factors is knowing your business requirements.
Understand Your Business Needs
Evaluate your finances, lay out your growth strategies, examine market trends, and consult professionals. The right bank can accelerate your company's growth with customised solutions and long-lasting support.
Some factors to consider are as follows.
High requirement for working capital: Tech export firms often encounter significant up-front expenses for research, development, employees, and equipment. Furthermore, delays in customer payments might cause cash flow fluctuation. You can address these financial gaps with a bank's flexible overdraft facilities or credit lines to guarantee smooth day-to-day operations and timely employee payments.
High requirements for loans and project finance: If you are looking to expand or embark on large-scale initiatives requiring funding, choosing a bank specialising in customised financing solutions is critical. Look for a bank with expertise supporting similar enterprises with project-specific loans. It guarantees you the financial backing you require to propel your business forward.
Requirement for trade finance and cash management solutions: If your company engages in international trade, choose a bank that offers comprehensive trade financing services. Consider options like trade financing options and letters of credit. Additionally, look for a bank that provides advanced cash management tools to successfully handle foreign currency transactions while optimising cash flow and working capital.
Requirement for strong employee value proposition: As a business owner, you understand the importance of having reliable financial services for your employees. Selecting a bank that provides smooth and user-friendly employee banking options, convenient payroll solutions, and extensive employee benefits packages is crucial.
Innovative Technology for Payments and Workflow Management: Look for a bank that keeps up with the times. Embrace technology and choose a bank that offers innovative payment solutions like mobile payment options and digital invoicing. Simplify the billing process and improve cash flow, especially if you cater to a diverse client base. To streamline client billing, efficient workflow management tools can help monitor projects effectively while reducing administrative burdens.
With the roster of needs required to expand your business globally with the right bank, here's a checklist to help you choose the right financial institution.
Checklist to Choose the Right Bank: Your Guide to the Right Move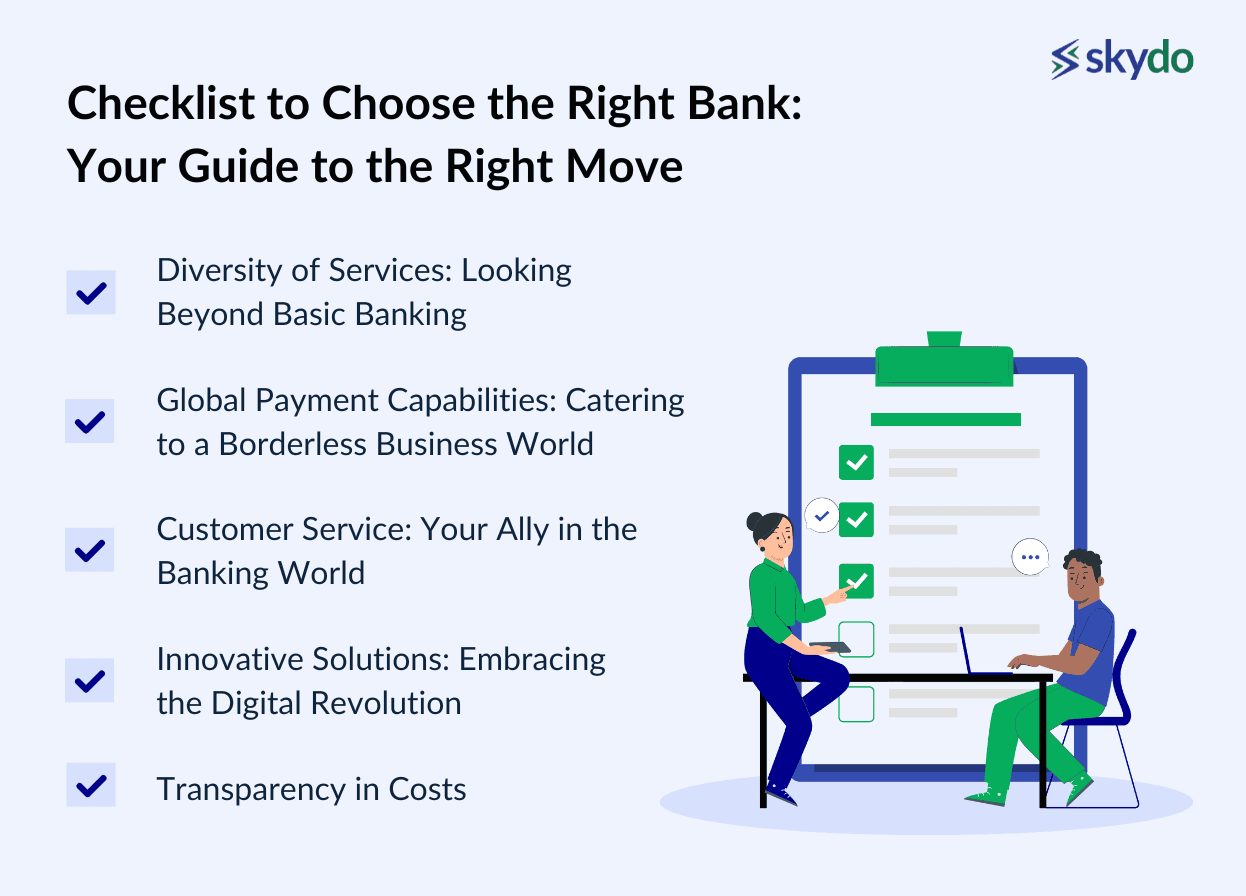 1. Diversity of Services: Looking Beyond Basic Banking 
Select a bank that can understand your unique requirements and provides specialised solutions to support your company's growth. The bank that goes above and beyond basic services like credit and lending options, merchant services, cash management, and investment solutions is an absolute winner. 
The bank should cater to your industry, business size - whether it's business-specific loans or industry-specific financial advice. They might be your doorway to more funding, pivotal allies, and vital crisis-avoidance counsel.
2. Global Payment Capabilities: Catering to a Borderless Business World
As a tech export company that deals with international clients, your bank must provide cross-border payment services and support multiple currencies. Remember to include the fees and currency rates for overseas transactions; they should be fair so they do not eat into your profits.
3. Customer Service: Your Ally in the Banking World
When running a small business, you can't afford to waste time on bad customer service. You need a bank that will always be there for you when you need them. Make sure they have accessible support channels and responsive account managers who are dedicated to their business clients. 
Consider the amount of assistance you require now and as the company evolves. Certain banks provide specialised consultants to help you manage your accounts, expand your business, and deal with tax or payroll issues. 
4. Innovative Solutions: Embracing the Digital Revolution
How frequently do you rely on technology for your banking? Do they offer integrations with your current accounting software or other business tools? Find a bank that stays ahead of the curve with the latest tech and platforms tailored to meet your unique needs. Take a closer look at their technological capabilities and digital offerings. A modern bank should offer easy-to-use, secure online and mobile banking services.
5. Transparency in Costs
Thoroughly understand the fee structure of the bank before partnering with them. Enquire about account maintenance fees, transaction fees, wire transfer fees, and other expenses related to their services. 
Do your due diligence and consider any potential fees that may emerge, including the following.
Service fees
ATM fees
Management fees
Withdrawal/deposit fees
Inactive account fees
Credit card processing fees
Penalty for not maintaining a minimum balance
Annual charges
Transaction fees if you withdraw more than the maximum permitted amount
Banking for the Future: Staying Ahead of the Game
The future of business banking is transforming rapidly with technological advancements and evolving expectations of customers.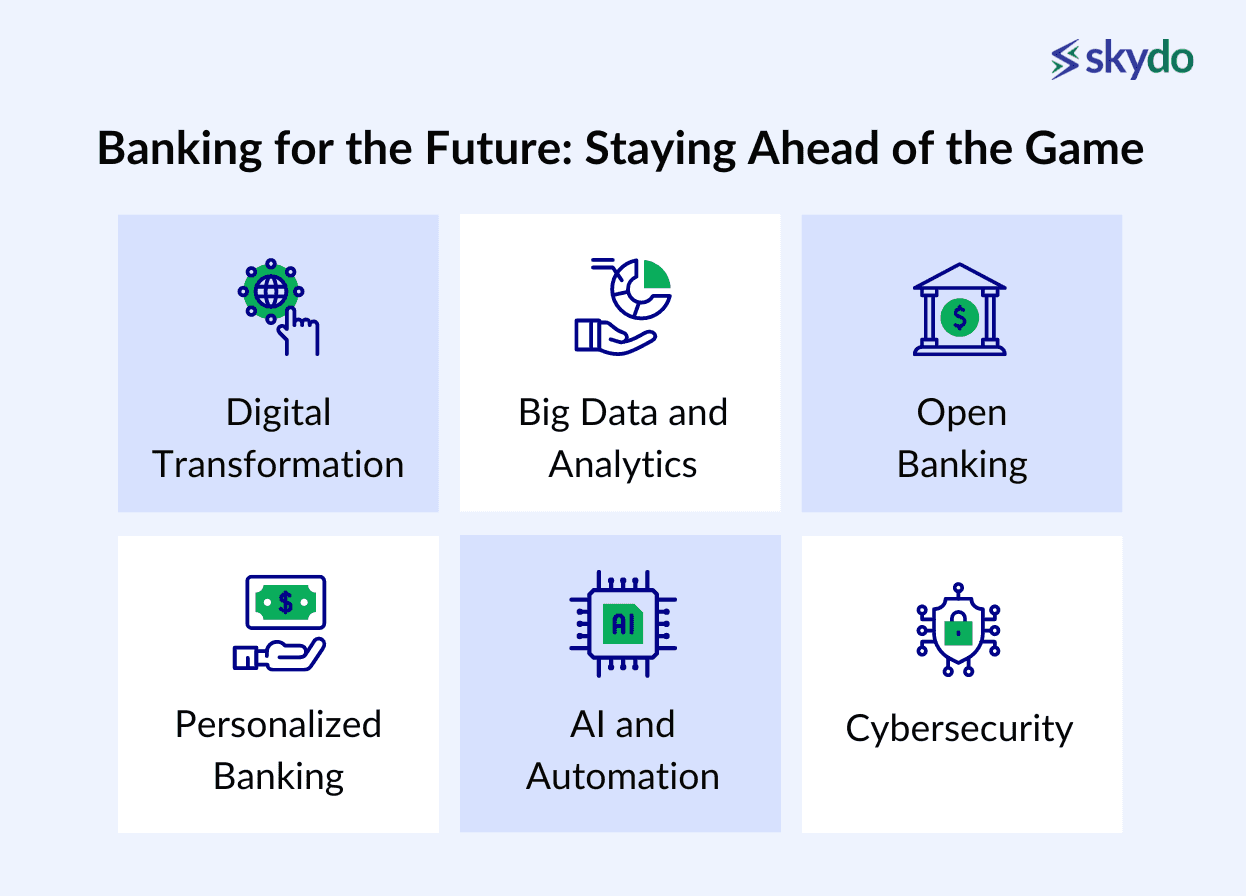 Digital Transformation: The future of business banking lies in seamless digital experiences. Embrace the potential of digital transformation which offers convenience and efficiency with mobile banking apps, online payment systems, and automated financial management tools.
Big Data and Analytics: Business banking generates vast amounts of data daily. Harnessing this data through advanced analytics offers valuable insights into customer behaviour, market trends, and risk management. Analyse customer behaviour and financial patterns to develop data-driven decision-making to facilitate business growth.
Open Banking: This initiative enables the secure sharing of customer data between banks and authorized third-party providers. Leverage collaborations between banks and third-party suppliers to gain access to a broader range of services and improve your cash flow. Embracing open banking can lead to more tailored offerings and enhanced customer experiences.
Personalized Banking: Customer expectations are evolving, and they seek personalized experiences from their banks. Look for customer-centric banks that provide personalised solutions designed to your specific business requirements.
AI and Automation: Artificial Intelligence (AI) and automation are revolutionising the banking sector. Integrate artificial intelligence and automation to enhance accuracy, reduce expenses, and streamline business operations.
Cybersecurity: Prioritise robust safety processes to safeguard your business and customer data from increasing cyber threats. Strengthening cybersecurity safeguards your reputation and instils confidence in customers and partners.
To stay ahead, embrace these trends and prepare for the future.
Winning the Game of Business Banking
Look beyond basic banking services, understand their global payment capabilities, customer service, and how innovative and transparent they are with their banking solutions.
Don't hesitate to reach out to bank representatives directly to discuss how they can cater to your business's demands. Seek advice from financial experts or fellow business owners for valuable insights into the best banking options tailored for your enterprise. Remember, choosing the right bank is more than just a business decision – a partnership that profoundly impacts your long-term success.
The Skydo Advantage: Maksing Your Global Payments Journey Smooth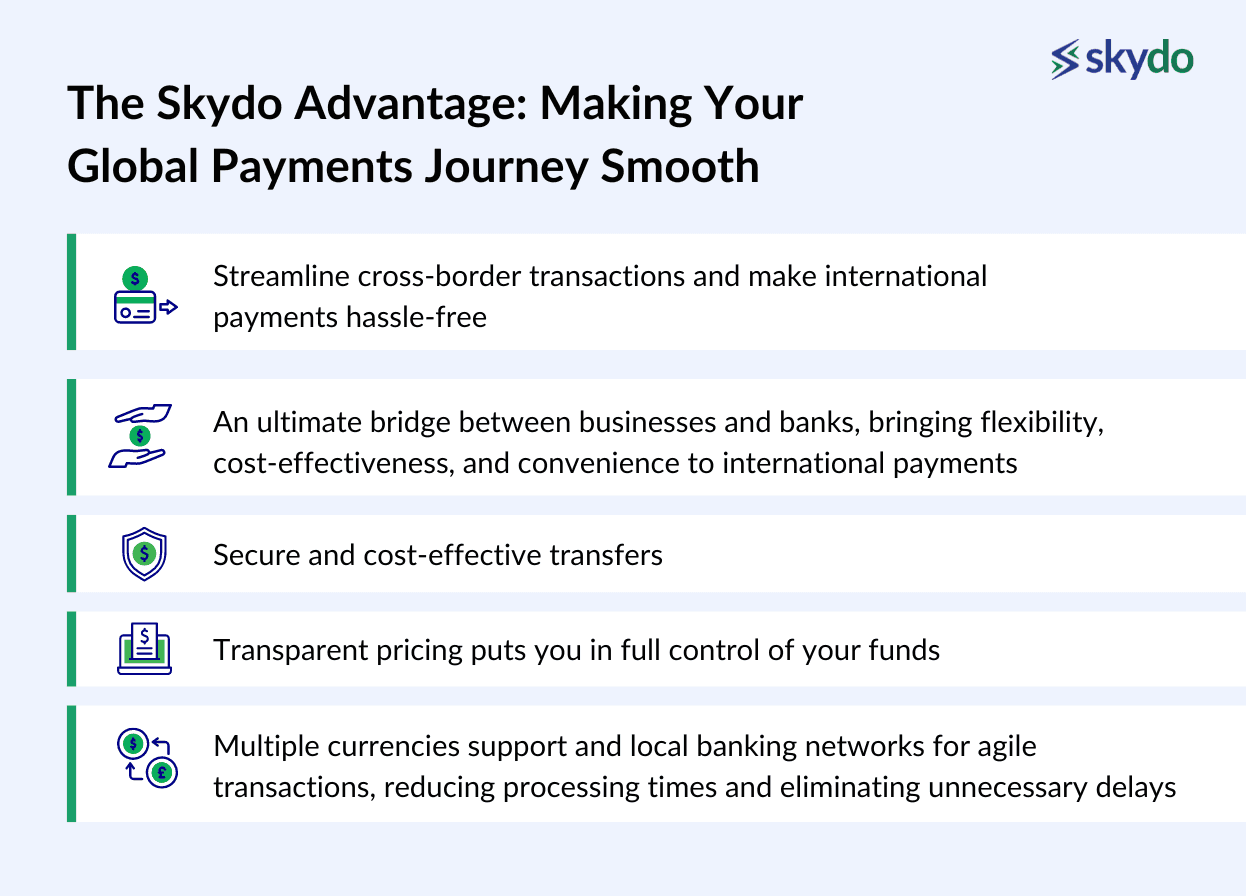 Payment solution providers like Skydo are emerging as powerful complements to traditional banking services.
Skydo is the ultimate bridge between businesses and banks, bringing flexibility, cost-effectiveness, and convenience to international payments. As your trusted ally in business growth, we streamline cross-border transactions and make international payments hassle-free. We offer tailored solutions that perfectly align with your business needs. Whether you need to pay international suppliers, freelancers, or employees, we ensure secure and cost-effective transfers.
With our user-friendly platform, you can effortlessly navigate the entire payment process. Say goodbye to hidden fees and uncertain exchange rates. Our transparent pricing puts you in full control of your funds. We support multiple currencies and local banking networks for agile transactions, reducing processing times and eliminating unnecessary delays. Take the leap with Skydo and stay ahead in the game of global payments.
TL;DR
Business banking requires a strategic approach to selecting the right bank for a company's success. Factors to consider include high working capital requirements, trade finance, cash management solutions, strong employee value proposition, and innovative technology for payments and workflow management. To choose the right bank, focus on the diversity of services, global payment capabilities, and customer service. You must embrace innovative solutions, such as mobile banking apps, online payments, and automated financial management tools while being transparent about your costs. By choosing the right bank, businesses can strategically make informed decisions and stay ahead in the global payments market.