How to Find High-Paying Remote Jobs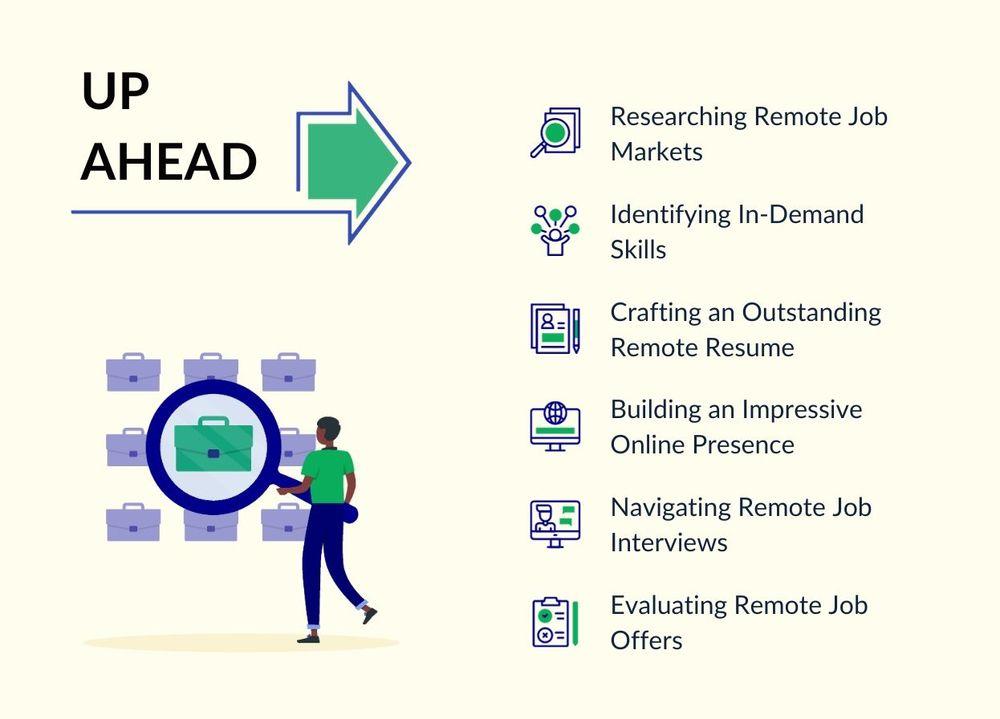 Last Updated
September 22, 2023
The COVID-19 pandemic is undeniably one of the most memorable events in history, not solely due to the deadly disease that swept across the world but because it ushered in an unprecedented era of remote work. As millions adjusted to life under lockdowns and social distancing, a profound shift occurred. 
People discovered more time for hobbies, picked up new skills like cooking, and even ventured into side hustles. 
It wasn't just a temporary shift; it was a glimpse into the future of work. Remote work, once seen as a perk, became a lifeline for many, offering benefits such as freedom from commutes, a better work-life balance, and the opportunity to craft careers on their terms. 
The rise of remote work has reshaped the worldwide approach to careers, offering unparalleled flexibility and convenience. 
In 2023, around 12.7% of employees work from home, and 28.2% operate on a hybrid model. 98% of the workers want to work remotely at certain intervals. Currently, 16% of companies all over the world are operating fully remotely.
But it's not just about working in your pyjamas; it's about finding high-paying remote jobs that provide financial security and freedom. 
Whether you're a seasoned remote worker looking to level up or someone eager to step into this dynamic realm, this blog will unveil the tools and techniques to navigate this evolving landscape and secure the high-paying remote job of your dreams.
Researching Remote Job Markets
As with any endeavour, the journey of finding high-paying remote positions is both thrilling and challenging. It's a quest that goes deep into the heart of the digital age.
There are industry-specific websites, forums, and social media groups that keep you informed on the latest trends and opportunities in your chosen field. Engaging in the discussion and networking is an excellent idea to help uncover the hidden remote job openings. 
Here are the latest remote job trends across various industries and platforms known for offering attractive compensation packages.
1. Technology and IT
The tech industry has long been a leader in remote work adoption. Most companies continue to thrive with remote-friendly roles such as software developers, data scientists, and cybersecurity experts.
High-Paying Roles: Software engineers, DevOps engineers, machine learning engineers, and cloud architects are among the highest-paying roles in this sector.
Where to Look: Job boards like Stack Overflow Jobs, GitHub Jobs, and industry-specific platforms like Dice are excellent resources for tech-related remote jobs.
Reddit's r/cscareerquestions is a popular subreddit for computer science and tech career advice. It often features discussions on remote work opportunities and job postings.
Additionally, GitHub's community forums can be an excellent place to connect with fellow developers and discover remote coding jobs.
2. Finance and Fintech
The finance industry has been gradually embracing remote work, particularly in roles that don't require physical presence in the office. Fintech companies are leading the way.
High-Paying Roles: Financial analysts, investment bankers, data analysts, and blockchain developers are examples of high-paying roles in finance.
Where to Look: Job boards like eFinancialCareers, Remote Finance Jobs, and finance-focused LinkedIn groups can help you discover remote finance positions.
While primarily focused on finance careers, Wall Street Oasis often discusses remote positions, especially in the fintech and financial technology sectors. Furthermore, numerous finance-related LinkedIn groups share remote job postings and industry insights.
3. Healthcare and Telemedicine
Telemedicine has surged in popularity, creating a growing demand for remote healthcare professionals. Administrative roles in healthcare settings also increasingly offer remote options.
High-Paying Roles: Telemedicine physicians, nurse practitioners, healthcare data analysts, and healthcare IT specialists can find high-paying remote positions.
Where to Look: Explore platforms like Practo, Doximity, and specialised telemedicine job boards for opportunities in healthcare.
The American Telemedicine Association (ATA) online community includes discussions about telemedicine jobs, regulations, and trends. Additionally, the Telemedicine and Telehealth Professionals LinkedIn Group is a dedicated LinkedIn group for telemedicine professionals, featuring remote job opportunities.
4. Marketing and Digital Marketing
The marketing industry has adapted well to remote work, especially in the digital marketing realm. The shift to online advertising and e-commerce has fueled demand.
High-Paying Roles: Digital marketing managers, content strategists, and data analysts often command high salaries.
Where to Look: Job boards such as HubSpot Careers, Content Marketing Institute, and digital marketing-focused LinkedIn groups are great starting points.
Growth.org (known as Inbound.org), a marketing-focused community, often discusses remote marketing roles and strategies. Various digital marketing groups on Facebook and LinkedIn cater to digital marketing professionals, sharing remote job listings and best practices.
5. Education and EdTech
Remote learning and the growth of EdTech have created opportunities for educators, instructional designers, and tech professionals in the education sector.
High-Paying Roles: Online course instructors, instructional designers, curriculum developers, and educational technology consultants can find well-compensated remote positions.
Where to Look: Websites like HigherEdJobs, Coursera, and industry-specific education job boards are excellent resources.
EdSurge's community forums delve into education technology (EdTech) and often share remote job opportunities in the education sector. You can also join LinkedIn groups focused on education and technology to discover remote roles.
Identifying In-Demand Skills
With changing trends and job roles, there's a shift in the skills required to accomplish the job itself. Many companies recognize outstanding talent, which raises the importance of accessing the necessary skills. Some of the most required ones include adaptability, communication skills, self-discipline, and problem-solving. However, there are additional job-specific skills with which you need to acquaint yourself. 
Programming and development: Proficiency in various programming languages like Python, JavaScript, and Java is in high demand. There are many remote developers and software engineers required for building digital products. 
Digital Marketing: Digital marketing is undoubtedly the most searched skill. Those who can drive online traffic, analyse data, and create content that drives traffic are in demand for remote companies. Master the skills of SEO, content marketing, and social media campaigns to bag this job role.
Data Analysis: This skill is necessary for remote and hybrid work environments. Using tools like Excel for data analysis or SQL is in high demand.
Project Management: Remote companies seek individuals with management skills who can lead teams effectively, manage an efficient workflow, and utilise management tools for better productivity.
To acquire these skills, you can opt for online courses that help you earn certifications. There are open-source projects available that help you build a portfolio.
Crafting an Outstanding Remote Resume
When applying for remote jobs, your resume plays a crucial role in showcasing your qualifications and convincing employers that you're the right fit for a remote work environment. Here are some tips for tailoring your resume to remote job applications effectively.
Customise for each role: Each job application is different. You must align your skills and experience with the requirements and the company description. Emphasise your remote-work skills like time management, self-discipline, and communication as vital roles.
Highlight results and achievements: Use specific examples to highlight your accomplishments rather than merely listing job responsibilities. Explain how your actions led to positive outcomes and benefited previous employers. Quantify your achievements whenever possible to provide a clear picture of your impact.
Highlight relevant remote work experience skill: If you've had prior experience in remote work, you must mention it in your resume. It could also be a freelance work or remote work project. It's a good idea to highlight skills like proficiency in remote collaboration tools like Slack, Asana, and Zoom.  
Prioritise clear communication skills: Effective communication is essential in a remote work setting. Highlight your ability to convey ideas clearly and succinctly, both in writing and verbally. Mention any experience with virtual meetings, presentations, or remote client interactions.
Demonstrate time management: Remote work often requires strong time management skills. Discuss how you've successfully managed your time and met deadlines in previous roles. Mention any experience with time-tracking tools or techniques you use to stay organized.
Include a strong summary or objective: Begin your resume with a summary or objective statement that showcases your enthusiasm for remote work and your ability to excel in a remote role. This sets the tone for your application.
Proofread and format carefully: A well-organised, error-free resume is essential. Ensure that your resume is visually appealing and easy to read. Use a clean and professional format, and proofread thoroughly to eliminate typos and grammatical errors.
Building an Impressive Online Presence
Considering you are applying for a remote job role, employers and recruiters will look to get to know you online. Therefore. a solid online presence is a valuable asset for remote job seekers. The presence helps you increase visibility and showcase your skills, experience, and expertise to your potential employers.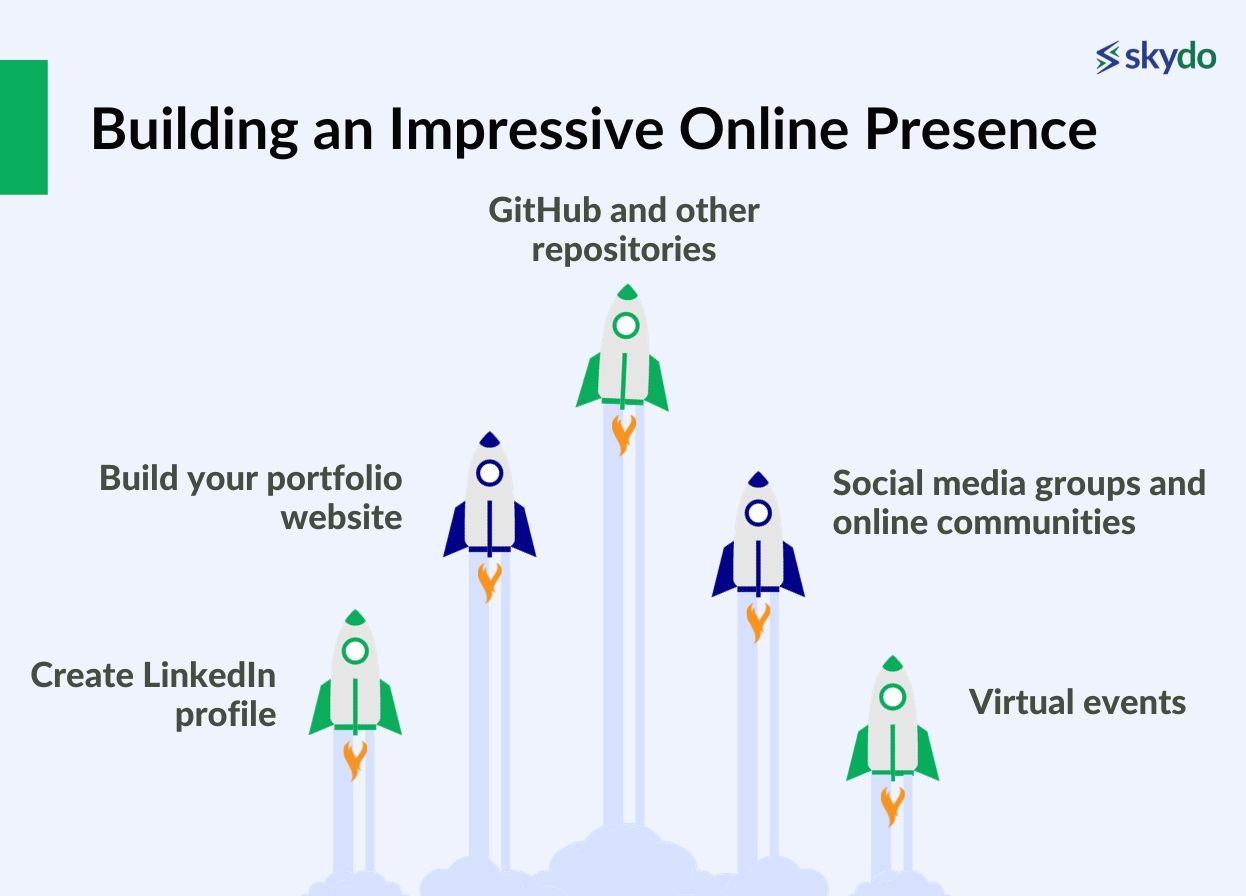 1. Create LinkedIn profile
LinkedIn remains one of the most powerful tools for any professional. 
Creating a LinkedIn profile is simple. Ensure you have a professional photo, a compelling headline, a summary of your work, and your work experience. Connect with professionals in your industry, join relevant groups, and actively engage in creating posts and sharing them. LinkedIn has made it easier to create a compelling profile by curating additional tips in their blog.
You can also showcase your skills and certifications. It's a good idea to ask your fellow mates for a recommendation. 
2. Build your portfolio website
A personal website is another excellent way to present your skills and expertise to the world. Creating an online website allows you to present your work, projects you've worked on, and achievements. 
You can add a blog section to your website and have interesting insights, articles, and tutorials related to your field. Doing this helps you establish yourself as an experienced professional in your niche. 
3. GitHub and other repositories
If you are in the tech industry, GitHub is a perfect place to showcase your projects, code samples, and code studies demonstrating your abilities. Being an open-source project, you can collaborate with developers and build a professional profile. 
4. Social media groups and online communities
You might land a high-paying remote job by engaging in online communities and social media groups related to your field. You can share your knowledge, ask questions, and build your reputation here. You also connect with professionals and mentors who can help you provide job roles. 
5. Virtual events
Many virtual conferences, webinars, and networking events occur regularly. It is a great idea to attend these events. It helps you connect with professionals and build a network of your own. Conferences are also beneficial for getting industry insight, emerging trends, and other information.
Navigating Remote Job Interviews
Once you impress your employer with an outstanding resume and strong online presence, an interview is bound to follow.
Virtual interviews have become a common part of the remote job application process. Preparing for and excelling in these interviews is crucial to securing your desired remote position. Here are some insights and tips to help you navigate remote job interviews effectively.
1. Learn about the company
Research the company, its culture, and the role you're applying for. Familiarize yourself with the company's products or services, mission, and values. Be ready to explain how your skills and experience align with the company's goals.
2. Test Your Technology
Ensure your computer, webcam, microphone, and internet connection are in good working order. Test the video conferencing software you'll be using (e.g., Zoom, Microsoft Teams) to avoid technical issues during the interview.
3. Set Up a Professional Environment
Choose a quiet, well-lit space for your interview. Make sure the background is clean and uncluttered. Remove any potential distractions and inform household members about the interview to minimize interruptions.
4. Dress Professionally
Dress as you would for an in-person interview, even though you're at home. Professional attire not only makes a positive impression but also helps you feel confident.
5. Practice Good Eye Contact and Body Language
Look into the camera when speaking, not at your image on the screen. Maintain good posture, sit up straight, and use natural gestures to convey your enthusiasm and engagement.
6. Prepare for Common Interview Questions
Be ready to answer typical interview questions, such as "Tell me about yourself," "Why do you want to work here?" and "What are your strengths and weaknesses?" Tailor your responses to highlight your suitability for remote work.
7. Highlight Remote Work Skills
During the interview, emphasise your skills related to remote work, such as time management, self-discipline, effective communication, and adaptability. Provide specific examples from your previous work experiences. Using the STAR method is a good idea.
8. Ask Questions
Prepare thoughtful questions to ask the interviewer about the company's remote work policies, team dynamics, and expectations for remote employees. This demonstrates your genuine interest in the role and remote work environment.
9. Practice Video Interview Etiquette
Mute your microphone when you're not speaking to minimise background noise. Avoid interrupting the interviewer and wait for them to finish speaking before responding. Use the chat feature for clarification if necessary.
Evaluating Remote Job Offers
Everyone enjoys working in an environment that offers flexibility and an excellent work-life balance. However, when assessing your remote job, you may want to read your job offer carefully before jumping the gun. Consider the following parameters.
Salary and bonuses: Is the base pay and performance bonus per your expectations? Will you be happy working on the negotiated amount? What types of compensation are offered? 
Benefits packages: Does the employer offer health, dental, and retirement benefits? 
Remote work allowance: Many remote work companies offer an allowance for home office equipment and internet costs. Does the company provide one? 
Vacation and Time-off policies: What are the vacation and time-off policies? Are there any paid-off holidays? 
Flexibility: What hours are you required to work? Are the hours flexible and to your availability? 
Remote work policies: What policies must you follow during remote work? Are there specific hours or days? Can you work from different locations? 
Family and caregiving support: Does the employer offer benefits related to family support, like parental leave? 
Career growth: What are the scopes for career advancement within the company? How does your performance be evaluated? 
Professional development: Do you have to take training, certifications, or mentorship programs that further help you grow your role? 
Project variety: What projects would you be working on under your job role? Are there diverse projects to enhance your skills and knowledge?
Remote work expectation: What are the company's expectations from the role, like communication frequency, availability, and response time? 
Communication tools: What tools and platforms are they using for virtual meetings, collaboration, and messaging? 
Onboarding and training: How will you be integrated into the team? Is there any training period? 
Performance reviews: How does the company evaluate your performance? What is the frequency of the performance reviews? Is it quarterly, half-yearly, or yearly?
Feedback mechanism: What is the feedback process? 
Final Words
Work dynamics have evolved, opening the doors to high-paying remote jobs. If you're willing to invest your skills, research network, and negotiation, you can land your dream virtual job. 
The journey towards a high-paying job starts by taking action. Don't wait for the perfect moment; instead, start right away. 
Do proper research and find a role that aligns with your career goals. In the meantime, if you have to separate some time for learning remote work skills, do it! 
The path toward a virtual career has challenges, but staying committed to your goals can help you move forward.