Sell Higher, Scale Faster With Skydo Payment Solution
Last Updated
October 7, 2023
A business focusing solely on profit and loss statements and ignoring cash flow is like "driving along, watching only the speedometer, when in fact we were running out of gas", says Michael Dell, Founder and CEO of Dell Technologies.
High profits do not necessarily translate to a sustainable business unless it has enough cash flow. Without liquidity, businesses cannot buy new inventory. This impacts production, and ultimately, sales enhancement tumbles. Companies with huge profits and decreasing cash flow run out of business, sooner or later. Hence, cash flow serves as a better indicator of a company's financial stability.
Does that mean you should focus more on cash flow? 
The role of cash flow and profits is different yet complementary in scaling a business. Optimised cash flow facilitates liquidity and helps businesses manage daily operations with ease. It also boosts investor confidence, allowing businesses to raise capital easily. Profits, on the other hand, are essential to achieve the long-term objectives of the business and get a higher valuation. Thus, both are necessary for sustainable and strategic development.
But how do you manage both simultaneously?
Skydo acts as a catalyst to scale your business. It is a comprehensive payment solution that helps you manage cash flow by receiving international payments quickly.
The Power of a Comprehensive Payment Solution
A robust and comprehensive digital payment solution helps small businesses generate more revenue. Here are some of the significant ways it can help your business.
Easing bookkeeping through an overview of revenue generated for efficient data-driven decision-making, leading to increased business revenue.
Saves cost, time and effort required to manually follow up and track payments to help boost revenue further.
Increases profitability by empowering businesses to receive international payments safely, conveniently, and at low costs
Automates payment processing and boosts efficiency, thus enabling better cash flow
Improves customer experience and increases customer retention 
Decreases the risk of transaction decline or failure and fraud risks that could negatively impact cash flow
Thus, a digital payment solution like Skydo increases profits and enhances cash flow.
Challenges of manual payment processing and collection
According to a study on 'Digital Transformation of Small and Medium Businesses' by Visa, online payment processing is cheaper as compared to manual payments as it requires less effort. 
In a comprehensive payment solution, the process of collecting, storing and securing checks and cash becomes redundant. Considering both labour costs and payment processing fees, digital payments cost 57% less than manual payment processing and collection. From a mitigating fraud risk perspective, businesses can save up to 50% by integrating a comprehensive payment solution.
Other significant challenges that accompany manual payment processing are cash counting and reconciliation, and maintaining cash registers. These manual processes leave room for error and pose compliance and business risks.
Moreover, manual payments are three times more time-consuming than digital payments. While you can process $100,000 in 189 hours through a digital payment method, manually processing the same amount requires 542 hours.
Skydo payment solution provides seamless payment processing and acts as a catalyst for enhancing business productivity by making cash flow more efficient.
Exploring Skydo Payment Solution
Let's understand the key features and benefits of Skydo's payment solution and how it streamlines cross-border payment processing.
1. Virtual International accounts for easy client payments
Cross-border payment systems are extremely complex due to several payment compliances and anti-money laundering regulations. The payment goes through several stages of approval before it is finally reflected in your bank account.
However, payments made through local bank accounts are much more convenient for your customers. 
Skydo helps businesses open international and multi-currency accounts based on where your client conducts your business. The client can directly transfer the payment to the local bank account which is later transferred by the business to its Indian bank account. It makes businesses get timely payments and lets you take control in case of any issues.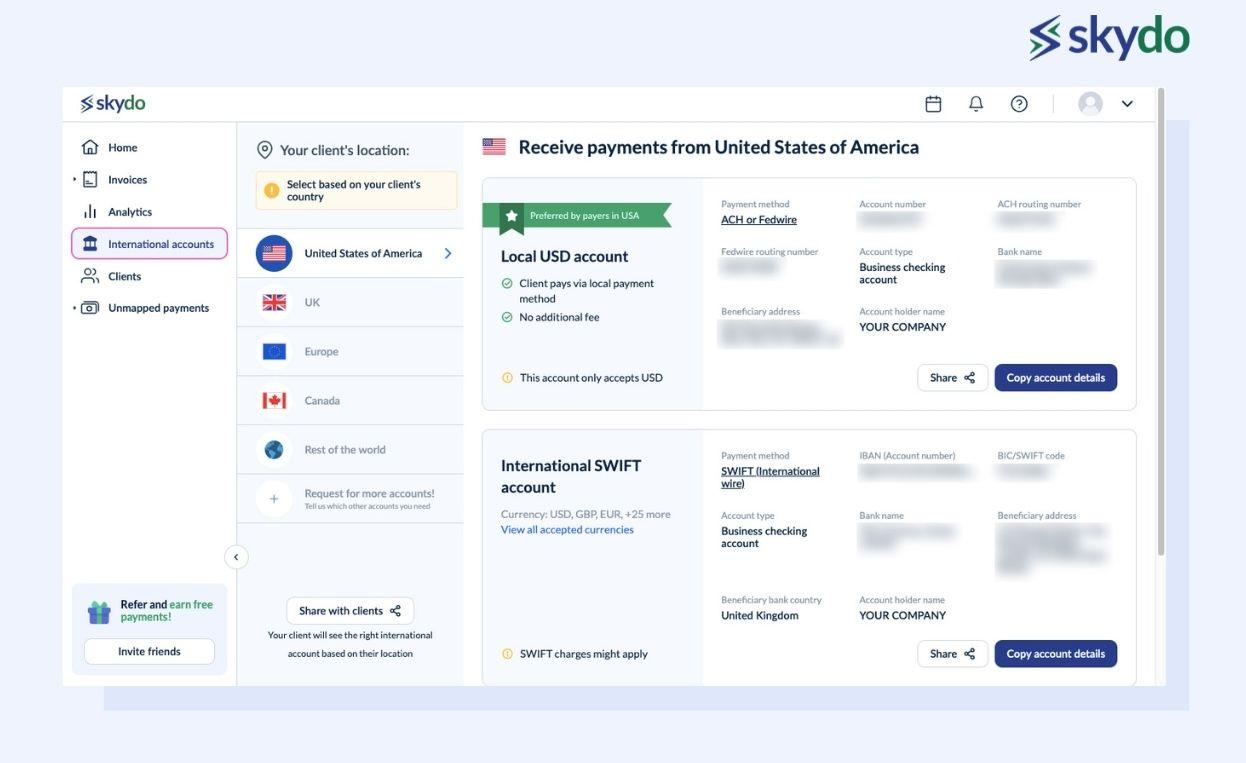 Learn more: Enjoy Seamless Payment Experience by Creating International Bank Accounts in Just 5 Minutes
2. Secure payment gateways and data protection
Payment fraud and data theft are the two biggest concerns for businesses engaged in cross-border payments. 56% of businesses consider payment fraud and 52% of businesses consider data theft as a major threat to a robust cross-border payment system.
Skydo eliminates these concerns by offering secured payment gateways and several layers of security to ensure maximum data protection. Thus, it ensures that businesses do not lose out on revenue.
3. Real-time transaction tracking and reporting
Skydo enables businesses to track payment processing in real-time and take an instant action in case of delays or other issues. It also improves cash flow management.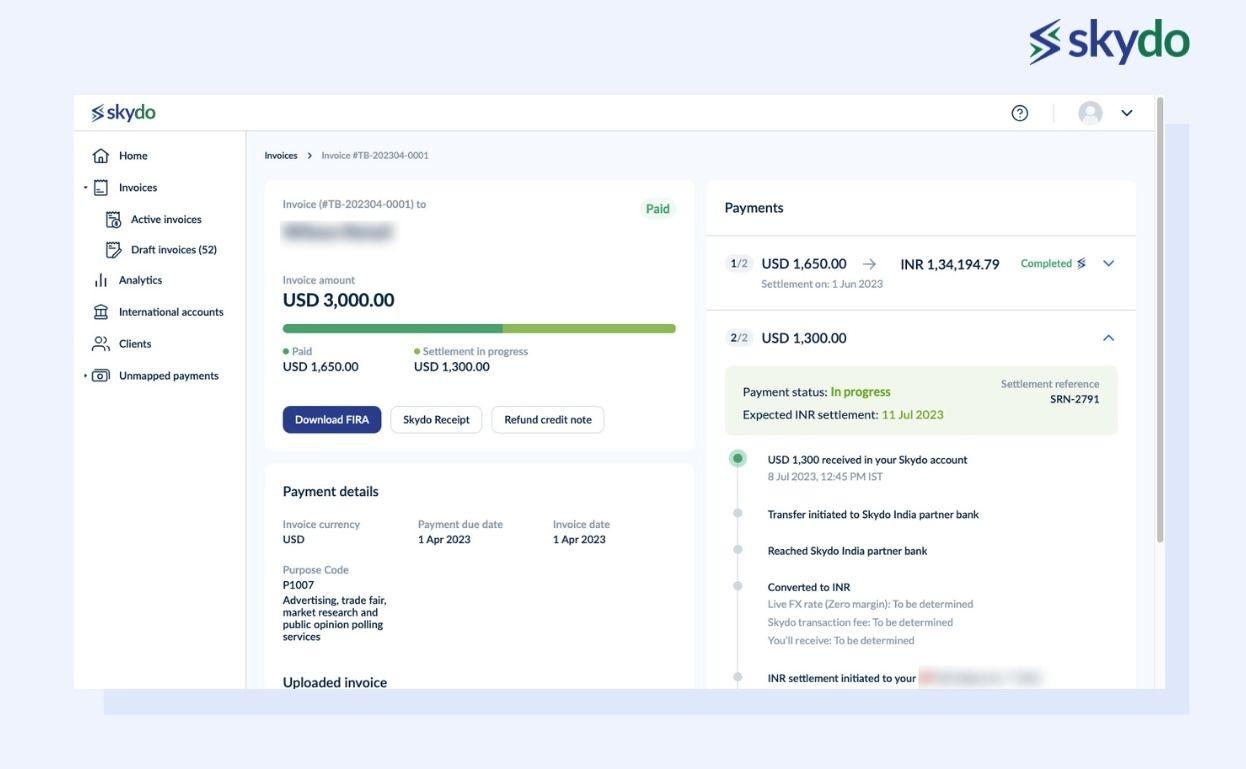 4. Auto-generated FIRA
Maintaining Foreign Inward Remittance Advice (FIRA) is crucial for businesses as proof of inward remittances. The receipts also serve as proof of authentic payments. However, getting FIRA for every payment transaction creates a lot of hassle for businesses in traditional payment systems.
Skydo resolves this issue by auto-generating FIRA receipts for every transaction. You can view and download all the FIRA receipts from the Skydo payment solution dashboard.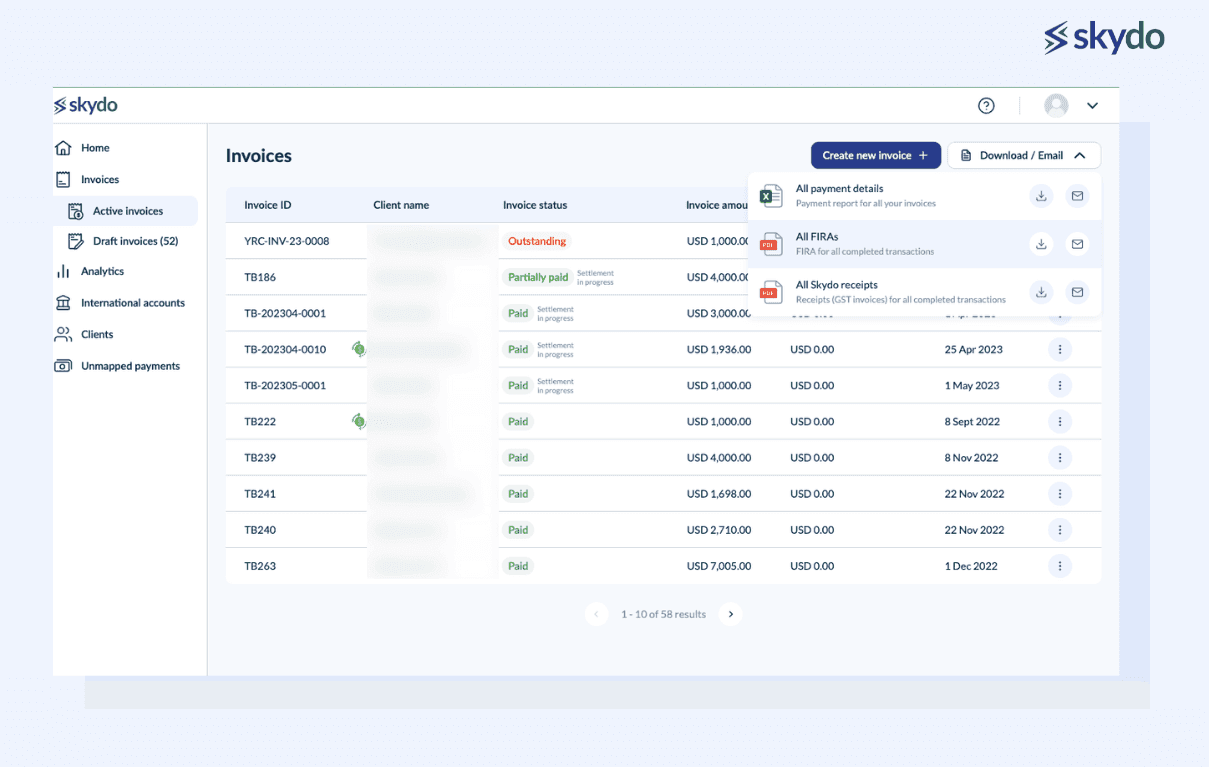 Learn more: 4 Reasons You Need FIRA for Your Export Remittances
5. Business Analytics
With Skydo, you get seamless access to all the payment data. It allows you to make effective data-driven business decisions by analysing client's payment patterns. You can also identify opportunities to boost your services and compensations, thus increasing profits.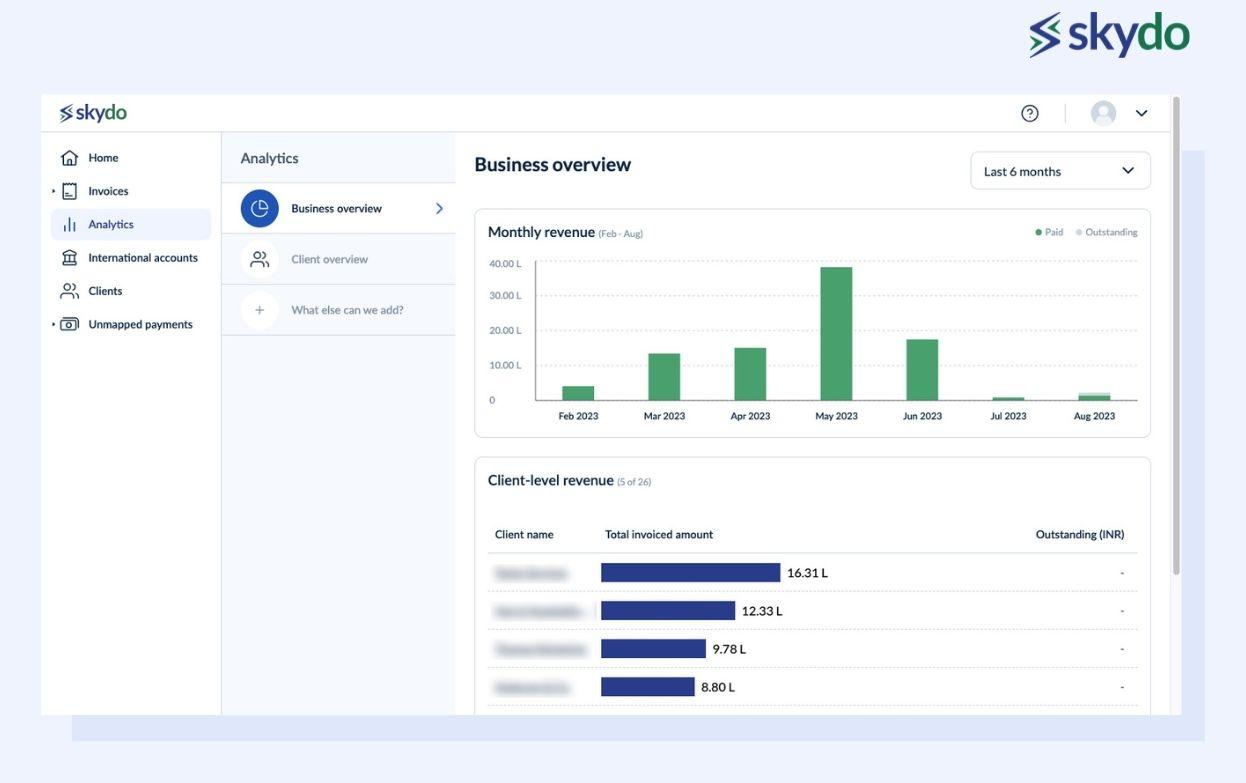 Streamlining Financial Operations
According to the Accenture Payments Survey 2022, 45% of consumers use bank transfer methods for cross-border payments. However, businesses and individuals are actively seeking alternative payment methods for cross-border transactions. In fact, 29% of the users prefer a digital payment solution for the following reasons.
Affordable or favourable exchange rate is offered by digital payment solutions
Payment processing through bank transfers takes up to a week. In some cases, it can take up to 15 days. However, in digital payment solutions, payment is processed real time.
A comprehensive payment solution is more convenient for the users. 
Skydo tackles all the above issues and offers and streamlines financial operations by offering the following features:
1. Automated invoicing and payment collection for operational efficiency
Skydo provides various customisable invoice templates that you can send to clients.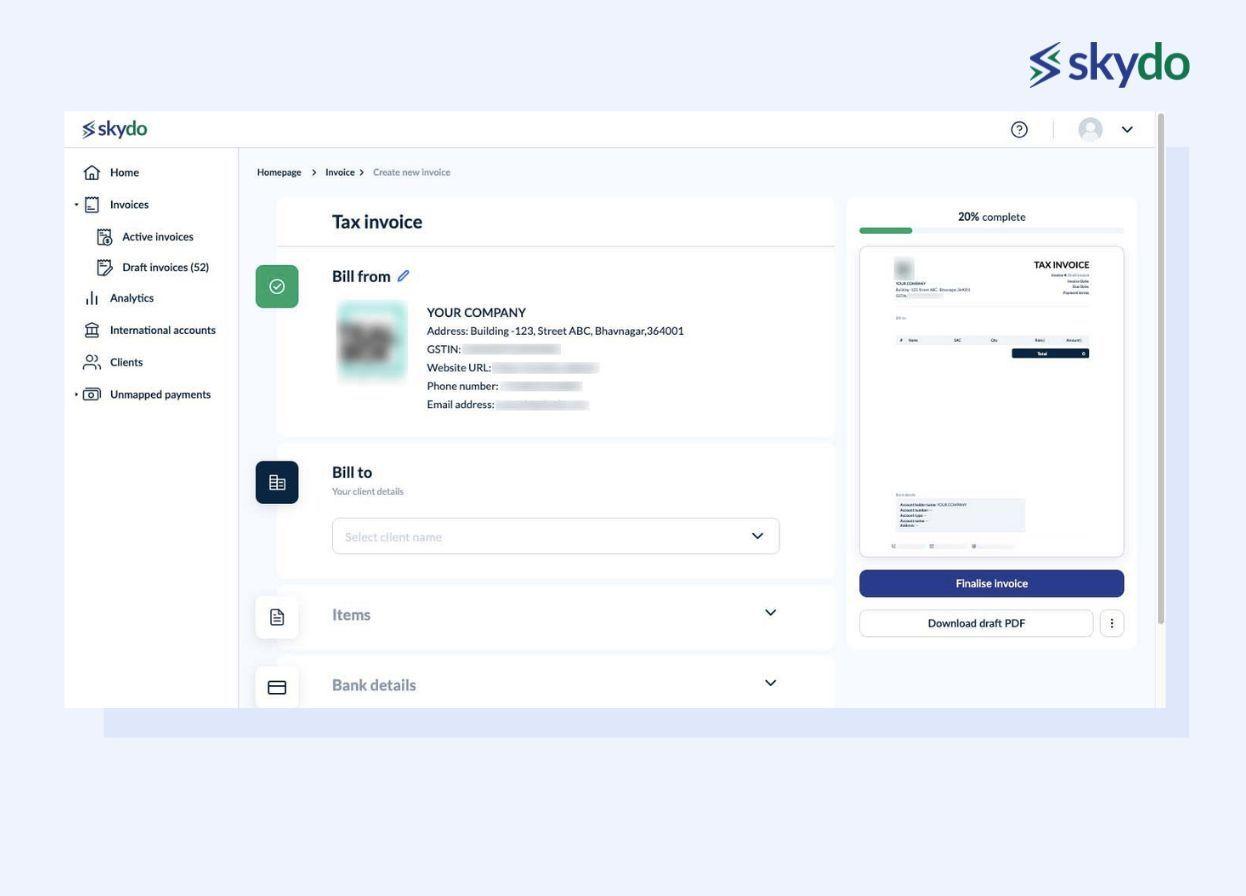 You can also send automated reminders and track when the client has checked the reminders.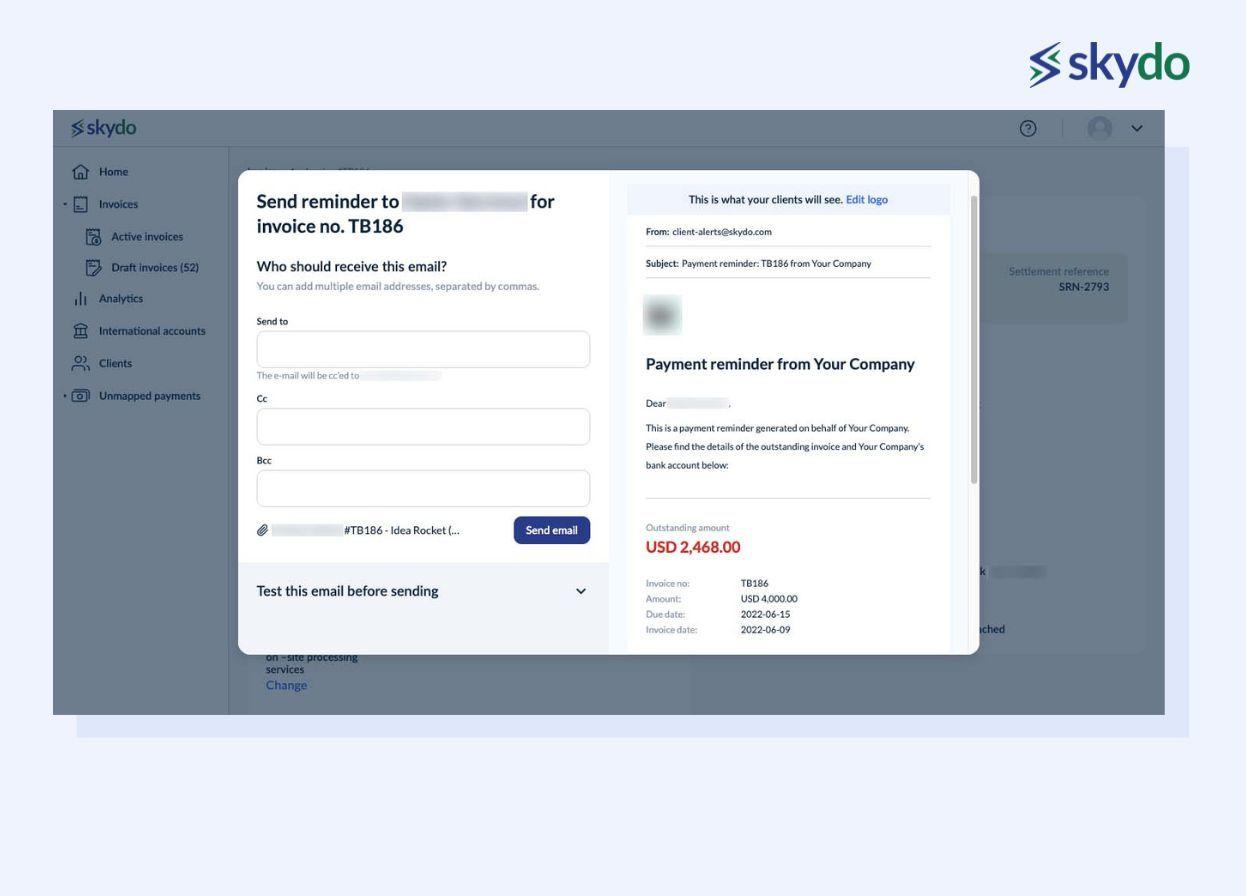 2. Minimising errors and delays in payment processing
Once you save the purpose code for a particular service, Skydo automatically adds the purpose code to the next invoice for the same service. This mitigates the risk of manual errors and facilitates timely payments.
3. Time and resource savings from streamlined financial workflows
Real-time tracking and automated invoicing enable businesses to streamline their financial workflows by reducing the time and resources spent on manual financial operations. Thus, you can focus on core business activities without worrying about delayed payments.
Learn more: Maximising Payment Efficiency: How You Can Streamline International Transactions for Your Business
Scaling Business Faster 
The terms "scaling" and "growing" are often used interchangeably. While the two terms may appear to be the same, they have different meanings in a business context.
Growing your business means increasing your revenue. However, that involves increasing your costs as well. For example, an increase of $60,000 in revenue leads to business growth. But, you had to shell out an extra $40,000 in integrating a new technology or hiring a new resource. 
Conversely, scaling refers to increasing your revenue without significantly increasing your costs. This generates higher profits for the business. Scaling your business involves leveraging your existing resources to boost revenue.
Scaling involves expanding business operations in different locations and tapping new business avenues by finding gaps in the market.
How do Skydo's payment solutions help scale your business?
Harnessing the revenue boost from optimised payment processes
Scaling a business requires investment, which can be funded through the increased revenue generated from optimised payment processes. Skydo enables businesses to receive faster payments from international clients and reduce payment blockages. Thus, you have continuous liquidity and can efficiently scale your business in the following ways.
Improve existing IT infrastructure and integrate new technologies
Expand your business presence and customer base
Reduce your manufacturing costs by automating processes
Scale product offerings by making small variations and catering products to a wider audience
Retain more customers by enhancing customer service by using chatbots
Investing saved time and resources into core business activities
Skydo streamlines financial operations by automating invoices and payment tracking. This reduces administrative overheads such as record keeping, data entry, and reconciliation. Hence, companies can utilise their time and resources to focus on core business activities such as sales enhancement and improve sales strategy.
Expanding into new markets and customer segments with improved payment capabilities
Skydo payment solution supports businesses in navigating cross-border payment processing challenges. Thus, you can easily expand your operations without worrying about liquidity crunch. Moreover, Skydo allows businesses to open local bank accounts in 20+ countries. Therefore, businesses can expand their reach in multiple countries.
Explore Skydo Payment Revolution
An efficient payment processing system like Skydo is fundamental for business scalability. It facilitates seamless business operations, augments business efficiency, helps increase revenue and generates high profits.
Request a demo with Skydo to check out its unique payment process features and fuel business scalability!